Dustin Milligan's Height
5ft 10 ½ (179.1 cm)
Canadian actor, best known for playing Ethan Ward on TV series 90210 and Ted Mullens on Schitt's Creek.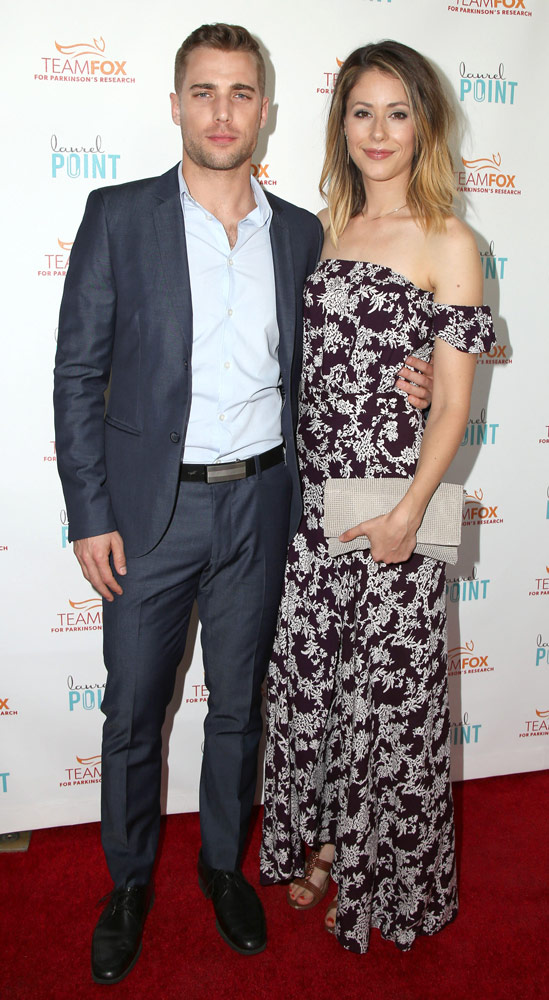 Thank you to #Raven for, after I told Tony I was 5'10" and 1/2 during my fitting, bestowing unto me these words of wisdom I'll never forget: "Hang onto that half inch, honey"…#Dragratitude
-- Twitter
Add a Comment
16 comments
Average Guess (12 Votes)
5ft 10.83in (179.9cm)
Miss Sandy Cowell
said on 7/Oct/20
@ Christian and Julian - I've found another Dustin! 😃
He's Dustin Clare and appears in the serialisation of 'Wolf Creek', my copy of the First Series having just arrived. He has a page on this site and is 5ft8.75.
Cheers guys! 😁👍👍
Christian 6'5 3/8
said on 4/Oct/20
@Sandy
Maybe if Rob starts adding more Dustins, he might eventually make a Dustin category.
@Leif
Claiming 6'0" at 5'10.5" is being dishonest, especially if you know that you're not really that tall. You wouldn't even reach 6'0" in most shoes.

Editor Rob
It is automatic, once you get to 7 Dustin's the category would appear 👍 Every year a few more named categories appear, quite a lot sitting on 6 names just below the threshold.
6'3 Julian
said on 4/Oct/20
@Sandy pro wrestler. He's on this site somewhere. Only other Dustin I could think of
Nik J Ashton
said on 3/Oct/20
@ Christian 6'5 3/8" - I agree!
Leif
said on 3/Oct/20
@Christian why is 6'0" pushing it..it's only one inch more than 5'11" and one inch isn't much ofna difference
Miss Sandy Cowell
said on 2/Oct/20
@ Julian 6'3" - I'm afraid I've never heard of him, Julian! 🤔
6'3 Julian
said on 1/Oct/20
@Sandy What about Dustin Rhodes AKA Goldust?
Greg
said on 1/Oct/20
@Crab Having seen him in just that photo there I would have thought maybe about 5'11 give or take. But he also has a thick hair style I think in an attempt to make himself appear taller. I would say he could be anywhere in the 5'10 range to 5'11 range but I've not seen enough of him to make a judgement.
Miss Sandy Cowell
said on 30/Sep/20
Dustin is a most unusual name and I can't see Rob making a Dustin heights page any time soon!
Perhaps Mr Milligan's parents are fans of Dustin Hoffman.....🤔
Christian 6'5 3/8"
said on 27/Sep/20
@Nik
Assuming he's 5'10.5" as listed, 5'11" isn't bad of a claim, but 6'0" is definitely pushing it too far.
Peter175
said on 27/Sep/20
He looks to have 2 inches on his girl
Crab
said on 25/Sep/20
Not totally convinced by this. He looks real close to Eugene Levy to me:
Click Here
Neither are standing up right, but if you look at all photos of them together, I struggle to see a full inch between them.
Click Here
Of course it's possible Eugene is slightly taller than his 5ft 9.5in listing, but I struggle to see a full inch between these guys. I'd peg him at 5ft 10in at most, especially given his claim - it's rare you find a genuine 5ft 10.5in guy who doesn't claim 5ft 11in.
Rob, on a similar note - do you have any estimate on Eugene's son Dan Levy? He's in the above photo, I always thought he looked about 5ft 10.5in - 5ft 11in with Eugene, but he definitely seems a bit taller than Dustin, so would be interested in your estimate.
Nik Ashton
said on 24/Sep/20
5'10" range is fine, I hope he has never claimed 5'11" or 6'0"! ⛵️
Leesheff85
said on 24/Sep/20
They dont look very high the heels Amanda is wearing and there is another photo of the two of them were amanda looks taller and her heels might be 3.5 inches but no platform on the front. 5ft 9 might be right for her. Still think that would make Josh Zuckerman about 5ft 10 as he does look taller than her in sex drive. Maybe a page for him rob?
Black Noir
said on 24/Sep/20
Damn he's pretty honest; I support his honesty; also the lady beside him? Is that the actual height difference?

Editor Rob
Not quite sure on that footwear amanda is wearing there.
Miss Sandy Cowell
said on 24/Sep/20
Imagine going for an interview for a part in 'Schitt's Creek', and telling your friends, "I'm gonna be part of Schitt's Creek!" 😂
What a good laugh Dustin and the rest of the cast must be!
5ft10.5 😃👍..💩's🚪