Elisabeth Röhm's Height
5ft 8 (172.7 cm)
German born American Actress best known for roles in TV shows like Law and Order and Angel. Since her One Life to Live soap days she's been described as 5ft 8. In this photo, Elisabeth had near 1.5 inch more heel than me. On her imdbResume she had her Weight listed as
"120 lbs"
.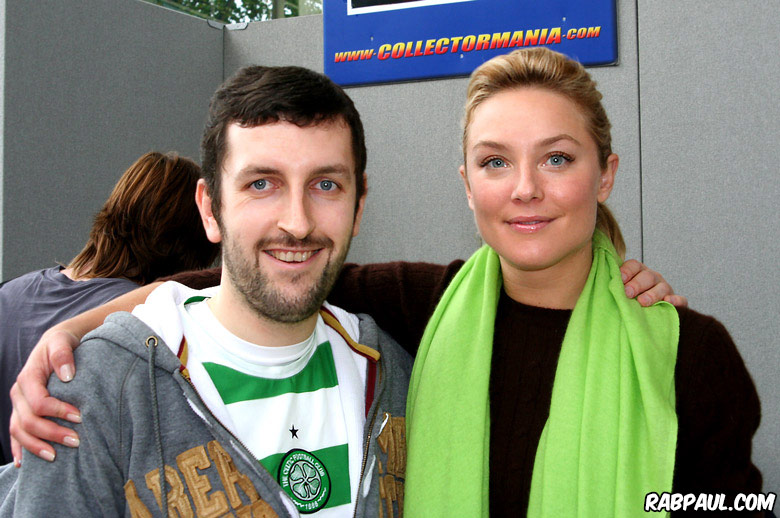 5ft 8 Rob and Elisabeth @ Collectormania (2nd Oct, 2006)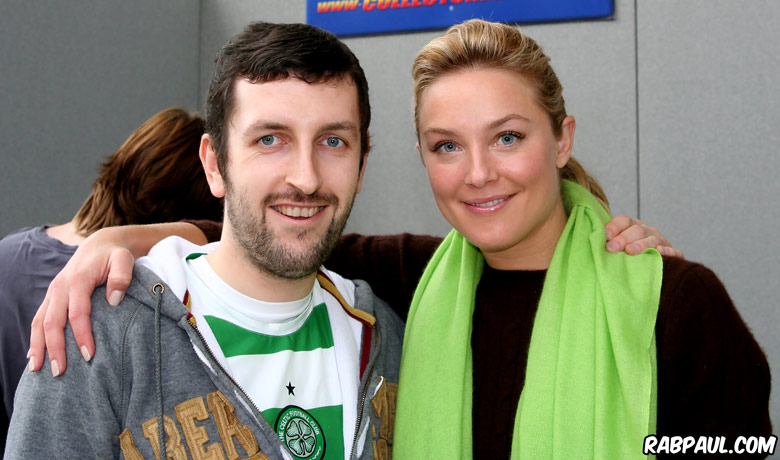 You May Be Interested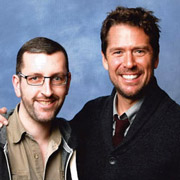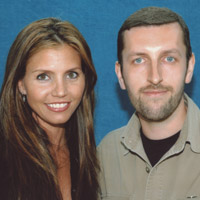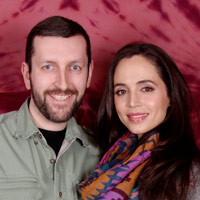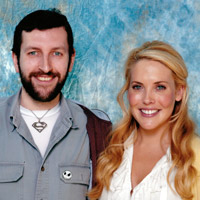 Add a Comment
39 comments
Average Guess (12 Votes)
5ft 7.71in (172cm)
Christian 6'5 3/8"
said on 27/Sep/20
@Keith
"Baby" Rob, lol.
Tunman
said on 26/Jun/20
Yeah,so I guess rather in that 5'9-9.5 range,right?If so then she's certainly under 5'8 when counting 1.7"footwear.The question is by how much?Well 5'7.5 or 7.75 is still a better shout if you ask me.
Tunman
said on 25/Jun/20
How much is she losing in the upper pic?She looks at best 0.8" taller than you.If she has 1.7"advantage doesn't that make her 5'7.25?You said she could be only 5'7.5,which sounds more likely than 5'8 anyways

Editor Rob
She looked in 5ft9 range.
Keith 5'10
said on 8/Jun/20
Look that baby Rob tho!
JohnMoore-162cm
said on 29/May/20
She's probably 5'7.5" , she's so pretty
Nik
said on 3/May/20
She looks taller in the bottom pic!
MAD SAM
said on 15/Jul/18
5'8" at 172.5 cm
Nik
said on 18/Jun/18
I could buy this listing!
Pierre
said on 8/Aug/17
She look more a weak 5"7 in this picture by considering the heels
even
said on 21/Jul/17
out of bed shes 5 foot 8
Jay
said on 11/Feb/17
James, do you have a problem with her looks? This isn't the site for that...Anyway she looks around 5'7.5-5'8.
James
said on 15/Jan/17
@Guest No.
@LG69 No.
@Irshgrl500 No.
@danius No.
However probably she has a cool personality.
jtown
said on 8/Jul/16
If she's wearing heels and your not? Then she is not your height
div
said on 29/Dec/15
Rob 5'8" is too tall for her in pictures with 5'7.5" Jennifer Lawrence she is close to 2 inches shorter. She is no more than 5'6".
Click Here

Editor Rob
depends on how big their heels are.
Guest
said on 23/Dec/15
She's pretty
Catherine sails
said on 5/Dec/15
She is tall all the ladies on law and order are tall.
Mid190s
said on 23/Apr/15
Dunno if she's quite the 5'8 but she's a babe
jim
said on 13/Sep/14
5ft 7 if she had heels
Matt 184.7-186.7cm
said on 27/Oct/13
standard heels? does that mean 3inch heels? if so she doesnt really look 5ft 10

Editor Rob
about 1.7ish inch more heel than me, I thought she appeared 5ft 9 range, she could always be 5ft 7.5
LG69
said on 28/Mar/13
She's probably 5'7.5". She is cute!
LeBron6
said on 2/Dec/12
Rob, I think 5'7 7/8 of an inch is spot on since you look 1/4 of an inch taller than her.
Elijah
said on 23/Nov/12
You two are pretty damned close in height. She has a smaller head (mainly due to the smaller chin) but slightly lower eye level. I've been looking for a good example of this and finally found it. Thank you Rob.
Zachary
said on 20/Dec/11
Same size!
Irshgrl500
said on 15/Sep/11
She's a doll. Love her.
Legend
said on 28/Jun/11
Her hand looks bigger because of the position of it in front of the camera. Do you people know anything about pictures?
Cranberries (6 ft. 3.25 evening, 17 years)
said on 19/May/11
"just me or is her head extremely small."
It is. Or maybe she just has big hands, because looking at those whoppers they'd more than cover her face.
Anonymous
said on 19/Feb/11
just me or is her head extremely small. or is your head huge lol rob? her chin is a good 2 inch above yours yet you are the same height here

Editor Rob
I don't think that's more than one inch. If her chin was at the bottom of my bottom lip, that would be 2 inches.
Lindsay
said on 29/Jun/09
I thought her name was Lindsay Rohm (like me). Is Lindsay short for Elizabeth? Anyways, I would say she's 5"7, not 8.
Anonymous
said on 27/Jun/09
5'8" seems right... i can't believe people are calling her overweight! She is most definitely not overweight... she just doesn't look anorexic.
5 foot 8 Brazilian fella
said on 4/Jan/09
Compared with other celebrities, her 5'8" claim seems right...however, the fact she's a little overweight (especially her rounded face gives her a "overweight effect") makes her look shorter, like 5'6" or even 5'5"
Click Here
Anonymous
said on 25/Nov/08
i think she looks 5'8" too, although her overweightness makes her look somewhat shorter than her actual height...
6'3'' JK
said on 16/Aug/07
Rob have you met any footballers from any good English teams like Liverpool or say Man Utd and have photos with them? Ive seen Van Nistelrooy once from a distance when i was 12 years old and 5'6'' and he looked really tall around 6'2''

Editor Rob
mostly seen from a distance - usually for CL games or pre season when the english sides come up, unfortunately seen from a time when I didn't pay as much interest in height...nor care about pestering players for auto's etc or photos.
6'3'' JK
said on 14/Aug/07
Rob your a celtic supporter so have you met Aiden Mcgeady? if you haven't then then what do you estimate him as? looks 5'7'' to me

Editor Rob
yes, I've seen him he's around my height, he was shorter back when he was 16-17 but somehow he ended up with a 5ft 10 listing.
6'3'' JK
said on 13/Aug/07
Rob how tall did McCoist look to you?

Editor Rob
Coisty, in the 90's looked 5ft 9.5 to me. First time I saw him was like aged 14 when he was at a disco I used to go to. Funnily, his question of sport buddy I guessed at 5ft 10.5...slightly taller than his listing. Both those guys in football/rugby were 5ft 10 listed.
Makaveli
said on 6/Aug/07
Hey Rob,nah m8..a wiz juz hvin wee banter with u,i'm a gers diehard,but not typical anti-celtic as most of my family r celts so i hv grown 2 respect celtic as a team,done scotland proud last season in champions league:)
totally gutted when uz got scott brown like..bloody good player,but i think gers will b bettr this season,def alot closer..

Editor Rob
they called scott brown 5ft 5 in the newspaper lol. It's as bad as aidan mcgeady getting 5ft 10 when he's my height-ish, and novo somehow got 5ft 9 when I seen him look 5ft 7!
Franco
said on 31/Jul/07
then stupid me for not noticing, im missing lots of things lately (getting old?.....dying?) errrrr....or maybe just too busy with lots of things @ once. lol
well 173cm it is then.

Editor Rob
I would usually mention at the top any difference in footwear.
Franco
said on 31/Jul/07
both Rob and Elizabeth had shoes, rob is probably 175-176cm and she's the same height.....BUT.....she had heels? or sport shoes or what? because if she had heels then she's 170-171 and not 173cm.

Editor Rob
I mentioned in the blurb above the photo, she looked to had a typical heel but was taller than me when wearing such footwear in reality.
Anonymous
said on 31/Jul/07
5'8 is definitely correct
hi
said on 31/Jul/07
im the first one to comment!
same height as rob