Eliza Dushku's Height
5ft 4 (162.6 cm)
American Actress best known for playing Echo on Dollhouse and Faith on Buffy the Vampire Slayer. In film she can be seen in Wrong Turn, True Lies and Bring It on. She once said
"I'm 5-feet-5, 105 pounds, but I feel like I'm 6-feet-4, 250 pounds."
. In these convention photos she had about 1.5 inch more footwear than us.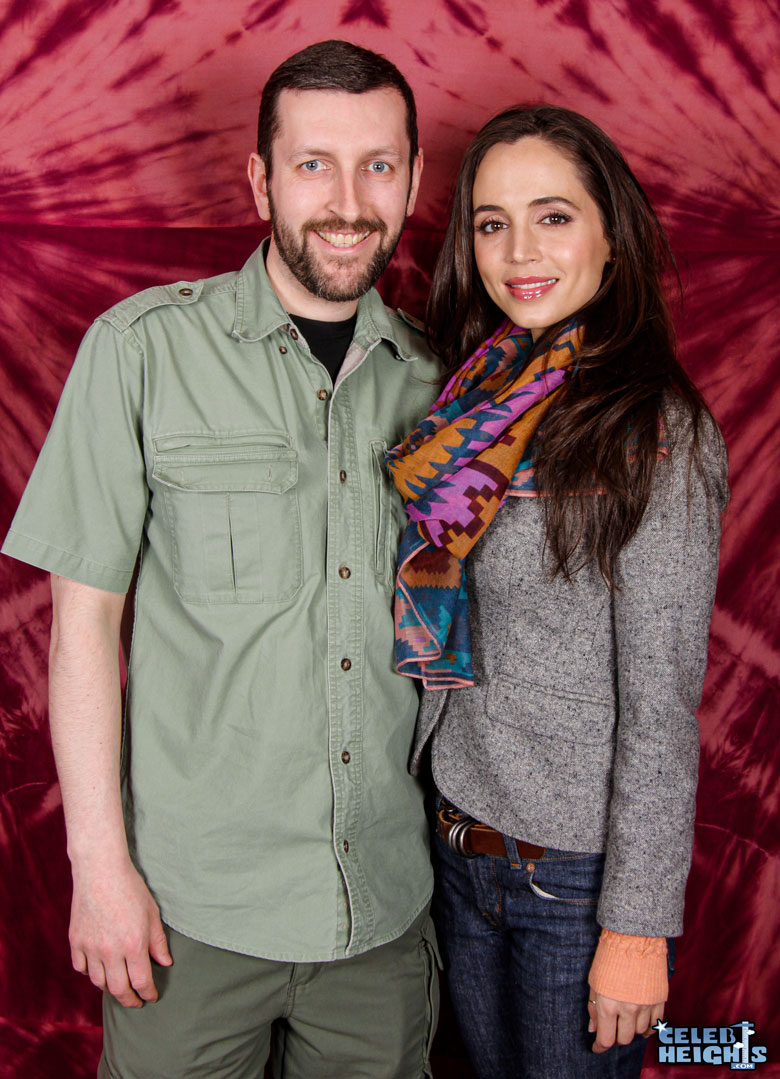 5ft 8 Rob and Eliza @ Starfury Invasion, 2012
5ft 8 Jenny and Eliza @ Starfury Inva2ion, 2012
You May Be Interested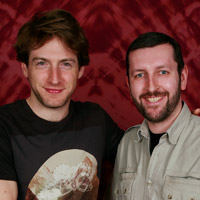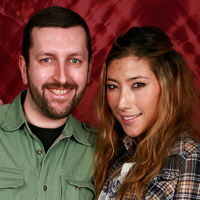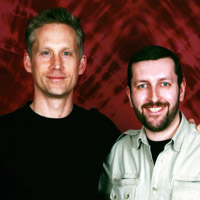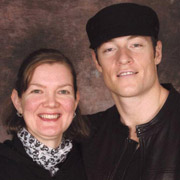 Add a Comment
56 comments
Average Guess (31 Votes)
5ft 4.24in (163.2cm)
J2Frenzy
said on 22/Nov/20
Rob are you tryna get me to watch shows that feature her? Only at the time I comment this I've had her as a random celeb 3 times

Editor Rob
well it is pseudo-random, the browsers uses xorshift128+.

sorry, that's getting way too technical :)
JohnMoore-162cm
said on 16/Jun/20
5'4" seems good listing for Eliza Duschku
JakeyJake
said on 18/Apr/20
5'4" seems spot on.
Nik Ashton
said on 30/Jan/20
@ Frank R1 - I wouldn't go that low!
Chris Junior Hernandez 1990
said on 27/Jan/20
My college friend claim to meet Eliza Dushku in real and describe her nothing over 5'3 1/2, despite there is a full inch difference on Eliza with his 5'4 1/2 girlfriend when the two girl standing for a short chat.
Johan123
said on 25/Dec/19
I could see 5'4.5" for her. Or at least SMG made her look that.
khaled taban
said on 20/Jun/19
Legit five-four
Colberto
said on 15/Dec/18
Gives a 5'5 1/2" illusion with advantage so I'll give her the full 5'4"
MAD SAM
said on 29/Jun/18
5'4" seems honest at 162.5 cm
Nik
said on 7/Jun/18
I cannot see 5'4"!
Peter175
said on 3/Mar/18
Rule of thumb. Women add 1 inch to their height and subtract 10-15 lbs from their weight
men add 2 inches and add 20lbs to their weight
even
said on 16/Aug/17
at 5'4" tall , she looks around 100 pounds
Frank R1
said on 17/May/17
5'4" seems like a bit of a stretch for Eliza Duschku. She looks tiny next to her co-stars, and she appears to be about 5'1" at the most.
berta
said on 26/Apr/17
just need to say i loved her in wrong turn. my guess is 163 but if she is lucky she could be close to 164.
josh jeffords
said on 21/Oct/16
Spot on and I'm a bit jealous she always was hot.
5 4 and 115 she usually looks fit. if she were 5 5 shed be at least 120.
Has a much better build than the buffy chick.
SaveUsY2J
said on 25/Jun/14
Rob, still think the original 5'4.5 was more accurate. If she's 5'4 flat then Amber Benson is definitely under that mark and SMG is 5'2" tops.
[Editor Rob: I saw her a few times and 5ft 4 I think is a good shout for her.]
Alex 6'0
said on 1/May/14
5'4 seems right. Far as her weight 105-110lb range is my guess. Shes pretty thin but not quite too skinny and underweight. She does look good
Swan
said on 20/Jan/14
Hey Rob how much do you think she weighs on this photo:admitting she's exactly 5ft4;
Click Here
;(second photo) i'd say 54kg and you?
[Editor Rob: maybe 52-3 range, look at her in that bikini shot on that page...I'd say no more than 52 there.]
Alex 6ft 0 1/8
said on 6/Oct/13
Looks 5'4 or maybe a fraction over considering the footwear advantage she has
LG69
said on 1/Jun/13
Considering her 1.5" footwear advantage, 5'4" is spot on.
Balrog
said on 25/May/13
She's looking 2.5in shorter than you with the 1.5" extra footwear. So 5'4'' is bang on.
marla singer
said on 22/May/13
why the 0.5in downgrade ?
[Editor Rob: I saw her a few times and think it's nearer the mark.]
Len
said on 12/May/13
I buy the 5'4.5", but not the 105 lbs. She'd be a stick-figure at that weight, but as Faith on BTVS, she had some curves.
Was probably closer to 112-115.
Lorne
said on 2/May/13
The Clark kent line is classic Rob :) But don't expect that to work when you downgrade Arnie to 5'11.5...
[Editor Rob: that's were the Wig, the walking cane and the French accent will come in handy.]
Martin
said on 16/Apr/13
Rob, do you think celebs have started to recognize you? I mean, that they know you are run a homepage called celebheights.com? Ever got that feeling?
[Editor Rob: a very small percentage would have visited, but hey, like Clark Kent, a pair of glasses and nobody recognises me ;)]
Violet
said on 26/Feb/13
Hmm... I'm 5'3" and around 105, some days less, and I'm not anorexic. I'm very small boned and eat very healthy. I suppose if one had large bones they could be anorexic at that weight. I know a ton of girls my height that look fine at 130 but i start feeling fat after I get over 110 and have to eat fast food constantly to get there. Fast metabolism maybe? I don't think she's around 105 at 5'4.5". Looks maybe 110-115 lbs.
runt
said on 25/Feb/13
I must be pretty short. I don't have the instinct to lean over in a photo unless the chick is 5-2 or less. Otherwise I try to own her military style LOL!
Silent d
said on 27/Sep/12
She is really skinny in dollhouse but doesn't look 5 foot 5. She looks petite. 5 foot 4.
Cranberries
said on 31/Dec/11
5'3" 105 lbs. doesn't strike me as anorexic, CLC. That's still within a healthy range. Maybe you have very heavy bones. Dushku is also petite. I would say 5'5" 105-110 lbs. for Dushku is reasonable.
CLC
said on 20/Nov/11
No way in hell She's 105lbs at 5'5" thats impossible. I'm 5'3" & I was hospitalized with anorexia years ago weighing 105 lbs looking like a skeleton! Eliza looks fit & healthy. SMG is 5'2" not 5'3". She looks dead tiny even on TV. Eliza is from Boston like me holla lol but my guess is shes 5'4 3/4.-5'5" 125lbs.
Lol'd
said on 28/May/11
Can't believe Freddy claimed to be 5'8, lol. Next to Dushku he looks 5'6 at best.
SoccerBoy92
said on 13/May/11
YouTuber FreddieW some how got Eliza in his new video. You can probably figure out her height.... ;-)
One Shot ft. Eliza Dushku:
Click Here
Behind the Scenes - One Shot ft. Eliza Dushku:
Click Here
She can certainly handle a gun. Makes me wish she gets to star in a huge budget action movie.
Amanda
said on 11/Mar/11
I think she looked pretty small on Buffy, and that's with 5'3 SMG and 5'4 Alyson Hannigan. She could be 5'5 though I guess, but I'd have to pay more attention to get an approximate estimate.
As a side note, I feel compelled to add...I really hope she was lying about her stats. If she's 5'5 and 105 lbs, that gives her a BMI of only 17.5 (under 18.5 is considered underweight). Since she's also reasonably athletic (I've seen her play really fit characters on Buffy and in Bring It On), that means that a good amount of that is muscle, so she's even more underweight than it implies. I think it's tragic that she could publicly announce her weight as being dangerously low, and no one probably even batted an eye. She should be at least 6 pounds heavier just for a healthy BMI, and more like 10 or 15 if she's got a lot of muscle.
gary
said on 16/Apr/09
yes, i heard her on howard stern, she said she's 5ft5 and weighs 115
Double A
said on 12/Feb/09
she claimed to be 5ft 5, today on The Howard Stern Show.
leonari
said on 20/Jan/09
She is over 5'4
steph
said on 19/Jan/09
what? I just saw bring it on and I thought she was 5 foot or something..
RentGirl
said on 19/Dec/08
Yeah that episode is called "The Moring After" Here's the dialogue between the two characters.
Davis: "I believe that the killer was approximately 5
MIA
said on 12/Sep/08
Yes! I remember the True Calling episode Tru mentioned. She is def 5'4"...maybe she can reach 5'5" with sneakers on.
Tru
said on 19/Aug/08
In one episode of Tru Calling she had to find out who was the killer of her ex.Davis used the computer to find out and said that the killer is 5'4 and right handed.Then she said: 5'4 and right handed...that's me!!!So I think she's 5'4
RentGirl
said on 9/Sep/07
She was two inches shorter than Kirsten in Bring it on. And only like two inches if not an inch and a half taller than Sarah Michelle Gellar. 5'4 is possible, even 5'3 1/2.
I'm what I am
said on 12/Jul/07
I remember, she is much shorter than 5'5,5 Kirsten Dunst in "Bring it on"
Kathryn
said on 1/Jul/07
does it say 5'4'' or 6'4''?=)...i think she could be a little over 5'5'', maybe 5'5.5'' but if not she´s definitely 5'5''. how could she say 5'9''? guess, it was a joke because she had high heels on and was 5'9'' by wearing them....
RentGirl
said on 12/Mar/07
Look at this. Its from that movie Soul Survivors.
Click Here
Bombay Rocker
said on 20/Feb/07
5 feet 9......kiss my ass. She is barely 5 feet 4.....That's even worse than ja rule claiming 5 feet 9.....amazing, didn't knew girls had to do that too. Damn hot and gorjuzz though and probably proudy too.
RentGirl
said on 17/Jul/06
In the movie Soul Survivors theres a missing persons photo of her and it describes her as being "5 feet 4 inches".
Alex
said on 29/May/06
Wierd quote she has, "I'm 5-feet-5, 105 pounds, but I feel like I'm 6-feet-4, 250 pounds". haha wonder how she feels that way?
sarah
said on 23/Feb/06
under 5-4 is impossible
Alex
said on 23/Feb/06
Yea, 5'4 is possible but nothing under that though.
Alex
said on 15/Feb/06
She looks 5'5 with Glenn since hes leaning. Glenn, what was your estimate on her height?
175cm16andgrowing
said on 3/Jan/06
How tall is Shawn Reaves then? I've always thought he'S 5'9'' or 5'10'' but Eliza doesn't look that much shorter... Eliza looks her 5'5'' www.absolutepictures.com list her as 5'6'' and 118lbs... though I think the hot lady weighs 120lbs,I could imagine her to be 5'6''.
Makanofuji
said on 28/Sep/05
Met ED at Comic Con 2004 in San Diego. She was a little taller than my wife, who's 5'-4". So, 5'-5" is about right.
Z2
said on 25/Aug/05
If Eliza stated that she's at a lovely medium, then she'd be refering to the average/medium 5'4" and rounded up to 5'5".
Gigy
said on 21/Jun/05
I would say, she is somewhere between 5'5 and 5'6, the last end of 5'6! On that ´Angel´ episode season 1, where she hit Cordelia in the eye and wanted to torture Wesley, you can clearly see that Charisma Carpenter, who is 5'7/170 cm, is slightly taller than Eliza Dushku, and it was even hardly noticable, cos they had Eliza wear those army boots with big and high soles!
J.
said on 29/Mar/05
Didn't know who she is until I saw this. I must say that she's pretty hot but she needs to make up her mind when you gives her height to interviewers! She does look 5'4"-5'5"-ish though.
CelebHeights Editor
said on 29/Mar/05

"I'm 5'9" - OK, fine 5'8 1/2". OK, really I'm at a lovely medium, that's all I'll say."
- Eliza from a while back.