Tahmoh Penikett's Height
6ft 3 (190.5 cm)
Canadian Actor best known for his portrayal of Helo in Battlestar Galactica and Paul Ballard on Dollhouse. He has said he is "6ft 3" in an online webchat and also
"I'm 6'3"
on twitter. Jenny got a photo at battlestar starfury in December 2008.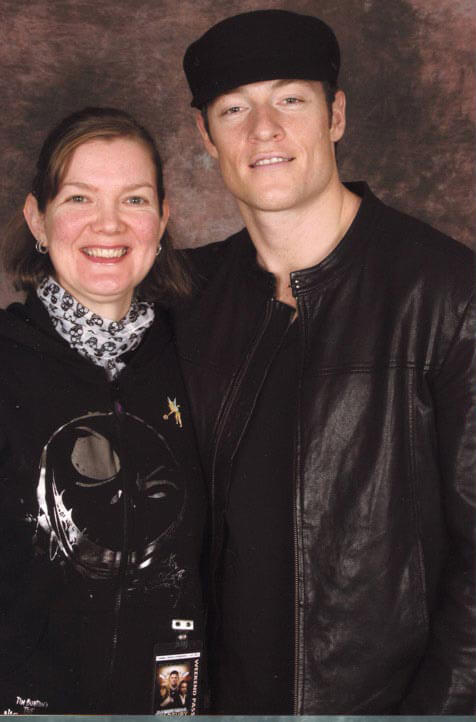 5ft 8 Jenny and Tahmoh
You May Be Interested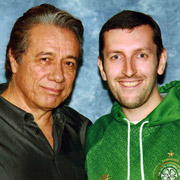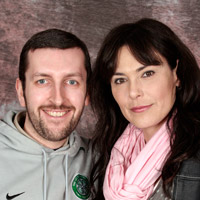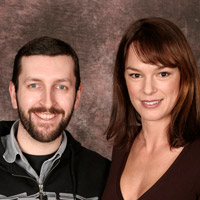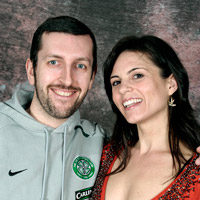 Add a Comment
61 comments
Average Guess (32 Votes)
6ft 2.2in (188.5cm)
OriginalAnon
said on 7/May/20
He doesn't even look 6'2'' in the photo. He must be slouching quite a bit.
Chris Junior Hernandez 1990
said on 4/Feb/20
Click Here
Justin Hartley gave a taller impression next to 5'8 1/8 Rob than Tahmoh Penikett next to a 5'8 Jenny. In person 6'3 i'm not sure maybe he really drop some height with Jenny. But i feel Tom Welling in real should be strong fraction shorter than Tahmoh.
Christian 6'5 3/8"
said on 6/Dec/19
6'2.5" could be a good listing for the time being.
slothee
said on 6/Dec/19
This photo doesn't help his case for being 6'3"
K.A 188 !
said on 11/Aug/19
Is this a joke? This is not how a 6ft2 person should look close to a 5ft8 person let alone a legit 6ft3.
Anyways he is slouching but even with that this guy is not over a flat 6ft2.
Junior Hernandez 1990
said on 31/May/19
Maybe i was wrong that he was not even 6'3 but i'll go by Rob worst statement for Tahmoh @ 6'2.5 inches. I remember he was always listed 6'2.5" all over the internet during Dollhouse showing 10 years back. But he oddly look struggle over 6'1 1/2 with his left eye above Jenny's hair.
Canson
said on 13/Jan/19
He looks overlisted.
Christian 6'5 3/8
said on 11/Jan/19
@Peter
I think it's because he's slouched. If he stands straight I can see 6'2" but no more than that. I wonder if Rob ever met him in person. Maybe he didn't so that's probably why he lists him at 6'3". He looks nowhere near it with Jenny.

Editor Rob
Yeah I did, but put my arm around him and he stood worse...in hindsight, he might have been a guy who would have been up for a salute. He was 6ft 2.5 at worse really.
Peter 180cm
said on 9/Jan/19
Doesn't look over 186-187 here with Jenny..
TheBat
said on 13/Nov/18
There are other pictures where you can tell he's absolutely 6'3". Tahmoh would make for a great Hawkman in a DC movie or Taskmaster in a Marvel movie.
Junior Hernandez 1990
said on 24/Oct/18
185cm with Jenny but dropping 2". At least 190cm in person if Rob dare to put him up 6'3.
Bobby
said on 2/Oct/18
The ironic thing here is that he looks like the Wolfenstein protagonist B.J Blazkowicz who is coincidentally also 6'3. If they ever make a Wolfenstein movie series, he needs to audition for the part.
Nik
said on 11/Jul/18
The average vote is too low, the least that he could be is 6'2.5" - 6'3" range! I like his name!
Junior Hernandez 1990
said on 8/Jul/18
In Supernatural that is a scene standing close to Jared Padalecki he only look around 3/4 inch shorter but he wear a 1.4" boots on and Jared had 1.1" looking normal footwear. I think Tahmoh should be close to 6'3 in person. He probably drop 2" of height with 172cm Jenny make himself looking 6'1-ish.
6ftMedium
said on 4/Jun/18
He is 6'1 at most with Jenny.
Rampage(-_-_-)Clover
said on 14/Apr/18
Rob, could 189cm be closer?
I don't see him under 6ft2 but not quite a big 6ft3 either

Editor Rob
6ft 2.5 would be lowest I'd argue, that's minimum for him...I think he is close enough to 6ft 3 to claim it and you'd be surprised when he stands tall in person...
Dillon Rice
said on 22/Mar/18
Got to be honest, I thought he was like 5'11-6'0 when I initially saw the picture above.
Junior Hernandez
said on 4/Feb/18
Maybe a 1/4 less than this listing but look under 6'2 with a 5'8 Jenny.
DirectorKrennic
said on 4/Dec/17
Was Jenny wearing heels in this photo?
Editor Rob: Jenny has never bought heels in her life, hates them. The only time she has worn them is inside for celebheights experiments and measuring various heel types.
Rampage(-_-_-)Clover
said on 6/Oct/17
He looks barely 6ft2 even with the cap!
even
said on 16/Aug/17
height = 190 cm , weight = at least 90 kg
S.J.H
said on 29/Jun/17
Yes he can be 6'2.5 like his older listing some site given but really not a big 6'3 guy or 190cm , i think he just round up half inch or he measure not long after out of bed
Editor Rob: Tahmoh has awful posture half the time, I seen him stand tall and he was closer to 6ft 3 than say Brandon Routh looked...

walks and stands with curved upper spine.
AlexMahone
said on 5/May/17
If Penikett taller than Brandon Routh as Rob said earlier then no way that he's only 6'2".
Click Here
Here is a picture with 6'4" Victor Webster. What dou you think Rob? Webster is more slouching and OPenikett's posture is better but I see a good and big 6'3" guy. Rob?
Editor Rob: in person Victor is definitely more 6ft 4 and Tahmoh isn't as tall, I'd say at least 1 inch between them.
berta
said on 26/Apr/17
i think 188 is to short and 190,5 to tall i would say he is that range that dwayne johnosn is today. maybe 189,4
Rampage(-_-_-)Clover
said on 3/Nov/16
Not convinced he's quite a 6ft3 guy. My money's on a solid 189cm maybe 190cm at a push
Paul
said on 18/Mar/16
Rob, why is there a lot of height difference between him and 5'7" emmanuelle vaugier in nfs carbon. But anyway got to agree with 6'3".
Editor Rob: I've not seen that need for speed, but he isn't less than 189cm in person
S.J.H
said on 5/Dec/15
185-186cm at most with jenny. Not sure if he standing straight? But let alone 190.5cm aka 6'3 there is no way hes this tall. I would say 6'2 from most picture i see him
Editor Rob: he doesn't have great posture at times, but he does look over 6ft 2.
Jim Hopper
said on 11/Nov/15
6-3" is a no no. 6-1" imo
fish
said on 17/May/15
he is a legit 6ft3, he just stands very relaxed in the picture.
Rampage(-_-_-)Clover
said on 29/Apr/15
Rob, you sure 6ft3 isn't a bit of a stretch?
[Editor Rob: there is a chance he is 6ft 2.5, but that's the lowest I'd have guessed him. His posture is up and down at times...I should have asked him to do a pose the day I seen him but didn't. If I ever seen him again I would. Unfortunately Jenny is too shy to ask (believe me she wouldn't do it).]
Sarum
said on 12/Apr/15
I met him at a convention. I'm 1.88m and he was a bit taller than me, so 1.91 seems about right.
AlexMahone
said on 8/Feb/15
What are you talking about? Please let alone this "I saw him here and there and this guy need a downgrade..."
Please see this behind a scene picture:
Click Here
Penikett stand in a great military posture but Welling is closer to the camera. Penikett is CLEARLY taller. Rob has right again. Penikett is 191cm. 1-1.5cm taller than Welling.
Josh
said on 8/Feb/15
Saw this guy on Smallville and Continuum. He was about 1.5-2 inches shorter than Tom Welling and 2-3 inches shorter than Victor Webster. He needs a downgrade. 6'1-6'1.5 at the most
Lebensdorf
said on 22/Dec/14
6'1.5, no more. Guys this height often claim 6'3, just like 6'0.5 guys claim 6'2.
Tommo
said on 26/May/14
Doesn't look anything over 6'1 in the picture, he must be dropping an awful lot of height.
kjol
said on 18/May/14
6ft2. no more
Triplescrew
said on 14/May/14
Click Here
I'd give him 6'2"...Padalecki has at least 2 inches on him.
Click Here
And Jensen Ackles is at around a 1.5" disadvantage...
Jon
said on 18/Oct/13
A lot of legit 6'2 people claim 6'3 i think this guy might be one of those people , honestly i dont really see him as a legit 6'3 more like a 6'1.5 or 6'2
joak
said on 5/Jun/13
Click Here
was watching Continuum. i know Penikett is a big guy, but Victor Webster looks slightly bigger. don't know about shoes and posture, but 6-3 works for Penikett.
Janie13
said on 16/Mar/13
I think 6'3" is pretty accurate. He towers over everyone he stands next to.
@Mike O
said on 14/Oct/12
Only 6'3 is tall? 6'2 is normal? Maybe in Holland...
Haze
said on 23/Jan/12
I think he is more 6'1.5. I have a picture here supporting my theory comparing him to 6'1 Steve-Austin.
Click Here
Mike O
said on 3/Jan/12
He looks a little shorter than 6'3" in the two photos. A lot of guys who are around 6'2" often try to bump up their height credentials. I'd say 6'2" is on the edge of "high normal" height, 6'3" is legitimately tall. I'd say a strong 6'1" to weak 6'2" without shoes.
Cranberries (18m, 192cm dinnertime)
said on 2/Jul/11
Listed as 6'2.5" on the 'DB, Rob. They almost never underestimate height.
linebacker40
said on 5/May/09
Saw a recent episode of Dollhouse, and he looked about 3.5 inches taller than legit 5'11" Alan Tudyk. A strong 6'2" or a weak 6'3".
Katie
said on 16/Apr/09
Definitely 6'3. I'm sad you didn't put my picture up, Rob. :(
He was taller than my 5'10 height in 4" heels! He also looked the same height as my boyfriend.
linebacker40
said on 29/Mar/09
Seen a few episodes of Dollhouse, and he's looked a very sturdy 6'1".
RJS
said on 19/Dec/08
I'm glad that's settled, 6'3" is pretty much right.
BTW, he is genuinely the nicest guy you will ever meet, he just couldn't keep up the act for days at a time. It really is him, he's from a great family. Rob and Jen would agree I'm sure.
RJS
said on 16/Dec/08
I've met this guy at a convention as well. I reckon 6'3" is about right. If forced I might accept 6'2.5" but that's it.
AnonymousBergh
said on 15/Dec/08
Right, anonymous.
Umar
said on 13/Dec/08
Whoever he is, he looks 6 ft 1 in the first picture. 6 ft 2 if standing straight
anonymous
said on 13/Dec/08
He seems to be between 6'1 1/2 and 6' 2" in these pictures which would probably be accurate because most people exaggerate their height around 1" to 1 1/2".
Josh
said on 11/Dec/08
MOre like 6'1
Alex
said on 11/Dec/08
Rob, I see you list Jenny at 5'8.25-5'8.5 with her photos. Does her height change often enough at a certain time of the day?
[Editor Rob: it depends I think on hydration and how much work she does.

In a way sometimes conventions are relaxed, other times we are carrying around backpacks and have been up 3 hours earlier than actors might have.

I've measured her from 5ft 8.25 to 5ft 8 and 3/8ths more often in late afternoon/ evening than 5ft 8.5.]
Arikado
said on 11/Dec/08
looks 6"3 he's just slouching
runt
said on 10/Dec/08
Actually he looks way shorter than 6-16.2 which is 7-4.2 >_>
Anonymous
said on 10/Dec/08
I always thought he was 6'3, but he looks 6'2 in the photos. 6'1.5 if he is wearing thicker shoes than Jenny.
a
said on 10/Dec/08
doesnt look much taller than 6-16-2
Anonymous
said on 30/Oct/07
From the first time I saw him, I instantly thought he would be the same height as the Rock. 6'3 is spot on, he does tower everyone.
[Editor Rob: this was one actor I upgraded to his quote after seeing in person...]
Art
said on 27/Feb/07
Seems about right, he pretty much towers over the BSG cast. I thought he was about 6'3 before I had ever seen any references to his height.
CelebHeights Editor
said on 24/Oct/05
In a chat transcript on tahmohpenikett.blogspot.com, he said
"I'm 6ft 3"