Jen Halley's Height
5ft 8 ½ (174 cm)
Canadian Actress best known for playing Seelix on tv show Battlestar Galactica. This photo is from a Starfury Convention. In this photo she had between 1.5-1.7 inch more footwear than me.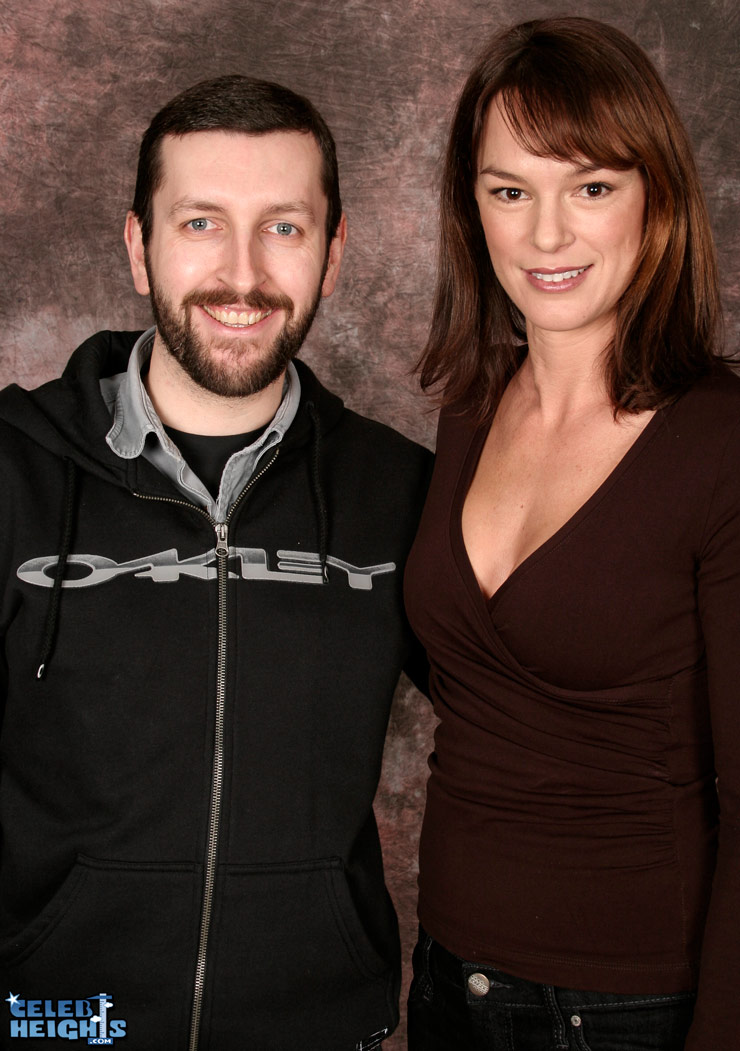 5ft 8 Rob and Jen @ Battlestar Starfury 2008
You May Be Interested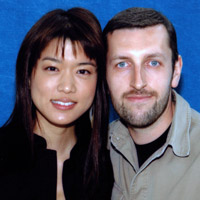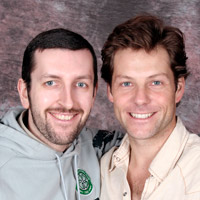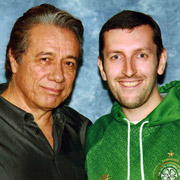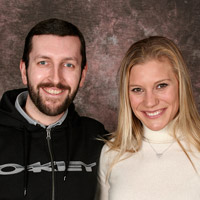 Add a Comment
36 comments
Average Guess (17 Votes)
5ft 8.75in (174.6cm)
Nik Ashton
said on 11/Jun/20
I doubt that she's taller than Rob Paul!
JohnMoore-162cm
said on 8/Apr/20
@Bobby- Yeah ,, I'd put her at 5'8 1/4" too
Christian 6'5 3/8"
said on 7/Nov/18
@Bobby
I agree, I'd put her at 5'8.25" or worst case exactly Rob's height.
Nik
said on 7/Jul/18
The average vote of 5'9" is too high!
khaled taban
said on 26/Jun/18
5'8.5" at evening , 5'9.25" at morning
Interval
said on 20/Jan/18
Rob, can some people think that there's only a one inch difference in this pic? For some reason you appear closer than 2 inches. When you compare Cameron Diaz and Steve Carrell's difference in her heels, they look like a far greater difference than you and her in this pic.

Editor Rob
Well I wouldn't say it was 1, but not quite as much as 2 either.
Marquis
said on 25/Sep/17
Wow, surprised she's 'only' 5'8 1/2". She looked ridiculously tall at times on BSG, like 5'10" or 5'11". Maybe she had significant footwear on the show.
Bobby
said on 22/Sep/17
She looks 177cm with the footwear advantage. So, that would be 5'9.75 roughly, so 69.75 minus 1.6 inches is 68.15, I think. Rob, give her a 5'8.25 listing, or a flat 5'8.
TanLe
said on 1/Jan/15
5 foot 8 and 3 quarters
mike
said on 28/Nov/14
LOL rob... that's a 2 inch height difference..not 1/2 inch!!! change your or her height!
[Editor Rob: as it says in the description at the top she has more footwear, she's in
a heel
]
Alex 6ft 0 1/8
said on 12/Dec/13
If you take away around 1.6 inches of footwear then her and Rob would be almost the exact same height because even with her footwear advantage she doesn't look to have 2 inches on Rob. 5'8.25-5'8.5 she is
Bakura
said on 17/Aug/13
@Goerge - she has considerably more footwear next to Rob than Park does.
Goerge
said on 6/Aug/13
She is taller than Grace Park ! And you give grace 5'9 and jen 5'8 1/2 LoL??
Lee
said on 6/Jul/13
I'd give her 5'9", at least. She looked tall as hell on Battlestar Galactica.
She also seems a tiny bit slouchy in her pics with Rob and Jenny above.
Bard
said on 6/Apr/13
Accurate listing.
someone
said on 20/Dec/12
she could be 5'9 (even considering footwear advantage)...but then again she appears to be standing slightly closer to the camera
Maximus Meridius
said on 20/Aug/12
Rob she looks taller in this picture about 5ft 10.5in range who had more footwear her or you.
Len
said on 19/Aug/12
She seems to be tilting her head forward/down a tiny bit... 5'9" might be more like it.
On BSG she looks even a bit taller than that, but you usually don't get to see her footwear there. And despite some comments to the contrary, a very beautiful women as well, moreso on BSG (these aren't the best pics I've seen of her).
J.Lee
said on 25/Jul/12
Rob are you as tall as her? You list yourself at 5 ft 8, but you are 5 ft 9 in the morning. How tall is she in the morning if you are 5 ft 9 in the morning? Do girls shrink less in the day then men?
[Editor Rob: I don't think men or women shrink more than the other, but length of spine can effect a little how much.

From the footwear she had on I felt 174 was a good guess, so out of bed she could be above 5ft 9 for sure.]
Sean73
said on 6/Jan/12
Cranberries what the hell are you talking about!?
Shaun
said on 20/Nov/11
I said something about East Asian heritage, could actually be a touch of Inuit actually.
Shaun
said on 20/Nov/11
Very unusual features. SOmething around the eyes such she has some East Asian heritage but the cheekbones indicate Balkan/Russian heritage/maybe Greek.
Brazilian Fellow 5ft11.25in
said on 16/Nov/11
does anyone know her ethnicity? Her complexion is somewhat dark, and she's a bit Indian looking to me!
Kostas
said on 15/Aug/11
@Jonnny: No one looks like an alien, but If YOU are an alien or look like one then everyone else will look like an alien to you :P (hope what I am saying makes sense!).
Cranberries
said on 10/Jun/11
Her head circumference looks about 27.5 inches to me. With a 42 inch waist and 4.5 inch wrists.
Brazilian Fellow
said on 6/Jun/11
Boy, her head is big!
Jonnny
said on 21/May/11
Looks like an alien
[Editor Rob: I might look like an alien but Jen was a model at one point!]
Dean
said on 13/Jan/11
Thats what a solid 1.5 inch looks like. she looks 177cm minus 1.6inch(4cm) shes a strong 5'8(173cm) same height as you!
J.Lee
said on 21/Feb/09
with her heels, how much taller do u think she is than you and jenny in the pic above
[Editor Rob: I think she looked close to 2 inches taller in person. So she could look like a 5ft 10 person because of heels.]
Jlee
said on 15/Feb/09
rob, sometimes you and jenny are same height because it fluctuates? interesting
[Editor Rob: it's easy to measure on the height guage at various times of the day. I'm interested in how fast height is lost due to different types of activities during a normal day, and why sometimes you don't lose as much...]
Alex
said on 15/Feb/09
Looks to be a 2 inch difference but she has 1.6 inch advantage so she'd still be 1/2 inch taller if they had the same footwear so 5'8.5 seems right.
runt
said on 15/Feb/09
I don't see 5-8.5 if she has a 1.6" footwear advantage. She would be 2.1" taller than Rob and 1.85" taller than Jenny. I think she's 5-8
Jlee
said on 15/Feb/09
OH man rob! those 2 women! one is a quarter inch taller than you, the other is a half inch! so close man! if only you were just a little bit taller than all these girls would be shorter than you. do u sometimes wish u were same height as jenny exactly?
[Editor Rob: sometimes we are 1/8th, 1/4 or 0 inches apart in height...]
Jlee
said on 15/Feb/09
I would have guessed five ten
derek d
said on 14/Feb/09
Looks about 5'8.5.... Considering the heels. Wow she's hot.
Markus
said on 14/Feb/09
I dig Jenny's shirt!