American actress known for playing Starbuck on Battlestar Galactica, Vic on Longmire and Dana Walsh on season 8 of 24. In film she has appeared in Riddick, Oculus and White Noise 2: The Light. At this Starfury Convention she had about 1/2 inch more footwear than us. In an online chat with Tricia Helfer she said she wasn't sure of her exact height, although in 2013 she was quoted in an interview saying:
"I mean, almost all the guys in this movie at 6 feet tall and I'm only 5' 5", so I was going to look small regardless"
but on her twitter said
"5'6"
and in 2019 she said
"I'm barely 5'6"
and was also measured near 5ft 6 earlier in the day.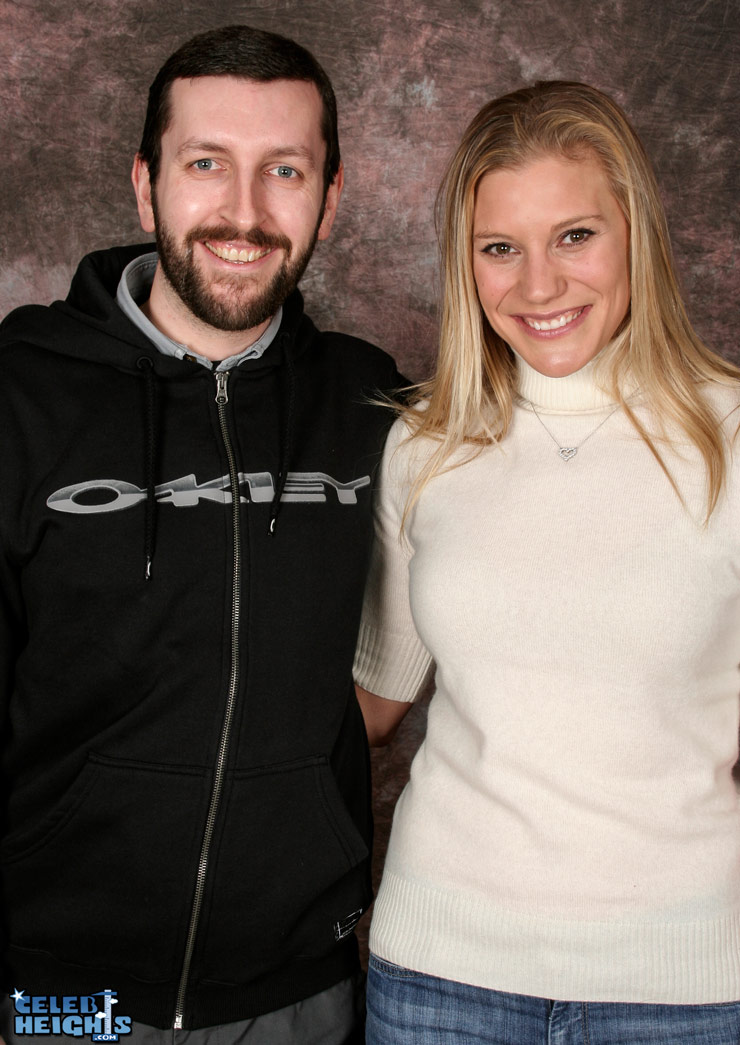 5ft 8 Rob and Katee @ Battlestar Starfury
FanboyNation (FBN): You know you're IMDB page says your 5'10"

Katee Sackhoff (KS): chuckles. Does it really? You know people always go in there and change it. They think they are more right than the person who originally did it; because I'm 5'5", 5'6" on a good day. 5'10" today in heels.
-- FanboyNation, 2013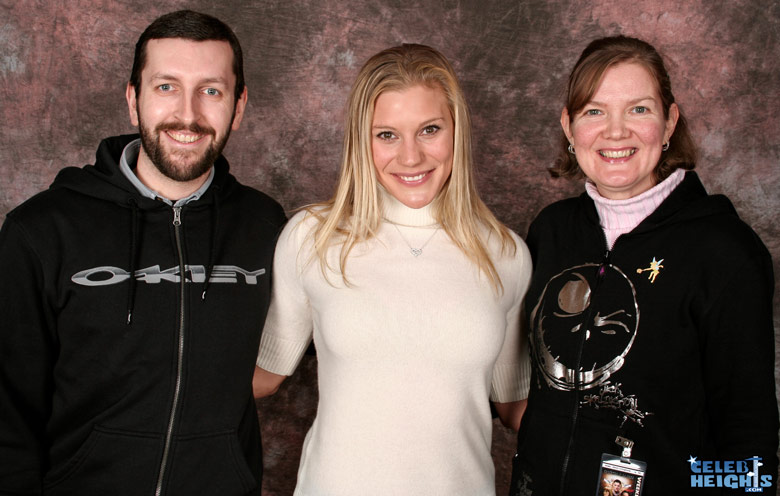 5ft 8 Rob, Katee, 5ft 8 Jenny
Elene
said on 7/Aug/21
She may be 5'6,average guess is too low,I see full 5'6 for her
JohnMoore-162cm
said on 24/Jun/20
I'm only 5' 5" ..Try being 5ft4 like me !
Anyway she's 166 cm not 167 cm , she claimed 5ft5
Nik Ashton
said on 6/Oct/19
She is not small at all!
Andrea
said on 30/Sep/19
For precision's sake, I think she gets measured just under 5'6 there:
Click Here
. Still quite possible she drops to around 5'5.5 at her low, IMO.
P.S. She'd better stick to evening or, better yet, late night measurements, if she wants to have any chance of working with Tom :P

Editor Rob
It could have been 167.5ish
GRZ1
said on 27/Sep/19
Katee is at least 5'6" in the morning. She got measured at that height in this video:
Click Here
Nik
said on 22/Feb/19
It's interesting that she claimed to be 5'5"!
6footTom
said on 24/Aug/18
@John Not sure where in any of those pictures do you see 4 inches.
Nik
said on 10/Jun/18
I am quite happy with this listing! Nice photo BTW!
MAD SAM
said on 15/Dec/17
She's not more than 165 cm
Marquis
said on 15/Oct/17
Looking at the pics, this does seem right for her. Though I originally thought she was a fraction taller on BSG, like 5'6".
Long hair suits her... she's gorgeous. Casting directors, are you seeing this?
John
said on 23/Mar/17
4 inches shorter than you, Rob. So therefore she is 5'4.
josh jeffords
said on 15/Mar/17
She looks 5 7 to 5 8 in movies but boots can do that she is as listed in photo.
Very pretty great smile and she is a good actor too vin is not 6 ft nor did he look it.
Watch the boots he is never without them probably wears them in the swimming pool.
heelshealheight
said on 13/Feb/17
In some sites, she's actually listed as 5ft7/5ft8. Lol..
J.Lee
said on 14/Apr/14
Rob u look a lot taller than Jenny here. Hey Rob, are you considered taller than Jenny? at one time you said she was a quarter inch taller, but then you measured taller than her in a yt video

Editor Rob
she never had that many measurements in 08-10, most were morning/lunch. I wasn't going to pester her much after she came home from work...
I mean in 09 and 10 I knew her low was 5ft 8 flat, this pic is 2010 of her low
at 5ft 8 flat
...
the very latest measurement was this month at 1pm and she managed 5ft 8 1/8th...I was taking a video to show 5 years after our NY trip :)...
Watch here
- so quite clearly for every year since NY, I have added 1mm to my height. While G is losing 1mm per year, I am gaining and stealing his height (don't tell him that, I cursed him with a height shrinking spell). But the proof is there - ever so slowly I am stretching away from G...well ok, I'm not really, my low is still absolutely 5ft 8.25 on the device...
Alex
said on 1/Feb/14
Watched her in Riddick, she is super fit. If Vin is 6'0 then 5'5 sounds right for her. But you are taller than Jenny in these pics!
Len
said on 17/Sep/13
So... she herself claims 5'5" in an interview, and you give her 5'6", Rob? You soft touch. =]
In the pics, I'm seeing about a 2" height difference for Katee vs you Rob (though not vs Jenny, for some odd reason - different footwear?).
Accounting for Katee's 1/2" footwear advantage that you cite, sounds like she's 5'5 1/2".

Editor Rob
me/jenny had same footwear, katee did have more footwear, at least half inch.

but she was quoted in an interview saying 5ft 5, but type 5'6 on her twitter...
TNTinFL
said on 13/Aug/12
I'm amazed at how stunning she actually is.
They always tried to give her that 'rough' appearance in Battlestar. But in day to day pics, she is really extremely beautiful.
Veena
said on 28/Feb/11
I've met her twice, at the Starfury convention above and at NY Comic Con in 2010. I'm barely 5'8", both times I met her I was wearing sneakers. She is not 5'9". I felt sooo tall near her...
Ivana
said on 25/Aug/08
She can't be taller than that, she is shorter than James Callis.
Click Here
Click Here
(look at the pics on this thread, I can't post the links to the actual photos because they're too long)
If you've seen the season 3 finale, you know that female Cylons can be 5'2" LOL