Jamie Bamber's Height
5ft 9 (175.3 cm)
British Actor best known for role as Lee Adama in Sci-Fi tv series Battlestar Galactica. He has also had roles in Law and Order:UK and The Smoke. He was quoted in The Daily Mail saying
"I'm 5ft 9in with a 40in chest and a 31in waist, so I'm rather too big for that very tailored British look"
. This is a height Jamie has claimed since
earlier
in his career. We met Jamie at a 2008 Starfury and 2010 Collectormania event. Me and Bamber have about same sneakers, Jenny I belive had about 0.3 inch less footwear.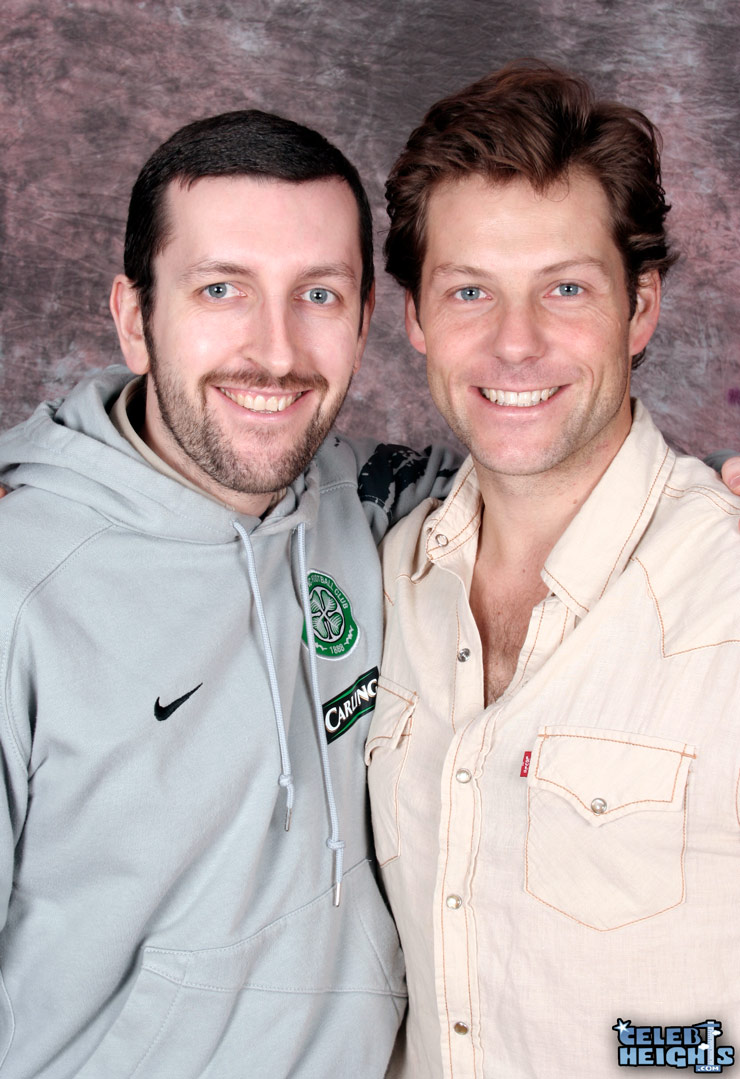 5ft 8 Rob, 5ft 8 Jenny and Jamie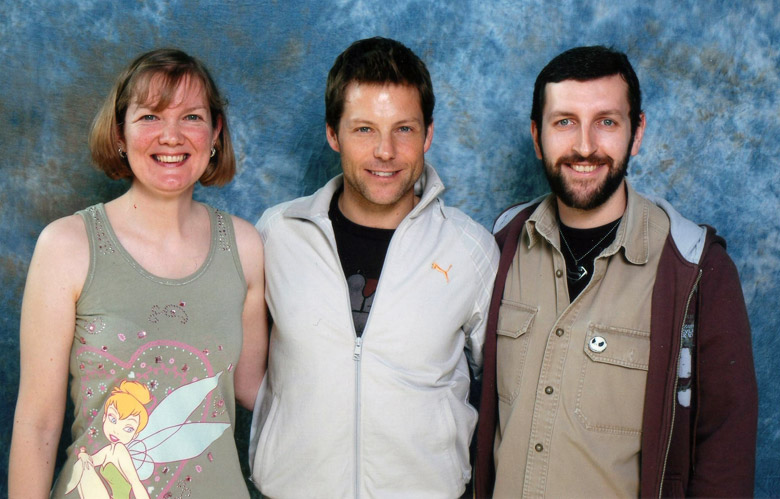 Jamie @ Starfury Convention
You May Be Interested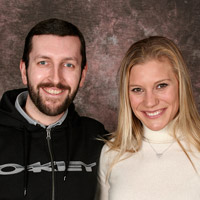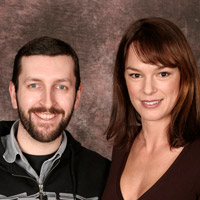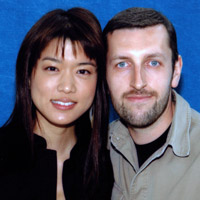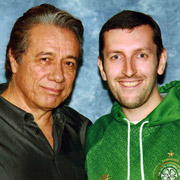 Add a Comment
106 comments
Average Guess (33 Votes)
5ft 8.63in (174.3cm)
JohnMoore-162cm
said on 28/Apr/20
he could be a weak 5ft 9
Fezz123
said on 23/Apr/20
5'8" dude with deceptive poofy hair.
avi
said on 29/Jul/19
@Editor Rob
When these pics are taken are you 5'8.25to 5'8.4 zone or are you More like 5'8.1?
From your YouTube videos ive watched throughout the years you normally see to measure around a .25 over 5'8 at least.
So assuming you are 5'8.25 in most of these pics like this one I would say this guy is 5'8.5 to 5'8.75 tops. Not really 5'9. He's not more than .5 inch taller if that.

Editor Rob
The one at the hotel (brown background) I might have a better chance of 5ft 8.25 than at the shopping centre, which would be more towards low range.
khaled taban
said on 28/May/19
@Christian 6'5 3/8", he looks 175cm with Jenny because Jenny had 0.3inches less footwear
Warren
said on 12/Mar/19
Looks like Louis Tomlinson in the right pic
Christian 6'5 3/8"
said on 24/Jan/19
Looks about 5'8.5" with Rob but legit 5'9" with Jenny in the bottom pic.
Rojina
said on 22/Jan/19
WHAT a handsome speciman corrr! Having just read about his casting in Law & Order UK he does look familiar as Bradley Walshes tall and young sidekick.........

Editor Rob
On Law & Order, he wasn't really that much different from Walsh, they seemed pretty close at times.
Markey
said on 27/Oct/18
5'8" guy with big hair.
Zampo
said on 22/Sep/18
5'8.75, somewhere near this mark.
Seems similar to Nick Blood.

Editor Rob
He's a tricky guy because he typically has a thick hairstyle any event I seen him at...but he also certainly does not have a small head in person.
RedFire
said on 26/Jul/18
Definitely a 5'8.
Nik
said on 12/Jul/18
Maybe a tad under 5'9"!
Paul Wood
said on 9/Jul/18
5ft 8.5in in my humble opinion
Sean
said on 8/Jul/18
Hair doesn't count. 5'8"
khaled taban
said on 26/Jun/18
5'8" or 5'8.25" but no more than that
World Citizen
said on 8/Feb/18
Looks no more than 5 ft 8.25
Marquis
said on 23/Sep/17
More like 5'8", maaaaybe 5'8.5" on a good day. Bamber's hair is deceptive.
In addition, Bamber's eye level is at or below 5'8" Rob's in the two photos
Bobby
said on 16/Apr/17
They look similar im height but you can tell that he's taller than Rob by looking at the top of his head, don't look at eye level, a one inch difference in height will not be seen from eye level. Yet, people will complain about rounding a quarter inch, if you can't even tell straight away who's taller in this picture, you don't have a prayer of seeing a quarter inch.
Guest66
said on 20/Jan/17
I don't see here 5'9 at all. If anything, he is only fractionally taller than you Rob, and that would make him 5'8.5 at most.
Tunman
said on 11/Sep/16
Hmm,doubt his eyelevel is 5" rather 4.7"imo and a head near 9.5" but yeah maybe just under 5'9 like 5'8.75".On the right pic he looks 174 tops but his head is tilted down and it looks like a 10" easily which isn't the case.Left pic is quite reliable,you can see a small difference for chin level eyelevel and although Jamie's hair gives him advantage 1cm perhaps 1,5 max is possible,more of a weak 5'9 but certainly cleans the mark earlier in the day
Also looks quite young in these pics, wouldn't have guessed he was in his early 40's on the the left one anyways.
James c
said on 20/Aug/16
Looking closer maybe like an sub 5'9" like between 5'8 5/8ths too maybe 5'8 7/8ths. On the right he's actually not bending down that much and the one with you it looks like he could hit just about 5'9".
James c
said on 14/Jul/16
He has an big forehead like 5 inches from eye to top of head so if he's actually 5'9" his eyes would match eye to eye at 5'4". Rob has an 4 1/2 inch eye level and his eyes match 5'3" 5/8ths according his measurement at 5'8 1/8ths so there is only supposed to be an 3/8 eye level difference which makes sense if they're basically eye to eye an half inch difference is at the eyebrow area. If you look at their heads it's pretty clear that he is 5'9" just know this if he had an small forehead he would be shorter then Rob he would be Jenny's height or if he had the same head level as Rob then he would only be 5'8 1/2 or an strong 5'8" .
Ray
said on 11/Nov/15
I also agree he needs a downgrade to 5'8...or at least 5'8 1/2 if you think he appeared taller in person. No way an inch taller unless be was barefoot.
Editor Rob: I seen him again up close - he might fall a little under 5ft 9 but I really doubt much at all.
NBAer
said on 11/Aug/15
173-174 range,no more.
Rey
said on 23/Jul/15
Looks like Christopher Reeve in left photo.
Ed2882
said on 25/Mar/15
I'm surprised this height wasn't downgraded yet. He's clearly Rob's height, if given similar footwear. Definitely in the 173-174cm range, not 175cm.
Alex 6ft 0
said on 15/Apr/14
He's closer to Rob's height. 5'8.5 Id give him. barely taller than Rob
Inches
said on 25/Mar/14
Not quite 5-9. 5-8.5
Ted
said on 19/Feb/14
5'8" guy with poofy hair.
The Horse of FUNK
said on 14/Feb/14
Gotta agree with the 5'9" naysayers. Looks more 173cm or 174cm to me.
Ted
said on 5/Jan/14
I think Rob got fooled a bit by Jamie's tall hair.
He always looked 5'8' on Battlestar Galactica, and no more. As Helo said of him, "Tough little frakker."
lelman
said on 7/Oct/13
Looks 5'8.25"-5'8.5" I think if you shaved his head you'd both stand about the same height. I think it's fair for him to round up, as it's pretty close, but I don't see the full 5'9" here.
@James, many things affect weight, I'm 5'11", 40 inch chest 32 inch waist and I weigh 175. 180 would kinda be pushing it for this guy, but I've seen smaller guys than him weigh more.
LG69
said on 29/May/13
He looks 5'8.5" max, and about 180 lbs. Rob how much do you weigh? I'd guess about 170 lbs.
[Editor Rob: I used to weigh around that back then, but last year I've managed to hover about 150-151.]
da_truth
said on 15/May/13
@James
yeah, I agree - more like he's 160-170.
james
said on 24/Apr/13
i'm 5'10, with a 30 inch waist and 38 inch chest... and i'm 150. 195, 185's really pushing it.
thorterr
said on 29/Dec/12
hes5ft9hes5ft9hes5ft9hes5ft9 there out voted
richkid123
said on 24/Dec/12
He doesnt even look one centimeter taller
Len
said on 19/Aug/12
Eye level is the same as Rob in the first pic, and a little lower than Rob in the second. And he seems to have the same size head as Rob too.
Only his hair is 5'9". The man himself is 5'8", tops.
Hob
said on 27/Jul/12
he was only a hair taller than rob. weak 5'8.5 and 5'9 a joke.
Dmeyer
said on 11/Feb/12
His eye level is lower than Jenny and hé looks at best 0.25 in taller than you how CAN hé be 5'9
[Editor Rob: he looks about the same as my Dad does.

although he does have a lot of hair, even the second shot he has about an inch of hair before his head...]
Reality
said on 29/Dec/11
@andreaita 2cm taller than Rob can be right,but how can he be 5'8?You made me laugh
ANDREA[ITA]
said on 18/Dec/11
doesnt look over 6'8.5 here, even less like 5'8-5'8.25 range, rob!
Dom
said on 7/Dec/11
Physics enemy, he looks slightly taller than Rob actually
Physics Enemy
said on 9/Nov/11
He's 0.25" shorter than Rob. Flat 5' 8". He's not 174 and definitely not 175.
Dom
said on 12/Oct/11
He looks more like 5'8,5" on these pics anyway. Good looking man.
Safiron
said on 16/Sep/11
OMG i thought that he is like six two :-D
Kostas
said on 29/Jul/11
He does look 5 ft 9 to me.
Rampage(-_-_-)Clover
said on 3/Jul/11
176cm if you count the hair
Hullywuud
said on 31/May/11
I thought 2cm would make more difference.
I see nothing more then 0.5 cm difference.
Ka
said on 25/May/11
Nah I trust Rob on this one. Btw Rob did the man drop posture slightly in those pics?
[Editor Rob: I think we stood there about 30 seconds, I didn't think he dropped much.]
Larry
said on 22/May/11
Frankstein says on 25/Jan/11
Rob I do really appreciate what you do for this site but you fail at most of the heights that are very easy to guess...
Thank you. This is really getting absurd
Larry
said on 22/May/11
Since when does that look like a full inch taller? If anything he's .5 inches taller than you rob, no more than 5 8.5 if not 5 8. No one sees 5 9 based on this picture.
Dean
said on 21/May/11
174-174.5 at night he doesnt look like a guy who never drops under 175cm
Adam
said on 5/Apr/11
In the first pic he's eye level and minus the poofy hair he looks the same height to me. Second pic he looks a little taller, but barely. Needs a downgrade.
Lee
said on 3/Apr/11
Rob, Rob, Rob... Bamber is pretty obviously a 5'8" guy with a lot of moussed-up hair piled on top to give himself a fake 5'9". Why fall for something so transparent? Unless you're just a huge BSG fan (like myself).
[Editor Rob: I think if not 5ft 9, he's pretty frakin close!]
K4
said on 6/Mar/11
Looks 5'8.5 tops.
James
said on 28/Feb/11
no bigger than 173cm in both pics
James
said on 15/Feb/11
In the left pics look 173cm with rob and in the right pic looks 5'8.75 with poor posture.
Mathew
said on 7/Feb/11
Looks 5'8.5" max in these pics, could be 5'9" though.
Frankstein
said on 25/Jan/11
Rob I do really appreciate what you do for this site but you fail at most of the heights that are very easy to guess...
dibo
said on 13/Jan/11
Interesting shot from Battlestar between him and James Callis, who is listed on this site as 5'7.5". Perhaps Callis is standing on something?
Click Here
dibo
said on 13/Jan/11
Interesting shot from Battlestar between him and James Callis, who is listed on this site as 5'7.5". Perhaps Callis is standing on something?
[Editor Rob: listed 5ft7]
leonari
said on 11/Jan/11
PatB: You are the hoot. He was not referring to his height but his built. Have you seen him in Battlestar?The man is a musclebound beast.
PatB
said on 26/Dec/10
This tiny little guy thinks he's "rather too big"? What a hoot.
lolo
said on 22/Nov/10
he is no taller than you, maybe 5'8.5
Ricardo
said on 5/Jun/09
I've walked past him a few times in Richmond,England, which i would guess is where he must live. Now i'm 5'9 and hes a couple of inches shorter than me at least, i'd put him at 5'7. He really is that small and stocky.
Anonymous
said on 1/May/09
He looks about 5`8.7, which is basically 5-8.75.
MD
said on 21/Apr/09
Yeah, I'm still not seeing a full 5'9".
Anyway, here he is with a self-confirmed 5'7" James McAvoy:
Click Here
He's really nothing over 5'8.5", tops.
Alex
said on 20/Apr/09
Rob is going to be 5'8 to 5'8 1/8 in most of photos so this guy isn't even 5'9 then. More like 5'8.5. He is barely taller than Rob.
Maribel
said on 17/Apr/09
I'd say Rob is 5-8.75 in the pic, which is a fraction under 5-9, that's his mornin height.
Ian
said on 17/Apr/09
Rony192cm. Bare in mind Jenny is 5f9.25 out of bed. This guy is an easy strong 5f9 there is no point trying to discuss a downgrade.
rony192cm
said on 13/Apr/09
It's always tricky with people who are close in height, or even exact height. Depends on the difference between footwear. You can be exact height as sombody else barefoot, but in picture you can look shorter or taller because of footware. If we go with the exact sole of his and Rob's footweare he is 5'8.5
Ian
said on 12/Apr/09
He looks 5ft9. He has a slight advantage on Jenny and Rob.
Bo
said on 12/Apr/09
5'8.5 id say
Rusty
said on 7/Apr/09
5'8" by the looks of this pic.
Lego
said on 6/Apr/09
5'9 on the money
Anonymous
said on 3/Apr/09
exactly the same height as rob
Ian
said on 31/Mar/09
He looks 5ft9 as he is a touch tall than Rob and Jenny. Much of his height being attributed to his larger head in the forehead area, looks like he is looking down a bit in the left photo. Remember Rob's 5ft8 is his min. height and his max is around 5f8.7 so this guy has got to be a 5ft9 or slightly over in the morning.
tommy
said on 31/Mar/09
exactly the same height than rob , the hair makes him taller in the second pic
but he is 5'8
jack
said on 30/Mar/09
no 5'8" tops
TNTinCA
said on 28/Mar/09
Doesn't appear to be quite 5'9". He looks about a 1/2 taller than Rob. Maybe 3/4 inch. His hair is taller in the second pic which gives him the 5'9"-ish height look. But going by eye location, I don't see more than 1/2 an inch.
horacle
said on 28/Mar/09
Definitely 5'9 (but no more than that)
Dural
said on 26/Mar/09
He looks nothing under 5'8.75" in those pics. He is what he claims, unless he's wearing lifts.
jon
said on 26/Mar/09
Yeah Rob, unless Jamie is bending his knees and you're wearing the same sneakers, the difference is less than 0.5 of an inch. It looks like you're EXACTLY the same height, how do you explain that?
[Editor Rob: I think he is taller by a bit...he could be a weak 5ft 9, on Hornblower with Ioan Gruffudd maybe that suits him.]
J.Lee
said on 25/Mar/09
Rob does Jenny know that Jamie is taller than her? can she tell or does she think she is taller since it looks like her eye level is higher? In fact.... your eye level is higher than his too. He has a big head for his height?
[Editor Rob: well he has more hairstyle and tilted his head down slightly in left shot.]
Johnny
said on 25/Mar/09
He's 5'9". A 31 inch waist is small for a male, and 40 inch chest is medium. Why would he be to big for the British look?
Anonymous
said on 25/Mar/09
Is rob 5'9 because if this guy is 5'9 rob is.
Brah
said on 25/Mar/09
Yeah, he seems 5'9". Also, 40 inch chest with a 31 inch waist is small to average. Plenty of suits would fit him.
MD
said on 24/Mar/09
I'm seeing something very
close to
5'9" in each photo, but not quite.
michael
said on 24/Mar/09
has a coifed hairstyle. Looks 174cm at best.
Jim_16
said on 23/Mar/09
he looks exactly the same height as rob....
Lozzer
said on 23/Mar/09
Looks closer to 5'8.5 id say
Anonymous
said on 23/Mar/09
First saw this guy in Ultimate Force and wet my pants when I saw him in Battlestar but yeah ,a solid 5'9,sounds right and looks right. He also looks very different in each shot,it's quite funny,it's like 'Double Impact 2'.
Amanda 2000
said on 23/Mar/09
Yep, he does look 5'9" in both of these photos. It's nice to see that this guy actually knows how tall he is, and doesn't add two inches like most celebrities. Very handsome too.
ZAQ
said on 23/Mar/09
Him and robs eye level are dead on if not then by more then 1/2 inch he's like 5'8 1/2
Missy
said on 16/Mar/09
In an interview with Live magazine this week (a supplement in the Mail on Sunday) he says that he's 5ft 9in, but well built, which makes it hard to get suits that fit properly. Hot guy :)
Kiki
said on 9/Oct/08
I stood next to Jamie Bamber at a party recently and talked to him for about 15 minutes. I was surprised at how short he was. I'm 5'6.5" and I was wearing 2-inch heels. He was at least an inch shorter than me. Didn't see what kind of shoes he had on but he's little. Olmos isn't much bigger.
Titti
said on 9/Jul/08
175 cm is not very tall, but I think Jamie is ok so. :)
BackStageJim
said on 27/Sep/07
5'8, but his build makes him look bigger. The guys does have arm and shoulders when wearing a t-shirt, but in a regualr shirt the collar appears to make him smaller.
Chris
said on 26/Jul/07
actually when he boxes Olmos you can clearly tell Olmos is taller. They know Bamber is short and they always try to film him to hide that fact with camera angles & positioning. I also wouldn't doubt it if he pulls a Tom Cruise and wears lifts and or probably wears heeled boots in public. In reality I'd put him at 5'6.
Its just a fact of life that celebrities are usually shorter than what they seem.
horacle
said on 20/Mar/07
no 5'7 is not enough. He looks at least 5'8.5
jg
said on 15/Mar/07
try 5'7. I saw him at megacon.
anonymous
said on 9/Mar/07
I think 5'9 is about right. He looks about average height to me.
Dan
said on 7/Mar/07
He does look pretty short in Battle star. 5'8 doesnt seem unlikely.
horacle
said on 30/Apr/06
i think bamber is 175-176 cm but no more
Glenn
said on 2/Apr/06
Olmos is 5-8.
TNTinCA
said on 1/Apr/06
He does appear to be a little taller than Edward James Olmos in their scenes together. I believe Olmos stands at 5'9" or so? So I can believe 5'9.5" for Jamie. Although Olmos may be a tad under the 5'9" mark. So its debatable.