Erica Durance's Height
5ft 7 (170.2 cm)
Canadian actress best known for playing Lois Lane on Smallville. Her agency listed her as 5ft 8. In this photo she had between 1.5-1.75inch more footwear than me.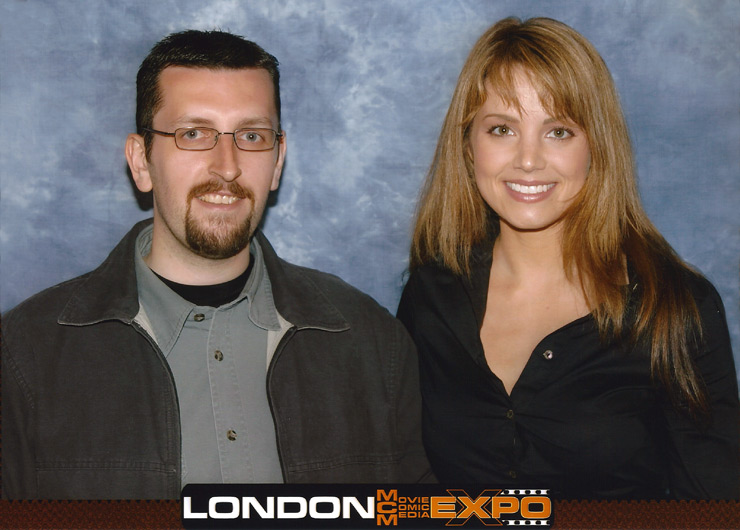 5ft 8 Rob and Erica @ MCM Expo 2005
You May Be Interested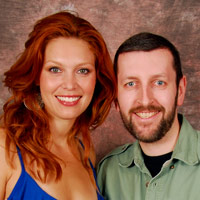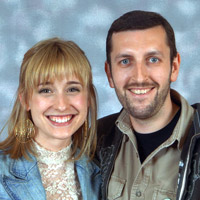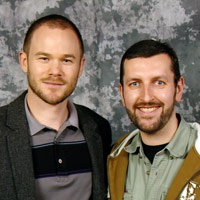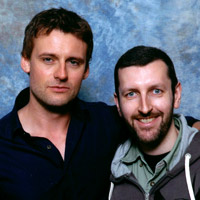 Add a Comment
124 comments
Average Guess (21 Votes)
5ft 7.11in (170.5cm)
JohnMoore-162cm
said on 28/Apr/20
Yes , she is quite 5ft7 , 5ft7 is taller than +78% of girls .. pretty tall
Nik
said on 9/Apr/19
The average vote is soooo high!
K.A 188
said on 21/Mar/19
Wow!Rob looks very smart here , it' s amazing what a pair of nice glass + a beard can do .Lol
Canson
said on 28/Jan/19
5'6.75-5'7" based on the pic since Rob is 5'8 1/8". That's taking into account the significant footwear advantage
Zineddine
said on 15/Sep/18
Ive seen you looking better with the beard rob ! 😂 but in this pic

Editor Rob
I wore the goatee look a fair bit in 20's. It worked well in keeping the ladies away I felt 🤔

Funny to think I am still a 'young' 28 and 3/4 year old beside Erica, and today as I type this reply I am now a young 42 year old.

And as I look at this photo I think I will jump it to head of rescan queue to give it better resolution. It is a shame that Expo persisted in adding the borders to these earlier photos.
Junior Hernandez 1990
said on 28/Jun/18
I think shes really 5'7 just that Eric Lively was under listed at 6'2 in other sites that manipulate the listing here. Eric had to be 6'3 1/2 looks with his 5'8 1/2 sister Blake Lively.
Nik
said on 28/May/18
She is slightly south of her listing for me!
Junior Hernandez
said on 5/Feb/18
She only look a tap over 5'5 with 6'2 Eric Lively.
Click Here
:
interval
said on 9/Dec/17
Rob is it common girl that is shorter than you, feel taller than you when she puts on heels and you're the same height.
Editor Rob: I'm sure some ladies will forget how much advantage their heel gives them...it's harder to judge from the perspective of wearing heels, compared to wearing a 0.75-1 inch sneaker or shoe, which is closer to what a lot of men will be wearing.
J.Lee
said on 21/Jan/15
Rob, in Robby's pic below, how much taller is he than her not counting hair?
[Editor Rob: possibly close to 2cm.]
Just
said on 26/Oct/14
In the video that J.Lee posted she looks like the same height as Bonnie Hunt. Can't see their footwear though.
Robby
said on 23/Aug/14
I just met her today at Chicago Comic Con. she was very friendly. I believe Rob 100% right on Erica being 5'7" vs being 5'8" I can add my own photo
Click Here
to prove that. Now I am 5'9.5" barefoot. in shoes I am 5'10'5". in the picture she was wearing 3" red heels. if she is 5'7" barefoot then that makes her 5'10" in the shoes. in the picture I am still taller than her. if she was 5'8" and add 3" for her heels than she would be slightly taller then me and coming out to about 5'11". I say she is 5'7".
[Editor Rob: yes, 5ft 7 is a fair estimate to give her]
Handsome
said on 18/Aug/14
Rob, What Was She Like When You Met Her?
[Editor Rob: seemed quite friendly that day]
Alex 6'0
said on 10/May/14
5'7-5'7.25
Crash
said on 6/Mar/14
Why are is there that "film roll" border around the picture now? Did you edit it? I don't remember it always being there haha.
[Editor Rob: Expo used to put a horrible big printed border on these photos, it looks very tacky! I don't go to those Expo's anymore because it became to busy with Anime - although the women in costumes was nothing to complain about...they had a 'don't give a toss' type attitude towards the original customers who went for celebrities.

They still get good celebs from tv shows and even some decent names but it becomes too stressful to attend!]
176,2Tunman
said on 4/Mar/14
So,she's roughly 0.5" taller than you in this pic?Okay,that's the clearest example we have of how hair could fake judgements,I'm sure most people would think there is about 3cm here.
[Editor Rob: if she had 3cm more they'd also have to think her eyelevel was nearly 5.75 inches which is only applicable for people with giant sized heads ;) Her hair just has a bit of volume, flatten it down with water and it would lose an easy 2cm in appearance.
]
Connor 184.5-185cm
said on 8/Feb/14
She is sexy as hell and very pretty, with the heels she looks 5ft 8.5 so she is looking 1/2 inch taller than rob here in the pic yeah 5ft 7 is spot on. tallish but hot girl
Matt 184.7-186.7cm
said on 14/Oct/13
5ft 7 is good, she should be looking 1/2inch taller which is pretty much spot on
Lorne
said on 28/Sep/13
Why does everyone think she is 5'8? She is clearly not. Not only does this pic show her at 5'7, but that is she height she looked on Smallville, since she often didn't wear heels. Come on people, Taylor Swift has claimed 5'11, but that doesn't make it true!!!
thorterr
said on 28/Sep/13
god rob how many men and women on here say'who cares about her height shes gorgeous!' please use a cyberman favourite pastime on them
J.Lee
said on 14/Aug/13
Rob, during this video she immediately says she's 5 ft 8
Click Here
And she says that people tell her she's so tall. What do you think?
[Editor Rob: I think she's nearer 5ft 7 than 8]
Brandon
said on 11/Jun/13
she more like 5'8
Reality
said on 27/Jan/13
My guess is 172 cm or 5'7.75 at night.She had her upper spine slouched a bit.I think it's like 3 cm total footwear advantage.So 5'8 most times of the day is fair in this case.
Dave
said on 24/Jan/13
Who cares how tall she is exactly? She is GORGEOUS!
issuetall
said on 8/Jan/13
Kostas says on 13/Aug/11
Issuetall...I wonder what you consider tall for men then. Oh, and by the way, I stayed once in Russia for several months and didn't feel short at 5 ft 8. Russian people aren't that tall, this is just another stereotype...
Hi! I think 190cm is begin of tall for west world, especially for west youthes. Russia is the biggest country in the world, there are so huge differences among different regions in that country. I don't know which cities have you stayed, I still visited some small cities 8 years ago, my hight is 189cm, and I didn't feel tall in there. Eespecially, compare to russian younger generation, I saw a lot of guys are over 195cm.
Maximus Meridius
said on 16/Aug/12
Rob she looks about half an inch taller than you in this picture who had more footwear you or her.
[Editor Rob: she has a standard heel that day]
ANDREA[ITA]
said on 14/Aug/12
Maybe not 5'8, but 5'7.25 or even 5'7.5 isnt impossible...
J.Lee
said on 25/Jul/12
Rob, Erica says she is 5 ft 8 actually.
Click Here
In that video she says people think she's taller in real life. She says ''what's that to you?'' But would you say she is off?
[Editor Rob: I'm not so sure she is 5ft 8, to me with footwear difference I thought if she was 5ft 8 she should have looked taller than she did.]
J.lee
said on 7/Feb/12
another amazing example of proportions. SHe is only 1/3 inch taller than you rob. a girl who wears heels and is 1/3 inch taller than me sometimes thinks she is 2 inches taller than me. This is another example how heels and proportions can trick the eye
Patrick
said on 30/Dec/11
As you wish Rob. I won't insist.
Patrick
said on 28/Dec/11
Yes Rob but if you are supposed to be one inch taller than her and that she to me - still appears as being one inch taller than you on the pic, that puts the comparison to a two-inche difference in relation to her listed height, 5'7. It is definitely too much and would mean she was wearing very high heels; forget lifts for her!
[Editor Rob:
Her head can't be above the pink line
because the background starts there in the middle of her head.
Yet she's still clearly shorter than the 1.1 inch taller girl. I've nothing more to add, I can't take anybody serious who thinks a third of an inch is a full inch ;)
]
Patrick
said on 15/Dec/11
I compared mailnly line of eyes and chin. I repeat that she look taller by a good inch minimum while listed one inch shorter than you Rob; sono less than 5'7 for sure.
[Editor Rob: I'm not sure about comparing chins, if you done that with every girl I'd be at a disadvantage ;)
Compare Erica to a girl who was measured 1.1 inches taller
.
Erica may be a fraction taller (how big a fraction depends on how much hair she has) but the girl on the left was measured about 1.1 inch taller.
that's also good to show eye difference with girl is slightly more than the height difference and our chin difference is double the size of the height difference. Never compare chins though, especially with women ;)]
Patrick
said on 1/Dec/11
On the pciture, considering the heels difference, how can she be only 5'7 since Rob is already 5'8? Here she is - whatever high the heels - a good inch and would say 1.5, taller than a 5'8 man...If Rob was 5'7, I would have agreed with "just 5'7. Not here.
[Editor Rob: if she's 1.5 inches taller then her eyelevel must be near 6 inches :)

Counting the top of her hair as her height does not count, she has at least 0.5 inch extra hairstyle compared to mine.
]
ChiasmataX
said on 22/Nov/11
She's barely taller than you (173.5-174cm) and she had shoes advantage. I would say she's more of a 168-169cm girl but I will take 170cm.
Brazilian Fellow 5ft11.25in
said on 4/Nov/11
@Demiere
We're not telling that its difficult to believe that she's taller than 5'7" because she's Canadian. We're telling this because she doesn't look taller than that.
Demiere
said on 22/Oct/11
Why is it so hard to believe that a Canadian actress could be 5'7 when in the UK Princess Diana was 5'10 (178 cm) and Princess Kate is 5'8-5'8.5. Give me a break issuetall, brazillainfellow, and justsomeone.
Kostas
said on 13/Aug/11
Issuetall...I wonder what you consider tall for men then. Oh, and by the way, I stayed once in Russia for several months and didn't feel short at 5 ft 8. Russian people aren't that tall, this is just another stereotype...
issuetall
said on 8/Aug/11
David says on 29/Apr/11
Issuetall..No, thats horribly wrong. The average height of an American girl is 5'3'' - 5'5''
@@@@@@@@@@@@@@@@@@@
Sorry,men, you didn't see clearly.I talked about Russian girls' height. And, I want to say that do not over-confident data. Sometimes the data is just "crap".I saw many American girls are over 175cm, maybe you can say that I have seen not enough of American giils. But I only trust my own experiences. you think 170cm is tall for women's standard, that's OK, However, I don't believe that 170cm is considered tall for American girls.
justsomeone
said on 20/Jul/11
Lol @ people saying that russian women are at least 5 ft 7. Russian people aren't that tall(not even if you exclude ethnic minorities). According to a friend that was born and raised in Moscow, most women there are around 5 ft 5 (give or take). Not even the average female height in the Netherlands is 5 ft 7...Why are people always exaggerating? Apparently you people overestimate your own height (and think that everyone taller than you is tall, as a result of that)...
anon
said on 4/Jul/11
I just googled her, she looks 1000x better in this photo than any of the other ones!
Brazilian Fellow
said on 5/Jun/11
5'8"? Make me laugh.
dicksock
said on 4/Jun/11
Well, let's do some math here: If she is edging out 5'8" Rob by maybe .5" tops and has at least a 1.5" footware advantage, then she is 5'7" max. She is 5'8.5" tops with 1.5" to 1.75" footware advantage.
5'6.5"-5'7". I'm guessing she's just under 5'7".
Patrick
said on 3/May/11
I am French and can tell you that women are way taller in the States though not beingshort in France for all that.
Men are taller - black and white ones - too and above all much bulkier than "us". Depending the season, the episodes, she looks sometimes 5'8 ore else 5'7 but never less.
David
said on 29/Apr/11
Issuetall..No, thats horribly wrong. The average height of an American girl is 5'3'' - 5'5''
SAM RICK
said on 23/Apr/11
To Catherine and Issuetall as putout by Matt 170cm(5'7) woman is just like 184 cm(6'0.5).Which is rather tall I mean not many women walking the streets of Canada or The USA are 5'7.
Silent Assassin
said on 2/Apr/11
Beautiful face, reminds me of a cute labrador for some reason...
Mathew
said on 29/Mar/11
Could be 5'7.25".
issuetall
said on 9/Mar/11
Catherine says on 9/Jul/10
To Sam rick:A woman with 5'7" is not tall,the avarege woman,in Europe-America,is 5'5-6",a woman is considerate tall when she's taller than 5'8-9".In Russia,i know much people who's very tall for me,but avarege for they.Look Anna C,who's 5'7.5,is from Russia,and she's considerated short.And i agree with Anonymous,Elle is tall,no Erica...
@@@@@@@@@@@@
You are right! I had been to Russia. It is commonly to see youths are 6'3 or taller, and I saw a lot of senior students are over 6'7, most of Russian young ladies are 5'7 at least. I know the average height is 5'9''5 in Russia, I think it may be just an underestimate. Interesting, the Russian leaders are usually short, but ordinary people are so tall.
Danielle
said on 1/Dec/10
@Observant:Is possible,cause my mother was like me (172cm)and she is now 167cm.
Observant
said on 21/Nov/10
@jos: so shes lost height since you dated her?
Matt
said on 20/Nov/10
@ Catherine
Actually, the average american woman is 5ft 4.5in.
Also 5ft 7in for a girl is around the 80-85th percentile, which, if converted into a male height is 6ft 0.5in, it is actually quite tall, not very tall though
xyz
said on 7/Jul/09
Saw some older pics. Yep, definitely a nose job. I don't think she did anything around her mouth but I think the nose job changed the balance in that area of her face.
Brad
said on 4/Jul/09
Way different than a number of years back. Excellent Beverly Hills transformation. 5' 8" easy.
*?*?*?*?*?*
said on 25/Jun/09
Erica Durance height says 5 foot 7, but in this picture she's a little taller nearly about the same height as 5 foot 8 Rob. She might have on higher shoes, heels, or she's on her toes, I don't know. In this pic I'll say that she is a good 5'8'' to 5'8.5
[Editor Rob: she has heels yes]
Da Man
said on 24/Jun/09
I found some old "Erica Parker" pics, and she may have had a nose job. The changes were fairly subtle though.
xyz
said on 24/Jun/09
There was something different about her face I could never put my finger on but now that cosmetic surgery has been suggested, I think it is a possibility. There is just something about the shape of her nose and the folds around her mouth that sit funny. 5'7 seems right to me.
armand
said on 28/May/09
was erica wearing high heels
[Editor Rob: yes.]
Clay
said on 18/May/09
You guys should read Sid's post on the Jared Padalecki page. This guy is too much.
Leung
said on 17/May/09
Sid sounds lame,
Wayne
said on 17/May/09
Sid goes around bashing all the actors from Supernatural and Smallville. First he calls Erica "homely", now he calls Jared Padalecki a "shrimp". I call troll.
Anonymous
said on 7/May/09
Rob she's taller than you!
C
said on 3/May/09
In this TV Guide interview Cassidy Freeman says she's the same height as Erica Durance. There isn't an entry for Cassidy Freeman yet (she plays Tess Mercer on Smallville).
Click Here
Patrick
said on 23/Feb/09
Hey guys! I agree with DaMan: How do you know this?
Besides, I
Da Man
said on 7/Feb/09
leonari says on 6/Feb/09
"natural BEAUTY? the woman had plenty of plastic surgery. But it worked out.she is hot"
How do you know this?
leonari
said on 6/Feb/09
natural BEAUTY? the woman had plenty of plastic surgery. But it worked out.she is hot
Rim
said on 5/Feb/09
is she without make up here?
she looks gorgeous!
a natural beauty i think!
x
sid
said on 5/Feb/09
Da Man She only looks good with make up man,I seen without it not ugly just mediorce.. she isnt natural...SHE DOESN'T APPEAL TO ME, BRIDGET BARBOT YA, no erica durance
Da Man
said on 30/Jan/09
I find that hard to believe, Sid. The muddy fence part that is.
sid
said on 29/Jan/09
Erica durance is no more then 5'8. min 5'7... I seen couple times at besford studios..She is alrigt looking in person... she only looks good with make up.. without.. homely as a muddy fence
Steel
said on 28/Jan/09
Wow! She's really pretty and has a nice height on her. 5-7 looks about right
linebacker40
said on 9/Jan/09
5'8" as she stands very well against tall Tom Welling.
Jlee
said on 3/Oct/08
Rob! you have been helpful! i have a good question. Erica Durance is five foot seven and you are 1 inch taller than her. Do you think that she thinks she is really taller than you when she wears heels? do you think she can tell you are really taller than her if she only met you in heels? I really am curious about this one.
[Editor Rob: I think she might realise she'd be a little smaller. Maybe heels can distort a little how a women guesses height?]
Jlee
said on 3/Oct/08
Oh I saw her husband, he is not that tall. Rob, how much does a height matter to a beautiful women?
[Editor Rob: I don't know, maybe some beautiful women who are 5ft 2 might admire or think that the long legs of a 5ft 9 girl would be nice?]
Jlee
said on 2/Oct/08
Rob, would you say she is five ten in the pic? you are five eight and with sneakers over five nine. So would she be close to five ten, or what do you think? Are you taller than her in the pic or she is?
[Editor Rob: I was wearing a typical shoe so would have been in shoes near 5ft 9.2. Is she 3/4 inch taller...I think she has lovely hair that is thicker, which is why her eyeline isn't more than a 1/4 inch more than mine!]
gunshow
said on 1/Oct/08
god damn shes gorgeus
Yaspaa
said on 1/Oct/08
No sid it's being 12.
Davidoff
said on 30/Sep/08
shes hot thats all i know!
sid
said on 14/Sep/08
yaspaa This is rocky, seeing her knockers ain't being a 12 year old kid, it's being human being a man, it's normal when you see a hot chick like erica, so i'm gonna express myself when its human nature, how is it childish when all men think about it if your straight unless your gay, think before what you say. it's called being human.
sid
said on 14/Sep/08
Big King you blind erica with rob in this pic,barley a inch, she's in high heels making her what 5'7'5 maybe 5'8, I'm 5'10 I seen erica durance rrom close up I had 2 inches maybe 3 on her, so it makes no sense what you said
Roger
said on 11/Sep/08
Rob, I never heard of this actress before, but I 100% agree on the jackpot part of your statement.
Lego
said on 7/Sep/08
1-2cm difference in heels, she's 5'7.5
Big King
said on 7/Sep/08
Rob, she's taller than you, so she can't be anything with 5'7". She looks a good 5'10".
[Editor Rob: she's barely taller in that photo, maybe you're counting her extra 1/2 inch of beautiful hair as 2 inches of height?

In any case she has 1.5 inches more footwear.]
Patrick
said on 4/Aug/08
once more, "I" am 1/August "Anonymous"! Don't know why "that" happens!
Anonymous
said on 1/Aug/08
DaMan: thanks a lot for trusting me. I more than appreciate it.
You as Yaspaa, AAAA and some others are really gentlemen and I love discuss about anything with all of you.
Rocky is not even a liar which would demand something he is as devoid of as courtesy.
Erica is probably 5
Yaspaa
said on 21/Jul/08
You didn't see her knockers Rocky?,thats 12 year old talk.
Da Man
said on 20/Jul/08
Rocky, I don't think Patrick is lying at all. I think it's ignorant to assume he is lying simply because you encountered a different security guard.
Rocky
said on 20/Jul/08
I live in B.c, I was there last year, the security guy said he is the only guard there So ya I'm calling you liar. People like security can't give out info, that securty did not give out info's to me, he said there very lock and key, he said he worked there since day one, maybe he said was another guy who also was a guard to, so theres two, Theres isn't a lady guard. I did alao talk to a P'A he said he ain't gonna give nothing out, he did let me take pics of the finale of season 6 where Lana jeep was blown up. I poated them on K site. Sorry to call yo u a liar, people have there opions. The guard said you can't tske pic or get a autograph of the actors.
patrick
said on 18/Jul/08
Rocky if you onlu once treat me a lyer, I'll find you out wherever you are. I let you finish my phrase. Insulting just put you out of any reasonable discussion. I just hope Ed. Rob will understand what I can feel being treated so. I even have a photo of her with my niece! Please Ed. Rob, do not delete my comment.
Rocky
said on 8/Jul/08
patrick Your lying, there isn't a lady security guard, it was a guy with long brown hair he said he was the only security there, I told him where do i apply to be a movie security guard, i had security expereince, he said I had to go to a differnt training. he apply at the studios in north van online, he was curious why i was there for 4 hours with a cam I came to take pics of the finale of season 6, 2 years ago, they announced it on c fox, there will be a explosion scene, I got pics I was a happy camper, I got pics of Tom welling thats at the studio, I couldnt take pics 4 months ago at the church where they where shooting. I Couldn't take pics of erica cause she went into her trailer.
Rocky
said on 8/Jul/08
I also seen Erica durance going to her outside at besford studio with some food, she smiled at me she looked 5'7 to me, boy she is hottier in person, I didn't see her knockers though she was wearing a long redish jacket, she is more hottier in person then on tv. I seen lots of people here in B.c I also Kristin Kruek downtown, she's a tiny thing I saw her walking with her bf on robson, Saw allison Mack also a tiny thing, she was getting coffee at blenz, where I also. Tom welling there to differnt ocasions.
patrick
said on 28/May/08
As I wrote it in the Tom's page: people working with her at the Burnaby's studios, say she not less than 5'8, considering it not that tall!
The lady in charge of security, very reliable in more ways than one,loked at me and said she was taller and much so with her heels. She was clear about that though I was exactly 5'10 because of the soles I have to wear within my shoes.
patrick
said on 26/May/08
As I wrote it in the Tom's page, (Welling) I met people working in SV and being every day in touch with Erica: they all told me she was 5'8. K. Kreuk being 5'2 as A. O Toole and "Chloe" being 5'4 or so.
RICHARD
said on 26/May/08
She is very beautiful. I'm pretty sure she's 5'6/5'7 because she looks the same height as my equally beautiful friend that's a girl and she's got a well-proportioned body and longish legs,like erica does. I'm 5'10 and I barely towered her so 5'7 seems more accurate.
Teh Pwn
said on 24/May/08
"Her husband David Palffy was there"
No wonder the signature hug is missing in this picture! :p
Davey
said on 23/May/08
she is stunning.Why are there no stunners under 5'7 anymore?
Brad
said on 22/May/08
I think Rob's 5'7 now, if Durance claims to be 5'7 herself in that picture.
[Editor Rob: she has around 1.5 inch more footwear than me.]
Yaspaa
said on 4/May/08
Look at this pic with chris judge (6'2.5),they are having a training session and she does look quite tall. I don't think 5'7 or 5'8 but somewhere in the middle.
Click Here
GF
said on 24/Apr/08
what a knock out!!!
Charliemoto
said on 24/Apr/08
170-171cm fits, 172-173 doesnt really.
jonny
said on 23/Apr/08
5'7 is the tallest I see for her...she could be 5'6.09 to be exact
patrick
said on 16/Jan/08
She looks taller than just 5'7 whatever angles or scenes she appears in!
I guess 5'8; no more, no less; She is really up next to Ed Rob!
[Editor Rob: she should have looked 5ft 9.5 to be 5ft 8 to be honest. Can't remember if she's been back to a uk show in last 2.5 years, sometimes shows get actors or actresses for reasonable fees when they are in like the first season of a show. Then they become more popular and some just don't do as many events, or as in the case of a couple of actresses I know, they quadruple their appearance fee on the back of 2 good seasons of a show...which scares them away.]
myspace celebrity
said on 6/Oct/07
well, she just might be 5'7
supergirl on smallville looks 5'5.5-5'6 and 5'7 looks right
Leung
said on 21/Jun/07
Rob, have you tried Adidas Megabounce shoes? They are equal in height to Nike Shox.
Alex
said on 7/Jun/07
In my shox I def feel my tallest and especially since mine are like brand new so they haven't sunken in at all. My other sneakers give me just an inch of height. One I have use to give 1.25 inches but are 3 years old and are down to just an inch really.
Viper
said on 6/Jun/07
Ive never worn Nike shox before. They must feel like you have gained 3 inches with them.
Alex
said on 5/Jun/07
Rob you were saying about how you'd get to about 5'10 right out of bed with nike shox. I did that once and I came to about 6'2.5. They give me 1.5 inches to my height, but when you look at them from the outside you wouldn't think that.
[Editor Rob: yes, out of bed 5ft 8.6 + nike shox 1.41 inch would get me 5ft 10, of course nobody really would see that.]
glenn
said on 26/May/07
shes hot.dont know who she is.i know about smallville.never watched it or any tv.
l0ck n l0ad
said on 25/May/07
"Her husband David Palffy was there, think he hit the jackpot with this woman!"
I couldn't agree more Rob ;-) and you got her height just right keepin in mind you wrote she may be 171cm, seems very accurate.
Jameson
said on 10/Apr/07
No, no, i've seen Erica in person. She looks to be around 5'10". I don't think she was hearing high heels. Maybe the person here messed it up....
[editor rob: she is in heels at an event with thousands of folk]
Daman
said on 21/Mar/07
When I first saw Aaron Ashmore on the show I was shocked to see how close he was to Welling in height. I expected the difference to be akin to Welling and his brother, it was much less. Shawn definitely looks shorter than Aaron. And in the few decent shots we see between Welling/Ashmore on Smallville, the difference is certainly no more than 3", more 2 - 2.5".
patrick
said on 21/Mar/07
DAVID you are right and give the most dependable testimony here by meeting her yourself!
I always saw her tall, not as S.Weaver but tall all the same; and tall means 5'8 to 9 in this case.
I trully believe you and i 'll never buy Mr Ashmore is less than 6'!
By the way, i see much more than just two inches differenc ebetween Tom and him!
DaMan
said on 14/Mar/07
Aaron Ashmore is 5-8? Ashmore barely looks 2 inches shorter than Welling on the show, and is easily taller than Erica Durance. If anything I would have guessed Aaron Ashmore is the same height as his twin brother Shawn Ashmore if not a hair taller. I'd say Aaron is around 6-0 judging by how he looks next to 6-2.5 Tom Welling.
David
said on 4/Feb/07
Oh your height for Erica is definitely off by two inches. She's Definitely a very close 5'9. I'm 6ft dead even in my bare feet (according to my military records) and she was only wearing flat dress shoes when I met her in Vancouver last year. I first noticed how tall she was I looked at her feet right away.
Alex
said on 5/Jan/07
Looks 5'8.5-5'9 with Rob but in heels so 5'7 seems reasonable after all he did meet her so I'll take his estimate.
Rob, how tall are you in most shoes/sneakers, 5'9-5'9.5?
If you put sneakers on right out of bed you could hit 5'10.
[Editor Rob: 171cm could be fairer...no less than 170cm anyway when I think about it.

I would make the point of trying to wear the same pair or size, for last 5 events they've been a very comfortable adidas of 1.18 inches, prior was a dress shoe and 1 event a reebok. In footwear I'd be close to 5ft 9.2.

If I threw a shox on straight out of bed I could get close to 5ft 10.]
DaMan
said on 2/Jan/07
She may only be a tad over 5'7" but damn she looks good in that pic. :)
[Editor Rob: one of the smiliest women I've seen...]
Anonymous
said on 4/Nov/06
It's more accurate to compare Erica to Rob than to Tom Welling. We don't know Tom's exact height, but I'm sure Rob knows his own height, and he certainly has no reason to downgrade his own height on purpose. So I think Rob might be right about her being 5'7"
Mari
said on 22/Oct/06
I think Jess is right, Erica is 5'8 Doubt she is shorter than that.
I can't see the picture posted by vtg, I am not a member of that board.
vtg
said on 24/Jun/06
This pic isn't great for judging ED's height. As Rob pointed out before, Tom's stance is pretty wide.... and as you can see in the pic there is a red prop underneath Erica's feet. It's probably giving her a 3-4 inch lift. (click on the pic to make it bigger once you get to the site)
Click Here
andrea
said on 20/Jun/06
5'8 minus 1.25 inches = 166.8 cm which equals roughly a little over 5'6. I think lol That stuff is confusing!
Mel
said on 11/Apr/06
Agencies and stuff always tend to stretch the truth about heights. I would say she's definitely around 170-173cm. No more, no less.
[Editor Rob: it depends, some agencies will ask the star their dimensions like height/weight, and some agencies might make up a figure. It is likely that is what erica says she is...]
Jess
said on 9/Apr/06
According to Erica's profile at the PMG Management website (her agency) she is 5'8.
daffodil
said on 28/Oct/05
She's gorgeous! And she looks even taller than 170!
Gaunt
said on 20/Oct/05
tvmegasite.net/prime/shows/ smallville/cast/recurringcast.shtml
this site says 5'9".
Gigy
said on 5/Jun/05
O.K! So O think that we can agree that she is 5'8 feet tall, but due to the hair style she has on that picture she appears taller then she is, and the difference between her and Tom is therefore smaller than it would normaly be!
5'8 is a nice height for a woman, I am 5'9.4, almost 5'10, and I can´t always wear three inch heels! Due to my height and depending on how tall my companion, sometimes I have to wear shoes without heels, which is less then perfect, cos every girl likes heels! I just thought, that with my height I could actually kick Tom Welling´s behind!