British Singer known for being a 2014 runner-up on the UK X-Factor and for the song "Sax". On her modelling page she had vital stats listed
"Height: 168cm / 5'6"
and 34C-27-38. However, she mentioned on twitter
"#WomenLieAbout how tall they are! I shud know, feel like a shorty most places I go, so I add on a few inches! Lol"
and that
"When asked how tall I am, I tell them the answer that includes my hair! lol"
.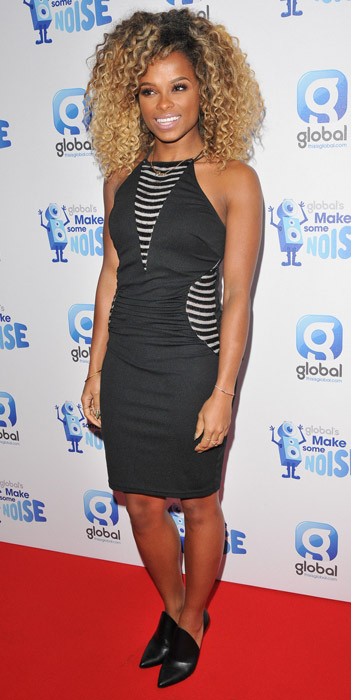 Photos by PR Photos
Sandy Cowell
said on 28/Dec/22
Fleur has a fantastic knowledge of music that was made long before she was born. I'm impressed! 👏
Sandy Cowell
said on 28/Dec/22
I'm watching a funny Christmas programme and Fleur is laughing her butt off as flatulence and Brussels sprouts are being discussed!
5ft4.
Miss Sandy Cowell
said on 29/Oct/20
🌹🎂💐🎊 Happy Birthday Fleur! 🎊💐🎂🌹
Many Happy Returns to gorgeous songstress Fleur East, who celebrates her 3️⃣3️⃣rd Birthday today! 🎵🎧🎶
5ft3.5 🌺😁👍🌸🥂
💐🌺🎂🌹💐🌺🎊🌹💐🌺🎈🌹💐🌺🍰🌹
Nik
said on 16/Jan/20
It's great that she includes her hair as part of her height!
Nik
said on 14/Aug/19
I'm surprised she considers herself small.
Sandy Cowell
said on 9/Dec/18
Fleur is one of the nicest celebrities EVER! I love this girl, and can't believe she wasn't in the top three. That smile of hers cheers me up SO MUCH!
🥗🍤🍱 Here Fleur - indulge yourself!
Sandy Cowell
said on 8/Dec/18
Ah! It was lovely to see Fleur with her sister in yesterday's 'I'm A Celebrity...Get Me Out of Here'. The two girls had tears of happiness in their eyes to see each other! I think the sister might have been a little bit taller than Fleur. 😊📏
Sandy Cowell
said on 4/Dec/18
Oh dear, tonight I had used all my votes up and for the very first time I hadn't included Fleur! I had to chase around on the internet to find the number, which I managed to find just in the nick of time - I mean with just seconds to vote!
I also found that Fleur is officially 161cm now, which goes to show that they DO take notice of Celebheights, and she isn't the first celebrity I've noticed who has been marked down to agree with the Celebheights entry. Is that cool - or what?
Sandy Cowell
said on 25/Nov/18
I have been thinking for the past week that Fleur is definitely taller than 5ft3.5. Next time I will give this massive ray of sunshine, who's mega generous on the cuddling front, at least 5ft4.25! With her big, bushy head of hair tied into a ponytail, it has been easier than ever to see her head and where she comes up to on people.🌞
Sandy Cowell
said on 19/Nov/18
Fleur's laugh takes some beating!
On tonight's 'I'm A Celebrity...', she heard Rita break wind on the dungy and she was in absolute hysterics! I knew she'd be fun, and I SO love that hair of hers!
Fleur gets 5ft4 this time round.
Nik
said on 25/Apr/18
I like her name! This is a good listing!
Zampo
said on 23/Apr/18
I never paid attention to height but thought she gave a taller impression, possibly 5'6/5'7 range if I had a guess.
Sandy Cowell
said on 6/Nov/16
I just popped along to Fleur East's page as I wanted to say something about her fantastic hair and how useful it must be for adding a few hairy inches to her height, but I can see she's already beaten me to it!
This made me, yes, Laugh Out Loud and the fact that she's so candid about it makes me like her a whole lot more!
Of course I was fooled by her hair myself - I would have given her a legit 5ft5! That's a full one-and-a-half inches in her favour! Also, anyone can see that it's her natural hair, which makes it even more convincing, as it doesn't look as though she's deliberately trying to add to her height.
Good for her I say, and for us as we can enjoy looking at it!
Danny
said on 12/Feb/16
Can't knock the honesty.
Allie
said on 10/Jan/16
Finally a woman who admits that even they lie too!
John
said on 3/Jan/16
At least she's honest about her height exaggeration. I know one 5'9 guy who consistently claims as 6 foot, but he always tries to validate and defend his claim when he gets called out for it.
120
said on 2/Jan/16
At least she admits it! lol