Francis Ngannou's Height
6ft 4 (193 cm)
Cameroon-born French professional MMA fighter, who participates in the Heavyweight division of the UFC.
You May Be Interested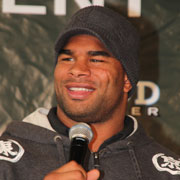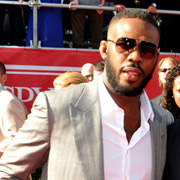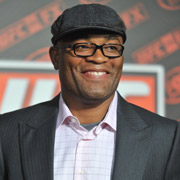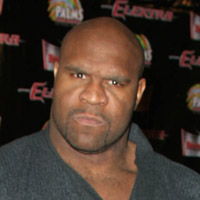 Add a Comment
43 comments
Average Guess (35 Votes)
6ft 4.21in (193.6cm)
LT123
said on 11/May/20
He looked massive beside Rosenstruik who claims 6'4, and was billed as such for the fight (but obviously isn't, and is listed as 6'2 on other sites including his Wiki page). What's your guess for Rosenstruik's height based on the comparison to Francis? Francis gets 6'4.5" for me.
193
said on 22/Feb/20
@eeeer Ngannou is definately 6ft4
Click Here
Gane is wearing shoes
Click Here
There is an argument for him being 6ft4 1/2, but he is definately not shorter than 6ft4
Jkiller
said on 17/Jan/20
I believe he's 6'4 and a half. Atleast 6'4.25
177.7cm/weak 5'10
said on 14/Dec/19
@eeeer
Max holloway is no more than 5'10 178cm, he just constantly wears thick sneakers/shoes around people who are in very thin shoes or are barefoot. He's barely taller than 5'8.5 McGregor
Click Here
eeeer
said on 3/Nov/19
Ngannou's real height is most likely 6'3 1/2. I'm serious. The Shaq and Gane comparisons makes it obvious.
From my recent study on height, Max Holloway is 5'11, Cyril Gane is 6'4 (strong). From Max we can gather that DC is 5'9 (strong), Volkan is 6'1 (strong). From Gane, Ngannou is 6'3 (strong), Brad Tavares is 5'11 (strong) and Adesanya is 6'2.
Strong example: 6'0 but most likely closer to 6'0 1/2 or 6'0 2/3 at their best, but not 6'1.
maa
said on 9/Jul/19
In a recent pic on Kamaru Usman instagram Ngannou edged out Adesanya by at least 1 in !!
maa
said on 1/Jul/19
Hi Rob,
in a recent interview Ngannou said : " Jon Jones would be my ideal opponent because I met him once and he was really tall, same as me... Well, almost as me...I just may have few pounds on him"
I think that this statement proves that Jones is 100% at least 6 ft 3.5 or taller... I agree with your listing of 6 ft 4 Ngannou and 6 ft 3.75 Jones
Jay
said on 30/Jun/19
Need to be an upgrade. At least to 6'4.5.
Junior Hernandez 1990
said on 25/Jun/19
Stefan Struve is no way close to 7'0 tall. Not even 6'11.
Frost
said on 6/May/19
@maa I'm starting to think JDS is a flat 6'2" 188cm kinds guy tbh. Same with Lewis.
Canson
said on 26/Feb/19
@Christian: he could look how Usain bolt did with him or a pinch taller. Best case 6'4 maybe even 6'3.75 and Kobe 6'4.75
maa
said on 26/Feb/19
@Miiiiiiighty_
Give me your predictions of HW fighters.
I have guessed Hunt at 176 cm because he looked at least 12 cm shorter than Lesnar; and JDS a little taller than Lesnar, so maybe 189 cm.
Cormier 176 cm
Stipe 192 cm
Lewis 189 cm
Ngannou 193 cm
Blaydes 192 cm
Volkov 200 cm
Overeem 191 cm
Cain Vel 183 cm
JDS 189 cm
Lesnar 188 cm
Werdum 189 cm
Hunt 176 cm
Christian 6'5 3/8"
said on 25/Feb/19
@Miiiiiiighty
He's still shorter than 195cm either way, whether you wanna call that an "exaggeration" or not doesn't change that fact.
Miiiiiiighty_-
said on 25/Feb/19
@maa Hunt @176 makes no sense, especially if you have JDS @190cm.
Please look at their staredown. Werdum @ 189cm makes no sense either, especially since you have Overeem at 191 and Fabricio appeared 1 to 2cm taller both time they fought.
@Christian 6'5 3/8" just reporting what the man himself said, as far as "exaggeration" is concerned, well saying that he looks way shorter than 195cm certainly is what should be called exaggerating.
Jordan87
said on 19/Feb/19
ALI183, he was more than 2" On Cain. What is wrong with you?
Click Here
maa
said on 18/Feb/19
Rob add velasquez please
I think 183-184 cm
Ali183
said on 16/Feb/19
Looks barely 2 inches taller than Cain Velasquez who is 6ft, damn, we will never know how tall these ufc fighters are unless we meet them in real life
maa
said on 22/Jan/19
That' s a correct billed height...my guesses on HW division:
Cormier 176 cm
Stipe 192 cm
Lewis 189 cm
Ngannou 193 cm
Blaydes 192 cm
Volkov 200 cm
Overeem 191 cm
Cain Vel 183 cm
JDS 190 cm
Lesnar 188 cm
Werdum 189 cm
Hunt 176 cm
6'0"
said on 21/Jul/18
6'4" or 6'4.25"
Christian 6'5 3/8"
said on 14/Jul/18
@Miiiiiiighty
195cm is a exaggeration. He looks way shorter than that with a real 195cm like Kobe Bryant.
Miiiiiiighty_-
said on 12/Jul/18
@ConorFan.
in all fairness Hunt often looked like someone who would give his height as 5'10 but that's probably without even standing straight and at his lowest of the day..
He looked closer to 5'11 on tons of occasions..
As far as Francis is concerned, he himself said " 1.95m " in a french interview so..
ConorFan.
said on 1/Jun/18
Francis here with Mark Hunt, Tyson Pedro and Tai TuiVasa. (Pic link:
Click Here
) Rob keep in mind Tyson is listed as 6'3 do you still think Francis is 6'4 or possibly 6'5?

Editor Rob
You could argue a bit over 6ft 4 there
ee
said on 12/May/18
@Iknowheight meet halfway? This isn't a philosophy class where ideas are malleable. All his pictures make him look gigantic, even as big as 6'5 with some angles and you say he's 6'3? This man is clearly above 6'4. Why believe him to be shorter than he is? You don't benefit from him being even 6'0 so might as well just accept this guy at his real height which IMO would be 6'4 1/2 or quite possibly more judging from the lebron and Stipe pictures.
Iknowheight
said on 19/Mar/18
Okay let's meet halfway and call him a solid 6'3 1/2. Not a centimeter over though!
ConorFan
said on 15/Mar/18
@Iknowheight i found your username funny because you clearly don't know how angle's work in pictures, that pic you posted is clearly at an angle that makes them both look fairly even but you can still tell Francis is taller than Alister.
Iknowheight
said on 7/Mar/18
Frnacis Ngannou is definitely not 6'5. Not even 6'4 like people think he is.
I think you should really update this Rob,
I have a picture here of Alistair overeem and Ngannou side by side. They are the same height.
Click Here
Ngannou is 6'3 even. Maybe 6'3 1/4 on his best day.
OG
said on 15/Feb/18
...and next day after my comment u actually give him a paige😂😂
Right on time, Big Rob👍🏾

Editor Rob
He was due a page for a while in fact
Jordan87
said on 14/Feb/18
ConnorFan,
Stipe is not fully 6'4. Francis is 6'4 therefore Stipe cannot be. If you believe Francis is 6'5 like the UFC lists him then not sure what to say to you.
kevin seung
said on 5/Feb/18
i guess he is 2cm taller than ovream
ConorFan
said on 3/Feb/18
I snapped a shot of Stipe & Francis standing barefoot in the octagon face off ( Pic Link:
Click Here
) imo Francis is a clear inch taller than Stipe which would make him 6'5.
Levi
said on 28/Jan/18
Rob, how about a page for the current heavyweight champ Stipe Miocic? Listed as 6'4" but has looked taller than most 6'4" listed fighters.
Animus
said on 23/Jan/18
He definitely did not look shorter than Stipe during the fight. He makes Stipe look shorter than 6ft4, if this listing is accurate.
Josh Jeffords
said on 23/Jan/18
Looked taller than stipe at stare down but shorter barefoot during fight.
Could be a posture thing but think folks are still holding the tape above the hair..
ConorFan
said on 20/Jan/18
Also Rob can we have some more MMA guys, like Tyron Woodley for example, he has claimed to be 5'9 in an interview prior to the Damian Maia fight, but he looks significantly shorter than his "5'9" claim at around 5'6 or 5'7 in my opinion.
ConorFan
said on 20/Jan/18
Rob i think he's closer to 6'5, because he looks an inch or so taller than legit 6'4 Stipe. But we'll see in the final staredown in the octagon who is taller i guess.
DruceLee
said on 18/Jan/18
Closer to 6'5 definitely.
Christian-6'5 3/8
said on 17/Jan/18
Whether a fraction under 6'4" for Ngannou is arguable, I'm pretty certain that Miocic is below it.
Shubo
said on 17/Jan/18
Rob. Is 6'3.5 or 6'3.75 at night possible?

Editor Rob
A chance he falls a little under 6ft 4
Rafeh
said on 16/Jan/18
Click Here
Don't see a solid 5 inches here either
Rafeh
said on 16/Jan/18
Looked a solid inch shorter than kobe
Click Here
My guess is strong 6'3.75" but no more.
Al
said on 16/Jan/18
Claimed 6'5 when he was being measured for a suit.
Vlad
said on 16/Jan/18
Rob, what do you think about Stipe? i think these pictures confirm that he's a legit 6'4
Click Here
Click Here
i would love to see you make a page for him

Editor Rob
They seem like they could be very close in height.
Vlad
said on 16/Jan/18
I think him and Miocic are the only legit 6'4 listed in the division.