English fashion model. Her agency described her as 170cm with measurements of 32-26-35. Georgia herself has claimed
"I'm 5ft 7in and a half, which is pretty small for a model, and I spend a lot of time working out which clothes will make my legs longer"
and that Cara Delevingne was
"the same height as me."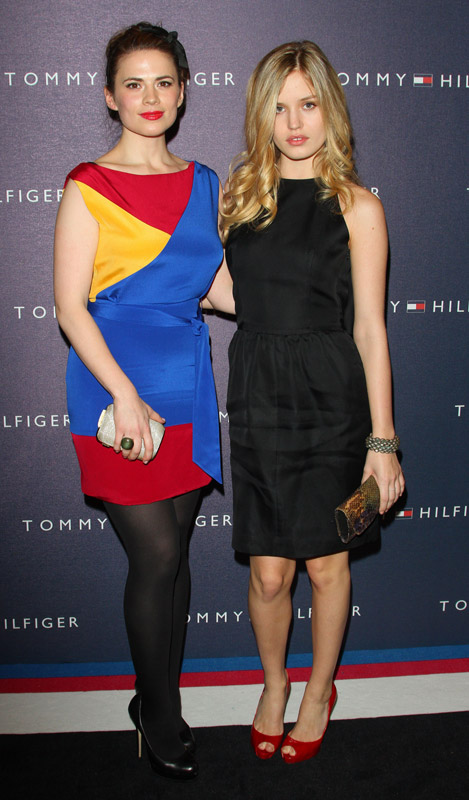 Littlelee5ft6
said on 27/Feb/20
She is shorter than hayley alwell nik who is 5ft 6 herself so must be a bit shorter than 5ft 6
Nik
said on 21/Jul/18
She looks 5'6" to me!
ana
said on 19/Jul/18
I am 164, say her a couple of days ago at the beach, and I know it is hard to guess from the sand but I thought she was my height.
Boohoo
said on 8/Jul/17
How tall is Lizzy? I always thought she was taller 5'10ish or something. But have seen photos of her next to GM looking same height? Her limbs certainly look longer than GM.
Although I think possibly Lizzy is usually in flats while GM is in heels.
Sandy Cowell
said on 23/Jun/17
@ Arch Stanton - There is a mother and daughter resemblance! 😛😛
Arch Stanton
said on 22/Jun/17
Click Here
Now that's truly the double of mum, Rees Witherspoon's daughter, that's FREAKY, they look like twins.
Arch Stanton
said on 22/Jun/17
Looks nothing like Jerry Sandy!!
Arch Stanton
said on 22/Jun/17
Doesn't look like Mick or Jerry, maybe the lips from Mick that's about all I can see. Certainly didn't get her mother's height.
Hans Meiser
said on 21/Jun/17
167cm. Good height.
Marine
said on 21/Jun/17
Best celeb-model!
Katie
said on 11/Jun/17
Absolutely beautiful girl and she's got great fashion style. The thing that amuses me is if that was someone every day we wouldn't be able to break the rules like celebs or celebs famous through parents!
Sandy Cowell
said on 24/Nov/16
Doesn't her sister Elizabeth deserve a page, Rob? She'll be feeling all left out!

Editor Rob
Sandy, I actually did read a quote from her a few weeks ago, but wasn't sure about adding her...maybe she is worth a page, I'll see if I can find the quote again.
Sandy Cowell
said on 23/Nov/16
@ meg - Hi! I can see where you're coming from likening Georgia to Brigitte Bardot, but the woman she truly is the double of is her Mum, there's no escaping that!
I see above that Georgia says she's 5ft7.5, but she's written up as 5ft6! Now that's a tricky one because we only see her in adverts on TV, but it would be possible to compare her height to others she gets pictured with in the celebrity magazines.
In the meantime, I shall settle for a height inbetween the two,
and that makes her 5ft6.75!
meg
said on 4/Oct/16
Georgia reminds me a bit of Brigitte Bardot
Mini
said on 12/Jul/16
she is only 5.6 but her face is divine, iconic)
Helga
said on 15/Apr/15
167-168 yap
Glim
said on 15/Feb/15
5"6 in my opinion
M
said on 13/Feb/15
Georgia is really 5'5" and Cara is 5'6" - that is for true (Cara is only one inch taller than Selena Gomez, and Selena is 5'5").
Mini
said on 3/Dec/14
I do think Cara is taller than Georgia, also has longer legs which is why she gets more runway work.
Igge
said on 1/Dec/14
Time to downgrade Cara then as well
littlesue
said on 30/Nov/14
I would say Georgia, Kate Moss and Cara Delavine all around the same height of 5ft 6.