Glenn Morshower's Height
5ft 10 ½ (179.1 cm)
American actor best known for playing Aaron Pierce on tv series 24. He has made numerous appearances in film such as Transformers, Under Siege, Parkland and Air Force One. This photo was from a London Expo.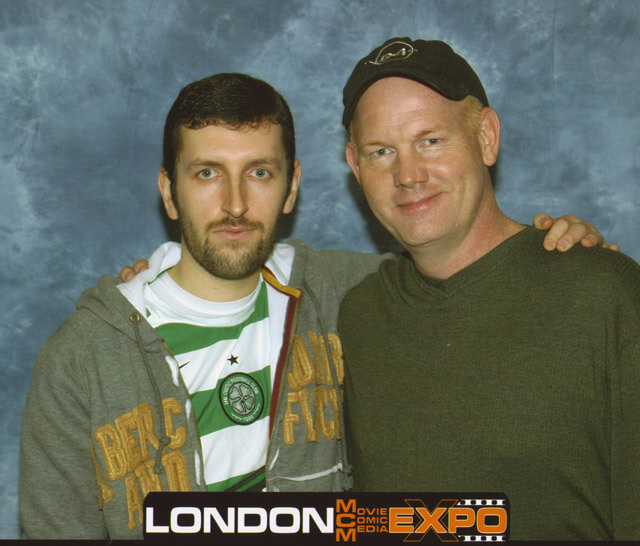 5ft 8 Rob and Glenn
You May Be Interested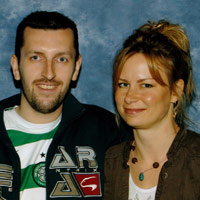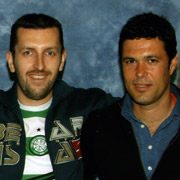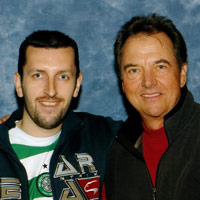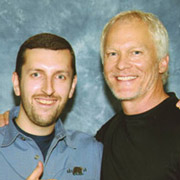 Add a Comment
26 comments
Average Guess (9 Votes)
5ft 10.11in (178.1cm)
Nik Ashton
said on 25/Jan/21
He's losing height there!
Pierre
said on 23/Jan/21
Around 5"9.75' to me
Visitor
said on 26/Oct/19
Nowhere close to 180 cm. 176 or maybe 177 cm.
Great actor.
Nik
said on 10/Jul/17
This guy has a great name! 5'10.5" is bang on the money!
Jakertini
said on 26/Aug/15
looks a hair under 5'10" here maybe 5'9 3/4" with better posture he could pull off 5'10.25-5'10.5"
Josh b
said on 3/Sep/14
Click Here
My photo with Glenn, we looked very close in height.
LG69
said on 7/Nov/13
Looks 5'10" in the photo, but he is tilted a bit. Probably 5'10.5" with better posture.
Nat
said on 18/Sep/13
I thought he was closer to 6', so maybe 5'11"? I got a picture with him in '09 when he came to Dallas Comic-Con and he doesn't look that much shorter than me (6'2").
Sean73
said on 15/Sep/13
His voice is awesome in all the COD games!
Pat
said on 22/Jul/13
5 10 tops, what do u think rob?
[Editor Rob: I thought he was above just 5ft 10 and near 5ft 11 when standing taller than the photo.]
truth178cm
said on 6/Feb/13
I think 177-178cm is closer to the truth. Nothing under or over 5ft10.
ChiasmataX
said on 31/Dec/11
He might look taller or larger because he's a bit nearer to the camera than Rob. He's probably the shortest looking 180cm on this site. I think he's around 178cm. Did he really looked taller in person than say Mike Tyson Rob?
Jack
said on 3/Dec/11
Rob is this really 7 cm difference?
[Editor Rob: well with a lean he's lost a cm for sure. ]
Rampage(-_-_-)Clover
said on 8/Sep/11
Looks 176-177cm max next to Rob.
No more than 5"10(178cm).
Shantal
said on 28/Nov/10
Looking at this picture 180cm seem to be very wrong. 176 or 177 cm max.
Mathew
said on 31/May/09
looks 5'10" flat.
dmeyer
said on 22/Feb/08
looks more 5 ft 10 in the pic
Static
said on 22/Feb/08
I also have 5f10.75 and my brother is 5ft8.5 and when i stand next to him, we can see the difference between a 5ft8.5 person and a 5ft10.75 on that photo we hardly can see the difference.. If rob say's he is 5ft10.75 i believe, cause he actually meet him, but on this picture i would say 5ft10 TOPS!
Stiffelio
said on 22/Feb/08
Another good picture, Rob! It's hard to tell. He sometimes looks as tall as 5'11".
dmeyer
said on 16/Sep/07
might have been 5'11 to 5'11.25 and lost 1 cm because he is 48 years old but he sure dosnt look less than 5'10.5
[Editor Rob: yeah, 5ft 10.75...it is a tricky one in that 5ft 11 would be possible, I thought this was safe from the show he looks near 5ft 11 aswell.]
dmeyer
said on 16/Mar/07
179-80 make sens for him he looks taller than itzin
dmeyer
said on 28/Jan/07
5'10.75 height exist i have to friends that can look 179 and sometimes 180 so they could be 5'10.75
dmeyer
said on 17/Dec/06
after watching could be only 179 since he looked 1.75 to 2 in taller than 5'9.5 to 5'10 jean smart but she was barefeet so 179 to not a full 5'11
dmeyer
said on 10/Dec/06
wath do you mean ask this guy about willis rob
[Editor Rob: I meant, he done a scene with Bruce in Hostage, I was gonna ask him about Willis, just get his opinion but never did.]
dmeyer
said on 6/Dec/06
lets say this guy is between 5'10.5 to 5'11
dmeyer
said on 4/Dec/06
dosnt have great posture and didnt look to short near nearly 6 feet 5 haysbert 5'10.75 a week 180 make sens
[Editor Rob: 5ft 10.75 is the new 5ft 10.5...

it is possible 179cm on the nose, I meant to ask this guy about willis, but too many people at the table he was at.]