James P Morrison's Height
5ft 10 ¾ (179.7 cm)
American actor best known for playing Bill Buchanan on TV series 24. He has also been in Space: Above & Beyond and films such as Jarhead. In this photo he had a little bit more sneaker than me.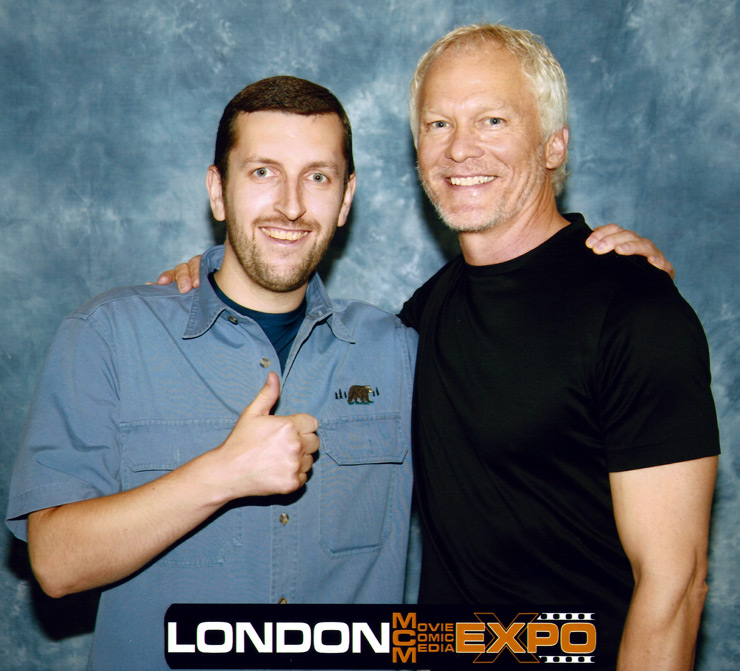 5ft 8 Rob and James P @ MCM Expo 2007
You May Be Interested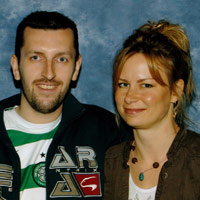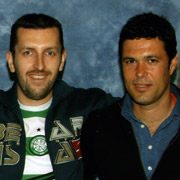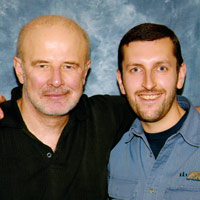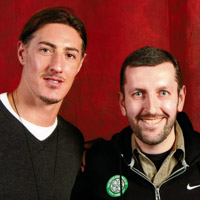 Add a Comment
43 comments
Average Guess (26 Votes)
5ft 10.79in (179.8cm)
Slim 6'1"
said on 27/Sep/20
179cm range
Visitor
said on 26/Oct/19
I'd say more like 178-179 cm. But a hair more isn't impossible.
Nik Ashton
said on 20/Apr/19
This listing is very believable!
slothee
said on 16/Jul/18
5'10-1/2"!
Amaan Hale (5'10 5/8)
said on 24/Jun/18
How much more sneaker did you think he had on yours?

Editor Rob
Well I had 0.9 inch, he had 1.1-1.2
berta
said on 15/Apr/18
179-180 is my guess for this guy. maybe closer to 179?
Bobby
said on 10/Mar/18
Looks 5'11, he gets 5'11 from me.
World Citizen
said on 25/May/17
Looks exactly as listed.
TJE
said on 13/Jun/15
This listing is spot on!
Hypado
said on 23/Feb/15
Yes, James Morrison, 180 cm is closer, good 24 actor.
Danimal
said on 17/Nov/14
5'11" guy.
Dmeyer
said on 15/Nov/14
Look bang on near 3in taller minus 0.2in 2.75in plus the fact that rob is near 5'8.25 he is defenetly near 5'11
Rampage(-_-_-)Clover
said on 24/Oct/14
Rob, could a strong 5ft10 be closer than a weak 5ft11?
dmeyer
said on 18/Dec/11
this guy looks 1 in under 182.3cm alexander siddig , he isnt towered by almost 6 ft 2 eric balfour, and near 3 in over 5 ft 8-8.5 kiefer, he is defenetly solid 5 ft 10.75 180cm, he is not as short as 179cm this guy is solid 5 ft 10.75 , he might not drop under the mark also he isnt young so 0.2-0.4 in is very possible so peak near 5 ft 11-11.25 is possible , still close enaugh 5 ft 11 today , he is the proof 5 ft 10.75 is a height a men shouldnt complain he looks great on screen , also youare 5 ft 8.1-8.25 helooks near 3 in taller minus 0.2 in footwear he is still close to 5 ft 11 , is 5 ft 11 unlikely

Editor Rob
I was always up for those Expo shows early, sometimes I flew down from Edinburgh early the Saturday so was up 4am to get to Edinburgh and then fly.

A lot of the expo shots I would say I'm 5ft 8.1 on the button.
Dmeyer
said on 12/Dec/11
Looks 5'11 minus 0.2 in exactly 5'10.75
dmeyer
said on 15/Mar/11
179cm is a possibility by dinner
ACG
said on 19/May/09
what do you mean by that, Rob? the experiment thing, i mean....

Editor Rob
sometimes I think people looked TOO much at glenn's photos as evidence.
Alex
said on 18/May/09
Ian, thats pushing it. Rob was clearly taller than Glenn in those photos and I was shocked to see a 1.25-1.5 inch difference between the 2 since I was expecting more .5-.75 inch difference between them.
glenn
said on 16/May/09
outstanding point paul66.thank you for bringing that to our attention.
paul66
said on 16/May/09
glenn is on the wrong side of the pavement to have an advantage. pavements slope to the gutter not the shops
glenn
said on 15/May/09
goes to show,like what has been shown for 3 1/2 years,is that i can look 5-7 to 5-10 in photos.some of it is real(the low ends)and the rest illusions.but everyone wanted to attack and said i looked 5-6,5-7 only.that was never the case.i can look shorter or taller,depending on many factors.some of it is illusion.some of it,is my 5-8 stated height into play.dont immediately assume im 5-7 flat to 5-6.75 in pics.im 5-7 to 5-7.5 in pics.
Fred Bloggs
said on 15/May/09
Ofcourse Glenn is using lifts

Editor Rob
glenn does not use lifts.

it's simply an example of how standing nearer than a celebrity could amplify your height. The effect is more apparent depending on how low the camera is, and how near the person taking the photo is.
Anonymous
said on 15/May/09
yeah but glenn has always attributed to slanted pavements when asked why he looks short in photos, so the same can be said when he looks taller
Mike
said on 14/May/09
Glenn looks taller than 5'7" in that photo. Fight the power
Stiffelio
said on 14/May/09
I don't know why but this guy always looked taller to me on TV. On 24 he looks 3 + in taller than Kiefer Sutherland. He also looks in great physical shape. Cool guy, good actor. It's a pity they killed him off.
Anonymous
said on 14/May/09
Glenn has been appearing taller, recently!
Glenn, are you using lifts of any kind?
flash_of_eden
said on 14/May/09
Zach- Agreed. Glenn has good posture here and easily looks a full 5'8".
Zach
said on 14/May/09
Prime example of how pictures can be deceiving, judging by these pics alone Glenn looks taller than Rob.
Josh
said on 14/Mar/09
He looked a good 2-2 an half inches taller than sutherland and carlos bernard on the new season of 24.

Editor Rob
about 5ft 10.5-11 range yeah.
D
said on 23/Jul/08
Weird that two guys with the same name are listed as the same height, this guy, and Jim Morrison (The Doors' lead singer).
Editor Rob
said on 12/Jul/07

Possible, aged 53 still looks in good shape, not a kind of slouchy guy or anything. Its possible he had .2 inch more with his asics than my trainers when I saw him though.
dmeyer
said on 11/Jul/07
since he looks a good 5 ft 11er could he have been 5'11.5 at peak
Cæsar
said on 8/Jun/07
Looks four inches talleer than Kiefer Sutherland at least. He has to be 6' or Kiefer is 5'7. Morrison does look tall though, and I generally don't consider 5'11 "tall".
MJ
said on 20/Apr/07
Looked a couple of inches shorter than Kelsey Grammer in an early episode of Frasier.
dmeyer
said on 16/Mar/07
he does look in his 50s might have been 5'11.5 to 6 ft in heyday
no name
said on 9/Feb/07
i always thought he was about 6'4" in 24
mike
said on 1/Feb/07
does anyone know bout the height of the singer who goes by this name?
dmeyer
said on 31/Jan/07
5'11 make sens since he does look 2.5 inches shorter than 187 cross
dmeyer
said on 14/Dec/06
the diferance with 187 cross looks to be 6 to 7 cnm so 180 possibly 181
dmeyer
said on 14/Dec/06
realy looks a solid 5'11 could be 181
dmeyer
said on 4/Dec/06
he does look no shorter than that in 24
Bleemo
said on 22/Apr/06
Hmm I guess this is about right, he's always looked fairly tall, but not lanky. When he guest starred in Frasier he was quite as tall as Kelsey Grammer so there's no way he is over 6'.
Stiffelo
said on 14/Nov/05
Uhm...Thought he was taller, at least 6ft. He towers over Kiefer Sutherland.