Godfrey Gao's Height
6ft 4 (193 cm)
Taiwanese born Canadian Model and Actor known for playing Magnus Bane in The Mortal Instruments: City of Bones. His agency listed him as 6ft 2.5, Suit size 42in, waist size 31in, Inseam 34in and Shoe size 11.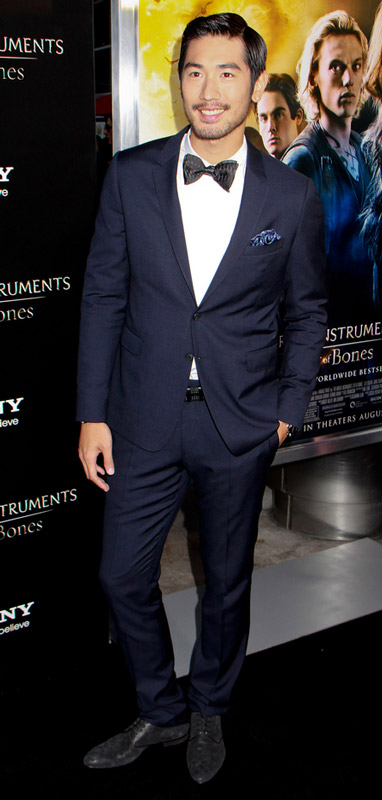 Photo by Pr Photos
Add a Comment
47 comments
Average Guess (19 Votes)
6ft 3.59in (192cm)
Chris Junior Hernandez 1990
said on 7/Oct/19
@Christian That is because Lin is over listed. I just saw J Lin get a 6'2 downgrade from Rob. I guess a solid 6'4 for Godfrey is much fair now.
Christian 6'5 3/8"
said on 3/Oct/19
@Junior
194cm for Godfrey is too high.
Chris Junior Hernandez 1990
said on 2/Oct/19
Really no way if JL get 6'2.25" and Godfrey stuck 6'4. It has to be solid 2" between them. If someone tell me Godfrey is 194cm in person i would even believe it.
Junior Hernandez 1990
said on 2/May/19
@Canson You can't denied he look solid 6'4 with 6'2 Jeremy Lin and he atually look to have Lin by 2.25".
Canson
said on 17/Apr/19
Looks weak 6'4 often
Junior Hernandez 1990
said on 17/Apr/19
Rob i respect your opinion and you can leave him 6'4 as you liked. Their shoes difference wouldn't be more than a fraction so i don't see no chance for 6'4.25". I don't think there is 4.4cm between them while the odd is a full 5cm and with a bit shoe advantage look 5.5-6cm max taller than Lin.
Junior Hernandez 1990
said on 3/Apr/19
Rob, i guess you have see my previous post that Godfrey really didn't look under 2" taller than 6'2 1/4 Jeremy Lin. So would you think its fair to upgrade him at 6'4 1/4?
Click Here
: here is a full picture again you can see they're more like 2.25" apart rather to say 1.75" and footwear wise wasn't much difference. Godfrey atually try to claim both 6'5 and 6'4.75" and get listed on many site at 6'4.75" but i doubt it. He really look more like 6'4.25-6'4.5" than a flat 6'4 more looking into it.

Editor Rob
He could be a strong 6ft 4 there, but are their sneakers similar...they may not be.
Junior Hernandez 1990
said on 22/Feb/19
Click Here
: JL is more like 6'2 but listed at 6'2.25" and he look at least 2" lower than Godfrey. After all Godfrey might just be a legit 6'4.
Click Here
: Honestly it looks a bit over 2" here like 2.25".
James 90
said on 4/Feb/19
Has a good 4 - 4.5 inches in the Mortal Instruments movie, probably somewhere around 6'3.5 in the evening.
Canson
said on 13/Jan/19
@Junior: I got the 6'3.75 from Bobby3342 but also saw Ray with Rashard Lewis and he didn't look a full 6'4.
Junior Hernandez 1990
said on 11/Jan/19
@Canson Sometime i atually wonder Lebron is 6'7 and having a bit loose posture makes him look 6'6 1/2-6'7 3/4. Ray i wouldn't go under 6'4 and i saw those golf image with 6'1 1/2-6'1 5/8 Stephen Curry there is clearly 2.5 inch between them. Maybe posture wise makes Ray look lower in person that somebody might have thought he was only 6'3 3/4 just because Ray stand a bit loose.
Nik
said on 8/Nov/18
Godfrey's agency certainly low ⚽️'d him!
Canson
said on 20/Oct/18
@Junior: your estimates are very good. I have Ray 6'3.75 which is close. I have Lebron exactly like you do. And Pierce maybe 6'5.5-.75. Ditto for curry
Junior Hernandez 1990
said on 12/Sep/18
@Canson My friend was more like 6'2 1/4 almost 3/8 which i remember i measure him once during college. Paul Pierce i can tell he look max 1" on Kobe and most of time look 3/4 taller so he could 6'5 1/2 and my friend might be rounding Paul down by a 1/4. Ray i would rule out 6'4 if he stand straight look to me sometime he stand quite loose unlike Paul and Kobe both had impeccable posture most of time. Curry low we fight for 6'1 1/2 which is reliable and he does look solid 2.5" shorter than Ray. Wade the lowest i can see 6'3 is happen which he look very close to 4" shorter than 6'6 3/4 Lebron. Last back to Godfrey he look fraction or a 1/4 under Ray which he could be a good 6'3 3/4 but strange that his agency listed him under 6'3.
Canson
said on 3/Sep/18
@Junior: I remember Bobby3342 said he balled with Ray and that he was 192-193 in person and Bobby is the exact same height as I am. That leads me to believe he edged Ray by half inch as I'm 6'4.25 as well. Ray may be 6'3.75. As for Pierce, your friend could be onto something but I wouldn't personally go any lower than 6'5.5. Pierce looks 6'6" with Kobe honestly. At worst 6'5.75 maybe
Junior Hernandez 1990
said on 2/Sep/18
@Canson I don't think Paul Pierce edge out Ray that much like 2". I have see 3-4cm maybe max 1.5" but have to tell a truth what i read up a facebook post from past from a close friend of my who was a solid 6'2 atually met Paul Pierce in chicago many years ago saying that he was surprised he wasn't that big in real like his listed height 6'7 on the internet he say close up walking to Paul a few times outside a bar he look at most 3" topped him and confidently said: Definitely he is 6'5 and i"m only 6'2 if Paul is 6'7 i'm 6'4 so the NBA is a big fat lie LOL LOL.. That is a shocked to me i'm a half believing his word and a half doubting it. Over the years i wonder if Paul is atually 6'6 with shoes so Ray Allen would have to be only 6'3 1/2 or 3/4 max and Kevin Garnett would be a strong 6'10.
Canson
said on 8/May/18
@Junior: Ray next to 6'8.5 listed Rashard Lewis looked what Bobby said. Ray could look 6'4" with Paul Pierce however. 6'3.75 and 6'4 are hard to tell apart but even at 6'3.75 (my definition of it), he would be 6'4.5ish out of bed and just dip to that at a low which is why he got a 6'5 listing. You could be right that Bobby had an advantage but Bobby stated they were playing ball together. Not so much that he met him and stated it because anyone could say it, but more so because it adds up with how he looks with Lewis and Ray has a 6'3.5 at the Olympics. I do trust Bobby3342 though as he has been honest and his estimates add up. Now They did say they knocked off 1.5 for some players to arrive at a height but Ray really looks around 6'3.75 at times
Junior Hernandez 1990
said on 7/May/18
@Canson Ray doesn't look over 0.75" shorter than Kobe. 6'4 is a min. Bobby3342 could have an edge of footwear on Ray we don't know that. Ray can look between 1.5-2cm shorter than Kobe and always look this range. I did say 6'4-6'4 1/8 for Ray and Kobe is just right on 195cm. Godfrey Gao is probably not under 6'3 3/4 this low. Ray and him were very close like a strong fraction.
Canson
said on 4/Feb/18
@Junior: yea but imho I'd have exactly an inch between them. 6'4.75 Kobe 6'3.75 Ray. Yea ray could look a legit 6'4 too at times. I agree Pierce is a legit 6'6". He doesn't look noticeably shorter than Melo imho
Junior Hernandez
said on 2/Feb/18
@Canson Ray might be 6'3 7/8 doesn't look over an inch shorter than Kobe while compare them both next to legit 6'6 Paul Pierce. Godfrey i doubt not 6'4.75" that high he claim and get listed else where might be a shoe height and 6'3.5" barefoot.
Canson
said on 8/Dec/17
@Junior: not sure on this guy but Ray I doubt is over 6'4" maybe 6'3.75 imho looks near 5" less than Lewis in this pic and lewis's Draft height was 6'8.5 meaning may just be 6'8" flat if it was morning. Lewis looks an inch shorter than 6'9" Dwight Howard as well assuming Howard is full 6'9" I believe he is tho if not s hair over really. Allen also is not much taller than Dwayne Wade. Not to mention poster here Bobby3342 has met Ray. Bobby is my height and said Ray is shorter that he's 192/193 in person
Click Here
Junior
said on 7/Dec/17
@Canson
Godfrey with 6'7.75" Carlos Boozer he look exactly his drama listing given 6'4.75", i understand Boozer could be 201cm since nba draft took measurement at 6-8am in the morning. Kind of confusing so Godfrey should be at least 193.5cm maybe rob need to push Godfrey up at 6'4.25" and Ray Allen maybe 6'4.5" and Kobe will be what he claim 6'5.
Click Here
:
Click Here
:
Canson
said on 3/Nov/17
@Junior: this guy here is hard to gauge. Ray Allen tho I can't see over 6'4" tips barefoot. He's not as tall as Kobe and honestly I can see 6'3.75 for Ray. Next to Rashard Lewis he didn't even look 6'4" and Lewis is 6'8.5 barefoot
Junior
said on 20/Aug/17
@Christian-6'5 3/8"
I also heard rumours pointing out Ray was a weak 6'4 in person like genuinely 192.5cm guy but that would make Kobe Bryant look max 6'4.25" and Dwyane Wade at 6'2.5" because there is usually a 3-3.5cm between Wade and Ray and 0.5-1cm between Kobe and Ray. Hardly think of it if they're 1.25" off the draft without shoes measurement. Interesting part that i find out some site listing for Godfrey, those site all listed him at 6'4.75".
Click Here
Click Here
Click Here
Christian-6'5 3/8"
said on 17/Aug/17
@Junior
Ray's more like 6'3.75" or 6'4" range, you can't go along with NBA's official listings because they list shoe heights. And Godfrey I think is about 6'3".
Junior
said on 14/Aug/17
I saw a post Godfrey doesn't look under 6'4.5" with 6'5 Ray Allen. Maybe min 6'4.25"?
S.J.H
said on 9/Jun/17
I mean could be 190cm but 6'3.5 is max
S.J.H
said on 31/Mar/17
Click Here
Godfrey real height is 190cm. Here with legit 189cm model/actor Hu Bing
S.J.H
said on 6/Feb/17
Yes he is 192cm and jamie campbell bower is not over 180cm
Rampage(-_-_-)Clover
said on 16/Jan/17
192cm is fair.
Christian-196.2cm (6ft5.25)
said on 26/Nov/16
He's probably the tallest Asian on this site, that is a non-basketball player.
S.J.H
said on 18/Jul/16
I read up that he atually claim 6'4.75 sound ridiculous. He look at most 6'3.5
Rampage(-_-_-)Clover
said on 29/Jun/16
Rob, really a full 6ft4?
189cm is too short for him though I will admit.
Editor Rob: 6ft 3.5 isn't impossible.
Hi
said on 28/Jun/16
6'4'' for a Taiwanese is the same as 6'6'' for an American white
Leo
said on 9/Aug/15
192 cm is absurd for Ray Allen. He is definitely 6 5 barefoot and rob should make a page on him.
Charles
said on 25/May/15
As an amusing note, "Gao" means "tall" in Mandarin lol.
S.J.H
said on 12/Apr/15
@look at him next to jeremy lin says on 11/Mar/15
Godfrey head is closer to the camera include hair advantage than Ray Allen. I see in other picture where allen look full inch taller than godfrey and for the information ray allen once claim he was 6'4.5 so Godfrey look more like 6'3.5 and 6'1.5 for jeremy lin (pic godfrey tip up his head with jeremy for advantage)
look at him next to jeremy lin
said on 11/Mar/15
Click Here
!-%E5%91%A8%E5%88%8A-419%E6%9C%9F
scroll the page down and see the pic of him stood next to jeremy lin
i see a 3 inch difference (if not a bit more) between them
if hes 6-2 and half then jeremy lin is 5-11 and half
it just doesnt looks right, does it ??
if jeremy is a legit 6-3 then godfrey definately is taller than 6-4
also next to ray allen he looks a bit taller
Click Here
i think these 2 pics will put an end to the 6-2 and half listing crap
either jeremy isnt as tall as he is listed or godfrey is taller than his listed height .....if godfrey is 6-4 then jeremy is 6-1 top
and if hes 6-3 like most of you claimed here then jeremy is at best 6 top
editor rob help me out a little bit here plz , what do you think ??
[Editor Rob: don't know what Ray is barefoot, I think they look very close though...he does have a good 2 inches on Lin...I think Godfrey looks around 6ft 4 range, Lin could be nearer 6ft 2 the more I look at him.]
Dejavu
said on 22/Feb/15
I think he is more 6'3.
Mathew
said on 30/Jan/15
Hmm, full 6'4"? I think that sounds a tad high. Next to Robert Sheehan (about 182 cm) neither is using great posture but you don't get the sense of an 11 cm gap, more like 8 or 9 cm tops:
Click Here
Click Here
and then here
Click Here
could he really put 11 cm over him if he straightened up? Maybe he's between 6'3" and 6'4" standing straight, but he can look like a flat 6'3" a lot.
GG
said on 11/Jan/15
Remember him mentioning 6'4.5 and 195cm at one point, what you think Rob?
[Editor Rob: not impossible, at times he can look 6ft 3, other times an easy 6ft 4 range]
Arch Stanton
said on 5/Sep/14
He does look 6'4 proportionally there
Click Here
, like Jason Momoa when he was skinny.
Arch Stanton
said on 5/Sep/14
Wow, you're right, looks comfortably 4 inches taller. Well spotted!! I couldn't find any comparisons with actors I know, a lot of his photos are with modelling industry people who I don't know. He does give a more 189-190 impression in photos but he does tend to slouch. It is quite extraordinary to see a 6 ft 4 east Asian guy.
Arch Stanton
said on 4/Sep/14
Rob what was it that convinced you he was a big 6'4" height? In most photos he gives a more 189 impression as listed IMO, but he is skinny so can look pretty leggy. Can you honestly see 6 ft 5 in shoes? I can't.
[Editor Rob: look at him with Jamie Campbell Bower, when he's standing loose he can look 189, but standing tall I think he can look taller.]
Arch Stanton
said on 4/Sep/14
Rob that's a typo on Taiwanese. Yeah 6'4" for an East Asian is kind of like 6'8" isn't it.
Amaze
said on 4/Sep/14
@Sam yes he's a literal giant for an Asian, he's very tall.
yeah rob some modelling heights are reduced, I know a 19 year old model who is 6'4" but reduced to 6'2 & 1/2(6 ft2.5/189cm) too.
Sam
said on 3/Sep/14
Never heard of this guy but one of the tallest Asian actors I've ever heard of. If his CV says 6'2.5" though, why is he listed at 6'4"?
[Editor Rob: some modelling heights are reduced, I think this guy is one of those examples.]