Grant Bowler's Height
6ft 0 (182.9 cm)
New Zealand/Australian actor perhaps best known for roles on tv shows like Defiance, Ugly Betty (as Connor Owens), Lost (as Captain Gault) aswell as starring in long-running Aussie police drama Blue Heelers. This photo (by Malcolm) is from a massive events True Blood convention. Grant had nearly half inch thicker footwear than us. His NZ agency listed him as 182cm although I read him saying on twitter he was
"6'1"."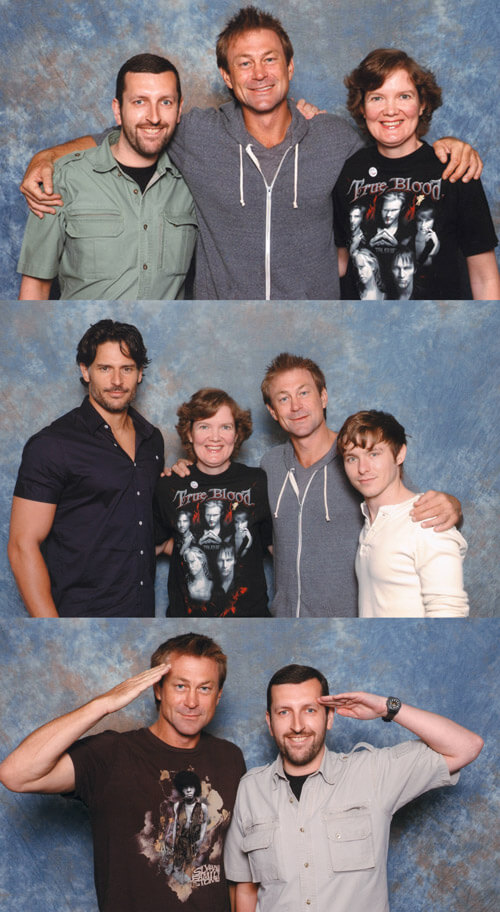 5ft 8 Rob, Grant, 5ft 8 Jenny
You May Be Interested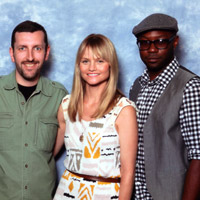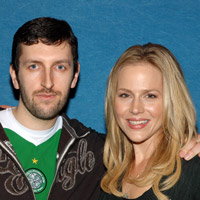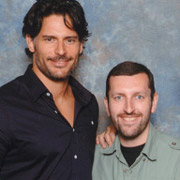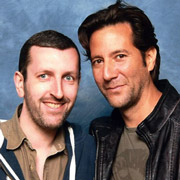 Add a Comment
60 comments
Average Guess (18 Votes)
5ft 11.83in (182.5cm)
Christian 6'5 3/8"
said on 8/Jun/20
No less than 5'11.75"
OriginalAnon
said on 26/May/20
He looks 6'0. I am not seeing the 5'11.5" shouts.
Yang (5 footer 8, 173, Aries)
said on 20/May/20
5ft 11 half range.
Rampage(-_-_-)Clover
said on 27/Apr/20
He's holding his own in that photo with Joe.
berta
said on 31/Jul/19
almost 6 feet could be closer. 182-183
Junior Hernandez 1990
said on 10/Nov/18
@Bobby Joe is more like 6'4 1/2 not 6'5. Grant i surprise given 6'0 by Rob and i thought of he was always 5'11 3/4.
Bobby
said on 31/Oct/18
Wow he looks surprisingly short next to Joe Manganiello, but the guy is basically 6'5, so I can see why.
Mike5
said on 29/Sep/18
More 1.82m flat but he holds it really well
Zampo
said on 15/Sep/18
To be honest, I would put him in the same category with guys like Froch, Christian and Ross Marquand. 5'11.75-6'0 range. Average guess could be bang on. Looks around 6'0.25 with the footwear advantage.
MAD SAM
said on 31/Jul/18
5'11.75" or 182 cm
Rising - 174 cm
said on 19/Jun/18
I'm mostly familiar with him from Atlas Shrugged Part 1 and he seems tallish on screen, but not surprisingly, the height difference between him and Taylor Schilling varies in the film. I'd believe 182 cm.
Nik
said on 26/May/18
He looks a little but under his listing!
Zampo
said on 26/May/18
He a weak six footer (low 182 cm range). He's looking about Edi Gathegi range with the footwear advantage. Agency listing is most likely spot on. I would be interested to know who Rob felt was taller between Grant and Jensen Ackles.
Tunman
said on 24/May/18
Looks like 4-4.25"taller in the upper pic so like 3.5-3.75" without shoe advantage.At least 182 and possibly closer to the full 6'.
Rampage(-_-_-)Clover
said on 11/Apr/18
He looks like he'd only be 4in shorter than Joe
Valhalla
said on 21/Aug/17
How big was this blokes footwear rob? Would his eyes be under a 194 cm mans nose?
Editor Rob:
he held up not too badly beside Manganiello that event, his eyes were below Joe's mouth for sure when both stood similar on stage.
Grant boot
that weekend.
Napi
said on 26/Jul/17
How tall is he in the photo with the shoes? Is he 187 cm tall with them on?
Editor Rob: he'd be near 187 in boots yes.
World Citizen
said on 31/May/17
Hey Rob, who is the fourth person on the middle photo?
Editor Rob: that's Marshall Allman known mainly for Prison Break.
Rampage(-_-_-)Clover
said on 17/Dec/16
Looks like he could be a fraction over this…
Csimpson 6ft
said on 17/Dec/16
Rob how likely is 5ft 11.75 for Grant? 6ft is fair but taking into account for his footwear its quite possible he could be a weak six footer
Editor Rob: Connor, he definitely was taller beside malcolm (the photographer) than some guys like barrowman/cumberbatch looked...but he did have more footwear, so naturally looked taller than if we were in the same sneaker.
S.J.H
said on 10/Nov/16
His agency listed the correct height 182cm
Rampage(-_-_-)Clover
said on 3/Sep/16
He looks a strong 6ft rather than a weak one, is what I'm saying. This listing is fine.
Peter 179cm
said on 6/Jul/16
His agency listing seems spot on...He does look around 183cm with Rob,but considering his shoe advantage,he's really around the 182cm mark.
Bluey
said on 5/Jul/16
Can you add Damien howling Walsh? I am quite curious to hear your thoughts on his height because there is a big difference between him and Grant.
Editor Rob: not that familiar with Damien.
Lorne???
said on 21/May/15
They wouldn't have put 182 if he was nearly 184cm rampage.
I do think it's likely he measured ~6 feet, like 182.5-183, and they just rounded down. He's clearly not a flat 182, though.
Remember that in this pic, Rob has said he isn't 100% sure on his boots, so he gave him a bit of a benefit of doubt with a 6ft listing. 182.5 isn't impossible, although he certainly looks a 6 footer on screen.
Rampage(-_-_-)Clover
said on 20/May/15
Actually, this guy does look more 183-184cm than 182-183cm.
He'd definitely edge out Jensen Ackles.
Maybe a fraction over this Rob?
[Editor Rob: he's got about 0.5in more footwear so around 6ft I think is ok for him.]
Judd
said on 1/Apr/15
yeah rob, you're right! i have not read the description until now, however i think he's still in the 6' range! good estimate!
Judd
said on 1/Apr/15
if you have both similar shoes, then he's a strong 6' guy
Rampage(-_-_-)Clover
said on 30/Mar/15
Rob, is 182cm possible?
[Editor Rob: wouldn't go that low, a decent enough six footer I believe.]
Hypado
said on 17/Feb/15
183cm is a good listing for Grant, i agree.
Alex 6'0
said on 10/Aug/14
Rob, he had near 1/2 inch footwear. What was he wearing compared to your footwear?
Alex 6'0
said on 10/Aug/14
If you drew a line Rob's head would be about his eye brow level which is 4 inches puts him at 6'0-6'0.25 but with the footwear the near 1/2 inch footwear could he be 5'11.75? 6'0 flat is fair but maybe a hair below.
Alex 6'0
said on 9/Aug/14
Rob, would you say his eye level is more 5-5.25 range? Me and him would be the same height I think but you would come up a bit more on him than me but still the same difference because of his longer forehead/lower eye level.
[Editor Rob: In the top image he's looking straight ahead, but in salute his eyelevel is tilted down a fraction. I don't think it's any different than typical 4.5-4.7 range, certainly in the double shot I can't see any difference, he has a lot of sticking up hair there.

A guy like Shaun Murphy (snooker player) has an eyelevel that is a little over 5 inches.]
Alex 6'0
said on 8/Aug/14
Rob, this guy looked about the same as I did? Also his forehead is longer than mine so his eye level will be lower than mine was.
[Editor Rob: I would say he'd measure very near your mark]
Alex 6'0
said on 8/Aug/14
Looks a legit 6'0. Joe looks 6'4.5 with him as well
Kostas
said on 3/Aug/14
Andrea says on 28/Apr/14
And Joe has perfect posture. How can he be one inch taller than Jared, if he makes 6' guys look so tall?
This guy has 0.5" more footwear and also tilts his head up. That's why he looks 6'.1" .
Andrea
said on 28/Apr/14
I know he's not a 6'1 but come on, look at him with Joe and tell me he looks shorter than Jensen next to Jared. Ok, there's good chance Grant is more a solid 6' than Jensen but it still doesnt explain that...
[Editor Rob: maybe Joe can look 6ft 4 at times, but he can look 6ft 5 aswell, and as I say a photographer can reduce or enhance differences.]
Andrea
said on 28/Apr/14
And Joe has perfect posture. How can he be one inch taller than Jared, if he makes 6' guys look so tall?
[Editor Rob: Bowler is no 6ft 1er, he looked a solid 183-4 guy but had more footwear. I think he'd measure about same as alex from this site would, 183 on the button.

Photographers can intentionally/inadvertantly enhance or reduce differences.]
Andrea
said on 27/Apr/14
If Joe is 6'5, this guy looks near 6'1...
Click Here
Looks like there's more difference here, and they are a 6' and 6'4 guy. How can Joe be 6'5, if Grant is only 6'? (And i took a "good" pic for Jensen, cause there are many others where Jensen barely reaches Jared's eyelevel...)
Lorne
said on 26/Apr/14
After looking at this guy, I have to amend my opinion. He looks a solid 6 foot, always! 182 was just a bad rounding job, I guess...
berta
said on 6/Jan/14
he looks 182. 183 on a good day, but he has advantage !!!
Rampage(-_-_-)Clover
said on 24/Nov/13
Looks to be about 10cm between him and Joe Manganeillo (weak 6ft5in at worst). Minus the boots, he's still at least 6ft.
"Grant Bowler's height is 6ft 0.25in (184cm)"
Connor 184cm
said on 13/Sep/13
182cm? utter rubbish Grant is a tall legit 6 footer looks it with rob and jenny he looked it in films like the zombie film remains rob could he give an 184cm impression?
Balrog
said on 8/Aug/13
Looks solid 184 cm to me, with the advantage he's solid 183 cm.
Lorne
said on 6/Aug/13
Just gotta say I love the new pic feature! You've mentioned it before, and I just was thinking about mentioning it, but lO and behold, it's here! Great feature Rob, can browse all the pics now:)
[Editor Rob: it's something I wanted to add, and I'm glad you like it.]
Peyman-6ft
said on 28/Jan/13
jake
remember he has a 1/3in footwear advantage in the pic , so probably 5'11.75'' at his lowest .
I don't say it because I want him to be at my height or something I say it because of the 182 listing.
Lo sgozzatore
said on 15/Oct/12
Rob, whats the sense of saying 182 if he's actually 6'? I mean, i think 90%+ of celebrities who are legit 182 just go with 6', if not even more. You rule out the 182 completely?
[Editor Rob: it's possible 182.5 and someone just says 182 or they give someone six foot and the person puts 182 instead of 183. ]
Jake: 1.82 m--1.83 m--1.84 m
said on 6/Jun/12
He looks six feet on the dot.
Realm2008
said on 17/Jan/12
He looks a lot taller then both of you. 6'0" definitely seems plausible.
Rampage(-_-_-)Clover
said on 15/Jan/12
He actually does look 183cm(6"0)...
Rikashiku
said on 13/Jan/12
Looks just about 6'0". Rob and Jenny only come up to his eyes.
cril
said on 11/Jan/12
this guy definitely doesn't look 6ft to me, is it his posture?
looks more like 5'11
Sam
said on 9/Jan/12
Rob, were any of the leads from True Blood in attendance at the event (Moyer, Paquin, Skarsgaard, etc.)?
[Editor Rob: they've not done this type of con, I doubt they will apart from something like the San Diego events, which are nothing like these events. Joe mangianello does them though.]
SAK
said on 9/Jan/12
Maybe 6ft/183cm in the morning, and 182cm throughout most of the day. But i would list him as 182cm/5t11.5.
MD
said on 7/Jan/12
If they are listing him at 182cm, I think you should, too. Weird.
B
said on 7/Jan/12
Judging from his footwear advantage he looks a bit under 6'0'' to me. Rob he looks like he would be a bit shorter then the contributor Alex on this site, 182 cm looks closer then 183 cm what do you think?
[Editor Rob:
182 is indeed on his management site
...
he is more of a 6 foot guy than many who claim to be 6 foot. He's more of a Michael Shanks type 6 footer rather than a guy like Robert Patrick (or Colin Ferguson) who claim 6 foot but look an inch smaller than it.]
jake, 1.82 m- 1.83 m
said on 7/Jan/12
Yet another 6ft even listing- there's probably close to a million of them on this site now.
maestro
said on 7/Jan/12
In this photo he looks 183cm, taller than the thumbnail one. If he's got more footwear than you then why not list him 182cm since that's what his agency listed him at?
James
said on 7/Jan/12
not even 6ft in thick boots
Jack
said on 7/Jan/12
legit 6ft(183 cm)...