Henry Ian Cusick's Height
5ft 10 ½ (179.1 cm)
Peruvian born Scottish Actor best known for playing Desmond on tv series LOST. In film he has appeared in Hitman, Not Another Happy Ending and Half light. His agency resume listed him as 182cm, although Ian himself in a HiLuxury interview said
"I'm only 5-11"
. He had a 1/4 inch more footwear than me this day.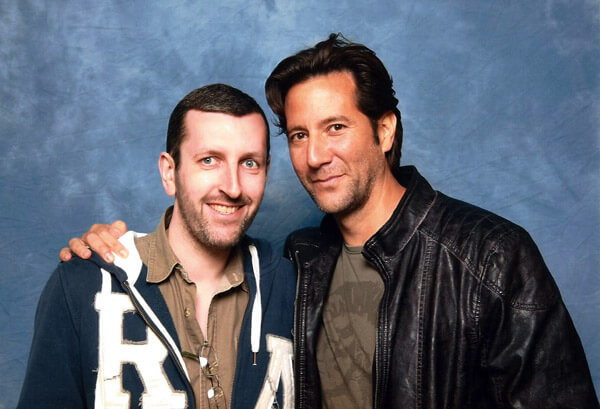 5ft 8 Rob and Henry @ Collectormania 2013
You May Be Interested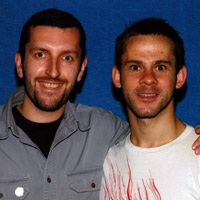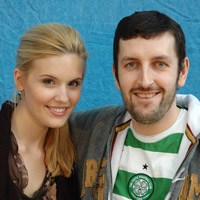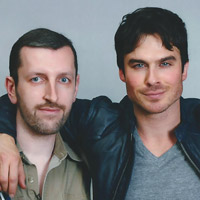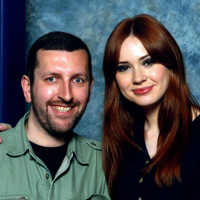 Add a Comment
91 comments
Average Guess (76 Votes)
5ft 10.88in (180cm)
slim 6'1
said on 22/Jan/21
180 too much but 179.5 is a possibility
slim 6'1
said on 18/Jan/21
Could be near 5'11"
Slim 6'1"
said on 9/Oct/20
179cm spot on
Nik
said on 1/Jul/20
It's amazing that he claimed to be "only 5-11"!
R-A-N-D-O-M C-E-L-E-B!
Jkiller
said on 17/Jan/20
Right under 5'11, 179.5
5'11.125
said on 21/Jun/19
Click Here
Hey Rob how tall does he look next to Mark Paul

Editor Rob
Looks like he'd be at least an inch shorter than mark.
berta
said on 22/Apr/19
Rampage yes he was listed 182 first then 181 then 180 and now 179. I always thought 182 was way to high because josh holloway had over 2 inches on him. i think he can look in the 180 cm range on tv and is probably the listed height in reality.
Alex65
said on 2/Jan/19
Probably 5'10.5. But looks strong 6' in the 100 with boots (183/184 cm):
Click Here
MJKoP
said on 11/Aug/18
DirectorKrennic said on 2/Nov/17
He would pass as one of the Cusack siblings.
I know, right? The last name must throw off a considerable number of casual movie-goers.
MAD SAM
said on 16/Jan/18
This guy is 180-181 cm Rob time for upgrade
DirectorKrennic
said on 2/Nov/17
He would pass as one of the Cusack siblings.
Pierre
said on 1/Oct/17
around 5"10.25' by considering the difference of shoes
Slim
said on 1/Oct/17
179.5 in prime, I imagine by middle age he has lost a few mms.
Guest66
said on 21/Sep/17
Might be tough to call where he falls exactly in the 5'10 range, but like Rob said earlier, probably closer to the lower end than to the higher.
Rampage(-_-_-)Clover
said on 20/Sep/17
I thought he could pass for 5ft11 on Lost
Slim
said on 18/Sep/17
Rob, he probably lists his morning height, can we please give him 5'10.75" at least?
Editor Rob: I didn't think he would be that tall barefoot.
Bobby
said on 25/Aug/17
Looks right, he's tilting his head down, so I can believe he's 2.5 inches taller. His 5'11 claim isn't really that bad though. Most guys with his stats round up anyway, even I've claimed 5'11 before.
Slim 182 cm
said on 13/Aug/17
Measures 5'10.5 closely to me, definitely the best character in LOST for sure.
Andres (5'9
said on 11/Aug/17
he looks like from the 100, as kane
HonestSlovene
said on 3/Aug/17
Looks like a strong 178 cm.
World Citizen
said on 4/Jul/17
Rob was this guy really listed 175 before?
Btw he looks 178,179 at the moment when he was tilting his head.
Editor Rob: no, he was never listed 175, but 5ft 11 range yes.

In person, not as tall as 5ft 11, but taller than 5ft 10...but, he had a possible cat type boot, I'd have said more chance 5ft 10.25 than 10.75 for him.
Adijos
said on 15/Jun/17
Okay Rob, since you saw Henrego next to guys who are 5'11" and you think it's shorter than them, then I can believe you ... But the usual 5'10.5" seems to be a little too small for him. Is there a chance for him to 5'10.75"?
Editor Rob: Adijos, I noticed you had submitted a lot of replies on one page - this can trigger a spam warning to me.

As for henry, I think 179cm is ok, as for Harold, I haven't ruled out 10.25. I know he can pull that range off with people.
berta
said on 10/Mar/17
yeah i remmeber he was listed 182 maybe 7 years ago or something. i always thought it was strange that he was 3 cm under josh. this listing is closer to the truth
Rampage(-_-_-)Clover
said on 6/Mar/17
Rob, was he originally listed at 182cm here?
Editor Rob: he had a 5ft 11 listing for a while I remember.
Victor Surratt
said on 28/Jan/17
In Lost he looks like a strong 5'11" with a perfect posture. Today he lost a little height because he is bowed, so 5'10.5 is ok.
Sarah
said on 26/Oct/16
Liked his character on lost. He is probably 5'10.5 more most of the day. Possible 5'11" in the morning, then?
Editor Rob: in person he's not as tall as some 5ft 11 guys, but a bit taller than 5ft 10 flat guys.
Civman
said on 30/Aug/16
The word "only" when put before a 5'11 claim indicates the person saying it is lying unless they talk about basketball. A solid 5'11 is the start of tall. He is obviously in the 5'10 range.
Roger
said on 29/Aug/16
179 seems bang on the money here. Not quite the full 3 inches but definitely over 5'10.
Odinson
said on 22/Jul/16
More like 5'11
berta
said on 10/May/16
Good to see his claim. He have probably been measured 180 in the morning. 178-9 in evening
Andrea
said on 18/Apr/16
Good find, Rob! So he claims 5'11... I'd call him quite honest, even if i know you said he could even be 178 range at his low...
On Lost he really didn't look that much shorter than "6'2 Matthew Fox", so that's probably one of the reasons why i thought his original listing was quite fair!
On a side note, i've recently seen this guy in 24 (he was in one or two episodes) and he looked easily 2 inches taller than Kiefer! 5'10.5 is still a good shout!!!
Editor Rob: yes, a good example of an actor saying a height less than on his resume. I thought 179cm was probably ok for him.
Peter 180cm
said on 11/Apr/16
Looks a solid 178 above so 177/178cm is my guess.
Td086523
said on 15/Oct/15
hey Rob. This guy is a star on the show "the 100" have you ever seen him at an event with that crew? There are some actors Bob Morley and Thomas McDonell are the 2 that stick out who are around his height. If you've seen these actors how tall do you think they are or have you seen them with Cusick? Just curious if you may have an opinion on that. Thanks!!
[Editor Rob: not seen much of the 100 cast, not had the time to watch that show apart from first couple eps.]
Andrea
said on 27/Oct/14
A guy like Brian Austin Green doesn't look taller than him with you, Rob. Of course, BAG has some shoe disadvantage, so he could be slightly taller but, just looking at their pics with you, they don't look much different (at first glance, Henry seems taller)... In Lost he never looked something like 3 inches shorter than Matthew Fox, he looked shorter with a Josh Holloway but i should rewatch it because it's been a long time...
[Editor Rob: well there's a footwear swing. I've got a solid 1 inch sneaker with Henry, but having just double checked what boot he had I saw a side on
Shot of his boots
.
And now confidently would say he has a fraction thicker footwear...
And BAG near a 1/4 inch less than me, so there's at least a half inch swing in footwear.]
184.3cm
said on 25/Oct/14
Certainly no more than this. On Lost i thought he was more 5'10 flat. He isnt anywhere near a weak 6 foot, how people see that i just dont know.
[Editor Rob: if Cusick measured between 178 and 9cm I would not bat an eyelid.]
Rampage(-_-_-)Clover
said on 25/Oct/14
179-180cm or a weak 5ft11 might be closer
dom
said on 3/Oct/14
He always looked shorter than Jorge Garcia on Lost. Never thought he was over 5´11 tbh.
Lebensdorf
said on 15/Feb/14
5'11 in the photo, no less.
nick kanellakis
said on 29/Jan/14
ian is like my height im closer to six 5'11 1/2 21 yrs old 182 cm is most likely a weak 6 ft still marks as 5'11.75 so 182.2 :)
Lorne
said on 15/Jan/14
Oh, sorry, he's still at 179, and was before! Don't know what the hell I was thinking, ignore/delete last post please...
Lorne
said on 15/Jan/14
Back at 179cm? What, because he's Scottish? ;) Nah, but seriously, what changed your mind???
[Editor Rob: he's been on this mark since being moved from .75]
Alex 6ft 0
said on 15/Jan/14
5'10.25 is possible but no more than 5'10.5 either.
truth
said on 10/Jan/14
looks about average or 5ft10.5, for a white guy.
Peyman
said on 8/Jan/14
nice pic
he is 5ft10-10.5in depending on his mood, but mostly appears around 5ft 11in
I choose 178 over 180 for him, still a very good height( never short or even average)
Fox & Holloway are both in the 6ft 1in range.
& 6ft 1in peak & 6ft 0in nowadays for Mr Locke!
Rhonda
said on 6/Jan/14
How much is his head leaning down, what difference could he be with straighter head and neck, 180cm perhaps? 5ft10.75"
[Editor Rob: he looked about 5-6cm taller...I posted a link a few posts ago to 2 friends from conventions - one is a 5ft 11 (a real one) and the other guy is in the 186cm range, a bit over 6ft 1...he can look no more than 5ft 10 aswell.]
Dural
said on 6/Jan/14
5'9"? He doesn't look less than 5'10" with Rob.
Vibram
said on 6/Jan/14
178 - 179cm.
dadang
said on 4/Jan/14
your 5'8'' Rob and he's not 5'10.5'' he looks 5'9''
Patrick 1.75.5m
said on 31/Dec/13
Any chance he is 1.75.8m barefoot, Rob? Liked this guy on lost, never looked short to me.
berta
said on 28/Dec/13
after looking at the pictures with robs friends i now think that he is 178 -179. 179 is max
berta
said on 27/Dec/13
This is right i always thought the 182 listing was to high. Just by looking at his shoulders and body frame he seems to be a 178 - 180 guy max 181 in this phhoto he looks a strong 179 . maybe he is180 on a good day
DMEYER
said on 26/Dec/13
you con friend realy looks 5 ft 11
Jack
said on 26/Dec/13
Rob how tall is Con friend 2? 6'1"?
Alex 6ft 0 1/8
said on 25/Dec/13
Because his head is leaning a bit into Rob it can give away slight height but even if he wasn't Id still say 2-2.25 inches is the difference.
Alex 6ft 0 1/8
said on 25/Dec/13
5'10.25 is possible. Its only a 2 inch difference or slightly more. He doesn't look over 5'10.5 here though
B
said on 24/Dec/13
If Rob said he looked shorter than the two 5'11" gentlemen wouldn't he be more 5ft10.5? If he really is 5ft10.75 he would have looked pretty much the same height as the two 5'11" gentlemen, a quarter of an inch would be much less noticeable.
Sam
said on 23/Dec/13
He could pass for 5'11" on screen and in this picture...he must have looked shorter to Rob in person.
[Editor Rob: trust me, I seen him with 2 5ft 11 guys and he was shorter than them.

If he measured 5ft 10.25 at night I would not be surprised...]
Brad
said on 23/Dec/13
Graduate II, he can be their kid, it would work. 5' 11" easy.
lelman
said on 22/Dec/13
I think this guy could be legit 5'11". 182 is complete nonsense, but strong 180 is totally plausible.
[Editor Rob: 5ft 10.75 is a generous listing for him...]
truth
said on 22/Dec/13
5ft10.5-5ft10.75
LG69
said on 21/Dec/13
Resembles a young Dustin Hoffman. He looks about 5'10.5".
Peyman
said on 8/Sep/13
do you believe me now Rob?!
I knew he has yet to look even a full 5ft 11in
where is ANDREA ? maybe he is not posting on the site anymore but I'd be happy to see what he says now?
[Editor Rob: andrea's new name is Lo sgozzatore.]
Yaspaa
said on 25/May/13
He's not 100% Peruvian, his mother is Scottish, so the whole Peruvian height thing is moot.
Lo sgozzatore
said on 29/Dec/12
Rob, you changed your mind again? O.O
[Editor Rob: there's a lack of 181 listings]
ANDREA[ITA]
said on 27/Aug/12
I was ironic... In that pic, henry looks at least the same, if not taller than Grant Bowler!
Peyman
said on 26/Aug/12
@ANDREA,sorry mate I can't put or view any links cuz of internet limitation in my country so unfortunately I couldn't see your link but I'm still on my word , weak 5ft 11in in most of the scenes , 5ft10in next to bowler so 5ft 10.5in end of the story .I think you finally accepted it too.
but you misunderstood man I didn't mean that all the Peruvians are short you can even find a 7ft Peruvian guy but the odds get noticeably lower to find 5ft 11in+ people in Peru in comparison to UK or US e.g. if we assume 5ft 11in 90th percentile among the young Peruvian males ( this is just my guess/example) then you can find only 1 out of 10 young males above that, so we can claim that in Peru the chane to be above 5ft 11in is 10% & it is 90% to be under it . So he is 90% under it.
I really don't know how else explain you to get what I mean .
ANDREA[ITA]
said on 23/Aug/12
Yeah, he actually looks at least 2 inches shorter than Gran Bowler...
Click Here
-.-'
You say he's peruvian, peruvians are short --> he's gotta be short!
Great mind ;)
Let's try: chineses are short, Yao Ming is chinese --> Yao Ming is short! :) Is that right?
Peyman
said on 20/Aug/12
@ANDREA[ITA],He IS 5ft 10.5in watch lost again to vrify it .
3 inches shorter than Fox , 2.5inches shorter than Holloway , the same height as perrineau , 1.5-2 inches shorter than bowler who is about the similar height to me & not even Alex who is 6ft 0.125in at his lowest , peruvian people are so short , he won't apear more than that . I know what I'm saying .
ANDREA[ITA]
said on 19/Aug/12
So, Rob, you still think 180 is closer?
[Editor Rob: if he's an inch shorter than grant bowler (who looks about similar height to Alex from this site in person) then 5ft 11 is fair, if he's only a little smaller than 11.5 might be closer]
ANDREA[ITA]
said on 17/Aug/12
Rob, why the downgrade? He looks no shorter than Jorge Garcia and max 2 inches shorter than Matthew Fox and Terry O'Quinn. The funny thing is that the only guy who make him look 5'11 max is Josh Holloway, who claims 6'1
ANDREA[ITA]
said on 15/Aug/12
Yeah, he looked taller but just a bit. 5'11.5 would still make sense!
Peyman
said on 14/Aug/12
@ editor Rob , you still think this guy has perrineau by 1.5in thats impossible he is shorter , do downgrade the listing Rob !? I'm pretty sure he is not that tall
[Editor Rob: well it is true that grant bowler looked taller than ian and maybe he's around 5ft 11 on the nose.]
ANDREA[ITA]
said on 31/Jul/12
In lost, there are some scenes where he looks at least 2 inches shorter than Josh Holloway, but again Josh could be closer to 6'1.5!
Peyman - 6ft 0in
said on 31/Jul/12
that's a joke for him , if Harold perrineau is 5ft 10in then this guy could never be above it ,he was also a good two inches shorter than Grant Bowler ,he is 5ft 10in & I think you'd better downgrade the listing Rob
Dominic
said on 23/Mar/11
This is too tall and its noticeable when he talks to Sawyer. He is between 5'10 and 5'11. Max 5'11 flat.
LOLZ
said on 12/Jun/09
in lost he looks nearly the same if not the same height as Matthew Fox and Terry O'quinn
sarah
said on 8/Apr/09
My son is 6.6, and my daughter 5.11. Cusick is her height by the looks of it, but then I live with a giant so I could be wrong.
jay89
said on 30/Jan/09
the more i look at this guy, the taller he seems to get.
i'd even give him 6'1.
in most pictures he looks exactly as tall as matthew fox.
yoney
said on 7/Aug/08
Considering Garcia is 182-183 cm, Cusick should be around 180 cm(5 ft 11). He doesn't look taller on lost.
jay
said on 2/Jun/08
i'd say 6'0". he doesnt look much shorter than the other over 6ft actors from lost (except kevin durand)
@lebensdorf: haha... well since i'm 6'2" i'm not in trouble i guess
dmeyer
said on 18/May/08
seems a bit smaller than garcia but it could be floor advantage
Lebensdorf
said on 17/Feb/08
If this little man is six feet tall, we
ted T
said on 25/Dec/07
Never appeared taller than 5-11 on LOST considering he has good posture.
lee
said on 24/Aug/07
Seen him surfing in Hawaii, he's around 5'11" to 6'0. Bending towards the 6'0".
Boxing Fighter
said on 16/Aug/07
Okay, it is pretty damn close. But we are pretty much rigourous about precision here. I really think that he is more like 5ft11 than 6ft. In that case my best guess would be 5ft11. Based in photos and, specially, in the 24h episode.
antron
said on 15/Aug/07
if you think he is 5'11" then you do think he is close to 6 ft. 5'11" is pretty damn close no?
Boxing Fighter
said on 27/Jun/07
Asimov is rigth!
In 24h he is described in his profile at 5ft11.
If kiefer sutherland really is 5ft9, Cusick does looks like 5ft11.
He appears to be 2" taller than Kiefer, you can clearly see that.
If you want to see that, take a look in 24h s05 e14.
I think he is 5ft11 not 5ft11.5. He never looked close to 6ft.
Asimov42
said on 23/Apr/07
Actually, on 24 he's described as 5'11".
Anonymous
said on 15/Dec/06
Rob, it's possible his CV meant that he's 6 foot. A lot of different sites, that you can find on google, list 182 CM as being 6'0, (since 6'0 is really 182.5 cm) so they're just rounding down, as oppose to this site which rounds up.
sam
said on 6/Jun/06
He doesn't look under 5'11.5" on the relatively even surfaces inside the hatch on Lost. Definitely not more than 2 inches shorter than Terry O'Quinn.
AA
said on 5/Jun/06
In 24, his character was described as a 5ft10... would it be the same case of Matt Damon in Bourne Supremacy??? Who knows...