Guillermo Rodriguez's Height
5ft 2 (157.5 cm)
Mexican-American TV chat show personality, who appears on the Jimmy Kimmel show. He once said that
"Why is so hard to understand women ? They are the best thing in life but is so hard to understand them . Maybe because I am only 5:5."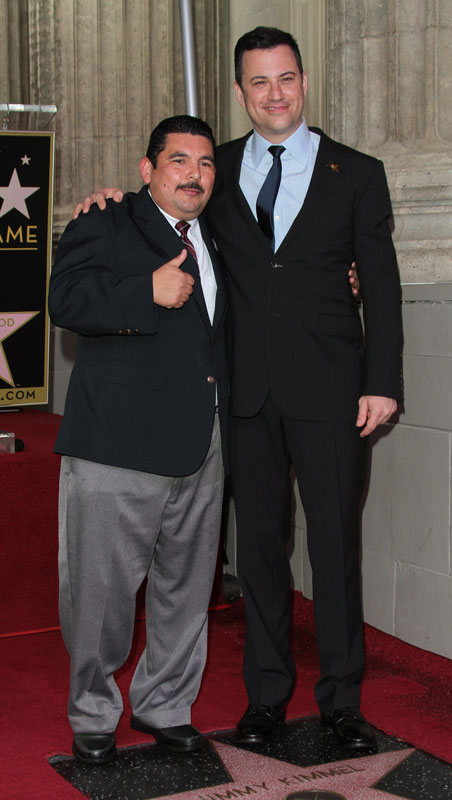 Guillermo with
Kimmel
Photos by PR Photos
Add a Comment
21 comments
Average Guess (20 Votes)
5ft 2.16in (157.9cm)
Chris Junior Hernandez 1990
said on 21/Oct/19
Guillermo could even be flat 157cm and Kimmel isn't over 180cm a low.
Yang (5 footer 8, 172-173)
said on 29/Sep/19
He indeed looks like 5ft 2 next to Jimmy Kimmel with 5ft 11...
Mom
said on 31/Jul/19
The tall guy has very similar face and head shape. Like Antonio's . Check it out.
Junior Hernandez 1990
said on 7/Jun/19
Click Here
Look at how short he look next to whole bunch of nba players. I did say 5'2 and nothing with Jimmy Kimmel. 5'2 at a low.
Guillermo
said on 28/Feb/19
I'd say he's about 5'3" I'm 5'7 3/4 and sometimes in he morning about 5'8". In the army they said I was 68 1/4 inches. Height does change but it's only one measure of a person. Their is build a ND there is presence. So be happy with your height and work on your PRESENCE.
lee168cm
said on 12/Jun/18
Exactly the same height gap between him and kimmel as between Kevin hart and David Beckham so this listing is very believeable 5ft 2 at best
AJ
said on 14/Nov/17
If you Google his height, it gives you the height of 5'5". If you go to IMDB his height is listed at 5'2". His body size doesn't even look in the 5'5" range. I would guess his "true" height is 5'1.5" to 5'2".
I get it as a short guy myself, 5'5", you may feel insecure, but lying about it isn't a good look. It makes you look even more silly, especially by adding close to 4 inches to your height.
Gnaw
said on 23/Oct/17
Why he lie 3 inch, shouldnt even say 5'3. You gotta lie about your height by only adding 1/8 inch. Mission Passed: +Respect. My exact guess is 5'2 3/8
MJKoP
said on 20/Oct/17
errybodyshutup said on 18/Oct/17
taller than imagined
LOL, then what did you imagine?
errybodyshutup
said on 18/Oct/17
taller than imagined
Kev
said on 18/Oct/17
What about Milton Friedman? He is a small man. Google says 5 feet but I think under that. Guillermo is 5'3 at his best.
Editor Rob: I was unaware who Milton was, but at a quick glance, I see he was described regularly at 5ft 3, but looked shorter, well in later years I can see why he'd be guessed at 5ft. It's very possible he was over 5ft like 5ft 2 in his youth.
Bard
said on 17/Oct/17
It's amazing how people, especially short ones, think they can get away with inflating their height by over 2 inches. This guy at 5'5 would make Kimmel 6'2, even more than his own BS claim lol
Oanh
said on 17/Oct/17
5'2" for Guillermo, and 5'11" for Jimmy
Slim 6'
said on 17/Oct/17
Oh no Christian, I was referring to user sjh who saw Jimmy Kimmel.
Christian-6'5 3/8
said on 17/Oct/17
@Slim 6'
Did you meet Jimmy in person? If so, how tall did he look?
slothee
said on 16/Oct/17
Seems like a lot of celebs claim "I'm only [insert 2-3 inches inflated height here]" to try n let their claim slide. Almost as if they sound more believable being humble than cocky.
Slim 6'
said on 16/Oct/17
Agree with Christian, I am certain a visitor was at the audience Of the tonight show and said jimmy was more 5'10" range making guillermo 5'1.5" at best. 😂
Christian-6'5 3/8
said on 15/Oct/17
Guillermo's 5'1.5" tops, since Kimmel is about 5'10.5" not 5'11.25". I get that Guillermo's very short and may feel insecure, but shame on him for inflating 3.5 inches.
Hans Meiser
said on 15/Oct/17
I figured he would be 5'1-5'2. Jimmy, who's barely taller than 5'11, looks huge next to him. If he was 5'5 there wouldn't be such an obvious difference.
MJKoP
said on 15/Oct/17
Of course he's standing on a box or platform....when the feet can't be seen, there's no other explanation. The upper body proportions alone indicate that he's not close to being as tall as he appears in those premier shots.
Paul
said on 15/Oct/17
Good add. Yeah, I think he is about this range, even if the Guillermo sketches have a lot of bizarre bits where his height seems to bounce all over the place. Just as a quick example, in the "Guillermo at the 58th Annual Grammy Awards" skit it opens with him meeting Florence Welch, who's listed here at 5'8.5, and he looks only slightly shorter than her (
Click Here
). Then later there's a bit with 5'5 Paul Shaffer, who Guillermo appears to tower (
Click Here
). But then he has a scene with Charlie Puth, who's 5'9.75 here, and Puth looks like a giant. (
Click Here
)
I assume he's sometimes in lifts or on a box, because if not, what the heck?
Editor Rob:
claiming to be 5ft 5 is a bit of a stretch, with
Billy Crystal
, he looks nearer 5ft 2 than 5!