Hannah Stocking's Height
5ft 9 (175.3 cm)
American Internet personality and model, who has over 1 million subscribers on youtube and 8 million followers on Instagram. In 2013 she said
"Haha true! I'm 5'9"
, in 2014
"5'9"
and in 2016 gave herself an upgrade
"[I'm] 5'10 😂🙌"
. On her talent agency page, though, she was listed
"Height: 5'8", Bust: 33, Waist 22, Hip: 39"
.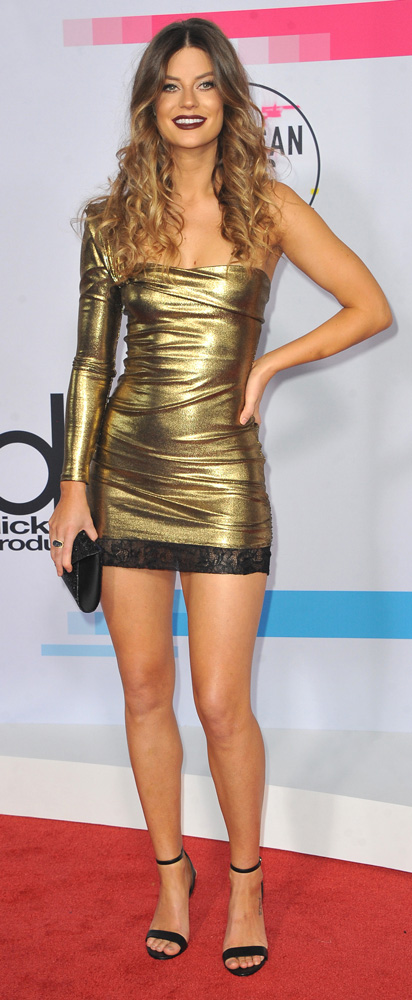 Photo by Starfrenzy/BigStock.com
You May Be Interested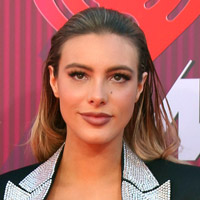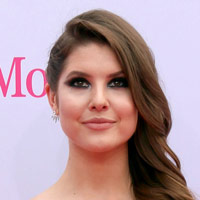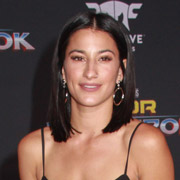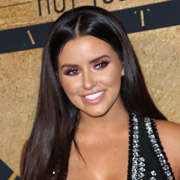 Add a Comment
24 comments
Average Guess (55 Votes)
5ft 8.91in (175cm)
Ayy
said on 23/Mar/20
She actually is 5ft9. A legitimately tall 175cm girl. She reaches 6'0 in heels. Used to think she was 5'7.
Iman Ahmad
said on 23/Jan/20
I Guess She Is About 174,6 cm Barefoot , A Quiet Lovely Woman ,
Peter175
said on 10/Jan/20
Anwar looks around 5'4.
Hannah about 5'8.5
Lazar99
said on 9/Aug/19
@Rob , Would you create a page for Anwar Jibawi (He is a famous American youtuber) ?
Importer
said on 21/Jul/19
@Chris Junior Hernandez 1990
Only one way to find out. :)
Chris Junior Hernandez 1990
said on 2/Jul/19
Waist 22? Maybe in her late teens to early 20s measurement much convincing. Because shes 27 now and huge at 5'9 compare to shorter and average american girls 5'3-5'4. I would doubt her waist line not 22 more like 23-24, but i could be wrong or 22 is measure with her breathing in more to shrink it smaller. Just a theory :p
TheManWithNoName
said on 21/Sep/18
Here she is with 5'8.5" Alessandra Ambrosio. Stocking is definitely in the 5'9" Range. Rob, Any thoughts?
Click Here
Click Here

Editor Rob
The posture of these ladies varies quite a bit.
Nik
said on 11/Sep/18
It's very interesting that she was underlisted on her talent agency page, well according to 41 voters!
Glenn
said on 8/Sep/18
I'd go 5'8.5 for me
MAD SAM
said on 31/Jan/18
Looks correct 5'9"
emy
said on 14/Jan/18
hi rob what about inanna sarkis she's listed as being 1'65
Anonymous
said on 12/Dec/17
So if Hannah is around 5ft9, then the guy she did several vines with (Anwar Jibawi) is certainly way under his 5'6" claims
Click Here
Click Here
With Bieber(around 2015 judging by Justin's appearance)
Click Here
He could be a good addition to this website since he became popular lately
Heightgods
said on 3/Sep/17
Since when does 5.8 and 5.8 looks like this
Click Here
P.s he's shorter than 1.69cm nick jonas that's it
Jani
said on 20/Aug/17
If the talent agency put her 5'8" then she is probably more like 5'7"-5'7.5". Talent and modeling agencies are usually a bit generous in terms of stats.
Christian-6'5 3/8
said on 17/Aug/17
5'8" is a more realistic listing compared to 5'9" let alone 5'10". Although 5'8.25" is better than just 5'8" for her.
Blake
said on 16/Aug/17
Rob, I found this page and it lists her as 5 ft 8 along with other measurements enjoy
Click Here
Editor Rob: I'll add that line in the description too.
Crumpet
said on 15/Aug/17
5'9.5 for her
Intevel
said on 15/Aug/17
Rob, does her physique make her look taller or shorter for her height?
Editor Rob: I feel it can make her seem a bit shorter, but I wouldn't mind having her figure if I was a women!
Mincer
said on 14/Aug/17
Pardon my french dat ass tho
Rachel
said on 13/Aug/17
I believe her higher height. I think a lot of tall women lie or try to downplay their height because a lot of men dont like tallness in women
Ray
said on 13/Aug/17
5'8.5 listing is very generous
Sandy Cowell
said on 13/Aug/17
Whether 5ft9 or 5ft10, Hannah has got an excellent figure and it would almost be a crime if she didn't show it off! From what I can see, she is totally natural, not that I'm against those who act on the decision that nature needs a little help, if it is going to give their self-esteem a boost!
However, it is nice to see girls who are happy with themselves. Hannah's hair strikes me as natural home - grown hair, she has a curvy bum and a small, pert little bust! So many lasses would want a bust to match with their bum size, but the fact is that Mother Nature arranges many women to be pear-shaped, and it has even been found to be a very healthy body shape!
I am giving this attractive brunette 5ft9.5! 👩
Christian-6'5 3/8
said on 13/Aug/17
Looks about 9.5" shorter than 6'5.25"-ish Klay Thompson who got measured barefoot 6'5.75" early in the day at the draft. But accounting for footwear differences it might be 9".
Click Here
So I'll give 5'8.25" for Hannah.
teez
said on 13/Aug/17
girl is fine as wine