Lele Pons Height
5ft 5 ¼ (165.7 cm)
Venezuelan-American Internet performer, who has over 18 million Instagram followers and 5 million Youtube subscribers. On twitter she claimed
"I'm 5'7!!!!!"
and also
"I've been lying about my height on the internet I'm sorry to everyone who cares about me but it's time I come clean and say I'm not 5'7 but actually I'm 5'4 but I say 5'7 bc it seems cooler"
.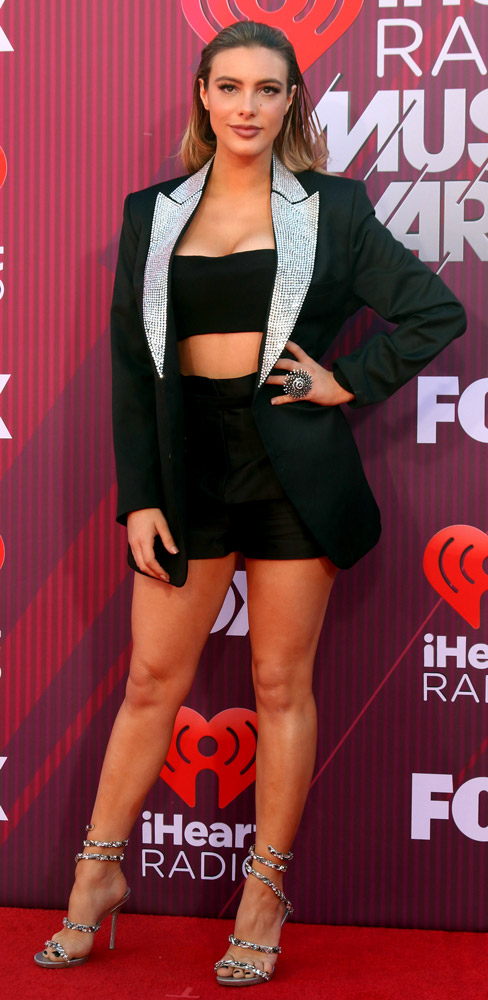 Photo by kathclick/BigStock.com
Add a Comment
33 comments
Average Guess (37 Votes)
5ft 5.58in (166.6cm)
CuriousPeachie
said on 29/Nov/20
Weak 5'6 for Lele.
recapa
said on 20/Nov/20
as listed.
JohnMoore-162cm
said on 11/Jun/20
She's certainly 5ft5 1/4" , at least 5ft5 flat , I don't know why she did claim 5ft4 on twitter !
Aidan strong 5'10
said on 9/May/20
5'7" and 5'4" are both way off. She should claim 5'5". I wouldn't call her out if she claimed 5'6" tho. She probably hasn't been measured for a while or she just isn't sure.
Hussein
said on 17/Nov/19
How tall is rudy mancuso then ?
khaled taban
said on 17/Jul/19
Sorry guys but 5'7" is impossible figure for her, she is 5'5.25"-5'5.75" range.
TheManWithNoName
said on 21/Sep/18
Click Here
4 to 5 inch difference with Hannah Stocking in the above pic. So 5'4" to 5'5" max.
Demi
said on 10/Jun/18
Hannah Stocking is taller than her just by 2 inch so if Hannah is 5'9 then she's 5'7 or either Hannah is just 5'8 lol but idk
Height Reavler
said on 15/Jan/18
Sometimes it makes sense for celebrities to be 2in below their claims, but this one doesn't. She was saying she was 5'7" before her come to fame. Why would she give herself height. She is also clearly not 5 inches shorter than Hannah Stocking, and she's an inch taller than Amanda Cerny.
Fat
said on 9/Jan/18
She lucky because i be 161cm lol and im 11
Height Revealer
said on 5/Jan/18
Rob, that was an obvious joke. Not a chance she is that short. 5'6 minimum
Editor Rob: you shouldn't joke about height 😏 I'll give her 5ft 5 and 1/4.
I believe she removed the tweet not long after I put her at her 'joke' height...
John
said on 5/Jan/18
Rob wasn't she listed 5'6? I never thought she was 5'4, more like 5'5
Editor Rob: well she did say 5ft 4...you don't joke about height ;)
Although I think she pretty much can look 5ft 5 -6 range.

huxley
said on 1/Jan/18
lele is a solid 5'5"
jake
said on 31/Dec/17
5'4" What ??? i thought she was 5'6" or 5'6"
Nik
said on 26/Dec/17
Well, she claims 5'4", so that's what I will go for!
Peter175
said on 25/Dec/17
She honestly looks at least 5'5' range to me, maybe she was joking with this quote. no way is she flat 5'4
Joshua
said on 23/Dec/17
She is 5'7
Anas
said on 17/Dec/17
What?? She's 5'4"?? I thought she's 5'6" ... Cuz she seems tall
Omar 6'2
said on 10/Dec/17
Why did you downgrade Lele to 5'4"?
Editor Rob: well if she's going to come out with a quote like that, it's only fair to give her it.
Sandy Cowell
said on 8/Oct/17
@ Nik - Yes, Nik! He is completely crazy about rugby in all its forms!
It bores the ***** off me, it really does, whereas I don't mind watching football at all! In fact, I like football and have done so since I was 7 or 8! The first match I saw was between Chelsea and Manchester United. Chelsea won and they were the team I'd hoped would. Thereafter, I support them for years! Now I have to support Arsenal - for Jim's sake! He wouldn't half make life hard for me if I didn't - ha ha ha!
My favourite matches are, and always have been, the England matches!
Listen! This is fairly funny! (I suppose you'd have had to have been there!) My Mum's brother was a terrible loser and would create a racket when the team he supported (he was sports mad!) would lose, especially the football matches against England!
My Mum got so fed up with it that she changed the side she supported - Germany - in favour of England! Then when we watched England verses Germany together at home, and Germany lost, my Mum would laugh and say how pleased she was to be away from her brother, who would be all those miles away getting drunk to compensate and doing his nut! My Mum drank so rarely that she felt the effects of a single glass of sherry! 🍷
I hope you have had a nice weekend! Cheers and enjoy the coming week! 🐱 🐩 🐦 🐝
Nik
said on 29/Sep/17
@ Sandy Cowell
Well, you have a sports mad boyfriend! Out of interest does Jim watch rugby league and rugby union?
👍
Sandy Cowell
said on 28/Sep/17
@ Nik - OK! Sports talk isn't really my scene, but you can't help picking some up over the years, as with anything...
🐢🐌
Nik
said on 27/Sep/17
@ Sandy Cowell
Yes, well done for picking up on that! A hatrick of us posted on the 22nd on this page, but there wasn't a hatrick of comments as I did 2!
👍 to you, 😭 to me!
Cheers!
Sandy Cowell
said on 26/Sep/17
@ Nik - I thought a hat trick was 3! Do you mean 3 each?
Nik
said on 25/Sep/17
@ Sandy Cowell @ Gladstone Screwer
We made it a hatrick of comments on this page on the 22nd September!
👍👍
Nik
said on 24/Sep/17
@ Sandy Cowell. @ Gladstone Screwer
Have a great weekend down south!
I am in Whitny!
👍👍
Nik
said on 22/Sep/17
@ Sandy Cowell
I owe you a comment, soz!
I don't think there will be much left of poor Gladstone's Sweetcorn! So is it naughty Nik and poor Gladstone, or the other way round? I don't know!
I think of Gladstone Screwer when I am in the shops with my Mum and see some sweetcorn, and I think of you Sandy when I see the Jaffa oranges!
This lady has assets galore, a nice top, and 66 inches of height, like you said!
Have a great weekend!
Sandy Cowell
said on 22/Sep/17
@ Gladstone Screwer - Hi! I don't know who Lele is and I doubt that Nik does either! She is an internet personality and I don't really bother with that side of the entertainment world, but I don't poo-poo things until I know for sure that they're utter rubbish! 😉
As regards our thinking of you, you are very welcome! 😆
Nik
said on 22/Sep/17
@ Gladstone Screwer
There's nothing left of it Gladstone!
Have a good weekend!
Sandy Cowell
said on 20/Sep/17
@ Gladstone Screwer - There there Gladstone! Your sweetcorn needs a break from all this excitement every so often! Pop along to Caroline Quentin's page and give him a rest, as I'm sure he won't stir for hours!
She might not like your sweetcorn near her banana split either! Her taste in fellas is someone like Paul Merton! They did used to be married!
🌽 🍌😨
Sandy Cowell
said on 10/Sep/17
@ Nik and Gladstone Screwer:
Mr. Screwer's poor piece of sweetcorn will end up in a terrible state of dishevelment if you continue to dangle the goodies in front of him like so!
Naughty Nik!
😂
Poor Gladstone!
🚿
🌾😑
Well, I agree that this lovely lady with assets galore and a particularly pretty top - which really does suit her figure - deserves 66 superb inches!
5ft6 goes straight in the box!
Nik
said on 8/Sep/17
She is a very attractive young lady!
🌽 tor you Gladstone Screwetr!
Kaycee
said on 13/Aug/17
i'm actually guessing 5'7.5, she looks tall compared to others and her friend Inanna who's 5'5