Jason Dohring's Height
5ft 11 ½ (181.6 cm)
American Actor best known for playing Logan Echolls on tv series Veronica Mars and Adam Carpenter on Ringer. In movies he has appeared in Deep Impact. On the Mars Investigations website, he said:
"I am six feet tall"
. At a con he said 6 foot in a talk and Michael Muhney joked 'liar'. In this photo from a 2007 Starfury convention, I have 1/3rd inch thicker sneaker than him.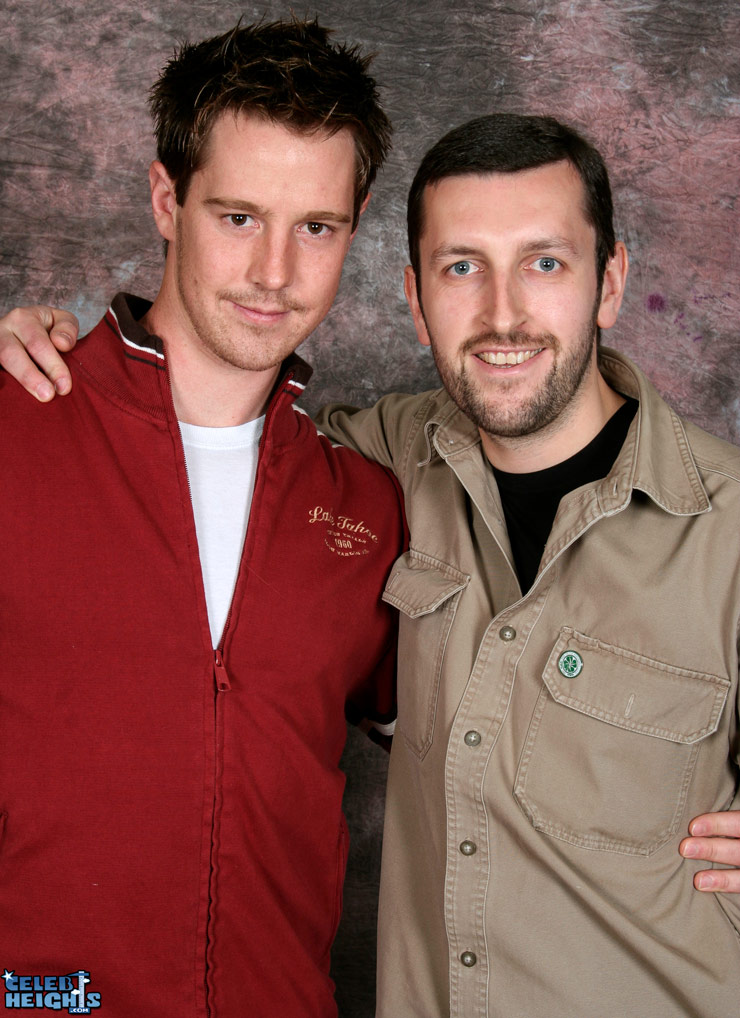 5ft 8 Rob and Dohring
You May Be Interested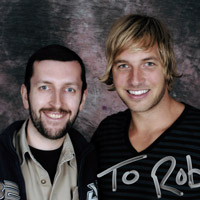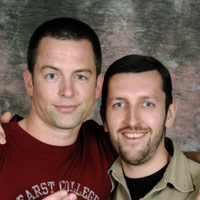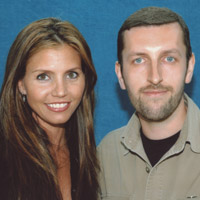 Add a Comment
52 comments
Average Guess (20 Votes)
5ft 11.48in (181.5cm)
Miss Sandy Cowell
said on 24/Jun/20
Jason's hair is very bouncy and creates the illusion of having more height. Okay then, in view of the third of an inch extra footwear, Jason can have 5ft11.25.
Ideally, I'd need to see him act. 🎭
Nik Ashton
said on 1/Mar/20
I think he can pull it off to be truthful, don't forget Rob has more sneak! 🐍
Darkpower72
said on 21/Jun/18
He does look like a tall guy but that's exemplified by his proportions. 5'11 5/8" - I'd allow him to claim 6'0" lol
Slim 6'
said on 21/Oct/17
180-181 pegging him inbetween at 5'11.25".
Sam
said on 24/Mar/17
Pretty much dead on 3 inches not accounting footwear. Solid 5'11 next to solid 5'8, though I do think a 181cm listing would be better and fit perfectly. Still around about 3 inches even with a footwear disadvantage.
Aza
said on 1/Oct/16
He looks 5'11 even adjusting for footwear.
the Slav
said on 13/Sep/16
I could see him at 181 cm but wouldnt go lower
Rampage(-_-_-)Clover
said on 31/May/16
5ft11 flat, Rob?
Find it hard to believe he's only a fraction or so off of his claim.

Editor Rob
I am not sure he'd be a flat 5ft 11 guy, he seemed a bit more, as does hansen. I think side by side they looked within a similar kind of zone, but Dohring I think had bigger hair the time I seen them.
NBAer
said on 13/Feb/16
No way this guy is 182 Rob!!He looks max 177 besides you with obvious bad posture,so near 179.5-180 range barefoot is closer than 182-maybe a legit 5'11 guy taking into consideration footwear...
mr.rashid
said on 24/Oct/15
lol! no one commented on this page for 2 years now. iam not really a fan of veronica mars, but i have watched a clip from Ringer and he actually did look very close to Ioan Gruffudd. so i guess 181-182 range for both of them.
Emily
said on 27/Dec/13
Would you say he has a bigger eye-head than eye-chin? And his head is 9,5 inches like yours?

Editor Rob
harder to tell if you tilt your eyes down a little you naturally are making your eyelevel bigger, and if you have a good amount of hair at crown area of head then it can add to the appearance.
Rampage(-_-_-)Clover
said on 3/Nov/13
Looks like a 179cm - 180cm guy
LG69
said on 28/Mar/13
@Mikey T, solid 5'10"? Nah, he's taller than that, but i don't think he's 5'11.5". Given the 1/3" difference in shoes, i see him at 5'11".
Yaspaa
said on 21/Mar/13
Agreed, solid 5'10 is actually a really flimsy estimation, the given height looks right, unless he walks around hunched over to the left.
Bakura
said on 1/Feb/13
@Aragorn: Actually, no, we're not kidding. He has 2 inches on Rob with loose posture, standing up straight he'd have 3 inches' advantage, then take away the 1/3rd footwear deficit and you have a near-5'11.5 guy. Simple really.
Mikey T
said on 29/Jan/13
solid 5'10"
Aragorn 5'11
said on 15/Jan/13
5'11.5?!! You're kidding right? I'd doubt he's even 5'11 if he stood up straight!
Elijah
said on 23/Nov/12
LMFAO at the quote. Hardly anybody in the real world can tell the difference of 0.5" or so... other than the peeps on this site of course. Taking everything into account, 182cm seems reasonable.
DANIEL
said on 20/Nov/12
ATENTION
Jason has 0,9 centimeter less trainers than ROB.
and bad posture in this pic
legit 182cm
jasperwazap
said on 23/Jan/12
if robs weighs 165 then how much does that guy weigh 160 in clothes.
Jacob
said on 13/Jan/12
Rob, was he slouching? You can't honestly say he looks like a legit 5'11.5" here. He even has the hair advantage. Looks more like 5'11 flat here.

Editor Rob
he could drop half an inch
ChiasmataX
said on 3/Jan/12
Even with the shoe and posture disadvantage he looked no more than 180cm max. He's 179cm at the minimum.
Rampage(-_-_-)Clover
said on 6/Jun/11
Looks 177/178cm with the slouch. Don't think I can buy anything over 5ft10.75
Rampage(-_-_-)Clover
said on 30/Apr/11
I see 179cm(5"10.5)
Your Name:
said on 29/Mar/11
If you're 5 ft 11 1/2 or taller why wouldn't you go around saying that you're 6 foot is the real question.
Rampage(-_-_-)Clover
said on 28/Mar/11
Looks 178cm-179cm in the pic...upstraight 5ft11(180cm)
Martin
said on 18/Mar/11
Honestly, he doesn't look like a 182 cm guy. More like 180 cm flat.
James
said on 14/Feb/11
legit 182cm
SAK
said on 30/Nov/10
Matt says on 26/Nov/10
honestly? even considering the 1/3 icnh disadv he barely looks 180cm. i bet in reality his barefoot measurement is about 5ft 10.75ish
----------------------------------------------------------------
I totally agree with u, i think he is more like 179/180cm.
Matt
said on 26/Nov/10
honestly? even considering the 1/3 icnh disadv he barely looks 180cm. i bet in reality his barefoot measurement is about 5ft 10.75 ish
Hugh 190cm
said on 2/Jun/09
Did Muheny actually shout out 'liar'? Or did he just give him that look?

Editor Rob
I was in the talk, dohring was describing what he'd write for a personal ad to a girl who asked a question, when he said 6 foot michael said liar, all fun tone though.
Mrmr
said on 10/Mar/09
he looked about 2 inches shorter than o'loughlin in most scenes and o'loughlins like 6'1"?
rob89
said on 23/Jan/09
Agreed, 5'11 max, don't be fooled by his spiky hair. He isn't slouching that much either, and his shoe disadvantage isn't that great. I even thought 5'10 when i first looked at this pic,but now i'm willing to give him 5'11 tops.
Coffeecakes
said on 15/Jan/09
He needs a downgrade, it's the hair making him look 5'11. Dohring looks 5'10 max.
Allnew2009
said on 11/Jan/09
Maybe 179cm
Gollum
said on 9/Jan/09
It's probably lifts in his hair makin him 182cm. here's a pic of him with Michael Muhney who's 184cm.
Click Here
Rob, don't you think you should downsize Dohring to 5"10 or 10.25 at the most.
Shia186
said on 9/Jan/09
5"11 seems right in footwear. But without it, he's probably about 177-78cm.
Bouncer
said on 8/Jan/09
I don't know about you guys, but to me he slouches pretty much in the pic.
Alex
said on 8/Jan/09
He could be as tall as 5'11 1/2 since his footwear was a bit less than Rob's, but he's at least 5'11 for sure.

Editor Rob
I saw this guy again this year, I still think he's not quite a 6ft guy.

I was in the photo queue and they were doing triple shots ahead of me with Ryan Hansen, Francis Capra and Jason. I went up as I wanted a photo with ryan and francis but Jason didn't realise and I had to kind of tell him I didn't want his photo. I got a couple of high fives from the other two as Jason 'moped' off to his seat in the corner.
Testtube
said on 20/Dec/08
I'd say he's close to 5"11 than 6.
Maribel
said on 19/Dec/08
Perhaps 5/10-10.5.
Maribel
said on 19/Dec/08
Horton: It could be that those girls were wearin high heels. Beware of foot wear.
Horton
said on 2/Aug/08
182cm is about right i guess, i saw some youtube clips of him at conventions and interviews and there are quite a few girls that are taller than him
Charliemoto
said on 18/May/08
legit 6'0 imo so i agree with joe.
Joe
said on 16/May/08
He looks a legit 6'... Was he friendly Rob? He seems like a cool guy

Editor Rob
yes, he was cool with fans. Seemed a calm individual.
Anonymous
said on 16/May/08
he looks 5'11 to 5'11.5
Joey
said on 19/Feb/08
On Moonlight he looks about 2" to 2.5" shorter than Alex O'loughlin. That would make him about 5'11" to 6'
element
said on 9/Aug/06
Either he is standing on his toes, or he is just taller then the 183cm Teddy Dun. He looks 187-188cm on this picture to me.
Click Here
J.
said on 22/Jun/06
I meant, second season, instead of second second. Damned typo! ;)
J.
said on 21/Jun/06
On the second second episode of Veronica Mars entitled "Rat Saw God", Dohring, stands behind a height chart. He comes in at 73 inches with dress shoes on.
hannah
said on 15/Feb/06
I don't know, he looks a little taller than 6ft. On Veronica Mars, he towers over most of the cast.
xaoxio
said on 9/Jan/06
Rob do you have any evidences of Jason being 6'0" tall or you take his words at its face value?
What height do you think he can really be?
On www.imdb.com he has been listed as 5'11"-footer for some time. Now he's up to 6 feet. It will be good to hear your opinion.

Editor Rob
he could be 182cm and just saying 6 foot, I've not seen enough of the show, but I think he's close to hairy hamlin...