Francis Capra's Height
5ft 5 ¾ (167 cm)
American actor, best known for roles in A Bronx Tale and for playing Eli 'Weevil' Navarro in TV series Veronica Mars.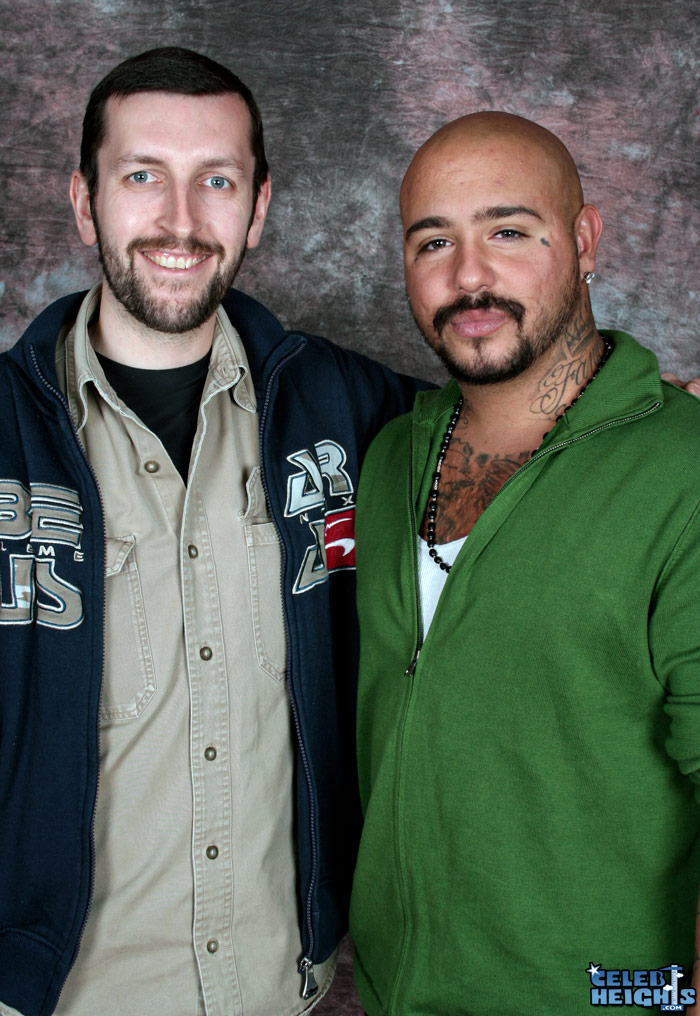 5ft 8 Rob and Francis @ Breakout Beyond, 2008
You May Be Interested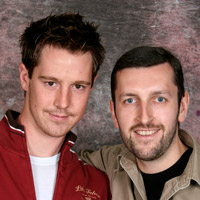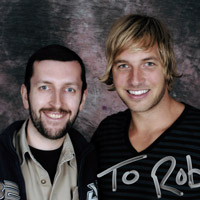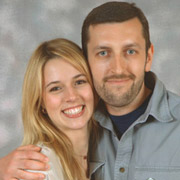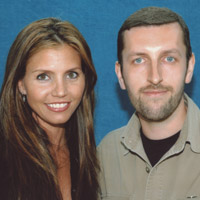 Add a Comment
38 comments
Average Guess (15 Votes)
5ft 5.85in (167.3cm)
Slothee
said on 7/Nov/17
He looks 5'6". If not, a very small fraction under (like 1/8in)
Arch Stanton
said on 30/Nov/14
It's still astounding that this is the same person as in A Bronx Tale!!
KROC
said on 26/Sep/14
This is the kid from Kazaam? Man what happened? I think the listed height is correct.
TJE
said on 6/Aug/14
He's definitely 5'5.75. Could pass for 5'6 on a good day or in a good sized size, or both.
@Arch Stanton
Ironic how the other "wholesome handsome looking kid" who played the same character got locked up for burglary and murder. Looks like Lillo is the real gangster. Didn't hear anything bad about Francis though.
ekt
said on 16/May/14
i would give him 5'6
Nicky
said on 16/Nov/13
Clearly he is not 5'7 looks like 5'6
Arch Stanton
said on 10/Nov/13
How could that wholesome handsome looking kid in the Bronx Tale turn into this?
Good grief what does society do to people!! He's like a stereotypical NYC gangster!!
richkid123
said on 27/Oct/13
the first more or less average height
Jack
said on 1/Jun/13
wiltonstilts says on 29/Apr/13
He doesn't look 5'7.5 at all. He looks at least an inch and a half shorter.
Up top clearly says 5'5.75" which is slightly below 5 foot 6
wiltonstilts
said on 29/Apr/13
He doesn't look 5'7.5 at all. He looks at least an inch and a half shorter.
jasperwazap
said on 11/Feb/13
C all grown up from A Bronx Tale
Joe
said on 5/Jan/13
Wow! A bona-fide Omid Djalili lookalike! About the same height as him too.
Johnnyfive
said on 13/Sep/12
This is the little kid from A Bronx Tale?..WTF happened to him? Was he in prison or something? Anyway, apparently being a child actor means you will be extremely lucky to grow to 5'6. Anyway, spot on 167cm on this photo against your 173cm.
leonari
said on 3/Sep/12
166 in my book
Shaun
said on 8/Jan/12
He looks a like a Hispanic Bradley from S club 7. This is the sort of guy you don't want to mess with....
CLC
said on 24/Dec/11
he looks hispanic because he's half Dominican..Southern Italians do not look hispanic we look more arabic if anything..as for his height 5'6" seems right. I haven't watched him in anything as an adult though.
jtm
said on 2/Nov/11
yeah i think 5'6 could be possible even if he had a footwear advantage because it looks like he is losing more height and rob has his arms around his shoulders but maybe he is on a higher ground.
leonari
said on 1/Nov/11
Bull. Rob has him petfect
ANDREA[ITA]
said on 27/Aug/11
yeah he looks at least 167 to me too!
rob89
said on 1/Aug/11
Looks around 5'6" to me, closer to that than 5'5" at least. I'd give him a solid 167 cm.
Triplescrew
said on 7/Mar/11
well southern italians are more hispanic looking Shaun
LG69
said on 11/Jun/09
No, I heard he is Italian and Spanish(Dominican).
Big King
said on 27/Mar/09
Does Capra have mexican relatives?
Lovin'
said on 20/Nov/08
I've met the cast of Veronica Mars and Francis is about 5'3 or 5'4. I'm 5'5 and he was shorter then to.
Aaron
said on 14/Nov/08
Rob seems to have a good three inches on him in that picture!
Donatello
said on 7/Nov/08
miko says on 20/Jun/08
Spot on Rob, he's probably a 5"6 out of bed guy.
Yeah I'd say that is spot on as well, just a few months ago I was a 5'6" outta bed guy and this is exactly how I compared next to my 5'8" dad in the mirror. Good job, Rob.
Anonymous3
said on 25/Oct/08
looking tall there Rob 5'5 and change looks reasonable
Yaspaa
said on 28/Jun/08
3"????????????
footballed28
said on 27/Jun/08
Rob I swear you have the tendency to overestimate a guy's height...I honestly think he is no more than 5'4 1/3....I see three solid inch difference there easily
Lego
said on 24/Jun/08
that's short for a 5'5.5 guy looks shorter, 5'4.5 would be more reasonable guess.

Editor Rob
he was conscious of his height, in that for a lot of photos I saw whilst waiting for another guy he was standing nearer the photographer most of the time to appear a little bigger.
Havoc
said on 22/Jun/08
Looks all tough now, to think he was same kid from Free Willy 2. He's standing nearer than Rob in this picture so I'd put him 5-5 not over it.
RICHARD
said on 22/Jun/08
HAHA This kid was on Kazaam. He looks so much different now. He's actually Italian,not Spanish or Mexican as some say.
miko
said on 20/Jun/08
Spot on Rob, he's probably a 5"6 out of bed guy.
ace11
said on 20/Jun/08
Wow, this is the little kid from The Bronx Tale. He looks 5'5
bruce_willis
said on 20/Jun/08
cool as hell :) loved him in bronx tale
No way he's 250.
said on 8/Aug/07
The guy is morbidly obese and looks closer to 400 lbs. I'm 5'10.5'', 239 lbs. and even though it's not all fat I look nowhere near as obese as the guy.
5'11'' does seem right though.
G-MANN
said on 1/Feb/07
More like 350 pounds.
andrewlee
said on 6/Jan/06
I wouldn't believe this.. he seems like a kind of megalomaniac

Editor Rob
maybe he wants the title of shortest 6-foot webmaster...