Israeli Actress best known for playing Jo Harvelle on Supernatural, as well as appearing on TV shows Cane and Veronica Mars. These photos are from Rogue Events Supernatural Conventions in 2007 and 2010. In the single shot I had 0.5 inch thicker shoes than Alona, and in the double shot she had about 0.75 inch more shoes than ourselves.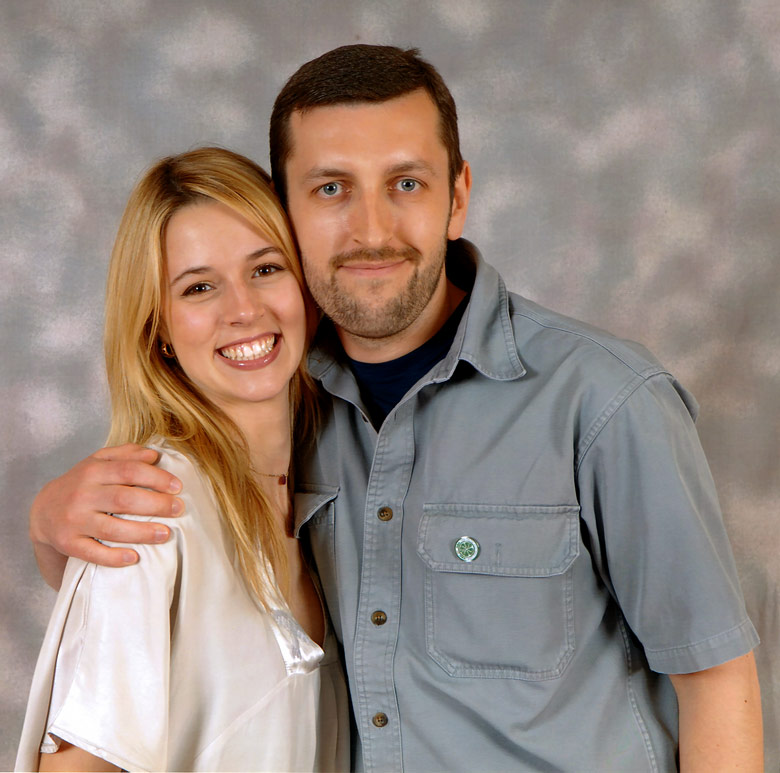 5ft 8 Rob and Alona @ Rogue Events Asylum, 2007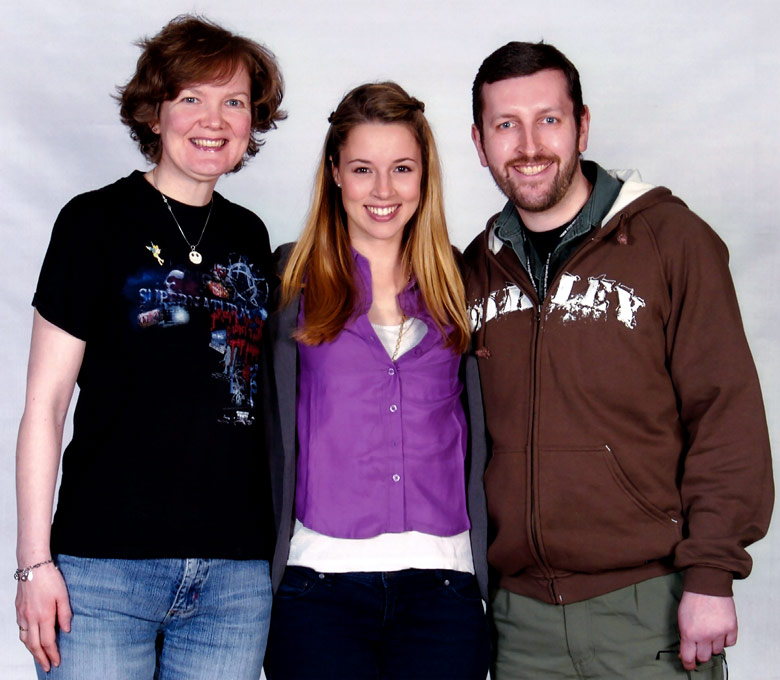 5ft 8 Jenny, Alona, 5ft 8 Rob @ Rogue Events Asylum, 2010
Heir of Darkness
said on 30/Jan/22
Rob, I honestly think she's the prettiest girl you've taken pictures with. I'm quite jealous lol.

Editor Rob
She did also have a friendly personality 👍
Bobby (1.78m)
said on 14/Jan/22
Look at Rob getting all those nice photo-ops with the pretty ladies. What's your secret, Rob? ;)
To be serious, though, I always thought Jo was about 5'5 or 5'6 on the show. She didn't seem that much shorter than Dean. I suppose she was wearing heels.

Editor Rob
The Secret? Oh, just a Very Big bank balance.
Back then photo ops were affordable, 15-20 quid. Nowadays for a TV actor they are wanting 30-50 quid.
I mean I'm not really made of money. I still pick up pennies from the street if I see them 😄
Heck, look at a quick video I made
Yesterday
.
See the Hoodie I'm wearing? Purchased
in 2010
and cost £4.89.
Hayden
said on 31/Oct/21
I would say 5'3.5"
Eagleye
said on 18/Jul/20
Rob, please a tag for israeli women. I can help you brother.

Editor Rob
I haven't added a country tag for a little while, but there are more Israeli-born actresses than I probably realise, so I will do one 👍
Christian 6'5 3/8"
said on 26/Oct/18
Could be anywhere from 5'3.5"-5'4"
Junior Hernandez 1990
said on 24/Oct/18
Israeli beauty and 5 foot 4!
Sandy Cowell
said on 22/Oct/18
Considering there wasn't a vast amount of difference with hers and Rob's 'n' Jenny's footwear, (0.75"), I can see Alona being the full 5ft4 actually! Yes, really I can! 😁👍
Junior Hernandez 1990
said on 8/Sep/18
At first i ever thought 5'2. Well if Rob listed her 5'4 i"ll go 5'3.5" lowest.
Nik
said on 2/Jul/18
I am not convinced about the full 5'4"!
Bobby
said on 1/Feb/18
So question, why does Jenny appear around 2 inches taller than Rob? Were you dropping height, Rob?

Editor Rob
Several inches behind and dropping more height.
In some of those photos from that Asylum I'm like 3 inches.
You can see in
this photo from 10 years
ago of myself/jenny that my head is noticeably bigger.
St Regulus nr Chard
said on 29/Dec/17
Be honest Rob, were you thinking much about height when you met this gem of a lady? haha.

Editor Rob
she photographs well and looks as she does in photos, as for her height I of course had a guess at it in person!
azzkiller22
said on 11/Sep/16
She is hot as all hell
jajamen
said on 5/May/16
Rob, surely..was she kinder then any other celebs you met?

Editor Rob
she certainly was quite friendly in person and getting autograph
Calvin
said on 7/Sep/14
Beautiful woman
Sam
said on 14/Apr/14
Yeah, she has very pretty, wholesome looks...she might be in the 5'4"-5'5" range but the latter is pushing it.
Rich Hall
said on 30/Dec/13
wow gorgeous smile! Aloha Alona :-)
marla singer
said on 8/Oct/12
Rob please could you answer this question: how can she be 5'4" if she looks so taller than 5'4" listed Amber Benson, next to you? She has to be at least 5'5"!
Click Here
Anyway, I can't believe she's almost 30, she looks so young and she's very pretty too! And needs an upgrade, I think
Ac
said on 1/Aug/12
woww, she's only 5'4?!
She was on the 1st season of pretty little liars and she looked so much taller than Lucy Hale!
Paul
said on 27/Dec/11
Swear Jenny is a weak 5'9" girl.

Editor Rob
ChiasmataX
said on 24/Dec/11
She looks like a typical teenager lol.
Sean73
said on 8/Dec/11
She looks like she could be jenni garths younger sister.Can anyone believe she`s in her 30`s!
Brazilian Fellow
said on 10/Jun/11
Alona not-Tal.
Aaron
said on 14/Jan/11
I didn't know she was Jewish; mostly of Western ethnic background for sure, but I did notice her significant fake blondness. She gave off the impression of being 5'5" on Supernatural for some reason. Oh well.
runt
said on 6/Jul/09
Is she a relative of former World Chess Champ Mikhail Tal?
Dr. Steve Brule
said on 24/Jun/09
wow she looks amazing.
ACG
said on 15/Jun/09
Wowww, what a paradox....she's "Tal", but she's short! lolololololololzzz
JEN
said on 12/Jun/08
Funny, i like guys called rob! (im uk based too)
Rocky
said on 7/Jun/08
Looks lovely.
D. Ray Morton
said on 5/Jun/08
Rob, what exactly are these events you go to?
Great shots, btw!

Editor Rob
that one was the one with Jensen Ackles, a convention around the tv shows Supernatural/Smallville. Guest talks, autograph sessions, photos etc.
JEN
said on 5/Jun/08
Are you single?

Editor Rob
I like girls called jennifer...heck, I'm even dating one just now!
runt
said on 5/Jun/08
Sam says on 5/Jun/08
That Alona's adorable is pretty apparent.
That Alona's adorable is extremely apparent.
Sam
said on 5/Jun/08
That Alona's adorable is pretty apparent.
JEN
said on 5/Jun/08
Your hot rob, post pics of yoru face would love to see you.
Maddie
said on 5/Dec/07
Dude your so lucky, its a shame jo wasn't liked by all lol but hey alona really does seem nice then so its all good lol Thanks :)
Maddie
said on 4/Dec/07
ahahhah i take my comment back lol i think she is probably about 5'4 lol i just saw a pic of her in taking 5 next to a 5'3 actress she is a tiny bit taller than her and wearing flatter shoes lol

Editor Rob
I met alona, she is pretty adorable. And looked proper 5ft 4. I think she converted those 'Jo' haters into Alona lovers.
Maddie
said on 4/Dec/07
Id say she is more 5'2/5'3 she wears huge heels like any supernatural girl lol, we all know why lmao but yeah she is still under jensens chin in about 2 or 3 inch heels i didn't really like the character jo but alona seems like a real sweet person in real life xxx madz xxx
Karmabelle
said on 6/Jul/07
5'4? I think she looks more petite than that...then again, next to Jensen and Jared, who doesn't? I really like her character Jo, I don't see why so many people hate her.
Glenn
said on 17/Apr/06
He was in his bare feet and I had thick soles.
15and5'7.5
said on 17/Apr/06
yeah...u actually look about the same height Glenn
Glenn
said on 3/Apr/06
Yeah,he was 5-9.5 to 5-10.