Robert Patrick Benedict's Height
5ft 6 ½ (168.9 cm)
Rob Benedict is an American Actor best known for roles in tv shows such as Felicity, Threshold and Supernatural. He has said he was 5ft 7 at a convention, I saw him at a Massive Events convention.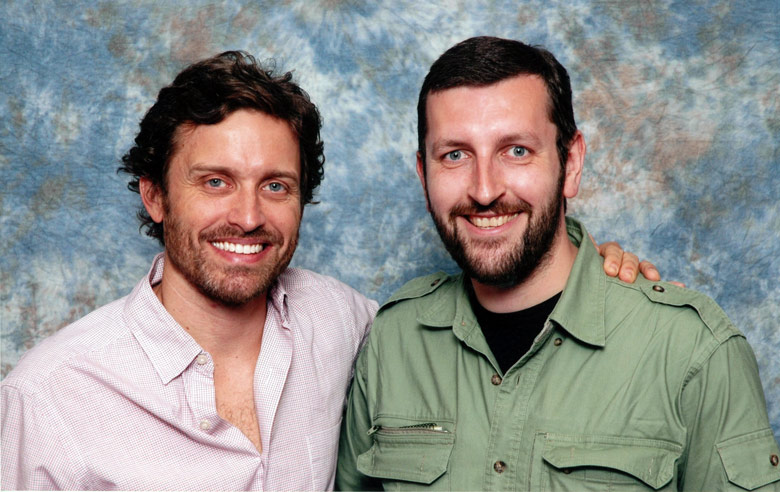 5ft 8 Rob and Robert
You May Be Interested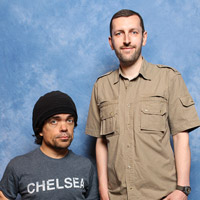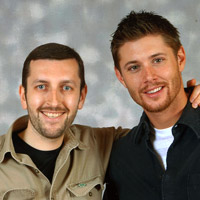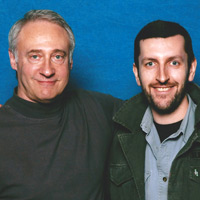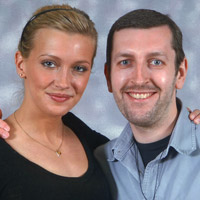 Add a Comment
33 comments
Average Guess (12 Votes)
5ft 6.42in (168.7cm)
Anthony B
said on 26/Sep/20
Y'all look like brothers lol but the height above seems accurate

Editor Rob
true, read my reply below to "Jake Hassler"
Yang (5 footer 8, 173, Aries)
said on 27/May/20
He doesnt even look taller than 5ft 6 half at least... Plus his surname Benedict reminds me of English actor Benedict Timothy Carlton Cumberbatch from Shirlock Holmes.
Dann Sidd
said on 29/Oct/18
Woah....he's not 173? Google lies :O
Komo
said on 24/Jan/18
what's his eye level rob?

Editor Rob
I'd say in 4.6 range.
Thedeerhunter
said on 29/Nov/17
According to the pic above and others pictures, 168-168,5 cm seems more accurate I think
Yhomas
said on 22/Nov/17
Pretty handsome man
Slim 6'
said on 19/Oct/17
Christian-6'5 3/8 said on 19/Oct/17
@Editor Rob
How do you guess someone's weight that precisely?
Editor Rob: a bit like Indiana Jones judging the weight of an Idol, it's just an estimate 😎
*********
😂
Christian-6'5 3/8
said on 19/Oct/17
@Editor Rob
How do you guess someone's weight that precisely?
Editor Rob: a bit like Indiana Jones judging the weight of an Idol, it's just an estimate 😎

carrtman
said on 18/Oct/17
Hi Rob, what weight would you guess for him ?
Editor Rob: 142-4 pounds.
sfd
said on 7/Jan/17
Rob Paul Benedict?
Right
said on 22/Dec/16
5.6.25 night possible rob?
Editor Rob: at night yes, I would say a fella like 'Big G' is a more solid 5ft 6.5 in person than RPB.
28th
said on 8/Dec/16
So is he 5'6.75 here in the photo? Morning time?
Editor Rob: little chance he's that tall in the afternoon.
qbert
said on 25/Nov/16
what time are the photos usually taken at these conventions?
Editor Rob: anywhere from as early as 9-9.30 to as late as 8.30, although most are probably 11-3pm range.
weord
said on 29/Oct/16
I'll tell you a little something about myself.
Back when I was 18-19 I first discovered my 'real' height after being ignorant about it for so long. It said on my driver's license that I was 5'6. One day, I decided to measure for myself what my real height was. And it turned out I was only 5'5. I did some research of celebrities that were around my height (including celebheights) and realized that I was kind of short. It kind of bothered me a little bit because I never perceived myself that tiny. I set my goal at 5'7 because I thought that at that height range, people tended to look average somewhat (at least next to Big Rob).
I did everything I could, including dietary changes, more high-intensity exercises and used the inversion table that my dad had for his back problems. One thing that I noticed immediately though, was the fact that I was taller in the morning! at the beginning of my height increase journey I stood around 166-67cm when I woke up.
For 3 months of intense training, I was able to grow about 1 inch and ended up at 5'6.25. It also turned out that I had a slight scoliosis that prevented my real height from showing. I was kind of sad that it was still more 5'6 range than 5'7, and was quite stressed out for some time.
Looking back, I really don't think any physical 'growth' happened, rather, I straightened my posture to gain an inch (as so many other height stretch gurus mentioned such result). But my full height wasn't realized at that point. Nowadays I don't think about height as much and it turns out I became a quarter inch taller by de-stressing myself over the years! I guess my puberty is certainly over! I am now certainly 169 than 168 (5'7.25 max morning height). That's a little story on my height growth journey back 4 years ago. Feels good that I can somewhat fake 5'7!
Jen
said on 5/Sep/16
He has said when talking about his height that he's rounding up slightly when he says 5'7. So he's confirmed that he's not quite 5'7.
eee
said on 6/Aug/16
can he pass for 5'7?
Editor Rob: in person I wouldn't have guessed 5ft 7 but 6.5
,m,
said on 14/Jul/16
footwear situation?
Editor Rob: similar range 0.6-0.7.
Arc107
said on 22/Feb/16
I think it's worth saying this guy played GOD on supernatural and he did an awesome job was he nice when you met him rob.
Editor Rob: he was quite friendly as this event was quite small and no rushing through autos or anything...
will
said on 11/Jul/15
Rob, if a man lives a comfortable life without too much physical effort, at age do you think will probably start to lose height? Thank you
[Editor Rob: at age 60 I think he may find he measures a fraction shy of what he did at 25. From 60 to age 70 is a zone where a lot of men will lose near an inch]
hey rob
said on 21/May/15
do 5'6.5 people look short to you rob?
[Editor Rob: it's in the short range, but there's not a huge difference with 1.5 inches. I think it starts to become more noticeable if a man is 5ft 5, 5ft 6-7 is a zone that you find far more men than 5ft 4-5.]
Jake Hassler
said on 10/Feb/15
He could pass for your brother rob.
169 cm seems accurate
[Editor Rob: actually a few years back I was at another convention and a girl said 'Aren't you on Supernatural'. I thought 'How kind, you think I look like Jensen Ackles'...of course she was a little tipsy and thought I looked like this Robert Patrick Benedict ;)]
Realist
said on 5/Sep/14
Rob, his face is more of a taller man, by his face i would have thought 5'9.5 or so. Kind of looks like Patrick Dempsey.
Richkid123
said on 10/Jul/14
You two look like you could be brothers. He looks a little short. 5'6- 5'7"
Ras
said on 2/Apr/14
I think 167 cm is possible.
Yaspaa
said on 8/Sep/13
@thorterr - Kiefer and Donald Sutherland. :)
Anatoli Rasputin
said on 25/Jul/13
He's a very good looking guy, I mean in Supernatural he looked so tired and pale-- but here he's quite handsome. Anyways, 5'7" in the morning and 5'6.5" the rest of the time.
Sharpshooter
said on 28/Jun/13
Is it really that bad to claim half an inch or so? I'm only just over 5'7 1/2 but I don't think its criminal with a slip of the tounge and say 5'8 occassionaly or near 5'8.
thorterr
said on 1/Feb/13
surely not the son of dick benedict?there is a likeness,probably isnt as hes 4 inches shorter ,,which probably couldnt be possible if they were father and son ,,,or am i just talking aload of rubbish ?
Will
said on 25/Jan/13
He looks shorter than claimed 5'6 1/2".
Dmitry
said on 17/Jan/13
Wow, you are so much similar! I even thought it was you on the supernatural :)
[Editor Rob: someone else said that once at a convention, 'liked you on supernatural', although they were joking of course ;)]
richkid123
said on 4/Jan/13
4 centimeter difference
Rebebel
said on 12/Nov/11
Had my photo taken with him at a Supernatural convention - allowing for us leaning into the photo slightly he could easily be 5ft 7. I am 5ft 3.75inches and he is easily 3 inches taller than me so him saying 5ft 7 could be accurate or he could be rounding up like I usually do LOL
Jack
said on 20/Jul/06
Wow... looked about 5'9 on screen to me. I'd estimate 5'7.5 to 5'8.5.... has he ever stated his height?