Jesse Metcalfe's Height
5ft 9 ¼ (175.9 cm)
American actor best known for appearing on Desperate Housewives. In a 2000 NBCI chat he claimed
"I'm five foot eleven inches"
.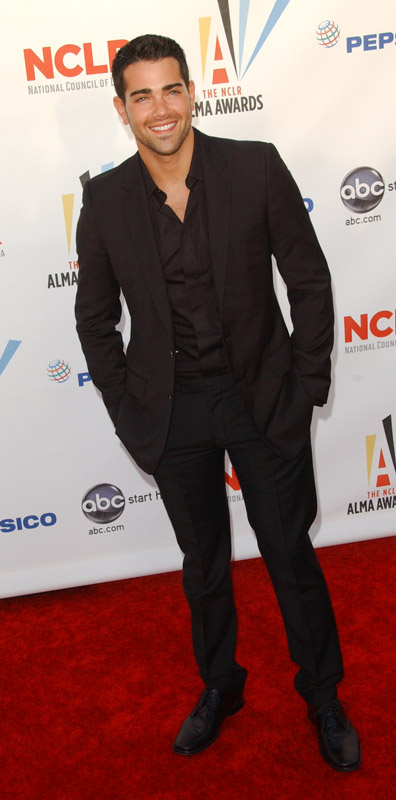 Photos by PR Photos
Add a Comment
64 comments
Average Guess (11 Votes)
5ft 9.07in (175.4cm)
Sonic
said on 14/Feb/18
I was looking at a review of that film "God's Not Dead 2" (not a good film), in that film he plays opposite Ray Wise. Now Ray Wise is listed on this site as being 5ft 9.5, but Metcalfe seemed to be about 2 inches taller (hard to tell with angles, but definitely taller). The Ray Wise height you have might be a prime listing (as in Ray's shrunk a bit), but if I'm going off of Metcalfe's height in that I'd say Wise is probably around 5ft 8 to 5ft 8.5 these days. I'd assume that Metcalfe has the better posture and youth so 5ft 9 to 5ft 10 sounds right.
Edward
said on 3/Jul/17
No more than 5'9", he's as tall as Aaron carter who's actually around 174cm
RisingForce
said on 22/May/17
JB, there are more than you think. Mario Lopez, Eric Roberts, Johnny Depp, Kirk Douglas and Wesley Snipes have all claimed 5'11" as well and are/were in that 174-175 cm range. Jason Statham and Casey Affleck were also listed 5'11" and in that same range. None were ever taller than 5'9" flat and any of them could easily be 5'8.5". Some surely are, in fact, Rob confirmed Eric Roberts at that height just 7 years after Roberts claimed 5'11". As for Jesse, 5'9" sounds about right. Not as tall as I thought. Skimming some pics now and he's got some pretty decent shoes at times and he wasn't looking that much different from Michael Douglas at a time Douglas couldn't have been taller than 5'8" since Douglas was already looking shorter than Shia Labeouf.
peter gabriel
said on 8/May/17
pic with colton haynes you can clearly see he is over one and a half inch taller, so 5'8 is accurate since colton is 5'6
c-mo
said on 4/Dec/16
Rob what makes you think he is not his claim ?
also why not 178cm ?
Editor Rob: c-mo, from what I've seen in the past, I thought he was closer to 5ft 9 than 10, especially around the time of Dallas.
JB
said on 20/Sep/16
I think he is at least 5'9". How could a guy under 5'9" claim to be 5'11"? that's absurd.
Chase Witherspoon
said on 21/Sep/15
The recent con photos from Dead Rising show him in large sneakers 5" shy of Rob Riggle and 7" south of Dennis Haysbert which seems to accord with their est heights.... suggests to me he could be 175 but any higher seems ambitious..
MD
said on 18/Mar/15
Rob,
Just came back across this. He definitely needs this half-inch off. Not the best picture since he's standing so far back, but here he is with Chris Hardwick, currently listed at 5'8.75", but most likely quite a bit shorter:
Click Here
I still say no more than a full 5'9". Can you review this one with the other pictures I posted from a few months ago?
MarcusTheSwede
said on 10/Nov/14
MD: Good Evidence picture you showed with Jesse and Colton Haynes This listing really really needs a downgrade Jesse must be under 173 in mind he is shorter then Colton Haynes who is listed if I remember correct at 173-174 and Jesse way shorter then Colton. similar footwear and angle in camera side by side. This serous need for downgrade Rob.
the shredder
said on 25/Jun/14
the lethal fart , lol best user name on here
MD
said on 11/Feb/14
And, here he is with actor Chord Overstreet, who is an inch shorter than 6'0" Miles Teller:
Click Here
Click Here
Admittedly, the camera angle isn't great in the full body shot, but you guys get the picture.
MD
said on 11/Feb/14
With Joe Jonas and Colton Haynes:
Click Here
With Colton Haynes:
Click Here
This guy is 5'9" TOPS.
Tim
said on 7/Feb/14
Seriously i think his 5ft10
truth177cm
said on 8/Jun/13
5ft9-5ft9.5
Hazel
said on 28/May/13
Seeing his photo online, he looks like male version of Megan fox . He's definitely 5'9
Hew
said on 4/Jan/13
I always assumed he was somewhere around 5'9, not sure about the 177 cm though..
leonari
said on 23/Dec/12
You guys can't gauge height. It's sad.
Silent D
said on 13/Dec/12
He is not 177cm. He looks like a solid 5 foot 9.
robynqoup
said on 1/Nov/12
leonari, you have obviously not watched the new Dallas. Metcalfe looks like a dwarf against all the other main actors, even the older ones who would have naturally have lost height since their heyday. 5'8" is a pretty good guess, I would say
leonari
said on 2/Oct/12
This is accurate . Saying this guy is 5'8" is ridiculous. He never looks short. Nor tall for that matter. Just plain average.
ROB: How about adding Josh Henderson? Since Dallas 2012 has received the green light for season 2 it would be nice to have Josh's height on the page. He and Metclaf are the 2 "new" stars on the show. Plus I'm pretty sure Josh will have a healthy career cause he is quite a good actor. He looks a strong 5'10" to me. Please look into it. Do me this favor.
Anika
said on 6/Nov/11
I met him and I am 5'8.75'', 5'8'' tops and he was my exact height.
jake
said on 5/Aug/11
He's 5ft9. He looked not over this mark in Beyond a Reasonable Doubt.
Gerrard189
said on 30/Apr/11
He's no taller than 5'9", 5'8.25" would be spot on i'd say...
Martin
said on 6/Jul/09
There´s a pic of Jesse with Jimmy Jean Louis ( listed 1.80 on this site ) on WireImage.
Click Here
Anonymous
said on 7/Jun/09
he is without a doubt no where near 5-11. I was at this bar last month and i m 6ft 1 and i was surprised at how short he was. my guess is 5-9 / 5-10 tops.
Ian
said on 8/Apr/09
Yes in John Tucker must die. He looks 5ft10-11.
Viewer
said on 27/Feb/09
In the photo below, it looks as if he's wearing shoe lifts. The height of his ankles from the ground is pretty high.
Click Here
spence
said on 8/Feb/09
In John Tucker must die he looks (180cm)5ft11. No idea hes this short to me..
rafter
said on 5/Feb/09
He actually looked same height or bit taller than 5'10 listed hritik roshan.Roshan certainly needs a downgrade.
Midnite
said on 31/Jan/09
He's 5'9. Met him at a club.
Leung
said on 28/Dec/08
177cm still seems too high.
MD
said on 28/Dec/08
Editor Rob,
What do you think?
[Editor Rob: as low as 5ft 9 isn't out, 5ft 9.5 I may put him at just now.]
Brent
said on 27/Dec/08
Jesse is a solid 5'9 he was a good 2 inches taller than ellen degeneres at 5'7
christian
said on 20/Dec/08
He doesn't even hit 5'9"- he's like 5'8"- 5'8.5" tops// in john tucker must die tha actor who is his coach is 6' in real life and he was like 3.5-4 inches taller ( you can see tha difference really good in tha scene where he is in tha thong)// and fatso fansano is 5'10" and in tha locker room scene he was shorter by like 2 inches
Zach
said on 13/Oct/08
same height as Matt Damon in my eyes. these 5ft 11" claims are 'crazy' if that was the case he would look 6ft 1 in shoes, which he doesn't, he scrapes 5ft 11 in shoes maybe.
mila
said on 7/Sep/08
He was about 2 feet away from me last night at OPUS and he was definitely around 5'9 5'10. I was 5'11 in my heels and he looked like he was 2 inches shorter.
c-note
said on 30/Aug/08
look at fatso fasano he is 5ft10 and jesse metcalfe well is about 5ft9
kyle
said on 8/Aug/08
How the hell can you tell the difference between a quarter of an inch in height without him standing next to anyone
Derek
said on 31/Jul/08
He didn't look that tall in John Tucker. Always came across as average height.
Rj
said on 30/Jul/08
This seems right to me
Jeremy
said on 12/Mar/08
I just met Jesse recently, and he is no 5'9". He is easily taller than that! I'm 5'10", and he was at least 2 inches taller than me. He had to be at least 6 foot!
Jacque
said on 1/Mar/08
he did look really tall to me in john tucker..
but beside tom welling in smallville, he looked like 4 inches shorter..
GSP
said on 15/Jan/08
Wow..im watching tucker must die and thought he looked at least 5'11...even up to 6'1.
NicktheGreek
said on 19/Sep/07
lol he is my twin though im greek and he is fro mthe us im exactly 5ft 9.75inch and we have the same bodytype and similar face
Nick
said on 25/Jun/07
dmeyeer who has 1''sneakers :
ms crababel
said on 2/Apr/07
Glenn..met this guy? any idea?
dmeyer
said on 26/Mar/07
he might be 5'11 with 1.25 sneakers on
noje
said on 20/Mar/07
dosent look tht much difference between Eva (with no shoes maybe?) here;
Click Here
ms crababel
said on 13/Feb/07
Click Here
looks tiny beside 5'10 topher grace...but we cant really judge by pictures..like anonymous pointed out..he hunches ..anybody else met him?
YOOOOooo
said on 8/Feb/07
He is 5,9" maybe shorter check the link.
Click Here
ms crababel
said on 31/Jan/07
He is almost the same height as ellen degeneres
Click Here
how tall is she 5'6-5'8?
Anonymous
said on 9/Dec/06
This height is correct. He was exactly one inch shorter than Shawn Ashmore on the Smallville Episode - "Asylum"
Marc
said on 18/Oct/06
Arielle Kebbel is supposedly 5'8" (and I think she is). Here she is with Metcalfe in John Tucker must die. He looks about 5'10" to me. He also looks slightly constipated.
Click Here
john
said on 9/Oct/06
He looked pretty short next to Tom Welling in the SV episodes he was in. If Tom is 6'3" then I would buy 5'10" for Metcalfe.
dmeyer
said on 12/Sep/06
he is close to wath he claims
Viper652
said on 30/Aug/06
Hes 5-9. I thought he was 5-11 until finding out that Eva Longoria is 5-0 or shorter.
Everest
said on 29/Aug/06
There´s a pic of Jesse chatting face to face with 5ft 8.5in Randy Jackson on WireImage and they´re basically the same height.
Anonymous
said on 30/Jul/06
I met Jesse last night in Cols, OH at a club opening. I am 5'9 and had 2.5" heels on. He was nowhere close to my height when he hugged me. 5'9" and no taller.
wefw
said on 27/Jul/06
ok you KNOW his height isn't 5'11 when IMDB biography says so
Anonymous
said on 19/Jul/06
he is going to be in that upcoming crappy movie, josh tucker, joe tucker, or john .. who knows. he doesn't look like a 5'9" guy. 5'9 guys are pretty short looking. 5'11 seems correct. but lets get some more photo evidence to prove or reaffirm his height
Anonymous
said on 29/Apr/06
Im 5'11.75 barefoot (6ft dead even very first thing in the morning, down to 5'11.5 at night), it's hard to admit it, but hopefully still being a teenager, I'll reach the magical 6 ft barefoot mark. Anyways, I met Jesse Metcalfe just last week , with my obsessed sister and her best friend. I was wearing flippies in the LA spring out for a stroll where we came upon Metcalfe walking on Fairfax. My sister ran up to him and tried to get an autograph and stuff with her loser friend, and I must say he was nicer than expected. He even talked some football with me and we actually talked for about 15 minutes, while he was waiting to meet a friend. I must say, however, this dude is shockingly short in comparison to his 5'11 claim. The first thing my sister said is how we "cute but so short" While that may be an exaggeration, he definitely is no taller than 5'9 as Dan has pointed outand that's pushing it. He was a little hunched over, making him looking even shorter I suppose, but he was still several inches shorter, I was close to towering over him at a shaky 6 ft myself.
Marc
said on 10/Jan/06
The dude has about 5 inches on eva longoria in this picture. She is about 5'5" in heels, so he should be about 5'10" or 5'11".
http://us.tv1.yimg.com/tv.yahoo.com/images/he/photo/tv_pix/emmys/emmy_awards_arrivals_2005_photos/_group_photos/eva_longoria30.jpg
dan
said on 30/Dec/05
he's no more than 5'9'', look at the fan sites. He was no where near as tall as 5'11''.
CelebHeights Editor
said on 3/Oct/05
In a 2000 nbci chat he said:
"I'm five foot eleven inches"