Irish actress and singer, best known for playing Marya in TV series War & Peace and Lorna in Taboo. At age 18, she said
"I'm 5ft 6in, a size 10 and I weigh about nine stone"
, and at Rada College listed herself
"Height:5' 7""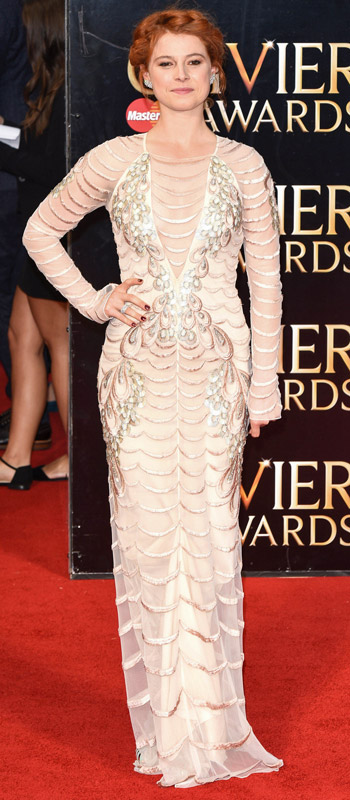 Photo by PR Photos
Miss Sandy Cowell
said on 16/Apr/19
'Beast' was an excellent film which I highly recommend! 😉
However, the ending is nasty. 😢
Miss Sandy Cowell
said on 14/Apr/19
I'm about to watch Jessie in a film called 'Beast', who grabbed my attention just minutes in. She's been described as 'a force of nature' in this and I think I'm going to be going along with that statement.
She had me laughing and shocked senseless in a couple of minutes flat! From what I have gathered, this Titian-haired Irish actress falls head over heels for a man, but he ends up to be a serial killer. She is troubled anyway, and this is hardly going to help her state of mind.
It is a 'Film Four' production, and they are always well up to the mark. I don't know the heights of the other actors accept that I know Geraldine James is tall by comparing her to John Thaw in 'Kavanagh QC' and the 'Inspector Morse' episode called 'Who Killed Harry Field?'
From the above picture, Jessie looks 5ft6, so I will agree with that, but I have found 5ft7 for her just now, which I cannot see unless this film has a very tall cast.
It has lots of new actors for me to study; I don't know the names off hand but their faces might ring familiar, as so often is the case.
So 5ft6 it is - and back to the film in two shakes.... 📺😊🍵
Revisionist
said on 14/Feb/17
Great addition. She looks about 5'7" with Hardy in Taboo.
She looks about 6 inches shorter than 6'1" boyfriend James Norton:
Click Here