John Bradley's Height
5ft 8 (172.7 cm)
English actor, best known for playing Samwell Tarly on HBO fantasy series Game of Thrones. He listed his height
as 5ft 8
when attending Manchester School of Theatre.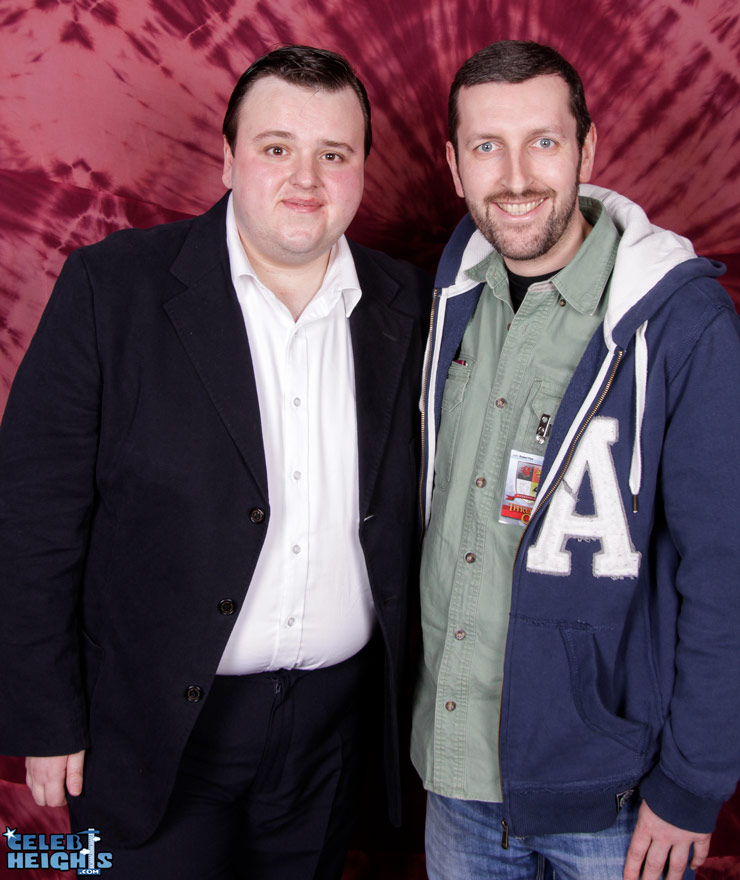 5ft 8 Rob and John @ Starfury Throne Con, 2012
You May Be Interested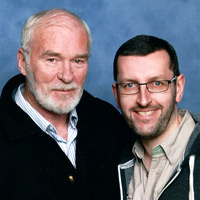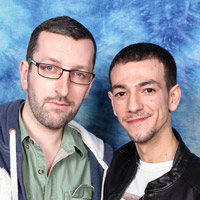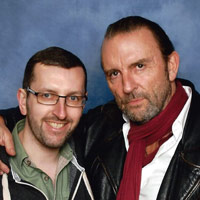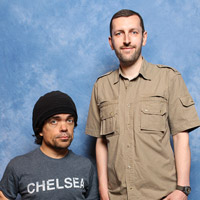 Add a Comment
42 comments
Average Guess (53 Votes)
5ft 7.81in (172.2cm)
rafael proulx
said on 2/Jan/21
Rob is more than 5'8 flat so I'd say this guy is 5'8 flat
Matt Sh
said on 19/May/20
Guys,Rob isn't a flat 5'8", he's over 174 cm for a good portion of the way, so this guy could really be 5'8" even a few hours out of bed.
Akiva Pearl
said on 3/Apr/20
John and Rob are both equally slouching, and Rob still seems to have a good fraction of an inch on him.
Nik
said on 5/Jun/19
He is clearly over 5'7"!
Luong Dang Hoang
said on 25/Apr/19
5ft7, he is shorter than you
Ndomingu
said on 25/Feb/19
On Game of Thrones, Bradley looks 5'8", overall. He definitely was about 1 inch taller than Kit Harrington on that show. I wonder if he told you any tips about being a Night's Watch man, Rob. I think based on the camera angle (Rob angled closer with his shoulder pointed toward the camera more) it can make Rob look taller than Bradley, but that doesn't always mean that he actually is. Also, it depends on the amount of footwear and people's posture. I'm excited for Game of Thrones season 8 to come out soon! It's so cool you got to meet many of those actors and take a photo with them!

Editor Rob
Still a few more GOT actors to meet, unfortunately it seems Kit Harington is pricing himself at a crazy figure (he is wanting 180 euros for a photo with him at a convention this year!). Crazy stuff really.
JR
said on 7/Feb/19
Looks really small on the latest mufc pictures. Barely taller than Fred at 5'6, this guy must have woeful posture.
Nik
said on 6/Jan/19
He looks 5'8" there with Rob! He's a member of C-L-U-B 508 for mine!
Yht
said on 4/May/18
He looks like Shaun Murphy the snooker player but three inches shorter,shorter limbs,and heavier
haxxx
said on 28/Apr/18
I think standing tall he would be more like 5'7.90
Yht
said on 16/Apr/18
Rob is taller than him, 5'7 1/2
Christian-6'5 3/8
said on 16/Nov/17
John's shoulder level may be slightly higher but that doesn't mean he's taller, the top of his head is a bit lower than Rob's so maybe 172cm for John.
Danimal
said on 24/Oct/17
You're clearly slightly taller than him Rob. He's probably a strong 5'7" and is rounding up.
KH
said on 18/Sep/17
Shoulders don't lie he is at least 5'8. Looks like your typical heavy guy with poor posture.
Jinny
said on 2/Sep/17
5'7.75" is accurate. I've met the guy and I'm 5'8.5" consistently. He was just under an inch shorter than me, bit like sansa with baelish id think. Judging by that I'd say kit harington hovers around the 5'6.5" range.
Adamz
said on 31/Aug/17
I think he is a weak 5foot8
I will go with 172cm
Peter175
said on 27/Aug/17
Bad slouch but looks a good 172 imo
Sandy Cowell
said on 21/Aug/17
Having just read a few comments below, I can see why some visitors think John Bradley stands a little lower than Rob, but look at the shoulders!
I, being a fervent believer that Rob tops 5ft8, have no difficulty accepting that John is a ligit 5ft8. Rob is a strong member of the 5-8 Club, John a weaker one, but that still qualifies! 👍
Tom
said on 6/Jul/17
@Caballo Kit Harrington is 5'7" and if you actually watch Game of Thrones, you'd see that John almost consistently taller.
Caballo
said on 26/Apr/17
Ok, so Kit is 5' 8" also. All the pictures both are the same height or Kit is even taller.
17 years old 6.1 wants to be 6.2
said on 3/Jan/17
Rob he is looking same with kit harrington but you listed him 5.7
Editor Rob: I think Bradley at times stands shorter and can look a 5ft 7 person...
Axl
said on 15/Oct/16
5'8'' seems quite accurate.
Gaspergoo
said on 11/May/16
Thought he was taller...like 6'
Johno
said on 31/Dec/15
Bang on 5'7.5 there with a 5'8 Rob. Rob has 0.5 inches on him.
184.3cm (Night)
said on 13/Dec/15
Nothing in it really. Finally a 5'8 guy Rob has met who actually looks legit.
Look at the top of their heads.
CD
said on 19/Oct/15
His agency tries to give him 5ft 9! Looks 5ft 7.75, if not 5ft 8.
[Editor Rob:
at drama college
he was 5ft 8, getting a big role maybe his agency gave him an extra inch.]
120
said on 22/Mar/15
He looks 5'8".25
Rampage(-_-_-)Clover
said on 3/Mar/15
Rob, could you hit 5ft9 out of bed on your best day?
[Editor Rob: on the stadiometer yes, but only because it adds that 1/8th inch. Against a wall I haven't ever measured 5ft 9.]
Danimal
said on 27/Dec/14
You're being generous Rob considering he's shorter than you.
Sponk
said on 27/Nov/14
Always got that guy at about 176cm
Its fun to realise the fact: i gone throught all 4 seasons of Game of thrones and always was consider that most actors are in 178-180 range. And now i got the truth: all this guys was about 170-175, since i am pretty good in guessing height i was really shocked. Thats is kinda nice choise of an actors.
Alex 6'0
said on 8/Aug/14
Rob at 5'8 1/8 puts this guy perhaps at 5'7 7/8. That looks like maybe only 1/4inch difference.
cole
said on 14/May/14
5'8 is a fair estimate, he seems like a friendly guy!
James Crowley Maximus Meridius
said on 26/Mar/14
Rob i wonder how much he weighs i would say around 17st he should weight around 11st 8Ibs at his height he should lose weight i'm not trying too be rude.
[Editor Rob: he is a bulky guy probably near that mark yeah, also has a likeable personality]
Edlt2882
said on 27/Jan/14
I can't place him at 5'8" exactly, and agree he's slightly shorter. Maybe 5'7.75" is a better placing. He also looks slightly taller than Kit Harington in GoT, who looks slightly above 5'7", so 5'7.75 fits better for John.
The Horse of FUNK
said on 26/Jan/14
I see 172cm compared to Rob's 173cm.
avi
said on 2/Jan/14
No way he's taller. Same height is close enough.
jeremy
said on 15/Jul/13
Hey Rob, aren't you actually 5'8.5?
[Editor Rob: I am a couple mm over 5ft 8. That damn stadiometer adds a couple of mm so 5ft 8.25 on the stadiometer is really 5ft 8 1/8th.]
Pedro
said on 18/Jun/13
I think that John Bradley is slightly taller than Rob. John wasn't standing very straight there and if you compare the level of their shoulders you can see that his are slightly higher. So I think that 5'8.5" is a more accurate height for John Bradley.
[Editor Rob: I'm dropping height aswell to match...
in any case
He calls himself 5ft 8
while at theatre school.]
Mathew
said on 31/Jan/13
Looks just a bit shorter than you Rob, not a bit taller.
Sceptic
said on 6/Oct/12
Did you mistype this height Rob? Or did you think he was dropping more height that you? He really looks more 5'7.5 here if anything.
gregory lehmann
said on 19/May/11
She's 5'3". Caught a "Donna Reed Show" episode last November 24,but it,too,was laced with cough medicine commercials with coughing women.The first one was a Vicks Formula 44 cough disc commercial,with the coughing woman battling a nasty head cold.The other one was for Vicks Formula 44 made during the winter 1968 Hong Kong flu outbreak. The coughing woman here suffered from the flu. Whereas the woman in the Formula 44 cough disc commercial just had a hacking cough from her head cold,the other coughing woman suffered a thick,mucusy coughing spasm.(When you come down with the flu,usually you suffer coughing spasms,but,oddly enough,when Annette caught the flu in 2007 six weeks after coming back after she missed 8 weeks following kidney stone surgery,she suffered a deep bronchial cough. When she suffered the sinus infection last summer,she suffered a scratchy cough at first,but the post nasal drip from Annette's sinus infection turned it into a cough spasm,just like the flu stricken woman suffered. Then,Annette caught the flu again during holiday break,but she just had a soft hacking cough this time.) But once the coughing women took their Formula 44 cough disc and Formula 44 for their head cold and flu,they stopped coughing.
X
said on 19/Apr/07
She's always been small boned & thin and she looked about 2 inches taller than Katherine (supposedly 5 ft. 2) Helmond on "Coach".