Jonas Armstrong's Height
5ft 11 ½ (181.6 cm)
Irish Actor best known for his role in the bbc tv series Robin Hood. In film he can be seen in Book of Blood and Walking with the Enemy. He was listed 6ft at Rada Drama college.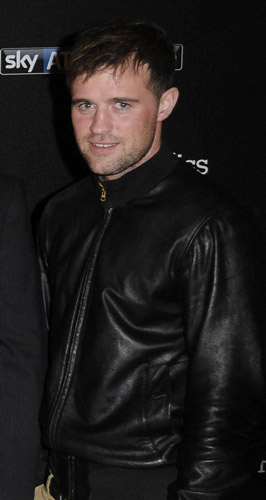 Photos by PR Photos
Add a Comment
12 comments
Average Guess (6 Votes)
5ft 11.25in (181cm)
Sandy Cowell
said on 15/Jul/18
Oh dear! I have a couple of adjustments to make to the heights I just mentioned in my Jonus Armstrong comment:
1. (Ladies first!) Anna Friel is 5ft3 and not 5ft2.
2. Stephen Graham is 5ft5.
Sandy Cowell
said on 15/Jul/18
When Jonus's name came up in episodes of 'The Street', I knew it from somewhere, and now I read above that he was in Clive Barker's 'Book of Blood', as the young man Sophie Ward falls for, but his fate is so awful that it is no compensation AT ALL!
Jonus's story in 'The Street' is also very sad, and it is the one episode that I found was completely without humour, unlike most. He plays the part of a young soldier called Nick, who suffers the most dreadful injuries to one side of his face when he can't face shooting a woman suicide bomber - who also, devastatingly, blows her own baby up too. He has to pretend his rifle was faulty.
His life is turned upside down, despite having a supportive and loving family and fiancée. His father is played by a guy whose height is under 5ft7 and his mother is shorter, so the taking in of heights is about the only light relief I derived from this gruelling tale! I did think, 'Wow! Nick didn't get his height from his parents, did he?"
I reckoned on Jonus's height being around 5ft11, as you get the chance to compare him to Stephen Graham, at under 5ft6, in the episode that follows and also the petite 5ft2 or so Anna Friel in his own personal episode. My conclusion? This guy's around 5ft11! I was half an inch out!
There is a great deal of inner strength to be gained from his story, though. From this life-shattering injury, the young man does go on to make a life for himself. He has been physically altered for the rest of his life, and there am I moaning about a few lost centimetres from my height! Jonus's character has kept his height, but will live with a permanent reminder that he didn't carry out the order to shoot the bomber, who conned the soldier with the thoroughly evil act of using her innocent baby.
The fact is, young men DO get injured like this, and I am sure they'd trade their facial disfigurements for a shorter height. Yearning to be taller, after seeing this sad story, seems like the epitome of stupid things now!
Jonus gets 5ft11.25.
John
said on 28/Feb/15
Pretty good actor, enjoyed Robin Hood a lot in my teens, slightly silly show but fun. I would have thought 180-181 range but I guess I could buy 182, his scrawny physique doesn't help him look taller, and he looks a fair bit shorter than Richard Armitage, who looks to me near 6'3".
Godred
said on 5/Dec/11
5`10 or 5`11 never a 6 footer,I even think Rob has him too high.
meg
said on 1/May/09
5,11.5 not bang on
frosty
said on 11/Apr/09
on robin hood i think jonas looks about 5,10
Greg O
said on 8/Dec/08
Somebody's measuring stick is out - he and another RH co-star are listed as 6', and the other guy is taller in most scenes! And Kayla - of course we're interested - why else would we be visiting this site?!
bruce lee
said on 23/Oct/08
barefoot i would say he is exactely 183cm.
Bleemo
said on 8/Oct/07
I suspect that even if he weren't a six footer the BBC would claim he is due to the fact that mseveral of the more famous actors to potray Hood were tall i.e. Flynn and Costner.
kayla
said on 5/Apr/07
I agree he doesnt look that tall but maybe instead of adding pounds the camrea really take his height but why are you worried about it anyways. I mean its not like your going to met him
Tasha
said on 11/Jan/07
i agree he really doesnt look that tall unless because ppl are smaller thn he is they stand on boxes?
Rosie
said on 7/Dec/06
Very strange: he does not look that tall at all. Maybe he slouches?