Jonny Wilkinson's Height
5ft 10 (177.8 cm)
English former Rugby Union player, who played 91 times for his country scoring over 1000 points. He mentioned his stats in the Daily Mail, saying
"I'm 5 ft 10 in tall and weigh 13 st 9 lb (88.3kg), one kg lighter than when I was playing."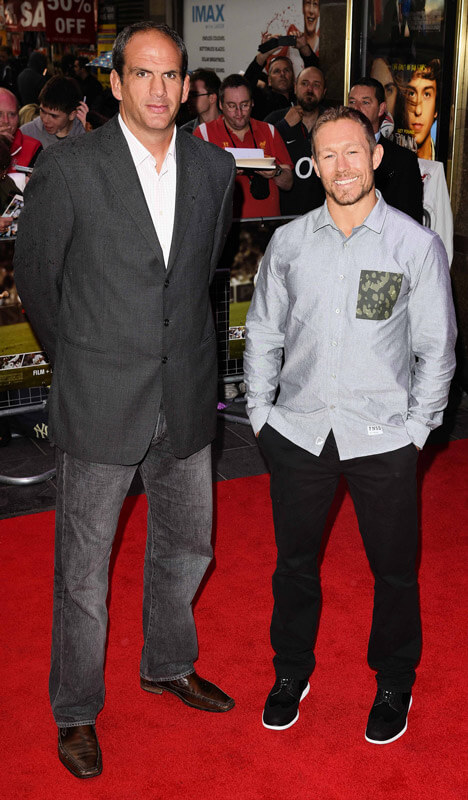 Martin Johnson with Jonny
Photos by PR Photos
Add a Comment
35 comments
Average Guess (8 Votes)
5ft 9.66in (176.9cm)
Black Noir
said on 19/Feb/21
Hi rob, would u say this was an accurate representation of. Ith the rugby players heights? In the pic above?

Editor Rob
I think it looks reasonably close to the actual difference
Stuart Marsh
said on 16/Feb/21
5.10 is bang on for Johnny Wilkinson . I worked for Man Group who sponsored Saracens at the time Richard Hill was playing, i met him on several occasions. I am 188.2CM confirmed by my doctor bare foot and Richard hill maybe had a centimetre on me, same footwear, 189.5 cm or 6'2.5 is bang on for him, I've also met Lawrence Dallaglio a couple of times and i would say 191 for him is pretty accurate, always had a good inch on me maybe slightly more. Martin Johnson is a Giant, i would love to get him, Vitali Klitschko and Tyson Fury back to back, i don't think there would be a hairs breadth in it 6'7.5 for all three.
Chris Junior Hernandez 1990
said on 10/Jan/21
Martin Johnson could be weak 6'7 more 6'6 1/2" next to Wilkinson.
Nik Ashton
said on 16/Jan/20
@ Howay Man! - Great idea!
Howay Man!
said on 27/May/18
Any chance we can have a Rugby LEAGUE player(s) featured on this site please?? There are two codes of rugby, not one!!
Flyin
said on 25/Feb/17
Perfect 10, not quite 5'10 I think.
Z187
said on 7/Feb/17
@rob , what do you think of current fly-halfs - Owen Farrell who is looking listed from 5'11 to 6'2 in various places... George Ford seems 5'9 if that... do you think there is much inflation among rugby player heights and weights like in American football? Or that they tend to be more honest?
Editor Rob: I've not really had much time to look at rugby recently.
Will 1.77
said on 21/Dec/16
I'd list him as 5' 9.5", Rob. Look at him with Steven Gerrard or Sir Clive Woodward for example.
Used to always be listed as 177 cm as well. He looks the same height as someone like Gary Lineker. What do you think?
Adey P
said on 24/Sep/16
His height was always stated as 5ft9 in his playing. Built like a tank amongst even bigger tanks (like Jason Leonard and Lawrence Dallaglio).
Chase Witherspoon
said on 23/Sep/16
I saw him play at close range several times with the Lions and then in 2003 RWC and always thought he looked more like a compact 176cm like a Pat Howard type number 12 build. Having met a few of these folks, I'm convinced the listed heights are inflated or spike height. e.g. Flatley was commonly listed at 178 same as Wilko but he was def no more than 176 barefoot..
Rampage(-_-_-)Clover
said on 21/Sep/16
In rugby boots he'd be at least that though
Vibram
said on 19/Sep/16
177cm for Jonny. Is Matt Dawson really 179cm? He looks kinda 5'8-ish on Question of Sport.
jessman
said on 19/Sep/16
@Rampage
I don't think Johnson is as high as 6'8. I'd go with 6'7 for him as a maximum.
Rampage(-_-_-)Clover
said on 18/Sep/16
@jessman: Hill is an absolute gent and one of best in his position...and yeah hes built like a brick house. Dallaglio wasn't as broad in person. Leaner than Hill and maybe 1in taller. I expected him to be more like Johnson in height and frame. His presence on the pitch certainly gives that illusion. I was stunned by how short Back was. I knew he was small for his position but blimey...he's shorter than Wilkinson and not much heavier. Excuse the pun but he looks more like a back than a forward. Johnson I've never seen up close but is he really as tall as 6ft8? Maybe more in shoes…
jessman
said on 17/Sep/16
@Rampage
I'm with you on your height estimation for Hill. His broad build can mask his relative tallness. Hill has always come across as a decent sort, not the type to show off his RWC winner's medal. Most journalists who have met him make a point of mentioning what a sound bloke he is. A friend once met Martin Johnson in Leicester before a HC match against Munster. She said something to him about the upcoming match....a bit of banter really....but got a similarly curt response like the pne Back gave. Incidentally, her husband reckoned Johnson was 6'8. He opted to let Johnson off with that one, haha.
Rampage(-_-_-)Clover
said on 17/Sep/16
Rob, maybe Hill is more 187-188cm range today?
Editor Rob: might be 188cm now
The Exorcist
said on 16/Sep/16
How tall do you estimate Martin Johnson, Rob? 6'6" ish?
Editor Rob: I think he'd be over 6ft 6
king
said on 16/Sep/16
Proportionally he looks a lot smaller
Lmeister
said on 16/Sep/16
Paul 178cm is right. Matt Dawson is 179cm and Jonny a tad shorter 177cm.
Rampage(-_-_-)Clover
said on 16/Sep/16
@jessman: I saw Dallaglio, Hill and Neil Back up close on different occasions. I'm 6ft4 and was shocked that Lawrence was a little shorter than me when I saw him shopping with one of his daughters. Watching him play from afar and on TV, I took him for taller. I'd say a strong 6ft3. Hill jogged past me in a London park but stopped to take his pulse. I felt he was near 2in shorter than me but as wide as a truck. 6ft2-2½ is acceptable. He noticed I was wearing an Ireland jersey and stopped to chat for a minute. This wasn't long after they won the RWC and he was very gracious and respectful, saying our day would come. Neil Back told a friend of mine to "f-off" when he asked for an autograph. We were standing in a hotel lobby in Dublin the day Leicester were playing Leinster. He was texting on his phone, trying to look busy. I'd say 5ft9 range with a Napoleon complex. Both of us towered over him. Incredibly obnoxious. I was delighted when his team got trashed.
Rampage(-_-_-)Clover
said on 15/Sep/16
I see 6ft6-7 beside Lomu but might be closer to the latter if measured.
Maybe 200cm is right for Johnno, Rob?
Paul 178 cm
said on 15/Sep/16
1 inch shorter than Matt Dawson - who is 5' 10.5" (179 cm).
5' 9.5" (177 cm) for Jonny.
Paul 178 cm
said on 15/Sep/16
Reminds me of Matt Damon, in terms of height and build.
Many would probably guess him as 5' 8" just looking at him, due to his strong, stocky build and proportions. Can give off a short impression but was surrounded by giants of men on the rugby pitch!
Paul 178 cm
said on 15/Sep/16
Hmm, looking again I do think a 5' 9.5" (177 cm) listing would be a better fit. Maybe he's a Gary Lineker type height.
If you do a Google image search, there is clearly more than 2 cm between Jonny and Sir Clive - unless he is taller than his 5' 11" listings..
Paul 178 cm
said on 15/Sep/16
Great addition, an English sporting legend! The only thing is, if you compare Jonny with Sir Clive Woodward - who is listed in most places as 5' 11" (180 cm) or Matt Dawson (who you've met); he clearly looks below 178 cm.
Also worth noting, he has been listed as 177 cm and 5' 9.5" in many places over the years.
Rampage(-_-_-)Clover
said on 15/Sep/16
Rob, do think 189cm for Richard Hill is fair based on those photos with Johnny Wilkinson?
Editor Rob: yeah I think he could have measured that mark, it's a specific mention so I do think he probably got measured near it in his 20's...but nowadays probably not quite that tall.
jessman
said on 15/Sep/16
@Rampage
That guy is Richard Hill. I was in a nightclub in Limerick in about 2001 and Hill was there with his team mates. He stumbled against me. He was strong 6'2, maybe close to 6'3. I was a bit taller...i'm 192cm. Martin Johnson was listed 6'7 for most of his career but was sometimes listed 6'6 in later career. He was taller than all other 6'6 listed locks he played with. In pics next to Martin Bayfield (6'10), Johnson was about 3 inches shorter.
CD
said on 15/Sep/16
He looks like a proportionally shorter guy in the above pic. Definitely a legit 5ft 10 though.C
jessman
said on 14/Sep/16
I know a rugby ref (he does international matches) who refereed a match Wilkinson played in...about 10 or more years ago. He told me that Wilkinson was a little shorter than himself. The ref is about 5'10, maybe 5'11 max. Wilkinson is probably 5'10 at the very most. Chance of 5'9 also. I think Wilkinson's father is considerably taller. Any thoughts on Martin Johnson's height?
travis
said on 14/Sep/16
he looked i bit taller than 5'10
MDV
said on 14/Sep/16
How tall is the guy in the pic with him Rob? 6 ft 6in- 6 ft 7in?
Editor Rob: I think he is in 6ft 7 range
Flyin
said on 14/Sep/16
So judging by that martin Johnson would be 6'8?
Aza
said on 14/Sep/16
How tall does that make Johnson look in the photo. He was listed as6'8 when playing. Looks shorter than that in pic above. Would he have lost height already?
Editor Rob: might have lost a little bit, but I would have thought 6ft 7 range
Rampage(-_-_-)Clover
said on 14/Sep/16
Rob, how tall do you think this guy is?
Click Here
Click Here
Click Here
Click Here
He's been listed 6ft2 mainly but in his own autobiography claimed 6ft2§
Click Here
Editor Rob: 6ft 2.5 is probably a height he was measured at.
Rampage(-_-_-)Clover
said on 14/Sep/16
Rob, how tall do you think Johnson really is?
Looking at this photo, I personally think more 6ft6 range than the commonly reported 6ft7 but I could be wrong...
Editor Rob: in his playing days I'd have said he looked 6ft 7