Joseph Gatt's Height
6ft ½ in (184.2 cm)
British actor known for roles in tv shows Banshee and Game of Thrones (as Thenn Warg). In film he has appeared in Thor (Frost Giant) and Star Trek:Into Darkness. In this photo Joseph had about 0.4-0.5in more thicker footwear than me. On bodybuilding.com he said
"Now, I'm not a small guy. I'm 6-foot-2, 215 pounds"
, although on twitter mentioned
"Im 6'1" and 225lbs"
.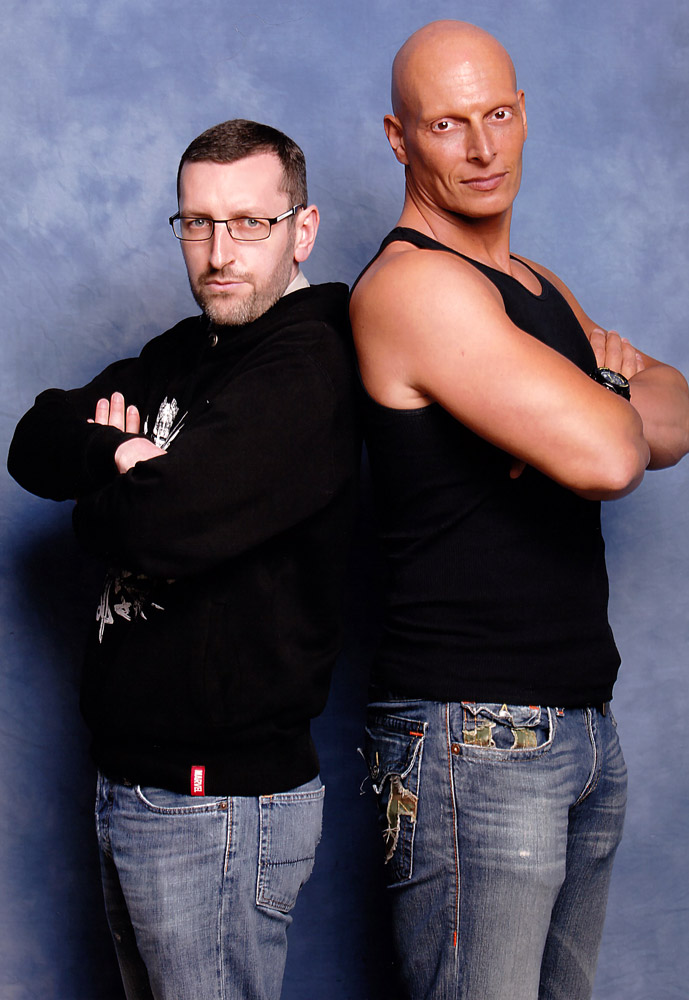 5ft 8 Rob and Joseph @ Collectormania 2014
You May Be Interested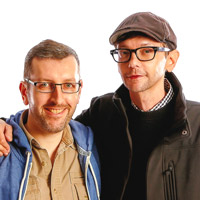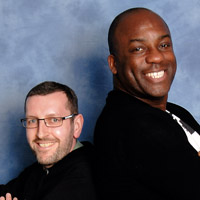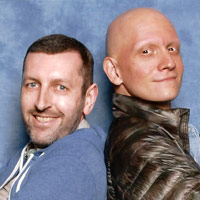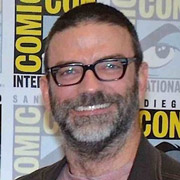 Add a Comment
31 comments
Average Guess (19 Votes)
6ft 0.63in (184.5cm)
slim 6'1
said on 22/Jan/21
184.5cm
Rampage(-_-_-)Clover
said on 4/Oct/20
Rob, which of these?
A) 187.5cm/185.5cm
B) 187cm/185cm
C) 186.5cm/184.5cm
D) 186cm/184cm
E) 185.5cm/183.5cm
Ok A might be pushing it. Compared to a guy like Mark Gatiss (same pose w/h you) he looks beat but I reckon he has a shot at C, certainly not under D

Editor Rob
C or D would be a good bet.
Hotpots
said on 9/Sep/20
Just over 6-0. 6-2 is daft.
OriginalAnon
said on 20/Mar/20
I can't believe guys like this are claiming 6'2''. He looks nothing like 6'2''. He is 184cm max.
Rampage(-_-_-)Clover
said on 6/Sep/19
184-185cm zone I think. Looks close to 6ft1
berta
said on 25/Jun/19
i think he looks weak 186 in the photo and have half inch more footwear. maybe 6 foot 3/4 is closer?

Editor Rob

I think he had better posture than me.

More chance this 184 is an optimistic listing for him, although I agree he looks 186cm in this photo.
K.A 188
said on 29/May/19
I agree,he really those have similar facial structure with Cristopher Reeves, it's crazy how looks can really change perception... It's crazy i looked at him in some movies and he as the presence of a 6ft plus man but i thought he was a bit taller than this anyway a 184 man and well built can still stand out in Hollywood.
Rampage(-_-_-)Clover
said on 25/Jul/18
@Lmeister: Yeah...post-accident Reeves
I was surprised to see him listed at this though. Given the characters he plays like The Albino on Banshee...I assumed that he was like 6ft4 and up
Lmeister
said on 16/Apr/18
@MJKoP he does have similar facial features to C. Reeve. This is what a true 6ft1 guy looks like.
MJKoP
said on 28/Jan/18
For those talking about his looks, he's color blind(hence his eyes) and has Alopecia universalis - not allowing him to grow any hair anywhere on his body. Were he not afflicted with those two conditions, I could see him looking a lot like a young Christopher Reeve.
World Citizen
said on 16/Jan/18
Pretty good listing
Rampage(-_-_-)Clover
said on 12/Nov/17
184/185cm for me
berta
said on 29/Jan/17
hm think he looks 186 in the photo but more shoees- 185 is fair
Rampage(-_-_-)Clover
said on 15/Oct/16
Scary looking dude. I'd have thought 6ft3+!
Tommo
said on 7/Sep/14
How tall's that guy in the thumbnails Rob? The one with Fillion, McPartlin, Baldwin etc. 6'1?
[Editor Rob: he is close to that in person, I think he consistently wears a dress shoe, that other 6ft guy I mentioned can look 6ft and change as he sometimes has combat boots or doc martin type boots at times.]
Andrea
said on 6/Sep/14
Rob, at least don't post these photos... He does look barely 6' with the other guys! 6'0.5 is still generous, IMO! You think he's taller than Alex?
[Editor Rob: because he had almost 0.5in more footwear he could look over 6ft mark, he may measure 183-4 range.]
TJE
said on 5/Sep/14
Strong 6'1. No offense, but this guy's a bit scary looking.
Connor 183cm
said on 22/Jul/14
I agree with you Rob Gatt is more likely 6ft 0.5 than 6ft 1, are you going to downgrade him?.
[Editor Rob: not impossible 6ft 0.5]
Ali Baba
said on 16/Jul/14
Rob, I've noticed that you're using this pose quite a bit lately. Do find that it allows for a better estimate of the celebrity's height? Maybe less of a chance for them to slouch?
[Editor Rob: if I can get a better photo I will try, this is one reason I also ask for more portrait shots, sometimes though it can add height to actors who are taller than me...
for instance
Look here
- ok I have to blank them but the top of their heads are showing a 6ft guy and 5ft 6 guy.
With Gatt, I asked him that pose because it was a better chance to get him near his max :)
With Eric Roberts, it was to stop his silly pose he was doing with men (on tip toes and pushing them down)...and just recently with one actor he was faffing about in his photoshoot, pushing taller guys down, jumping and around and a back to back 'tamed him' ;) I think I still have 8 photos to go up with back to backs!]
Andrea
said on 16/Jun/14
He did have a few scenes with Antony Starr, that i wouldnt put over 179, on Banshee... Unfortunately the angles were pretty bad so you cant do a good comparison. But i thought he was more 6' range, not 6'2 for sure! So i guess 6'0.5 is very possible, maybe you should give him at least 6'0.75, Rob. I highly doubt he's a solid 6'1 guy!
Arch Stanton
said on 13/Jun/14
Why don't you downgrade him to 6 ft then Rob? You've indicated several times you think he's more 6'0!
[Editor Rob: he could be 6ft 1/2 range]
James B
said on 10/Jun/14
Looks much taller than 6'1 compared to rob
Rhonda
said on 10/Jun/14
Looks spot on 6ft1, never 6ft2. His 215lbs seems an overestimated too. Looks around 200lbs there.
kyuss
said on 8/Jun/14
6-1" in real world,6-2"+ IN HOLLYWOOD LAND.
Mathew
said on 7/Jun/14
Carl says on 6/Jun/14
Reminds me of a slightly younger version of Mr. Clean.
---
Yeah I see it
Connor 183cm
said on 6/Jun/14
He could be a weak or very weak 6ft 1 barefeet, i think 184.5-185.0cm is quite possible since Rob thought he looked 6ft 1 in person but in footwear.
Carl
said on 6/Jun/14
Reminds me of a slightly younger version of Mr. Clean.
Tommo
said on 6/Jun/14
What a scary looking guy. Looks like a strong 6'1 to me.
Connor 183cm
said on 5/Jun/14
Rob if Gatts footwear is 0.4- 0.5 range and he looked 6ft 1 to you in person could he be more weak 6ft 1 184.5cm maybe?
Arch Stanton
said on 5/Jun/14
Actually if you put on a long trench coat, a white mad doctor wig, and made him stand by a DeLorean remarking "Great Scott!" I reckon with a bit of makeup and detanning this guy could be made to look quite like Emmett Brown!! LOL!
Arch Stanton
said on 5/Jun/14
Everybody's different, but some are more different from others! He's amazingly intense around the eyes, looks pure sci-fi doesn't he. His bone structure is out of this world! Yeah 6'1" seems a good shout for him but he's the sort of guy who in good footwear could probably pull off looking 6'2"-6'3" in Hollywood.
[Editor Rob: a 5ft 10 female con friend actually brought up his height to me, saying she thought he was like 6ft and expected him to look taller...]