Keith David's Height
6ft 0 (182.9 cm)
Peak height was 6ft 1 (185.4 cm)
American Actor best known for films such as They Live, Pitch Black, The Thing,Cloud Atlas, Crash and Mr & Mrs Smith.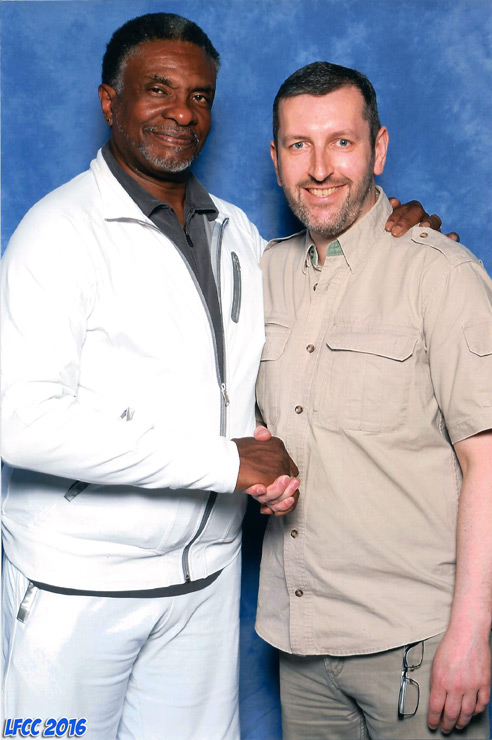 5ft 8 Rob and Keith @ LFCC 2016
Add a Comment
100 comments
Average Guess (32 Votes)
Peak: 6ft 0.77in (184.8cm)
Current: 5ft 11.66in (182cm)
Miss Sandy Cowell
said on 4/Jun/19
😁🎂🎈 Happy Birthday Keith! 🎈🎂😁
Oh, smashing! I thought I'd seen a picture of Keith with Rob when I saw his name and picture come up under today's Birthdays!
6ft1 peak, 6ft now.
🎁🎈🎁🎈🎁🎈🎁🎈🎁🎈🎁🎈🎁🎈🎁🎈
RP
said on 14/Jan/19
Peak 6'1"
Current 5'11.25"
He's just barely over 5'11" now after seeing him with other known 6'0" to 6'1" men on the Netflix series Greenleaf.
Peter 180cm
said on 4/Jan/19
Doesn't look over 180cm here to me,honestly..Maybe 181 at a push!Rob is comfortably an inch above his eyebrows,certainly not a 10cm difference..181 max.
James Brett
said on 23/Dec/18
Rob he didn't look that much shorter than Steven seagal in Marked for Death
Camera tricks? Lifts maybe?

Editor Rob
In person there's at least 3 inches between these two gentlemen, but yeah I think Keith could look closer than that...but both have lost height, maybe Keith more than Seagal.
Nik
said on 24/Jun/18
A weak 6'0" for his these days height'!
Sandy Cowell
said on 23/Jun/18
I've just seen Keith in 'They Live' and he looked every inch the 6ft1, possibly even more. I shall stick with 6ft1, and lower to 5ft11.25 for today's height.
Great picture, Rob! He looks very personable.

Editor Rob
He could be 181-183 today, I think he has looked anywhere in that range last couple of years.
berta
said on 20/Apr/18
he cant really have been 186,5 pek he looks at best 183 now and could be closer to 182 that is about 4 cm to loose at a age where some guys havent lost anything. i think the listing is fine but piper cant have been taller than 184 during the shooting of the movie.On the other hand piper was like 176 cm when he died so there is a big chanse he had lost half inch already in 1988-89
Rampage(-_-_-)Clover
said on 10/Sep/17
No I think 185.5cm for Piper and 186.5cm for Keith
berta
said on 7/Sep/17
but most reaslistic is maybe 185,5 for this guy and 184 for piper maybe.
berta
said on 7/Sep/17
i think there was only half inch maybe fraction more beetween them. this guy can have been 1/4 over thhis as best while piper was probably 1/4 under it at that time.
Rampage(-_-_-)Clover
said on 30/Aug/17
Could've sworn he was at least 1in taller than Roddy Piper in They Live
Editor Rob: he could seem it, but maybe Roddy himself had lost height by late 80's...
Grey
said on 26/Aug/17
I agree, he looks 180 cm here. But I guess he looked taller in person, that's why Rob gave him solid 6ft.
Slim183
said on 23/Aug/17
5'11" here, 6' peak.
Nik
said on 18/Aug/17
He is slightly shorter nowadays.
Hijopotamus
said on 16/Aug/17
Looks perfectly 6ft
Canson
said on 14/Aug/17
@Rob: did you have a footwear advantage on him? Or was it poor posture on his part? Looks at best a strong 5'11" with you imho. Like 3" over you max
Editor Rob: within a small fraction I thought...there's always a chance he could be under 6ft. I've certainly seen taller six footers.
Christian-6'5 3/8
said on 7/Aug/17
Needs a downgrade. He's clearly not 6'0" anymore.
Rampage(-_-_-)Clover
said on 7/Aug/17
Disappointingly shorter
Sam
said on 3/Aug/17
David appearing a weak six feet in recent years doesn't surprise me, as I've posted in the past I thought he was always overlisted back when he was 6'2" on here. He was possibly never more than a weak 6'1" guy who carried himself well.
Sean73
said on 1/Aug/17
This guy always seemed a solid six foot two to me on screen. It just goes to show how Hollywood can fool us half of the time.
Thatmanoverthere
said on 31/Jul/17
Probably somewhere around 6 feet today (does look a bit under it with Rob)
JJAK
said on 30/Jul/17
Back in the 80s David did look quite tall over 6ft often with smaller stars.
By the 90s id say he was no more than 6 and by 2000 maybe in shoes.
Pretty good support actor, excellent voice actor and a hollywood staple for sure.
Csimpson 6ft
said on 29/Jul/17
He looks more like 5'11.5 with Rob, he looks under 6'0 today.
even
said on 27/Jul/17
a weak 6'0"
Rampage(-_-_-)Clover
said on 26/Jul/17
188.2cm out of bed
Andrea
said on 25/Jul/17
Yeah, 182 range is believable (be it 5'11.5 or 5'11.75) but definitely not a big 6', at least today. That's the range he looked in that POI episode I've seen last year. From what I remember, he looked comfortably shorter than Jim... Over an inch and possibly something like 1.25-1.5 inches, I think. Which is the main reason why I came here to comment, after seeing he was listed at a very optimistic 6'1!
6'1-6'1.25 for Jim and 5'11.5-6' for Keith certainly looks more sensible... 😉
Although he doesn't look much over 180 with you (stop wearing lifts, Rob!). Again, can you add the height chart?
Rampage(-_-_-)Clover
said on 25/Jul/17
Rob, is a strong 6ft1 at peak possible?
Editor Rob: I think losing over an inch by age 60 is a fair amount...but if you rewatch the Thing, he really didn't have a huge amount of height on Kurt, although Kurt's hair certainly had a lot of height to it.
S.J.H
said on 24/Jul/17
Solid 5'11 now
Jordan87
said on 24/Jul/17
Looks just Shy of 5'11 now, 6'0 in his prime maybe, he is 60+ years old.
Powerhouse
said on 23/Jul/17
5'11 here, 6'0 peak.
Rampage(-_-_-)Clover
said on 23/Jul/17
Strong 6ft1 guy at least peak
184guy
said on 23/Jul/17
He was taller than Piper , probably an almost 6'2 guy at peak
Christian-6'5 3/8
said on 23/Jul/17
182cm a weak 6 footer.
Andrea
said on 23/Jul/17
So, would you say my 5'11.5-6' estimate was spot on? 😊
Can you add the height chart? He does look MAX 5'11 here! Even if you consider ALL of his hair (which I suppose gives him no less than half an inch), he still looks comfortably under 6'...
Editor Rob: I wouldn't bet outwith that range, 5ft 11 flat or over 6ft as of today.
Jacob
said on 23/Jul/17
Wow he's over 60 and has lost that much in height I'm amazed but rob you should look at the halo master chief collection voice actors i think one is 6'3" IMDB halo master chief collection and tell me if the one actor is legit!
Tonydaportuguese
said on 22/Jul/17
He looked over 6 feet in the thing with Kurt Russell
errybodyshutup
said on 22/Jul/17
the "0" part seems so funny
Andrea
said on 22/Jul/17
What do you mean by "Alex can look a tall 6ft"? He can look it because he is, I guess. 😂
What's the lowest you'd argue for Keith? 5'11.5 range?
Editor Rob: tall 6ft because of good posture and not having low eyelevel.

You could certainly make a 5ft 11.5 argument for Keith.
Arch Stanton
said on 22/Jul/17
Cool looking guy, looks like he could be a jazz saxophonist or something.
Rampage(-_-_-)Clover
said on 22/Jul/17
look at the comments from 2005-6...blimey!
Shredder
said on 22/Jul/17
He is definitely looking over 5'11 in the pic , just not 6'0 , I can see him being almost 6'0.
Andrea
said on 22/Jul/17
Finally, Rob!
He doesn't look over 5'11 with you, to be honest, but I can certainly believe him in 5'11+ range! I don't know about the full 6'... I mean, did he really look similar to say Big Alex in person?
Anyway... I guess someone was right, again! 😊
Editor Rob: I realised with the next event I still had a couple of photos from last year left!

There is a chance of 182 range, Alex can look a tall 6ft, but in person I think Keith really has shrunk since his 40's.
F97
said on 22/Jul/17
Looks between 5'10" and 5'11" very generous listing rob he looks nowhere near the 6 foot mark
Editor Rob
said on 22/Jul/17
I think Keith by age 60 has lost a good inch, he looked taller in the 80's and 90's than he does today...but in person?
I'd have said 6ft was the most he seemed he could be, and within a small fraction footwear wise.
Hypado
said on 21/Jul/17
Keith David, he is a very good actor.
TheManWithNoName
said on 21/Jul/17
Looks more 5'11" to 5'11.5" with Rob.
World Citizen
said on 21/Jul/17
Looks 5 ft 11 here.
traq
said on 21/Jul/17
i thought he was 6'2
Rampage(-_-_-)Clover
said on 21/Jul/17
Looks a decent 6ft w/h Rob
Shredder
said on 21/Jul/17
5'11.5 now , unless he had less footwear or worst posture.
Thomas Veil
said on 23/Apr/17
In his prime he may have been 6'1. But a solid 6 foot seems correct.
I always thought Roddy was closer to the 5'11 range. Which would look right next to David in they live
berta
said on 5/Feb/17
oh and also he was slightly taller than rody piper in they live. this gou 185,6 at peak and roddy piper at 184,8. about 1 cm height difference both around 6 foot 1. but one may have been couple mm over and the other 1/4 inch under
Editor Rob: with Roddy, and other wrestlers, sometimes even by mid 30's fraction loss is possible through injuries.
berta
said on 5/Feb/17
good update always thought 188 sounded little to tall for him. he looks to have shrunk alot at only 60 years old? at peak he looked 185-6 and today he looks barely 183. the listing is spot on
Giorgi
said on 3/Feb/17
I think he was also in There is something about Mary and Requiem of a dream.
Rampage(-_-_-)Clover
said on 25/Jan/17
I think this is the most unjust downgrade in the history of Celebheights...
Rampage(-_-_-)Clover
said on 25/Jan/17
Rob, if this guy was only 6ft1 peak where does that leave Piper?
Editor Rob: they probably were roughly similar in reality, but Keith in his 60's is, well, I've seen taller six footers!
5'6.5 Indiana jones guy
said on 9/Jul/16
At 60, is it possible he lost a cm?
Editor Rob: he seems a guy who has lost some height, looking at his upper body, I think he just looks a bit like he's been carrying bags of rocks on his shoulders.
S.J.H
said on 5/Jul/16
Perhaps he was 6'0 only look 2cm taller than 5'11.25 thomas hayden church
Rampage(-_-_-)Clover
said on 7/Jun/16
Yeah, I think he's edging out Gosling in that photo
Andrea
said on 7/Jun/16
Sure, Rampage... Keep trolling! ;) Rob, can you remind me why this "guy" is still able to spam every page? O.O
It is true that he can look similar to Ryan in photos but again Ryan could be 182-183...
As i said, i'm not ruling out that he might still measure near 6' (maybe if standing tall for a measurement)... That's really the most he could be, though! I showed you some pictures where he undeniably can look no more than 5'11.5! Again, look at him with 5'10 listed David Lyons:
Click Here
5'11.5-6' anywhere in that range is possible, IMO!
Editor Rob: in the photo Chris posted I think he thought he was still 6ft, I am not sure he'd be only 5ft 11.5, although I'm sure can look it at times, I know the last time I seen him, I think cloud atlas, I thought he didn't look as tall as he used to.
Rampage(-_-_-)Clover
said on 6/Jun/16
Rob, Andrea just wants people who are taller than him to be shorter...please ignore. I imagine Keith still clears 6ft today but his big hair and good posture fooled us into thinking he was at least 6ft2 peak.
Editor Rob:
this year I think
Near Ryan
he can still look a big 6ft range, in person it might be different...
Rampage(-_-_-)Clover
said on 27/May/16
What is this?!
Chris
said on 26/May/16
Met him in 2012....he was probably a short 6'0"
Click Here
Andrea
said on 26/May/16
You mean you don't know if he IS that short because he certainly can look no more than that (look at the photos)...
Anyway, i'm not gonna continue the debate because there's probably no way you can change your idea!
Let's wait he comes out on Twitter with "I am 6' in the morning" :)
Editor Rob: I will try to meet him myself, but I would be surprised if he was much under 6ft.
Andrea
said on 26/May/16
I'm not trying to argue he's 6' flat today, i'm arguing he's under it! :)
Look at the same Joel with this guy, Malcolm Smith, who is basically a decent 6' (he was measured at 6'0.2):
Click Here
There's certainly a noticeable difference between him and Keith, next to Joel! A 6'0.5 guy certainly wouldn't look that much shorter next to Joel, who can certainly look not much over 6'3 a lot of times...
Editor Rob: I could see him about 6ft, that is arguable, 5ft 11.5 I don't know if he really looks that short.
Andrea
said on 26/May/16
6'0.5 is a huge benefit of doubt... I doubt he looks any less than 4 inches shorter than Joel (and Joel is 6'3.5 AT BEST)...
But whatever... This is not gonna be another Bob Gunton guy ;)
I just wanted to point out that he does look noticeably shorter than his listing...
Editor Rob: In Keith's case looking at his upper body he looks shorter now than in the past, whether he is a flat 6ft today I don't know....
Andrea
said on 25/May/16
Rob, are you sure on this guy???
Look at him with 6'3.5 max Joel Mchale:
Click Here
Click Here
He does look minimum 4 inches shorter i'd say...
I've just seen this guy in a POI episode and i was surprised to see you had him at 6'1! He did look comfortably shorter than Jim Caviziel, maybe 5'11.5 but certainly not anywhere near 6'1!
Now, this guy is "only" 59 so unless he did loose 2 big inches from his peak it's quite improbable he's ever been 6'1.5... I don't know about his peak, but it seems some visitors here think he was 6'1 max which would make his "actual height" more reasonable... Maybe he was 6'1 peak and 5'11.5 now? Which is still a huge loss, considering he's only approaching to his 60s...
Editor Rob: he could be 6ft - 6ft 0.5 today, he seems older than his age, but maybe since he's been around 30+ years.
Rampage(-_-_-)Clover
said on 9/May/16
Looked at least 6ft2 in Marked For Death. No more than 2in shorter than Seagal (then 6ft4-4½)
5'6 Aravind
said on 7/May/16
Will celeb heights celebrate his 60th birthday as 184 cm as his height and 185 cm as his peak height?
Aravind
said on 18/Apr/16
Surely because of being 60,he is at least 6'0 at bed and 6'1 when he wakes up.
Rampage(-_-_-)Clover
said on 28/Feb/16
Oh come on! He easily looked a 6ft2 range guy in the 80s.
What gives, Rob?
Greco
said on 8/May/15
That's correct,
Roddy went through many operations on his back! Not to mention all the natural wear and tear his body has taken from wrestling and age. He was easily a 6'0-6'1 man in They Live
pablo77bar
said on 22/Mar/15
For those idiots
Roddy piper is 177 nowdays
In 1988 They Live he was 187-188
Rampage(-_-_-)Clover
said on 25/Nov/14
Arguably the tallest guy in Platoon, even edged out Forest Whitaker. Strong 6ft2 peak.
Today he does look 186-187cm
Judd
said on 22/Nov/14
he can't be 6'2"...in 1997 he did look ery close to Tommy Lee Jones (6'0.25")...6'1" at best!
Click Here
jtm
said on 21/Nov/14
he was never over 6'1.
Sam
said on 18/Nov/14
I think he was more 6'1.5" at peak, now about a half to full inch under IMO now. Rob, could you take another look? He just doesn't convince as a full 6'2" guy even in the 80s.
Sam
said on 3/Nov/14
He's still an active actor, so a current height listing is probably worthwhile.
Rampage(-_-_-)Clover
said on 30/Oct/14
Rob, do you think he could be shorter than this today?
[Editor Rob: yes it is a good chance to have shrunk a bit]
Sam
said on 19/Mar/14
If Geoff Stults is really 6'2.5" (I think he looks more solid 6'3") than Keith David must be less than his peak these days. He looks more of a six footer than even 6'1". The guys who play the other two brothers to Stults in Enlisted (I've gathered from previews, haven't watched it myself), who I guess are around six feet themselves, just seem to edge David out as well.
Click Here
Rampage(-_-_-)Clover
said on 21/Dec/13
One of the tallest guys in Platoon. More 6ft2-6ft2.5
Ted
said on 25/Nov/13
He sure doesn't look 6'2". Check out They Live... he's about the same height as Roddy Piper, who claims to be 6'0" elsewhere.
David just doesn't look 6'2", more a 'sorta tall' guy who's buff rather than a true tall guy.
Joey
said on 13/Jan/13
taller than vin diesel but diesel is only about 5'10 in bare feet...i give keith 6'1 in his younger days and 6feet nowadays
Alex2401
said on 21/Aug/12
His co-star from "They live" Roddy Piper is 177cm.Take a look at the movie and do the math.180cm max for Keith.
Rampage(-_-_-)Clover
said on 18/Aug/12
"I think he's a legitimate 188cm-189cm"
"height is 6 ft 2.25 in (189cm)", Rob?
LAN Jiao
said on 7/Oct/11
he was two inch shorter than 6'1 william badwin. 5'11 tops. never look his exaggerating height 6'2.
supreme voice says
said on 25/Jun/11
i've seen recent films with this guy and he seems tall like 6'1" topps but truly tall, but in that jamaican steven seagal movie he looked 5'10.75" topps, either he started weraring impressive lifts or he has literally grown, he was not really tall in that movie, i can be sure 5'11" tops, so that is how tall he is.
Rampage(-_-_-)Clover
said on 30/Apr/11
189cm(6"2.25)
oh yeah...
said on 9/Apr/11
are you talking about the guy in that steven segal movie, and the voice actor, that guy is no 6' he is like 5'10" tops, let alone 6'2" its like he is the only other tom arnold on here that, is always said to be 6'1" but is 5'6" 5'8" tops, i can't beleive everybody on here is saying 6'2" easy, thats crazy, its' Morman.
thebad7
said on 6/Mar/11
Another of the great character actors. He makes anything he's in worth watching--and usually, he is involved in projects that are good to begin with. Strong presence.
Saw him recently in CLOCKERS. He towers over 5'7" Harvey Keitel--6'2" is spot on for him. Also, I recently saw him in a 2001 film titled SEDUCED: PRETTY WHEN YOU CRY with 6'2" Sam Elliott. He looked to be the sam height as Sam: 6'2".
tb7
Truthman 6 ft 4.5 in
said on 1/Feb/11
Strong 6'2 guy. Looks very tall in "The Thing"
5-7.37
said on 18/Jan/11
This guy is clearly taller than 6' Vin Diesel, he's at least 6'2.
James
said on 26/Dec/10
he really does not look over 6'2.
BarryT
said on 25/May/09
No way. He autographed for me in Atlanta. I'm 5'8", and was looking at him eye level at best. Maybe he's 6-2 with platform shoes on.
Hugh
said on 20/Sep/08
I always thought he was short.
Hugh
said on 29/Apr/08
Is pretty tall in person. 6ft2.25.
dmeyer
said on 2/Aug/06
maybe more 187 188 nowadays willis did look close to his height in armagggedon but he was also near ben height so who knows
dmeyer
said on 2/Aug/06
he did look 188 near seagal or 189
[Editor Rob: he was recently in a few scenes with Mat Modine in that statham transporter 2, bit shorter tham mode]
CelebHeights Editor
said on 5/Oct/05
His Agency CV lists him as 6ft 2.
Ra
said on 29/Apr/05
In "Marked for Death" he looks not much more below Seagal.
If Steven 194cm ---> Keith is 190-191cm.