Kevin Love's Height
6ft 7 ¾ (202.6 cm)
American basketball player, who has played for Minnesota Timberwolves and Cleveland Cavaliers. In a 2008 article it mentioned that
"Some executives wondered whether UCLA forward Love plays in elevator shoes. Love measured 6-7 ¾ barefoot. He was 6-9½ with shoes. 'Does that mean he was wearing orthotics?' Nets president Rod Thorn asked. 'It could very well be. How does somebody go up 1 and three-quarter inches?'
Love himself in 2011 that
"I'm 6-9 without shoes on the best day of my life. At the predraft camp in 2008, they measured my wingspan at 6-11¾, and I grew out my fingernails for that, too!"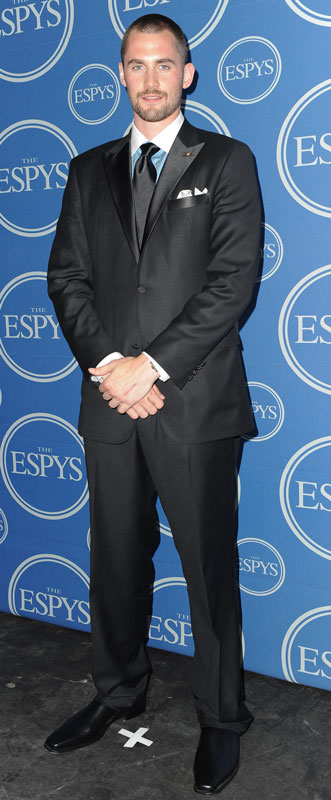 Photos by PR Photos
I'll stick out like a sore thumb because I'm 6'10" in my shiny dress shoes.
Add a Comment
97 comments
Average Guess (73 Votes)
6ft 7.98in (203.1cm)
Canson
said on 25/Feb/21
@Recapa: interesting! I never knew they did 1/8" increments unless his was a FIBA. I saw 6'7.25 or 6'7 once for him but I think 6'7 range at a low easily
recapa
said on 23/Feb/21
@Canson,about tatum i actually did find that he had a 6ft7 5/8 measurement .@Rob,how about a page for tatum.he measured 6ft7 5/8 i belive that he is that tall or at worst 6ft7.5.
Canson
said on 18/Feb/21
@Grey V: Love could be 6'7.5. As for Ingram I agree. Same as Lebron in pics. They likely boosted him to accommodate Zion and Lonzo Ball both. All three are overlisted
GreyV
said on 8/Feb/21
He's listed at 6'8" right now both in the NBA and ESPN's websites. I wonder if they actually measured him in the morning and got this number. If they did that, then it's an honest listing.
Brandon Ingram is also listed at 6'8" now, though I think it's just because they probably wanted to boost Zion's height to 6'7". I wish they kept Brandon's listing at 6'7", to help change people's perception of what a true 6'7" guys is like.
Alex 6'10"
said on 8/Feb/21
6'8.5 barefoot, 6'9.5"-6'10" with shoes in
Canson
said on 1/Feb/21
Lol LeBron ain't 6'9 let alone 6'8.5. He could get 6'8 out of bed (maybe)
Sammy 6'5"
said on 31/Jan/21
hes a half inch taller than lebron, who is listed at 6'9, so im giving him 6'9"
Shane
said on 29/Jan/21
I get lowering Love to 6'9". That's his real height in shoes, the NBA standard since the late 70s and early 80s. But the 6'8" listing is absurd for historical comparisons. 95% of guys his height have been listed at least 6'9" for the past 40 years. Hopefully more and more NBA teams go back to listing guys how they want to next season.
Canson
said on 19/Jan/21
@Animus: yea I would give Love an afternoon 6'7.25 or .5 then Lebron 6'7 flat
recapa
said on 2/Nov/20
202cm for love.
Resurrection of Edward
said on 22/Oct/20
2 inch possibly even more taller than taker in 2020 due to taker losing height drastically every year.i feel taker loses 1/4 every year.
Canson
said on 24/Aug/20
@Roderick: yep
Robbe
said on 22/Aug/20
Kevin is often tiptoeing in team photos, like in this:
Click Here
He can't be that tall. Looks close to Kevin Durant, and Anthony Davis height. 99% sure he is on his tip toes, once again.
Roderick
said on 22/Aug/20
@Canson You played college basketball, right?
In high school, I played but never got invited to play in college because of my weight. Sucked being a fat kid.
GreyV
said on 16/Aug/20
@Wingspanpro: That's funny. "6ft10" Love probably felt bad after standing next to a legit 6'9" Durant and feeling shorter. XD
I don't get why. Being as dominant as he was in Minnesota in the PF position as a 6'7" guy is a lot more impressive than a regular 6'10" guy.
I would understand he if claimed 6'8", because he can be that tall with shoes on, but 6'10" is too much.
Canson
said on 9/Jul/20
@Paul Wood: it's common to me. I'm a hair over 6'4" and have a 6'6 and 6'7 friend as well as some taller ex teammates I played basketball with over the years
Wingspanpro
said on 9/Jul/20
Click Here
Looks on his feet
Nik Ashton
said on 8/Jul/20
@ Canson - Our Rob is a good policeman though!
Paul Wood
said on 7/Jul/20
It still amazes me that anyone can grow to 6ft 6in let alone 6ft 9in.
Hanov
said on 6/Jul/20
@canson
He is a little weird, unnecesary claim, even better than a full 6'8 or 201
Canson
said on 5/Jul/20
The definition of a height fraud
Canson
said on 1/Jul/20
@Hanov: he has a good height for one
Hanov
said on 30/Jun/20
He has the best height for a basketball player nowadays.
Canson
said on 22/Jun/20
6'10" In his shiny dress shoes? He's probably Maximum 6'8.5 in shoes
Jean214
said on 15/Mar/20
As listed 6'7.75(202.6) maybe just 6'8 or almost since he was in his Last moment of growth. He look 0'75-1 inch taller than LeBron most of the time. And he said he was 6'9(205,7) in the best day of his life, and was listed 6'10 for a almost all his carrer, so 6'8 cannot be a stretch or just 6'7 15/16(203) a hair under 6'8
Robbe
said on 20/Feb/20
This is really a weird picture. Kevin looks barely an inch shorter than 7ft Lauri Markkanen.
Click Here
In reality, Kevin is minimum 4in shorter than Markkanen. Go figure what's wrong in that pic.
David Wolberg
said on 13/Feb/20
I will go with listed 6'7 and 3/4 barefoot height measurement for Kevin Love when he played college basketball at UCLA. Height of just under 6'8 seems to be accurate for Kevin Love.
Nik
said on 9/Dec/19
He's taller than most Basketball players!
Chase
said on 6/Dec/19
Lillard wears size 12. That's what he bought while on sneaker shopping. Not sure where size 16 came from. That would look crazy on a weak 6'1 guy.
Harry Sachs
said on 5/Dec/19
Tarinator 6'1.5" or 187 cm If you want to troll then you should at least troll better. The Undertaker has never been 6'8. He was maybe 6'6 during his prime and clearly less than that today. Kevin Love was measured at 6'7 3/4 and it at least 2 inches taller than the Undertaker.
viper
said on 20/Nov/19
Lillard wears size 16
Chris Junior Hernandez 1990
said on 18/Nov/19
@viper A little weak 6'1 Damian Lillard wear size 15 shoes also another clown shoes wearer like Love.. 😂😂 At least we can think about Dwight Howard wear size 18 shoes being 6'9 still in good proportion.
Tarinator 6'1.5" or 187 cm
said on 15/Nov/19
I highly doubt he is just 6'7.75". He may very well be 6'8.75-9" looking at his pictures with the Undertaker. The Undertaker is around 6'8-8.25" and Kane is around 6'8.5". He looks 1-1.5" taller than Lebron James. He is barely shorter than Larry Bird so I suppose he should be around 6'8.5".
Roderick
said on 1/Nov/19
@viper I'm 5'10" and I've been wearing size 13 shoes since the 8th grade.
viper
said on 29/Oct/19
Size 19's at 6-7 is nuts, but I saw a guy on Live PD show who said he had size 18's at 6-4.
That was the craziest. The cops couldn't get over how big they were.
Canson
said on 26/Oct/19
6'8" and change in dress shoes in the afternoon
viper
said on 25/Oct/19
His shoe size is just comical for his height.
Look like clown shoes
Canson
said on 23/Oct/19
Well he got a 6'8" listing in the NBA now so we see it's likely a morning height. He's closer to 6'7" by site standards
@Riccardo and Edwards: agree with both of you!
Wingspanpro
said on 27/Sep/19
Big shoe difference
Click Here
Airmax - 1.5 inch
Converse- 0.75 inch
edwards
said on 23/Sep/19
@canson
Agreed with everything you said.
Riccardo 5'7"
said on 12/Sep/19
Canson@
I think Love is slightly taller then LeBron. 6'7" vs 6'7.25 MAYBE 6'7.5
Canson
said on 9/Sep/19
Click Here
He and Lebron are virtually the same height
Canson
said on 8/Sep/19
@SeanR: I'm gonna guess equivalent to morning. He's closer to 6'7 than 6'8". But the Taker pic we can't see anything below a certain point and Taker has poor posture. It won't surprise me if Taker is only maybe 1.25" or 1.5" shorter if he stands at his best posture wise. 6'7.25 imho
Click Here
Click Here
Click Here
Click Here
SeanR
said on 6/Sep/19
Trying to dissect these Kevin Love, Undertaker pics from a few years back.
So Love's pre-draft measurements were 6'7.75" w/o shoes and 6'9.5" with shoes; And he was 19 years old at the time. Plus we don't know if it was a morning measurement or evening measurement we can only guess.
In addition, there was a pic with Ali Baba and Undertaker on this site and they looked the same height - 6'6".
Based on the Love/Taker pics if you take off takers hat, looks to be a 2.5" difference in footwear for both.
Assuming Love is wearing 1.75" inch sole basketball shoes and taker wearing 1" sole boots, that would put Love at 6'9.5" and Taker at 6'7" which makes sense.
Rob, is it possible Love is 6'8" now since some folks continue to grow even after age 19? I still think taker is as low as 6'6" currently, but you have him at 6'6'5", which would make only a 1.25 inch difference between them and I just don't see them that low of a difference.
edwards
said on 6/Sep/19
looked 1.5 inch taller than 6'6 undertaker,6'7.5 is best bet.
Chris Junior Hernandez 1990
said on 6/Aug/19
I don't see 6'7 flat. Love is 6'7.25" at worst and i can still buy him being 6'7 1/2 like Tyson Fury, Richard Osman and Peter Crouch.
tajaun gibbison
said on 24/Jul/19
Actually after looking more carefully at that picture with Love, I think Rubio is 6'1.25 at a low.
Xpac99
said on 19/Jul/19
Click Here
Rob how is the difference in height between love and taker in this pic

Editor Rob
Love seemed to be a couple of inches taller minimum and in some shots was around 3 inches taller than him, or it looked near that much.
Canson
said on 8/Jun/19
@Heisenberg89: 6'7.25 is the most I buy for him in the afternoon. Perhaps worst case 6'7" flat. But I think he laid around before being measured which is how he got that measurement as 2008 combine measurements were held in the afternoon. They switched to morning in 2009
Click Here
Heisenberg89
said on 5/Jun/19
I didn't see many pictures of him, but in those that I saw he often has good posture. Chances of him being 6"7.5 in the afternoon?
I belive more 6'7.25
Canson
said on 23/Oct/18
@Junior: I agree with everything you said. Love may be 6'7.25 but surely no less than 6'7" flat. 6'7.75 is likely a result of him laying down before he was measured as most say he looks just 6'7" in person. I agree on Shaq. 6'11 range but likely weak 7'0" tall not full. He would be in the morning but he may lose a full inch or so over a day. Bosh 6'10" I definitely buy. Surely no less maybe even 1/8" over. Russ could be as high as 6'2 1/4" at a low but maybe 6'2" flat no less. Steph Curry looks about how he would next to jarrett Jack next to russ and Jack is 6'2-6'2.25 as well
Junior Hernandez 1990
said on 28/Aug/18
@Canson They look solid 8cm in that picture. Chris Bosh atually wear a chunky looking nike air which give about 1.4" and Love had a normal footwear between 1.1-1.2", I think Love came down at 6'7 1/8(201cm) flat barefoot and Bosh 6'10 as he constantly claim. I honestly think Kevin Durant have no way to hide away being 6'9 flat to stack up 6'10 Bosh. Shaq would be a problem being 7'0 as well. Because between Bosh and Shaq is like a weak 2" making Big Shaq 6'11 3/4. Also that would make Russell Westbrook be a solid 6'2 next to Bosh.
Click Here
Canson
said on 14/Jul/18
If Bosh is 6'10", Love would be around 6'7.25ish
Click Here
Canson
said on 14/Jul/18
I'll say the most I can see Love is 201.5 Junior, maybe 6'7" and change at a low. 6'7.25 may fit as well but doubt he's less than that to be honest. But absolute max may squeeze 6'7.5 but that even is high at a low. He likely was measured at the equivalent of a morning height despite it being in the afternoon. He looks too close in height with Lebron to be much more than a strong 6'7". I say he has the edge on him but it isn't by more than half inch tops maybe even a CM. Lebron max 6'7 maybe 6'6.75 at a low
Canson
said on 10/Jul/18
@Junior: same here I buy 6'7.25 and 6'6.75 respectively. That's about half inch below their pre draft heights which is about the norm
Junior Hernandez 1990
said on 2/Jul/18
If Kevin Love is only 6'7 then Lebron James needs a major downgrade at 6'6 1/2. All need 3/4 down. To me i buy the absolute i can trust 6'7 1/4.
Canson
said on 24/Jun/18
@Rob: here's dan majerle calling him 6'7"
Click Here
Junior Hernandez 1990
said on 13/Jun/18
Rob, I think Ray Allen, Chandler Parsons and Draymond Green all worth a page and i'm sure you can received more commenter each day.

Editor Rob
Well there may well be more American sports people added with time.

Canson
said on 17/May/18
@Christian: that could make more sense too with Lebron. Love never looks more than maybe 1/2" or maybe 1.5cm taller than Lebron at times. Other times they can look similar or Lebron can even look taller at times
Junior Hernandez 1990
said on 15/May/18
I can't imagine under 201cm. There is a strong 2cm between Blake Griffin and Kevin Love.
Christian-6'5 3/8
said on 12/May/18
@Canson
If Joakim's 6'10" then I can see Love being maybe 6'7.25"
Canson
said on 11/May/18
@Shane: that actually makes a lot more sense for Love as he is undersized for a power forward. Esp to see he went from 6'7.75 to 6'9.5 lol
My guesses tho could be Thompson at 6'7.75-6'8 as he may have grown and love strong 6'7 and Lebron weak 6'7"
Canson
said on 11/May/18
@Shane: agreed. Even for Love at a low imho, he'd be a strong 6'7" at a low like 6'7.25ish vs just a flat 6'7".
Shane
said on 10/May/18
@Canson Let's keep in mind the possibility that some of the afternoon measurements weren't true afternoon measurements as some of these guys could have easily figured out or been advised to sleep late for measurement, to nap or to lay around before measurement to get at or near a typical full morning height. Hearing Love described by some as 6'7" flat makes it seen like he might be one who pulled that off possibly.
Shane
said on 10/May/18
@Canson Photo is crazy but was it photoshopped as he never played for Bulls?
Canson
said on 30/Apr/18
Love with 6'10" Joakim Noah
Click Here
Canson
said on 30/Apr/18
Interesting piece here. One of the commenters claimed to have met Love and says he's only 6'7" not 6'10". A flat 6'7" looks a touch low but 6'7" and change may be closer to the real thing, probably 6'7.25-.5. Funniest part is that the NBA pre draft was held in the afternoon in 2008 when he was Drafted per ESPN
Click Here
Jason 193cm
said on 26/Apr/18
@185 guy why is your name 185 guy when you're 198cm?
Shaq
said on 20/Mar/18
@anonymous
taller people shrink more because they have bigger, longer spines, thus more air in between their vertebrae and height loss during the day. I don't think the nba combine measurements are evening, in fact i'm fairly certain they are morning measurements. Love could be 6'7 on the dot by the end of the day.
Canson
said on 9/Feb/18
Agreed junior but he did measure in the afternoon. That could be an instance where he measured maybe a mm or two over the half line and was boosted to 3/4 since they don't do 1/8" increments. He looks about that height tho 6'7.5
Junior Hernandez
said on 8/Feb/18
6'7 3/4 is definitely a morning height and got down 6'7 1/2 at low for Love.
Anonymous
said on 18/Dec/17
I can agree: I'm 6'5'' myself and during a day shrinking something around 3 cm. But of course I'm hold my max height not 10 min but around 1 hour especially if my spinal discs willn't to get addition pressure.
Anonymous
said on 4/Dec/17
No Jack. Tall people shrink more than "normal" people. I don't know why, but that is the fact. I regularly shrink an inch, from almost 6-8 (out of bed) to almost 6-7 (evening compression). If Love is 6-7.75 on average, he must be at least 6-8.5 out of bed. His evening height is probably 6-7.5 or even lower.
Jack
said on 1/Dec/17
There's not way I don't care if your 7foot, there is no way you would shrink more than 1.8 max is 2cm if you shrink more thank that you got problems. Kevin out of bed is 6'8 max more 6'7.75 he's the same height as LeBron tho.
Anonymous
said on 26/Nov/17
Height of tall people is a little bit awkward. I am myself very tall. Out of bed I am usually close to 6'8'' but never fully 6'8''(a bit taller than 6'7.75''). But, story ends there very fast! About 30 minutes or so, 6'7.5''. You must understand that very tall people have faster shrinking! So, no way that everyone is officially measured by his out-of-bed (morning) height! Remember that when you make comments. If I was in camp, I would probably be measured at 6'7.25''(I cannot tell if I would sustain 6'7.5''! Very unlikely, because, I would walk, run, and shrink further). In the evening, when I am compressed, I am usually 6'7'', or little less than that, but not much. It depends what I was doing during the day. So, Kevin Love can be close to 6'9'' out-of-bed, no question about it. But he can "hold" that height about 10 minutes...Haha...I know it, believe me. He is genuine 6-8-er.
Jack
said on 25/Nov/17
He's the same height as LeBron???
Canson
said on 9/Nov/17
@Junior: agreed. He may have grown a tad and could've been what you had him around maybe 6'7ish when drafted. He prob really isn't much taller than Love is or Love could be shorter than his measurement. I've heard dan Majerle say he's only 6'7" when he stood next to him and saw something on a site of a guy whose brother is 6'8 met Kevin Love at a basketball camp and said his brother was slightly taller. I wonder if it's more love 6'7.25 Thompson 6'7.5-.75 and Lebron 6'6.75. Or if Thompson and love are close in height in reality
Junior
said on 9/Nov/17
@Canson
To be fair i don't think if Thompson pre-draft measurement in the morning at 6'7.5" and he can hold the same while he should be at low 6'7 and Love 6'7.75" morning measurement should be down at his low at 6'7.25" that makes me wonder Thompson had grow a half inch but that would be 6'8 morning and 6'7.5" lowest. Love may not be growing after drafted. That could be why Thompson can give a 6'8 impression but compare him with Lebron most of time i can see max 2cm and we all knew that Lebron is more of a legit 200cm guy.
Canson
said on 3/Nov/17
@Junior: I can go with 6'7.5- 6'7.75. Maybe 6'6.75 for Lebron and Thompson is a real 6'8". He is taller than both of them.
Canson
said on 24/Oct/17
@Junior: I think Thompson did grow. I agree he looks 6'8" too but looks taller than Love In my honest opinion. His draft measurement was likely a morning height so maybe it was a bit more than half
Junior
said on 23/Oct/17
@Canson
I agree with you. But i think Tristan Thompson had grow half inch maybe 6'8 is more reliable rather than 6'7.5" draft camp measurement.
Canson
said on 21/Oct/17
I can't see full 6'8. He's not as tall as Tristan Thompson in some pics. Maybe 6'7.75 max
Junior
said on 16/Oct/17
I read up he had a massive us size 19 huge feet and described at 6'9 and possible he was just 6'7.75" listing here but that feet size is like for someone over 7'1-7'2 range..
Canson
said on 13/Oct/17
202 range half inch or so taller than Lebron 1.25-1.5" on Melo
Height Sky
said on 12/Oct/17
@Rob
Does he have more footwear than Lebron really?
Johnson
said on 11/Oct/17
Was he measured in elevator shoes?
Canson
said on 9/Oct/17
I would say Lebron at most solid 6'7" love 6'7.5 Thompson may have grown to 6'8". Looks a bit taller than Lebron and love do
Canson
said on 8/Oct/17
@Johnson: correct. At most 1/2" or 3/4 on Lebron. Very most is what rob has him listed but I'd go with 6'7.5
Canson
said on 7/Oct/17
6'7.5 barefoot. Most who met him when he was with Minnesota peg him as 6'7-6'8 and Dan majerle called him 6'7" as well
Ben
said on 7/Oct/17
That's seriously big feets, frankly, it's looks good on him.
Realist
said on 7/Oct/17
6'8 is right
Johnson
said on 6/Oct/17
@Gonzalo he is not that tall. Saludos de taturas. I hope to localize you in threads of heights
Gonzalo
said on 6/Oct/17
Thought he was more around 2`05 or 2`06
travis
said on 4/Oct/17
i thnk he 6'9
Sean
said on 4/Oct/17
Looking at pictures of him and Lebron James online, it looks to be an inch difference. That would put Love at 6'8.25" which I believe his current height is. The 6'7.75" was his listing at age 19 and sometimes Basketball players grow after age 18. Plus the pictures with Undertaker shown on this site looks to be a good 2 inches even with takers hat on.
@HeightcrazyRed6ft
said on 4/Oct/17
Looked really tall next to Taker, maybe 6´8" evening today?
His claim 6´9" at best... sounds like legit morning height to me.
I go with 6´8" usual eveningheight and 6´7.75" at his lowest.
184guy
said on 4/Oct/17
Could be the full 6'8
If I'm not Wrong, he was measured at this About 20years oldish
Looked at least 2 inches taller than taker.