Kristen Ledlow's Height
5ft 9 ½ (176.5 cm)
American sports presenter, who has worked for NBA TV. She claimed to be
"5'10(ish)"
, but also says
5'11(ish)"
Teary-eyed watching our women's gymnastic team win the gold. Mainly cuz I was 5'11, 89 lbs when I was 12. I never even had a chance.. #USA
I am 5'11. And I wear heels daily. Helps me truly believe that everyone else is beneath me.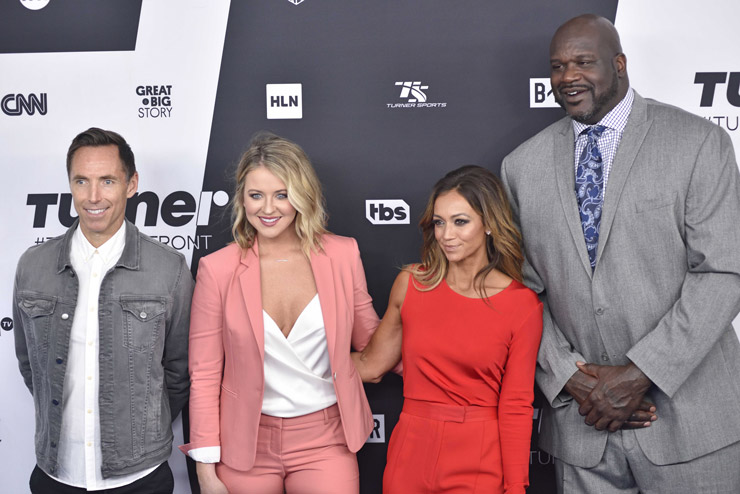 I'm 5'11. God gave me no choice but to work with professional athletes to appear small.
Add a Comment
20 comments
Average Guess (21 Votes)
5ft 9.55in (176.7cm)
Mimi
said on 23/Jun/20
Rob she is obviously shorter than 6'1 Kevin Nash eved with at least 2 inches more footwear than him. I think 176cm is the best guess
Mimi
said on 4/Mar/20
So Rob would you give her the downgrade?

Editor Rob
I'd need to look a bit more
JBJ
said on 2/Mar/20
Rob how much do you think she weighs now? I would say 160s.
Mimi
said on 2/Mar/20
Rob don't you think 176cm is more fitting to her? She looks 4 inches taller than 5ft5 Kate Abdo next to her. I think she's closer to 5ft9 than 10.

Editor Rob
Might be possible she measured it. Her 5ft 11 claim is a hard one to believe.
Tunman
said on 31/Jul/19
89 lbs at 5'11?lol,With that weight the only place where you'd be is 6' under.I guess she's exaggerating on both height and weight
Nik
said on 6/Jun/19
She's adamant about being 5'11"!
Nik
said on 17/Jan/19
I like the above picture!
JBJ
said on 4/Jan/19
@Derek g Nash is 6'1. She has on heels in that picture above and is around the same height. No way is she 5'11. I'm not sure if even 5'9.5 is correct.
Derek g
said on 20/Dec/18
She is legit as tall as nash in that piv at the top. He is 6'3... so.... she is probably 5'11 and 6'3 in heels. This isnt hard to believe. I mean girls can be tall. I just watched her interview mike diantoni and she is as tall as him. He is 6'3.. that is 2 6'3 guys she is as tall as (in heels presumably) sooo she is a legit 5'11, clearly. Yall need to step your research up. Also isiah thomas on nba tv is 6'1 ( the pistons hof pg) and she is taller then him in heels. Ive seen that multiple times so... again. Step it up losers
Inside Stuff
said on 14/Jun/18
She is slightly shorter than Neyo in flats.
Canson
said on 9/Feb/18
@Christian: very true!
Christian-6'5 3/8
said on 8/Feb/18
@Canson
My friend's sister is 5'10" and weighs 120lbs (by her own admission) and she looks rail thin, and often he makes "skinny" jokes about her. I can't imagine how 89lbs would look on a girl similar to her height, but like I said, part of it might've been due to her body still developing at the time.
Canson
said on 7/Feb/18
@Christian: yea that's sickly lol
Christian-6'5 3/8
said on 5/Feb/18
5'9.5" and 89lbs is crazy thin. But maybe because she was 12 at the time and her body wasn't fully developed yet.
MJKoP
said on 4/Feb/18
5'11 and 89 lbs....even at 12, I'm sure one of those stats is too high and the other is too low. If that were true, her inability to walk might've been what prohibited her from being a gymnast! :O
Purple
said on 30/Jan/18
I'd guess it's simply ignorance on her part. Getting measured in shoes and not having your hair pressed down can easily give you an additional two inches. Let's not forget that the media circus is quite competetive when you're young and being a tall woman among professinal basketball players will give her an edge. I'd doubt that anyone will pull out a measurement tape to confirm her claim so she get's a free ride.
JBJ
said on 30/Jan/18
She claims 5'11.5. I don't see it at all. If she was that tall she would dwarf Isaiah Thomas but she barely looks taller than him. I also saw a celebrity all star game picture with her next to Common and he's clearly taller also. He's listed at 6'0. My guess would be 5'9 maybe 5'9.5. I wonder why she's claiming to be this tall? Women don't usually lie about their height.
Purple
said on 17/Jan/18
Sorry, 5'9 at most. In heels she looks about 5'11 if she was really 5'11 she would look much taller. There are pictures of her next to Klay Thompson with both in basketball shoes and in heels next to former NBA players and she doesn't look a cm above it. Erin Heatherton also looks to have 1,5'' on her.
Interval
said on 10/Jan/18
Rob, I didn't know she was this tall. But why claim 5 foot 11? Also, why does google say she is 5 foot 8?
Editor Rob: I am sure she would have been on some other site(s) at 5ft 8, because google takes data from some sites to populate it's 'information boxes'.
It's hard to believe she is near 5ft 11(ish), I think she's being a bit generous even with 5ft 10!
the rock
said on 9/Jan/18
tall woman