Lane Garrison's Height
5ft 6 ½ (168.9 cm)
American Actor, best known for playing Tweener on TV series Prison Break. In this convention photo, Lane had about 1/4 inch more boot than me.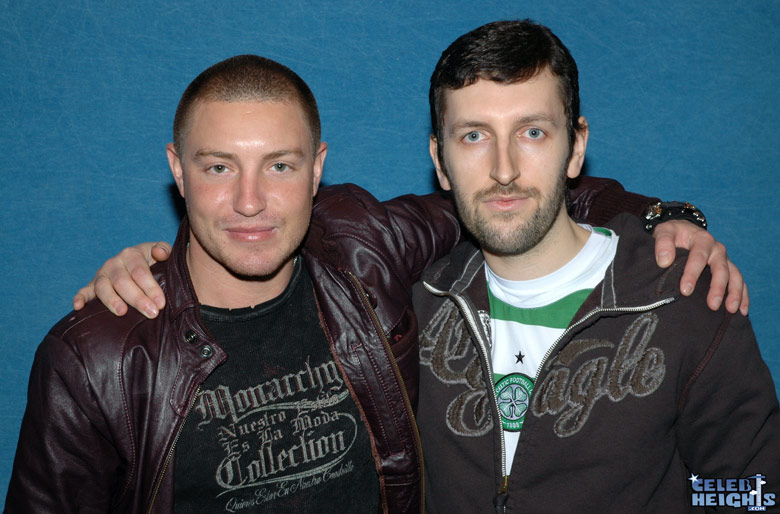 5ft 8 Rob and Lane @ 2006 Manchester Collectormania
You May Be Interested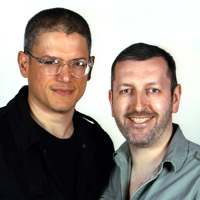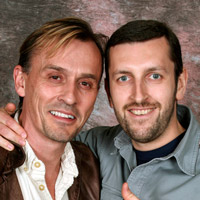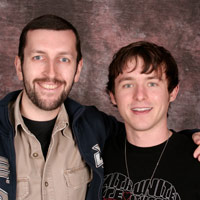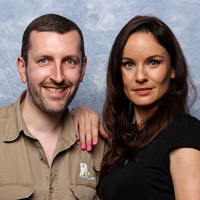 Add a Comment
64 comments
Average Guess (18 Votes)
5ft 6.43in (168.7cm)
slim 6'1
said on 12/Feb/21
A solid 169cm, 5'6" and 5'7" are short but nothing dwarf or midget like 👍
Slim 6'1"
said on 24/Jan/21
I remember went towered over this guy
slim 6'1
said on 15/Jan/21
Around 4cm between the two of you
slim 6'1
said on 15/Jan/21
169cm dead on,
JohnMoore-162cm
said on 2/May/20
5ft6 1/2" dead on
Jkiller
said on 11/Mar/20
Looked 5'6 and a half in Prison Break.
Nik
said on 20/Feb/20
He can pull it off!
Nik
said on 23/Jun/19
12 voters have given Lane Garrison an average vote of 5 foot 6 3/8 (5'6.38"!)!
Miss Sandy Cowell
said on 18/Jun/19
Mr Garrison can have 5ft6.5. Mmkay?
Tunman
said on 6/Jun/18
@Christian
Yes,but this time it seems the shot was fair.The main reason why tall guys seem taller in mugshots is because the point from where the pic is taken (around the eyelevel of the photograph)will be generally way under the top of the head of the photographed person.As for Charles Barkley,it would have required an eyelevel near 6'5 so someone near 6'10 to get the true height pic.Also an important thing is that the photographed person should have its head extremely close to the wall.
Lane must be 5'6 if you remove his 0.5"prison sneakers.
Christian-6'5 3/8"
said on 14/Apr/18
@Possible
I tend to take mugshot heights with a grain of salt. First, we don't exactly know what type of footwear is being worn, and certain camera angles can make someone look way taller or shorter. Like how a 6'4.5"-ish Charles Barkley looked 6'8" in one photo.
Possible
said on 13/Apr/18
Is it possible he's only 167cm? I say this from looking at his police mugshot:
Click Here
The fact he has a thicker sneaker in the pic points to maybe wearing some lifts too?

Editor Rob
He's in orange jump suit (prison gear), so it's likely those half inch type slip-ons he's wearing. If he's standing ok, his eyes are abour 5ft 2, so add 4.5 inch and remove some for prison sneakers and he could be 5ft 6.
When I seen him, he had a solid boot...so 5ft 6.5 has to be the most he'd be.
Bobby
said on 5/Oct/17
I'm seeing 170cm.
Slim183
said on 16/Aug/17
Or 171, then under is the kinda short range.
Slim 182 cm
said on 14/Aug/17
errybodyshutup, I feel more 172 is tbh.
errybodyshutup
said on 11/Jul/17
i feel like 169 is the shortest height you can get away with(out being that short)
Slim 182 cm
said on 5/Jul/17
5 ft 6.25 actually. I see 1.5 inches between you and him, than your claim that he wore 1/4 thicker shoes than you.
Slim 181 cm
said on 3/Jul/17
5'6" The half inch is unnecessary. Another favourite minor character in prison break amongst: reggie lee, muse Watson and Stacy keach.
World Citizen
said on 2/Jul/17
168 169 cm
Nik
said on 13/Jun/17
He has an interesting name!
Average height and slim
said on 28/May/17
@Gwynbleidd, Agreed. 15 cm shorter than Wentworth miller and he looks almost 5 cm shorter than Rob in the photo above
Gwynbleidd
said on 29/Mar/17
This guy is 5' 6.5", dead on. Nothing more, nothing less.
NBAer
said on 7/Mar/16
IMDb lists him 177cm(5'9.5)...I don't know what to say about this except LOOL!!...The most he could be is 170cm.
dont drink and drive folks
said on 23/Jan/16
rob you got him!
Dmax
said on 1/Jan/16
At the height of 169 cm guys start to get away looking averagish.
Paleman
said on 13/Dec/15
For some reason in IMDB he is listed as standing at a mind-boggingly optimistic 5'9.5". That's crazy! The dude is no taller than 5'7", that is the absolute max I can give him.
Key
said on 18/May/15
NO WAY! I've heard that this guy claims 5'7 to 5'9.5. I love this actor, wow, he is MUCH shorter than he claims! Wow, I would tower over him. lol
176,2Tunman
said on 18/Aug/14
Same height as Bieber and same claim.I'm curious to know what the police had listed him at.
176,2Tunman
said on 13/Apr/14
He seems near 5'7 maybe a hair Under,5'6.5"considering the 0.25" shoe advantage is perfect.
Lillo thomas
said on 7/Apr/14
He is the same height of G. Both will look exactly the same in a pic.
Alex 6ft 0
said on 6/Apr/14
Rob, he looks like he would edge out G in height though G measured slightly above 5'6.5
Andrea
said on 6/Apr/14
Rob, i hope that didnt come out of his mouth! 5'9 is crazy!!
[Editor Rob: well it's on his agency, but they have 5ft 8 there for him aswell]
Editor Rob
said on 2/Apr/14

I noticed Lane has a 5ft 9 claim with his agency!
MD
said on 15/Nov/13
Question, is he standing slightly on his toes with Amaury Nolasco (listed 5'9.75", here)?
Click Here
He's looking pretty tall, here, but it may be the toes, or perhaps Amaury not listed correctly. Amaury also losing a tiny bit of height with his stance.
EDIT: scratch that question, here is Amaury and 5'9" Peter Gallagher in what I'd assume are golf shoes since they are on a golf course:
Click Here
richkid123
said on 13/Nov/13
looking at his frame He looks 5'6". Looking at him next to you he looks 5'7"
Serge
said on 9/Jul/13
He look more 5'7(1.70m) but ok i don't know him!
Jerzy
said on 3/Apr/13
This guy is awesome
richkid123
said on 27/Feb/13
really short? nah
Elijah
said on 28/Jan/13
@klem: he's not in "really short" category... just "short".
Mastro
said on 28/Oct/11
He's out of jail now- wonder if he lost height in prison.
klem
said on 8/Oct/11
Looks really short.
Sean73
said on 26/Sep/11
Looks like he could be a little bit of a trouble maker.I bet he`s funny though.
ali
said on 5/Aug/11
he looks 171
rob89
said on 29/Jul/11
5'6.5" looks spot on, actually maybe even as low as 168 cm considering his shoe advantage.
Maximus Meridius
said on 14/Jul/11
Rob is there a chance this man is over 169cm and in the 170cm range even 169cm is not short it's below average do you agree.
[Editor Rob: I think 169cm is fair, his boots actually are probably no less than a cat boot, so they could have been 1.5 inchers.]
James
said on 26/Feb/11
With footware advantage looks 171cm. without 170cm
so i think he is 5'7
lita
said on 24/Jan/11
he's true handsome man, i'm tired of ugly overrated hollywood actors
linda
said on 11/Jan/11
hmm, I'm 173cm and I though that Lane is taller than me. But what, 169cm?! That would not be true.
adam
said on 17/Dec/08
In the photo above Rob has two inches on him.
fiena
said on 10/May/08
i think his heigh is 167cm or 169cm
Realheight 88
said on 14/Jan/08
I think he is 5-6.5 too.
Peetie
said on 15/Dec/07
he's 5'6.5'' max.
Lmeister
said on 12/Dec/07
He is listed 5f8/135lbs. Seems to be shoes on listing.
Click Here
bruce_willis
said on 12/Dec/07
i'd say 5'6.5 (169cm)
Kevin Durant
said on 10/Dec/07
I think Lane Garrison is 5'6" and only look taller because he wore lifts in prison break.
Gonzalo
said on 10/Dec/07
Could be shorter than 1`70
ras
said on 9/Dec/07
"He had little extra footwear compared to my trainers that day".
That means he really is 5'6-5'6.25. I can see quite an inch or more of difference there.
[Editor Rob: it was 1/4 or max 1/3 inch over me]
Danius
said on 9/Dec/07
Girls would kill for that face.....on a taller man, hah!
dmeyer
said on 9/Dec/07
5'6.75 seems right
Slh
said on 9/Dec/07
lane garrison is great on pb but i think he is 5ft6 tops
D. Ray Morton
said on 9/Dec/07
Thanks for putting this guy up, Rob. I was wondering how tall he was.
leonari
said on 9/Dec/07
let's settle for 5'6.5 guys. Looks taller on TV. Won't be easy for the fella in jail...
ROB the guy strikes a "STALLONE" pose on you (with his arm around your shoulder) , has bigger shoes and you still look taller by more than an inch...
Don't you agree??
[Editor Rob: you mean he's trying a McKellen on me? Sometimes those work...5ft 6.5 is probably as close as you could get yeah.]
Yuri
said on 20/Jul/07
5-6 - 5-7 somewhere , IMO
Jim
said on 15/Dec/06
Quote: "First Lane Garrison is TINY in person. The boy would be lucky if he's 5'6."
Click Here