Larry Johnson's Height
6ft 5 ½ (196.9 cm)
American retired basketball player, who played as a Power Forward for the Charlotte Hornets and New York Knicks. In a 2003 NY Times article it mentioned
"Mutombo said Larry Johnson, the former Hornets and Knicks forward, was among the biggest exaggerators. While at the Nevada-Las Vegas, Johnson was supposedly 6-7. At the N.B.A.'s annual predraft camp in Chicago, however, he barely topped 6-3"
.
However, that seems an exaggeration because in a Sporting News article from 1991, it mentioned specifically that
"Johnson, who was listed at 6-7 throughout his college career, was measured at only 6-5 1/2 at the NBA's pre-draft"
.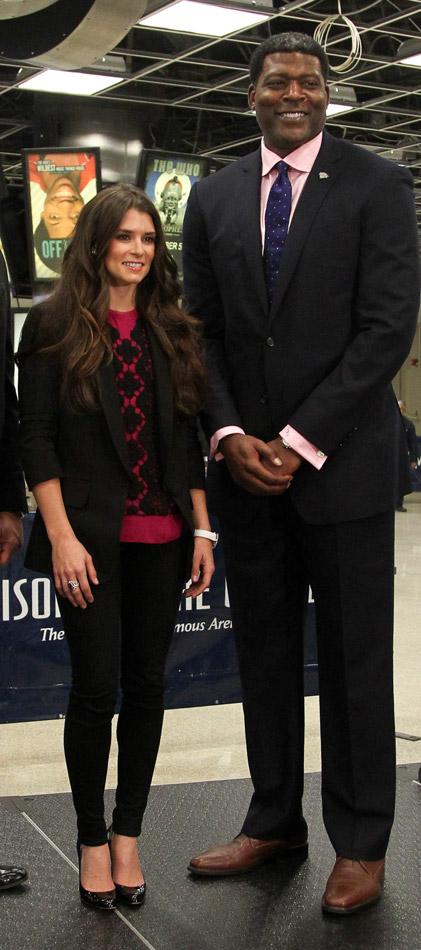 Photo by Debby Wong/BigStock.com
Because Johnson stands only 6-5 ½ some critics thought the Hornets might have erred. But not Johnson. "I've been playing power forward all my life, and I've done all right with my height. I'm not worried about my height"
- 1991
From the way they're calling fouls this year, there's no bodying up in the post. I'm 6-6, 6-7. That's about all I can do.
-- Courier-News, 2000
Add a Comment
40 comments
Average Guess (32 Votes)
6ft 6.02in (198.2cm)
Canson
said on 3/Apr/20
Sylvio said on 2/Apr/20
Just ran into him in person, really nice guy. I'm a lot shorter so it's hard for me to tell but he looked 6'5 to me, so this could be spot-on.
That's a pretty good estimate.
Sylvio
said on 2/Apr/20
Just ran into him in person, really nice guy. I'm a lot shorter so it's hard for me to tell but he looked 6'5 to me, so this could be spot-on.
Canson
said on 9/Jan/20
@Shane: as far as LJ my guess for his peak was 6'6 out of bed 6'5.25 afternoon height max
Canson
said on 8/Jan/20
@Shane: I may have mentioned 3D. He was nowhere near 6'8" and I used to wonder how (based on afternoon heights) 6'7" (if that) Scottie Pippen was clearly taller than him when they played against each other. I don't think Pippen was quite the full 6'7" but maybe a weak 6'7" guy. 6'6.5-6'7" perhaps. He never looked as tall as Magic and it really wasn't all that close imho. Magic may have been what Rob listed him but not surprised if he's more 6'7.25 afternoon height. As far as Dennis Scott he could even look shorter than Penny at times and looked shorter than Dominique Wilkins when they were on NBA TV together. I would not be surprised if Scott were really only 6'5" range by looking at him. Ingram I believe would be 6'8 out of bed and 6'7" or 6'7.25 afternoon height. I remember once that he got a 6'8" measurement at one camp but it's possible that it was really a shoe measurement. I believed until this year that Ingram was at least the same height as Kuzma if not a bit taller and looks like could be a strong 6'7". I can see Kuzma as 6'7.5 Afternoon height with a 6'8" early morning And Lebron being about the same height as Ingram now. We can probably agree that Lebron would be 6'8" morning height and 6'7" afternoon. I don't rule out the listing Rob has but if talking afternoon heights I'd say 6'7 flat. But I'd be surprised if Ingram came out less than 6'7 flat in the afternoon but now that I see he only is listed 6'7 it makes me wonder. Maybe he was a guy who was measured 6'7.5 early morning and asked for a round down due to his weight and deceived us because of his long legs. Or maybe he really is like 6'7.25 afternoon. Whichever the case, he towers over Lonzo Ball
Shane
said on 19/Nov/19
@Canson someone mentioned Dennis Scott and I'm sure you remember him. He was listed 6'8" and always felt he was way overlisted. Tonight on NBA TV he was interviewing 6"7" Brandon Ingram and even though Scott was closer to the camera, Ingram easily had him beat and it looked around 2 inches -- and again -- Scott had angle advantage with the camera. It was shocking. They were not even close. Now, it is possible Scott is wearing a very short dress shoe but still, they again were not even close to the same height .
Canson
said on 24/Jul/19
Looked a hair over 6'5 peak. Today looks solid 6'5" with John Starks. Never 6'5 1/2 at a low but maybe more like 6'5.25 at a low peak height
Click Here
Canson
said on 29/Apr/19
@Junior: that's the truth and very well said. Larry Johnson looks what I saw him at 196 range whereas Barkley is 194 range peak. I would put LJ around Christian's height 6'5 3/8 or maybe at minimum 6'5.25. Barkley 6'4.5 peak or 6'4 5/8
Junior Hernandez 1990
said on 21/Mar/19
In Space Jam we can obviously tell that Larry is 2cm taller than Charles Barkley.
Canson
said on 11/Mar/19
@Viper: that's possible but it's also possible that he's measured earlier in the day at or near that mark. He's for sure not less than 6'5" in person and could be something like 6'5.25 at a low is what I guessed him at
viper
said on 10/Mar/19
I think he was measured at 6-5.25 and rounded up.
Canson
said on 19/Sep/18
He's somewhere 196 range at a low at his peak. Best case Christian's height worst case he's 6'5 1/8 prob
Canson
said on 16/Sep/18
@Junior: he's somewhere between 6'5-6'5.5. He is an inch taller than me
Junior Hernandez 1990
said on 13/Sep/18
He might be 6'5 1/4.
Canson
said on 13/May/18
@Saint_Germaine: i played basketball collegiately and in AAU back in the day. That's why I've met so many players through playing and my friendships with coaches etc. But I don't have a picture with LJ as this was back in the early 2000s when I met him. This was around the time he had retired from the Knicks or actually shortly after. My college team happened to be playing in a tournament in the New York area (believe it was actually in New Jersey) and he was at the tourney himself a couple days and we met him. I actually shook his hand and stood next to him at one point. He was "about" an inch taller. You'll see now that The reason I mentioned below that I have "other 6'6 or a hair over friends" is because I had a teammate who was maybe a hair over 6'6" barefoot then and he was clearly taller than LJ when he stood next to him. I also have a 6'7" friend who was a teammate then and a buddy of mine still who is noticeably taller. But even the 6'6" friend looked about an inch taller imho, and then one of the coaches commented that LJ wasn't as tall as he was listed, and LJ looked at most an inch taller than me when I stood next to him. Of course my teammate was listed 6'8 as I was listed 6'6 then when I'm 6'4 1/4 at my low and 6'5-6'5 1/8 out of bed. But my point back to Daniel is a very valid one. A guy who measures 6'5.5 at some point during the day could easily dip down not only to 6'5.25 but maybe even 6'5 if the measurement was an earlier one in the day which is the case with a lot of NBA players. Not to mention LJ was drafted in 1991 when they didn't list by 1/4" increments let alone 1/8" increments. Today they do 1/4" but not 1/8". Daniel came at me as a know it all which is why I posted the way I did when all I said was 198 out of bed 196-196.5 at a low which is very valid and reasonable for a guy that not only measured 6'5.5 at some point during the day but for someone who was measured most likely under 6'5.5 since there is no marker between 6'5 and 6'5.5. I also say it because people take the draft listing as gospel and don't take that into account. Most players aren't as tall as listed even barefoot. And there is another poster who posted on this particular page (I won't mention the poster's name), that said that he didn't believe height varies throughout the day. He said less than a cm which is bologna. Even Rob has said that it does.
But not having pictures is also the case with Many of the others as I met them early 2000s to late 2000s and mostly playing ball in a tournament or a game in college. Being that I spent most of my earlier years playing against a lot of them, it's nothing special when I see them to where I need a picture. If I had the opportunity to meet Michael Jordan or Kobe or Barkley where I could actually stand next to them and meet them as opposed to them walking in a distance then I would. I've seen Jordan play ball before but never actually been on the ground with him. I've seen Barkley play as well and from a distance walking once and I didn't get the impression even from the distance that he was really any taller than me. But We did not have smart phones like this back When I played. If we got a Polaroid then yea but not with a digital camera or phone as often. But It's not like I'm a celebrity myself or that I happen to meet people. Most of my interactions are through basketball and me playing. The only one who was recent was Carmelo Anthony in 2016 and that was inside of a restaurant so I didn't take one with him. I think the next time I do get the opportunity I will get one though (of course with my face blacked out), and post.
Saint_Germaine
said on 11/May/18
canson why don't you show the picture you took with him when you met him. I have read that you claim to have met many former players, so you must have taken pictures with a few of them.
Canson
said on 8/May/18
@Daniel54: I've met LJ in person and yes he would measure 6'5.5 at some point in the day but do not believe that it would be a low for him. He looked closer to 6'5" in person than 6'6". They don't measure people near their low. It's usually earlier in the day and back in 1991, they didn't list 1/4" increments only 1/2" or full so even if he had only measured 6'5.25 that would be 6'5.5 on paper. You would be hard pressed to see a 1/4" difference. I only could because I have legit 6'6" or a hair over friends and they are noticeably taller than he was when I met him compared to me
Daniel54
said on 7/May/18
No Canson, this listing is correct. He is 6-5 and a half (197).
Canson
said on 16/Apr/18
198 out of bed
196-196.5 at a low
Height
said on 23/Feb/18
Same height as Dr. J and Dennis Scott: 197cm
Canson
said on 12/Feb/18
@Junior: I don't think he was at his peak but today not sure. Doc is a bit older than LJ. When I met LJ he had me by a touch. Didn't look a full inch at first but that's the absolute max. I also saw a pic where he was next to my 6'5.25 friend (night height for him) and they were identical to a T
Junior Hernandez
said on 11/Feb/18
Larry Johnson may not be taller than Dr J.
Canson
said on 13/Oct/17
At his lowest more like strong 6'5. 196-196.5. Had me by max 1" and looking at him with Dell Curry (192ish in person) looks 1.5" taller.
Canson
said on 13/Jun/17
Practically Christian's size
198-198.5 out of bed and would measure closer to 6'5@ at his lowest than 6'6
196 to 196.5 at his lowest
Canson
said on 10/Jun/17
i never realized how small John Starks actually was until I saw a pic with LJ and my buddy who is 6'5" and change both. Starks looks as if he "just" clears 6'2 and was listed 6'5 lol
Height
said on 8/Jun/17
He is in the 196.5 cm to 197 cm range
Canson
said on 23/Mar/17
He would edge Howard stern by a hair but not much. I'd put him maybe as 196.2-196.4 range and Stern 195-196 today
Canson
said on 13/Mar/17
@S.J.H: id go with maybe 198/196.2. He's probably identical with Christian. He looked like he had me by a full inch in person but 7/8, 1", 1 1/8" aren't much in terms of difference. I also saw a pic with my 6'5" friend who met him. He's 196.3 cm to 196.4 and looked identical. Now could've been shoes or even hair but I'd say the lower 196 is a good shout for him
S.J.H
said on 9/Mar/17
Canson said on 23/Nov/16
Larry johnson is more like out of bed 198.5 at night 196cm. Most of time he doesn't look over 2cm taller than mj
Canson
said on 21/Jan/17
Click Here
He says 6'7" power forward and 6'5 with his shoes off in the video then another time says when you're talking about me you're talking about a 6'5/6'6 power forward. I've heard him say 6'5" on other occasions too
Canson
said on 21/Jan/17
Nah. I've met him. 1" taller than me. Rob is close enough likely is a strong 6'5 on the cusp of a weak 6'6"
Christian-196.2cm (6ft5.25)
said on 21/Jan/17
If Canson says that Johnson is 6ft5 1/4-3/8, then we should take his word for it. He's nowhere near the 6ft6.25 the Average Guess Votes currently has him at.
He looks to be barely 2cm taller than Michael Jordan, who is 195cm, so he can't be anything over 197cm
Rampage(-_-_-)Clover
said on 20/Jan/17
6ft6 isn't impossible
berta
said on 19/Jan/17
hm i dont think he was measueed 197 just by looking at his i see he is taller than me. think he could be 198-199
Canson
said on 23/Nov/16
Out of bed 198.3 at night 196.5
Canson
said on 28/Sep/16
I've actually met him in person. He was 2-3 cm taller. I'd go with 6'6-6'6 1/8 out of bed 6'5 1/4-3/8 at his lowest
Rampage(-_-_-)Clover
said on 23/Sep/16
6ft7 might be a slight stretch but 6ft3 is a joke
Animus
said on 23/Sep/16
Rob, you are thinking of Michael Jordan. At age 15, Jordan was 5'11" and didn't make the varsity team.
By the way, Scottie Pippen is 6'6.5". He looks identical to Dennis Rodman (6'6.5") and Carmelo Anthony (6'6.25"). That's why he is listed at 6'8", since that would roughly be his height in shoes (within a small fraction).
Editor Rob: it was a book about Pippen, and said that he wasn't yet 6ft at age 15
S.J.H
said on 23/Sep/16
I thought he look as tall as michael jordan
travis
said on 22/Sep/16
that tall enough period u dont wanna be super tall and have problems
Borats Chicken
said on 22/Sep/16
Rob, would you mind looking at retired nba Scottie Pippen? He is listed as 6'8 but looks lower to 6'7.25 to 6'7.5
Also stories about him being 6'1 and growing to 6'8 around 19 to 20.
Editor Rob: at 15 he wasn't 6ft, so from 15-20 had a decent spurt, I haven't found an exact figure for him really.