Lena Headey's Height
5ft 5 (165.1 cm)
English actress best known for playing Cersei Lannister in Game of Thrones, starring in Terminator: The Sarah Connor Chronicles. In film she appeared in 300, The Brother's Grimm and Dredd 3D. In Parade magazine she mentioned she was 5ft 5.5.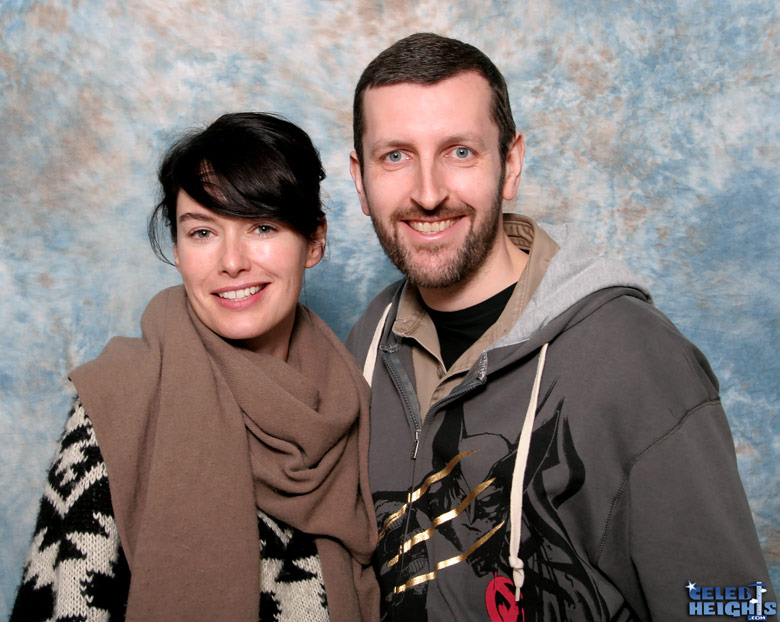 5ft 8 Rob and Lena @ Collectormania (2nd Jun, 2012)
She then told me she is 5 feet 5 1/2. 'A regular Amazon, I am,' she added sarcastically. 'So don't forget that Crucial Half-Inch.'
You May Be Interested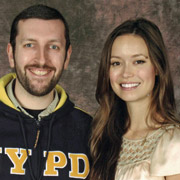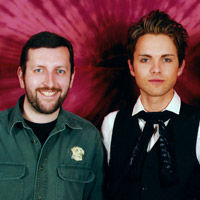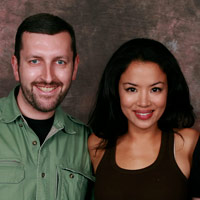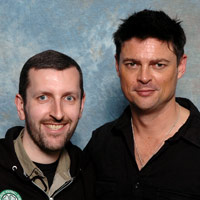 Add a Comment
68 comments
Average Guess (67 Votes)
5ft 4.86in (164.7cm)
ALEXIZ/180cm
said on 18/Apr/21
163 cm in my opinion
ChaosControl 6'2.5
said on 22/Dec/20
Maybe she's 5'5.25 then
ChaosControl 6'2.5
said on 21/Dec/20
Is there a chance she is what she claims at 5'5?

Editor Rob
5ft 5.5 at lunchtime I wouldn't have guessed. However maybe she wasn't far off that mark 9am
Monkey knees
said on 18/Dec/20
Have met her a few times, absolutely stunning in person! 5ft 5in flat is perfect!
Miss Sandy Cowell
said on 3/Oct/20
🎁🎂💐🎈 Happy Birthday Lena! 🎈💐🎂🎁
Many Happy Returns to Lena Headey, who turns 47 today and looks as stunning as ever.
5ft5 and NO LESS! 😁👍🌹🎊
🎁🎂💐🎈🎁🎂💐🎈🎁🎂💐🎈🎁🎂💐🎈
Hayden
said on 2/Sep/20
5'4 not much more. you are easily 4 inches taller than her
Nik
said on 16/Jul/20
She probably loses her cherished half-inch during the morning!
JohnMoore-162cm
said on 7/May/20
5ft4 3/4" to 5ft5 1/4" , solid 5ft5 is a good shout
Nik Ashton
said on 26/Apr/20
She has height enhancing hair and a well deserved 60th comment!
truthteller25
said on 26/Oct/19
She looks about 5'4.5 near him an easy 4 inches shorter.

Editor Rob
In person I wouldn't have guessed under 5ft 5.
Miss Sandy Cowell
said on 3/Oct/19
🕯️🎂🎁💐 Happy Birthday Lena! 💐🎁🎂🕯️
Wishing the angel-faced Lena a very Happy 46th Birthday. I really enjoyed her performance in 'The Purge'.
5ft5. 👩👍
🕯️🎂🎁💐🕯️🎂🎁💐🕯️🎂🎁💐🕯️🎂🎁💐
Nik
said on 14/Sep/19
5'5" is fine!
Nik
said on 14/Sep/19
@ Canson - Now he's back!
Canson
said on 18/Jun/19
@Nik: it was about a month or maybe Month and a half last time. I do miss him tho. One of the realest people I've met here
Nik
said on 17/Jun/19
@ Canson - You could email him or ask Rob to email him for you. Christian was off once before for several months and he then came back, I think the same thing will happen again.
Take care,
Nik
Canson
said on 16/Jun/19
@Nik and Sandy: I haven't heard from Christian in quite some time. Hope he is doing well and I miss him
Nik
said on 16/Jun/19
Her attitude is probably 10'10" though! I like her hat!
Nik
said on 15/Jun/19
@ Sandy Cowell & Christian - Nice one! Lena Headey ain't 10'10"!
Miss Sandy Cowell
said on 13/Jun/19
@ Christian - So did I just now!
Lena's' good 'n' gutsy in 'The Purge' and plays Liv Tyler's sister in 'Onegin'. What a contrast in films! 😯
5ft5.
Christian
said on 18/Dec/18
@Nik
I kind of got confused for a second, I thought you meant her height was 130.5 inches, lol.
Nik
said on 17/Dec/18
Her height is equal to 130 1/2 inches!
5ft7Accountant
said on 24/Jul/18
My mistake Rob, I didn't notice I said Lena Dunham. Dunham has no class compared to Ms. Headey! Dunham is just another virtue signalling actress from Hollywood!
Nik
said on 14/Jul/18
Lena Headey can have 5'5"!
5ft7Accountant
said on 13/Jul/18
Rob, how much did you pay for this photo op? You are in luck! Lena Dunham s not appear in many conventions.

Editor Rob
This was 2012, I believe her first convention. Yeah, she doesn't do many.
£20 I believe it cost.
Nowadays, with prices increasing for convention photos it would be more £50.
Jason Momoa
was only £15 at that event. He is now up to £75 for a photo! Ridiculous.
In the past 6-7 years ago it was rare for anybody to be £30 or over for a photo.
Now it seems half the guests are from £30 to £80. Means I can't attend many events now, the cost is too much, even though I'd love to get as much content for this site as possible.
MAD SAM
said on 22/Jan/18
She might be telling about her morning height probably but she's 164 cm in reality
MJKoP
said on 20/Sep/17
Looks like "that crucial half-inch" went to her costar Summer Glau. :D
ana
said on 26/Jul/17
5, 4 there is bum that makes reach 55, but her face is lower. Didn't know she was my height, wow.
even
said on 20/Jul/17
a full 165 cm
Giorgi
said on 20/Jun/17
Rob, why didn't you retake a picture. She looks horrible here compared to how beautiful she is ;))

Editor Rob
it's pretty much how she looked that day...considering it's the cold confines of the half finished Milton Keyenes football stadium, it could have been worse!
MJKoP
said on 24/May/17
You forgot that crucial 0.5", Rob! ;)

Editor Rob
out of bed she can certainly have it 👍

I do think she is more 5ft 5 flat during daytime though...
Javier
said on 21/May/17
I'm 5'9" where would the top of her head be with me.

Editor Rob
Javier, her hair would look above your eyebrows a little bit.
Sandy Cowell
said on 31/Jan/17
I've so far missed out on 'The Sarah Connor Chronicles' and 'Game of Thrones', but I have still seen Lena in loads of truly fantastic stuff! It can be a welcome distraction having such a pretty actress in some of the terrifying things I've seen her in, including a horror wherein her head is carved off by a masked maniac! Not very nice! She is also brilliant in 'The Purge', as a mother sticking up for her plucky little family the way only a Mum can do on the one night of the year when it's declared legal to commit unspeakable crimes so that people can 'purge' themselves of all their pent-up anger! Radically nasty stuff from a radically strange mind!
I think Lena is 5ft5. I don't think she's smaller. It's surprising how small 5ft5 looks onscreen I am coming to realise - even 5ft7 can look kind of small next to tall blokes! It has been quite a revelation for me! I did read that certain guesses are for 5ft4 and others for quite a bit more, but then I haven't seen her in the two series that I mentioned before, where she might look taller! Oh yes, she was also in a film called 'The Face', with Ray Winston and Robert Carlisle. I think that film portrays her height pretty accurately, I really do!
Yes, I'm going for 5ft5 for Lena!
Christian-196.2cm (6ft5.25)
said on 16/Dec/16
"Lena Headey's Height is 5ft 4 7/8th in (164.8 cm)"
Looks 1/2" shorter than the 5ft5 3/8 woman Rob mentioned.

Editor Rob
I was talking to the 5ft 5.75 and 5ft 5 1/8th challengers yesterday and Lena is definitely no taller than the 5ft 5 1/8th girl in person...
josh jeffords
said on 7/Nov/16
Funny how short she is she onscreen measures up to 6 1 very well looking above average so weird.
Didnt look at all short in 300 in sandles or less but they did a lot of angles in that.
Good actor but can go too over the top when playing villainous roles probably why shes on hbo...
Scary how pretty she is but like theron she will play ugly gross deformed characters must be pretty secure.
ERIC PLEASANT
said on 3/Oct/16
She has cut such an imposing figure on GAME OF THRONES and the earlier SARAH CONNOR CHRNONICLES that it is difficult to believe that she is smaller than she come across.
5'6.5 Indiana jones guy
said on 2/Jul/16
At times can she be at 166-167 cm?

Editor Rob
in person after a few times of seeing her I would say a typical 5ft 5 girl.
Alex
said on 27/Jun/16
Her eye level is about 153 cm, so 165 cm should be right.
MSA
said on 29/Apr/16
I met her at the London Film and Comic Con in 2014 and it was a real pleasure. The 5'5 rating was correct at the time. I met her in the middle of the afternoon. I do not doubt that 5'5.5 would be possible early in the morning. She would not look out of place, in terms of her height and appearance, with members of the modern British aristocracy and she is very convincing as Cersei.
Peter 180cm
said on 12/Apr/16
Her hair makes her look about 165cm,i don't see anymore than 163-164 range,possibly just about 163cm.
Josh b
said on 3/Sep/14
Click Here
My photo with Lena, she had a good inch advantage I believe.
mila
said on 7/Jul/14
she looks taller than she is
Sam
said on 16/Jun/14
"She looks very eastern European/Jewish to me." Don't see it...although in the photo w/ Rob she might pass physically for a member of the tribe, she looks very English to me, haha.
Chris
said on 12/Jun/14
Well, she's always in long gowns on GOT so you can't really tell her height because you don't know her footwear, but looking at outside pics she looks completely average in height, so this listing seems spot on
yalo
said on 2/Jan/14
she looked fairly tall for a woman in game of thrones i always thought she was 5'8/9. but yes she's 5'5
Arch Stanton
said on 23/Dec/13
She looks very eastern European/Jewish to me.
Bakura
said on 7/Nov/13
Do you think the 5'5.5 was a morning measurement?

Editor Rob
quite possible somebody could measure almost 5ft 5.5 at 9am and go with it. I think she was a classic 5ft 5
J.lee
said on 7/Aug/13
look 3.5 inches taller rob
Len
said on 27/Jul/13
Wow... prettier as brunette. Surprising for those of us who know her mainly from 300 and Game of Thrones.
Nick
said on 29/Apr/13
I had the pleasure of meeting her on the weekend in Calgary for the Expo. She is just the sweetest thing, 5'5 sounds right.
Joey
said on 8/Feb/13
i like the fact that she is not wearing, or almost not wearing any make up on the photo.....and why should she, she is beautiful
Aragorn 5'11
said on 15/Jan/13
She's 5'5. I've seen her at the premieres of Game of Thrones and Dredd in Los Angeles and she definitely is 5'5 without heels of course. Extremely beautiful and a great actress as well. She is an amazing villain in both Game of Thrones and Dredd.
Will
said on 30/Dec/12
She is 5'5". Oh, gorgeous girl BTW Rob.
prachi
said on 20/Sep/12
look is so good
Jason
said on 8/Sep/12
Did she look better in person? This photo doesnt do her justice I think

Editor Rob
the print colour isn't quite on the money, but she looked to have pretty minimal makeup in any case.
Sceptic
said on 8/Sep/12
[Editor Rob: maybe 5ft 8 is possible]
Ah, thanks for the reply. Yeah my guess was about 5'7.5, although he can look shorter at times. Anyway, 5'5 seems pretty spot on for Headey.
jtm
said on 8/Sep/12
she looks 5'4 in most pictures.
pancake
said on 7/Sep/12
REALLY? i thought she was close to 5'8!
Sceptic
said on 7/Sep/12
You sure are getting pictures with a lot of the GoT cast these days, Rob. I guess they must be making the rounds at conventions these days.
I was wondering how tall you thought Alfie Allen (who plays Theon Greyjoy) is?

Editor Rob
maybe 5ft 8 is possible
Mathew
said on 7/Sep/12
Rob, she said "So don't forget that crucial half-inch" and you're not even giving it to her? Not even a 166 cm? haha
mf
said on 13/Jun/12
She's looks tall.
terminatorfan
said on 12/Jan/12
I think she's more like 5'4. She always looked shorter than Summer Glau in the Terminator series. Also, her I.D. at one point (in the show's pilot) says 5'4. Her legs just don't look long enough for 5'5''. Having said all that, she is gorgeous.
Silent d
said on 11/Jan/12
She looked average in st trinians. Tamsin edgerton is really tall. I think 180+. 166cm for heady is right considering there were a lot of models in that movie.
Bon
said on 16/Dec/10
wow, I thought she was much taller. Certainly I don't buy anything under the listed height.
Batfan
said on 22/Mar/08
In the terminator serie a cop said she's 5'5.
bruce_willis
said on 11/Feb/08
on her passport in the terminator serie she is 5'4 and weighs 110 pounds.
AshnarLynx
said on 8/Feb/08
She looks about 5'6 to me.
Franco
said on 25/Mar/07
Lena Headey got some abnormally crazy shoes in there how she walks in them i donno, she looks 1.76-1.77cm there so take off these 10+cm shoes and she would be 1.65 to 1.67cm.
wow....bellucci looks 1.78cm in that picture! i bet she is 1.68cm to 1.70cm cause of course she got heels under that dress.
Anonymous
said on 7/Feb/06
I have a sneaking suspicion that she's shorter than that. In the picture below, she looks about three inches shorter than Matt (listed as 5'10" here) and almost a full head shorter than Heath (listed as 6'1" on this site).
http://www.lenaheadey.net/photos/displayimage.php?album=2&pos=54
And her heels look close to three inches:
http://www.lenaheadey.net/photos/displayimage.php?album=2&pos=53
So unless Matt is 5'11.5" and Heath is 6'3", Lena's probably much closer to 5'4".