Lil Peep's Height
6ft 1 (185.4 cm)
Gustav Elijah Åhr was an American rapper. His autopsy report mentioned he measured "approximately 73 inches in length and weighing 158 pounds". He once claimed to be Six Three.
You May Be Interested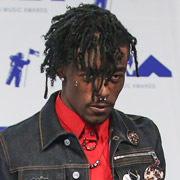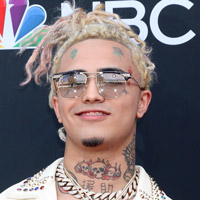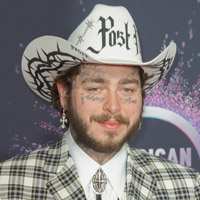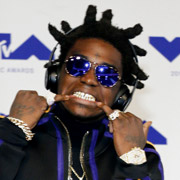 Add a Comment
42 comments
Average Guess (47 Votes)
6ft 0.45in (184cm)
Slim 6'1"
said on 3/Aug/20
184 range
Will B (5'11)
said on 22/Jun/20
I think he wakes up 186cm and goes to sleep 184cm. Pretty tall but not huge.
Looks about 2 inches taller than 5'11 lil Tracy. For sure not 6'3 but closer to 6'2 is possible. RIP PEEP
Ktlilly
said on 17/Sep/19
Between 6ft 1 1/2 and 6ft 2
Luke anderson
said on 5/Aug/19
It's pretty easy for a legit 6"1' guy to look 5"10' to 5"11' with careless posture, although whenever he stood up straight he easily cleared 6"0 without question.
Fishnarc is around the 6"3' range and he didn't look a great deal smaller in concert. Maybe 1.5 inches..
Peep wakes up at 186.5 and goes to bed at around 184 185 Making him easily 6"1' barefoot, and 6"3' as a timberlands claim... he loved Tim's back in 2016
Edimar184
said on 4/Feb/19
Rob I believe that your site is gaining more notoriety, currently several google height listings are being based on this site, LiL PEEP and Post Malone were the most recent I saw.
Adryan
said on 17/Dec/18
182 range on my eye. He has bad postury anyways.
Slimjimmy
said on 18/Nov/18
Im 186 cm tall and peep to me looks about the same watch awful things music video as he walks out of that room with shoes on im 6 ft 2 but peep was kind of goth emo scene where they wear shoes that add height thats probably why he claimed 6ft3 im around 6ft3 with timberlands on
Rampage(-_-_-)Clover
said on 12/Oct/18
184-185cm range maybe Rob?
6ft3 is insane but as skinny as he was I'm sure he would look taller to some. 6ft flat is too low for him I think.

Editor Rob
That range is a possibility, over 6ft but not 6ft 2-3 though
a sorry 179cmer
said on 19/Jul/18
He's 6' foot at most. Maybe 5'11. Autopsies can be pretty inaccurate.
edimaropk
said on 12/May/18
After watch videos about him at day by day, My guess now is almost 6ft1, is a tall guy, but show shorter impresion.
Big lad
said on 11/May/18
He's 6'3, he said in an interview on no jumper. He does have awful posture though
Dee
said on 17/Apr/18
Looks taller than Post Malone here so he def was 6'1
Click Here
sleezeball05
said on 2/Apr/18
i think hes 6'1 he just always has bad posture, he doesnt seem to care his feet are always wide posing for pics nerd neck etc
LT
said on 30/Mar/18
Rob come on 183.5 for peep and 181 for Joey are much more believable listings with the photographic evidence we have, honestly peep is lucky to listed 6'
QM6'1QM
said on 30/Mar/18
There is no chance that it would be so tall as 6'1. Absolutely no chance.
P.S. I'm 6'1" and my legs / arms are much longer, my torso is just bigger. It is no more than 6 feet.
Chase
said on 28/Mar/18
I feel like there's enough evidence for a downgrade to 6' 1/2. He's clearly not any taller than post Malone
erfre
said on 27/Mar/18
or not 6'4 but at least 3-4 cm more
erfre
said on 27/Mar/18
Joey Badass is listed at 188 cm on Google, in this case Lil Peep is 6'4
189Night
said on 27/Mar/18
Tbf he can look a lot shorter because he has awful posture due to his personality, very shy and very awkward
Chase Martin
said on 27/Mar/18
I wouldn't consider him tall, definitely not short. He seems to be about your average mans height or in inch taller. My guess is 5 foot 11 inches tall.
Dee
said on 26/Mar/18
Looks taller than 6'0 Joey Badass here
Click Here
erfre
said on 26/Mar/18
he don't have short legs, look at other pics guys. It's definitively this pant that gives this impression
Click Here
Click Here
edimaropk
said on 25/Mar/18
Short Leggs, My guess is 5ft11.
Sam Naples
said on 25/Mar/18
Keep in mind that Spinal fluid increases a persons height after death
Chase
said on 25/Mar/18
He looks 2 inches shorter than 6'2 riff raff in one of his Instagram posts.
Chase
said on 25/Mar/18
You also got to keep in mind that he was asleep when he passed. Definitely possible he was near his morning height when he died. They also may have measured with shoes on? Tupac measured almost 2 inches taller on his autopsy.
erfre
said on 25/Mar/18
Also on his instagram there is a pic of him with Riff Raff who claimed 6'2 and they are similar
LT
said on 25/Mar/18
Rob are you going to downgrade him looks nowhere near it.

Editor Rob
Well the question is his autopsy wrong or not, I think there's always a chance he was 6ft.
erfre
said on 25/Mar/18
Yes, he claimed 6'3 in No Jumper, you can add this quote Rob. And I'm not agree Groovy, he is thin and that's why he looks so tall. He have a very long and tall frame. But this picture is not the better because of clothes.
Kevin
said on 25/Mar/18
6'1 out of bed
Fisticuffs
said on 24/Mar/18
@chase, that looks more 3-4 inches. And what are those things he's wearing lol
Groovy
said on 24/Mar/18
looking at his frame wouldn't guess more than 5'11
Dee
said on 24/Mar/18
Peep was a legit 6'1. Look at his pictures and videos with him and other people you can see that he was above average height. Look at him with Travis Mills who's been described as 6'2.5-6'4. Definetely 6'1.
Click Here
Also in this interview at the 42:05 mark, when asked how tall he is, Peep said "Im like 6'3".
Click Here
6'3 is definetly an exaggeration. But 6'1-6'1.5 was likely
LT
said on 24/Mar/18
Doesn't look it
Khakim
said on 24/Mar/18
weak 6 ft
rip
erfre
said on 24/Mar/18
Click Here
him with russian fans
Chase
said on 23/Mar/18
Click Here
Yeah even with the lean there's no way this is 7+ inches. Looks more 5'11-6'
Chase
said on 23/Mar/18
Definitely a over listing. He looked shorter than post Malone.
189Night
said on 23/Mar/18
Followed this guy since the beginning of his career, such a loss to modern music R.i.p Gus
Canson
said on 23/Mar/18
@erfe: yea Melo is around 6'6 but not under. I could buy 198/199 tho
Danimal
said on 23/Mar/18
Drug overdose at barely 20 years old??? Pretty disturbing.
erfre
said on 23/Mar/18
5'11-6ft looked more accurate, about 5-6 taller than Bexey and the same as Tracy Minajj