Luke Pasqualino's Height
6ft ½ in (184.2 cm)
English actor, best known for playing D'Artagnan on BBC show The Three Musketeers and Freddie in Skins. In film he has appeared in Snowpiercer, The Apparition and Love Bite. On his spotlight casting page he is listed 6ft 1(185cm) with a weight of 11st 8lbs and on his twitter page in 2009 said
"6'1" and a little bit"
. I saw him at an LFCC convention and would estimate he was over 6ft, maybe just under 6ft 1.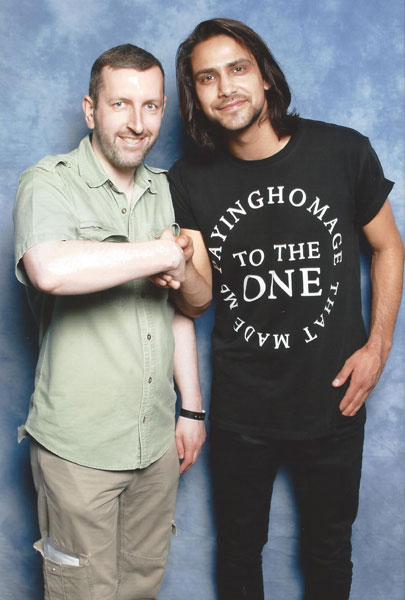 5ft 8 Rob and Luke
You May Be Interested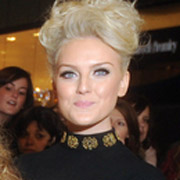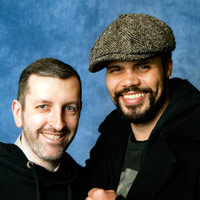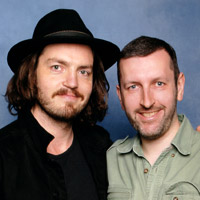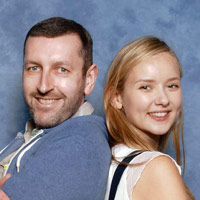 Add a Comment
23 comments
Average Guess (9 Votes)
6ft 0.42in (183.9cm)
Vsquad
said on 24/Jul/20
I watched Snowpiercer recently. There's a few shots of Luke standing next to Chris Evans, but the camera angles are really bad.
I thought they looked identical in height from what I could gather, even though Evans was bald in the movie while Luke's hair was really puffy (which might have been in his favor).
On their own though Luke gives off a taller impression than Chris due to being lanky. Not sure about the full 6'1 but I wouldn't rule it out tbh.
Nik
said on 1/Sep/19
He must be losing a good two inches of height there! All the vowels can be found in his name!
Nik
said on 2/Jan/19
I think he can pull of 6'0.5" very well indeedy!
Nik
said on 1/Jan/19
He is losing bags of height!
Peter 180cm
said on 31/Dec/18
183cm flat,probably.At most 183.5 but i'm not seeing it even though there might be a chance for 182 range therefore barely 6'0.
Westworlder
said on 14/Jun/18
I actually think if he was standing straight his mouth would be well above your eyebrow level, crossing the 4.5 inch line. Hard to be completely sure though.
Rampage(-_-_-)Clover
said on 11/Mar/18
Losing a great deal of height in that photo
Paul NS (6ft0.5)
said on 17/Feb/18
Now that's a tragic photograph... you can tell by his shoulders he'd be a good bit taller than you, though.
Myself
said on 7/Jan/18
Pretty pathetic height updating... "Oh look, until last week i was a little bit over 6'1 (no), and now i'm another little bit taller! (no) Now i think i'm 6'1,75"! Who knows, maybe next month i will be 6'2!" And all this at almost 30 years old. (It's not a quote)
Alright then, Look, that middle aged woman guessed me at 2m tall, then i'm 6'7 for sure!
Lobehold
said on 17/Oct/17
Luke looked taller than Chris Evans in Snowpiercer, although this site can't seem to decide whether Evans is 5'11.75 or the full 6. So, I don't know where that would definitively put Luke either way.
Jack
said on 7/May/17
Luke looked spot on 6'1" in Skins but Jack O'Connell and the kid playing JJ were just really short. And then the fact that the rest of the cast consisted of females only gave him more of an edge/illusion as well. I don't oppose any listings from 5'11" to just under [6'1"] since I haven't seen him in anything outside of the advantageous Skins.
BlueAvenger
said on 15/Feb/17
Always looked a shorter than Howard Charles in Musketeers. Would have thought somewhere between 6' & 6'0.5"
189Night
said on 27/Dec/16
This is the minimum you could go for him I think because he does look the same height as Howard Charles, for me he is 185, 186 max, 184 minimum
Rampage(-_-_-)Clover
said on 9/Dec/16
Rob, have you met this guy?
Editor Rob: yes, but exactly like Cudlitz he dropped too much height for a photo, so it's not worth adding.
Some Guy
said on 16/Sep/16
Rob, IMDb and Google has updated his height as 6ft 1.5in (1.87 m) which doesn't seem too far-fetched. I mean he looks really tall in Skins when compared to 5ft 5in (1.68 m) Kaya Scodelario:
Click Here
Editor Rob: never would have guessed him that tall, in person I thought the guy was over 6ft and under 6ft 1.
joe joe
said on 3/Mar/15
I've met him and he is not 6FT I would put him more in the 5'11 range I was about 2 inches taller than him. Im 185. 6ft guys always feel clsoe to my height but he was way shorter than I in similar footware
newguy
said on 27/Feb/15
In skins he looked 6ft-6'1 range he's definitely in that range
MD
said on 25/Feb/15
Huh? That gallery you show, if anything, speaks more to my point of a flat 6'0" at the most. In fact, in some of those photos, Cabrera actually looks taller. lol You even have the photo in there with Harry Styles (in boots) of course, looking almost exactly as tall. There is no way he's 6'1". Thanks for the photos.
JohnGB
said on 24/Feb/15
I think 6'0 suits him personally, he looks very close to Santiago who is more of a strong 5'11 I think(~181.5cm). Definitely shorter than Jack Whitehall even with the weird lean.
Tim 181
said on 23/Feb/15
Judjung by proportions I would have thought 5'11"
newguy
said on 21/Feb/15
I expected him to be 6'1 I knew it and yeah arch I agree with you thought he was indian
miko
said on 21/Feb/15
Weak 6'1, very lanky.
Arch Stanton
said on 21/Feb/15
Looks good, but he's a full blooded Italian. I must admit I thought he'd be more South American ancestry or even part Indian.