Perrie Edwards Height
5ft 3 (160 cm)
British Singer known as a member of the band Little Mix, known for songs like "Wings", "Move" and "Black Magic". The members appear within an inch or so of each other, in and around the 5ft 2-3 range.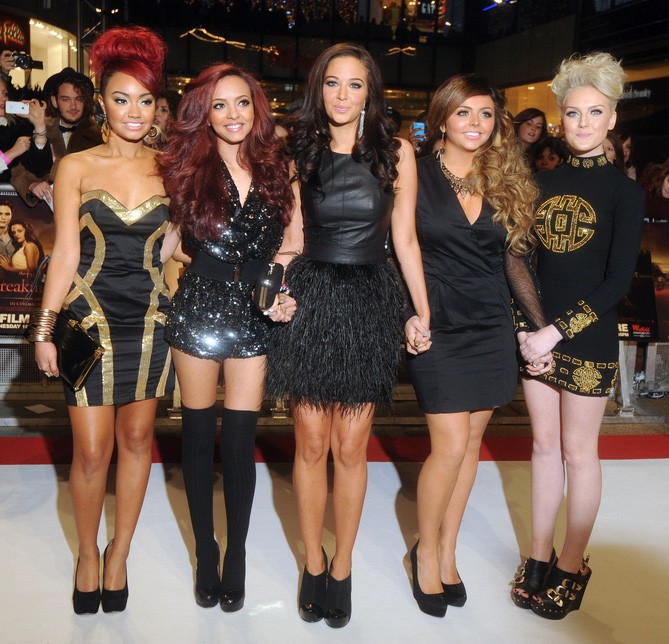 Leigh-Anne Pinnock
, Jade Thirlwall,
5ft 6 Tulisa
,
Jesy Nelson
and Perrie Edwards
Photo by PR Photos
Add a Comment
30 comments
Average Guess (17 Votes)
5ft 2.79in (159.5cm)
Yan Sabine
said on 1/Dec/20
They are all in the 5'2" - 5'3" range.
However, Perrie barefoot is the tallest. Their music videos and live performances where a lot of those where they wear the same shoes show Perrie is an inch taller than the girls.
GTB172cm
said on 22/Jul/20
I'd go with 159-160cm
Miss Sandy Cowell
said on 10/Jul/20
💐🎶🎊🎂 Happy Birthday Perrie 🎂🎊🎶💐
Here's wishing Perrie Edwards a fantastic 27th Birthday today! 😄👌
When I was in hospital having my hip replacement operation, the second youngest woman to me, who was 9 years my senior and shared my taste in prog rock, had actually accompanied one of her young daughters to a Little Mix concert. She said the girls put their all into the show, and she ending up having a thoroughly good evening. And she only went along because there was a ticket going spare...!
🥂😂🥂😆🎵🎧🎶
Perrie gets 5ft3. 😁👍
💐🎶🎊🎂💐🎶🎊🎂💐🎶🎊🎂💐🎶🎊🎂
Hw19
said on 22/May/20
Rob, what is the average height of a woman in the UK?

Editor Rob
The overall average is near 162cm, with close to 164cm for those 18-30 year old women.
JohnMoore-162cm
said on 30/Apr/20
She looks 5ft2 1/2" max with her boyfriend Alex Ox-lade who is 5ft8 1/4"
Sharanya
said on 25/May/19
How come Google listed her at 5'4" when the majority of the sites say 5'3"? I think she looks more like 5'3".
Miss Sandy Cowell
said on 23/Apr/19
No wonder they're called LITTLE Mix! They make 5ft6 Tulisa look positively tall!
Five three.
Jancys
said on 25/Feb/19
She is very short, probably around 156/157 cm.
MAD SAM
said on 12/Jun/18
Did a lot of research ... gonna put her at 158 cm
Kelly
said on 22/Jul/17
She is the shortest 5'2"- 5'2" 1/4 range
Kelly
said on 11/Jul/17
Yes I simply agree 5,3
Cal77
said on 28/Apr/17
Looks the shortest in the group
Chris
said on 5/Feb/17
This is the most she could be
Katie
said on 7/Jul/15
Perrie is actually 5'2!!! Watch the Capital FM video 'what's littler than Little Mix?' and Perrie is the shortest of the group. Leigh Anne is 5'4 and Jade/Jesy 5'3.
Ally
said on 13/Apr/15
She doesn't look any taller than she is listed, 5'2-5'3 seems right
awesome
said on 10/Feb/15
im really thinking 5'4 I met ZAYN I asked him how tall is PERRIE he said she was about
5'3 or 5'4 ONE DIRECTION IS AWESOME
xina
said on 8/Oct/14
Everyone I've met her and I'm 5'3 and she was about an inch taller so she's about 5'5(165cm)
Cay Cay
said on 23/Jan/14
She looks taller....but she still is pretty!!!!
ikram
said on 17/Jan/14
she looks more taller ,mostly when we compare her with zayn
kitten
said on 20/Jul/13
Perrie must be 5ft 3in
Jdog
said on 28/May/13
I met perrie before and she is about 5 foot 3 because i am five 2
Shamucca
said on 10/May/13
They all said once in an interview that they're around 5'2-5'3. Definitely not 5'6!
:D
Simplysara
said on 10/Apr/13
Hard to tell there all wearing high heels.
directioner96 real
said on 27/Mar/13
is she 5'3 or b5'6
directioner96
said on 26/Mar/13
is she 5'3 or 5'6 ????
Mrs styles
said on 1/Feb/13
Perrie is probably 5'6"
Andy
said on 16/Dec/12
What about Leigh-Anne Pinnock(first from left) and Jesy Nelson(second from right),how tall would they be?
[Editor Rob: they are all supposed to be within half inch of each other, I think 5ft 2.5-3 range is what most of them look and posture/shoes can make some look a bit taller/shorter. ]
Arlet
said on 10/Dec/12
How tall is Perrie? 5'3 or 5'6?
[Editor Rob: 5ft 3, tulisa is the one who claims 5ft 6]
marla singer
said on 10/Dec/12
Rob how tall would Jade Thirlwall (the second one from left) be? Tulisa has bigger heels.. 5'4?
[Editor Rob: I think they are roughly all similar range, close to 5ft 3]
Laura
said on 25/Nov/12
Well i am 100% sure that she's 5 ft 3in .I mean I'm sure she's not 5 ft 6 as bio27 says.She is much smaller than Tulisa.5 ft 3's just the right height