Maggie Gyllenhaal's Height
5ft 9 (175.3 cm)
American Actress, known for appearing in movies like Secretary, The Dark Knight and Donnie Darko.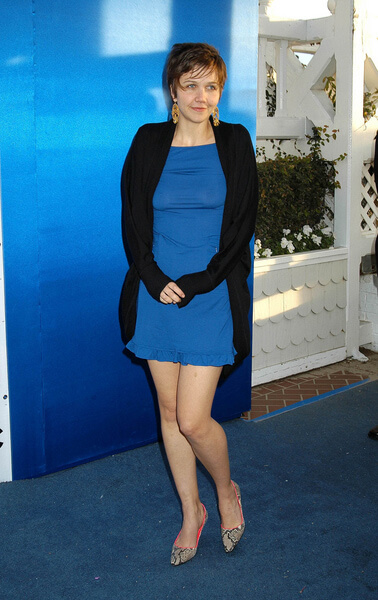 Photos by PR Photos
Add a Comment
55 comments
Average Guess (16 Votes)
5ft 8.55in (174.1cm)
Look at my comment COKK!!!
said on 6/Apr/20
Johnny said on 28/Jun/16
Yes, i wanna know to how my old sister and just have 2 inch different height, im 5'10 and she is 5'8????????
Miss Sandy Cowell
said on 16/Nov/19
🎂💝💐🎈 Happy Birthday Maggie!🎈💐💝🎂
Many Happy Returns to tall and gorgeous Maggie Gyllenhaal! Most impressed by her performance in Donnie Darko, where she plays alongside her brother Jake - as his sister!
5ft9.
🎂💝💐🎈🎂💝💐🎈🎂💝💐🎈🎂💝💐🎈
Mimi
said on 25/Jun/18
So like 6 inches Rob?

Editor Rob
I thin 6-6.5 is a possible difference.
Mimi
said on 25/Jun/18
Rob is she 7 inches smaller than GC here?
Click Here

Editor Rob
Not sure that would be as much as 7 inches, I'd have thought less.
Anonymous
said on 30/Sep/17
Wow 2 in taller than me
Blaine
said on 5/Jul/17
She looks 5'7"!!!
Sandy Cowell
said on 3/Apr/17
When I first saw Maggie in the film, 'Secretary', I did take in that she was MUCH taller than the 5ft6 I had previously believed! You see, I had a nice little picture of her with Liv Tyler (5ft10), and she looked considerably shorter!
I was also absolutely knocked out at how much prettier she was on screen than in that picture! I thought she had a kind of 40's glamour to her face and hairstyle, and then I was delighted to see that she was cast as the mother of the second bunch of kids in 'Nanny McPhee and the Big Bang', a film which is based on round that era, I believe!
I will definitely go along with 5ft9!
Sammy Derrick
said on 21/Feb/17
Maggie Gyllenhaal & Jake Gyllenhaal kinda remind me of my younger sister and I.I'm 173cm (5'8)while my sister is 168(5'6.75),but she could appear taller due to the fact she has more variety as far as footwear and hairstyles go!!!
Maggie if she's 5'9(175cm)she would be equivalent to a man who is 6'2.25(189cm)which is extremely rare to find.(Generally)Plus her round face makes her look like an adolescent!!!Not many Hollywood producers are ready to cast a 5'9 baby faced actress!!! She's very attractive and talented keep that in mind.
Johno
said on 2/Aug/16
She is 2-inches shorter than Jake, she is on the lower end of the 5'8-range, perhaps upto 5'8.5.
Johnny
said on 28/Jun/16
@Rob she is about 2 inches shorter than her brother...what is the general trend in variation of heights in siblings of different gender....being born of same parents?
Editor Rob: it's something I haven't read research on, but I'm sure there must be some data out there giving a rough idea.
Sam
said on 21/Sep/15
Yeah, looked as tall as you'd expect in Frank...kind of a funny face she has but something sexy about her even when playing a scary, mean b like in that.
Triplescrew
said on 20/Sep/15
Looked about 6'1" next to Liev Shrieber on the Emmys. Probably in huge heels.
Bishop
said on 24/Feb/15
With Gwendoline Christie:
Click Here
manletshame
said on 17/Jan/15
Looks 5'10" often. Definitely a tall woman. Interesting that Jake is only 6'0".
177cmGuy
said on 18/Jul/14
She looked 5'9 in the Dark Knight back in 2008 and with heels on was the same height as Christian Bale.
The Horse of FUNK
said on 11/Apr/13
Yeah, she's a strong 5'9". I think she's somewhere around 176cm, or 5'9.25" - 5'9.5". She holds her own remarkably well with 5'11" and 6'0" actors, sometimes even edging them out with the right footwear. Got to remember that tall women are notorious for rounding down to appear more 'ladylike', feminine, and to land more roles.
maio
said on 8/Jan/12
according she's a strong 5 ft 9 in/175 cm.
linke
said on 5/Jun/11
Peter Sarsgaard is 5'11,can look shorter though,but he's really 5'11
toby
said on 22/May/11
taller then her husband saarsguard
summer
said on 4/Dec/10
i think she is indeed about 5'9. jake is almost same hiehgt
lexi
said on 10/Jun/09
I'm convinced that she's 5'9. Here she is withChloe Sevigny (who's 5'7) and in them, Chloe is leaning to be about her height, but if she was standing straight, an inch taller in heels.
Click Here
Click Here
Anonymous
said on 6/Apr/09
I agree with Sarah below, I also am 5'8 1/2 and passed her on the street and guested her to be 5'10. She prob is an even 5'9, flats or smaller heels on the street giving her a taller appearance.
Big T
said on 13/Jan/09
She only looked max 2 inches taller than Eckhart really, and was obviously in big heels
e
said on 12/Jan/09
she looks HUGE on the Golden Globes tonight, towering over Aaron Eckhart...she must have 4 inch heels or Eckhart is short...
the true BATMAN
said on 12/Dec/08
The real world Batman is here and ready, She is about or she is 5'9" tall.
runt
said on 30/Jul/08
seems right. Definitely taller than 5-8/5-8.5 Emily Deschanel because Emily couldn't quite reach Jimmy Kimmel in heels (although maybe Maggie had bigger heels)
Josh
said on 24/Jul/08
I agree Chris, on this site they say that Jimmy Kimmel is 6 feet... but I think not...even if you remove the high heels Maggie was wearing Jimmy is still shorter..right?
Chris
said on 22/Jul/08
On Jimmy Kimmel (July 18, 2008) she said that she's 5'9 when Kimmel asked about her height.
Anonymous
said on 21/Jul/08
If she looks taller standing next to Jake that means she's wearing heels. If she has a 3 inch heel on, then she's a solid 6'0". 4 inches = 6'1". Kind of similar to the height Paltrow gets from wearing heels.
damo
said on 17/Jul/08
I thought she might be about 5'8-9. I saw her on Letterman and she looked very tall/thin, though the 4 inch heels she was wearing (she had a broken toe! what was she thinking?) might have helped with that.
diana
said on 19/Jan/08
is she really 5'9?
she looks taller whenever she stands next to her brother
i looked at several pictures and even though its harder to tell because jake has big hair the two of them at best look 2 inches apart
tanoliphant
said on 5/Apr/07
I've seen Maggie in World Trade Center, and Sherrybaby, which I have the dvd,
and she sure looks 5'9 to me. I originally guessed her to be about 5'10, but
I was close!
Steve
said on 13/Mar/07
I was walking in the street in the Village and Maggie and her husband passed me by. She appeared to be taller than me, and I'm 5'8.5", 5'9.5" with lifts which I was wearing at the time.
Naser
said on 10/Mar/07
She could be wearing heels hello.
Sarah
said on 15/Nov/06
I'm sorry I can't get over people saying something like she looks 5"8 NOT 5"9 HELLO its an inch!! I really don't think you could tell the difference between someone of 5"8 and 5"9 when walking past them. Plus I would say that Maggie is atleast 5"9 because in a scene from World Trade Centre, near the beginning she towers over everyone else.
TJ
said on 12/Sep/06
Hard to tell from Glenn's pic. He's leaning in quite a bit. I would also guess she is wearing heels.
paleface
said on 30/Jun/06
Judging by the picture of her with Liv Tyler (who's a legit 5'10)in this week's People, I'd say Maggie is truly 5'9. I'd link, but I'm having problems with my cut/paste function. But, go to people.com and click on the Star Tracks for June 30th, I think it's the 8th picture.
Anonymous
said on 13/Jun/06
I have to say that you all put in good effort but EVERY sighting says 5'7 to 5'8" so, that is what she is. Probably 5'7.5".
del Mar
said on 8/Apr/06
It really is strange that Maggie and Jake are so close even if she wears heels. I think either Jake might be 5'11 or Maggie 5'10. At least, that's how it seems
Anonymous
said on 7/Apr/06
look @ this photo of maggie with jake...see how tall she seems compared 2 him! she'll have heels on no doubt but she can't be that small all the same!
Click Here
jimbo
said on 24/Feb/06
no way is sharon stone 5'7 , she is taller than 5'8 andie macdowell and towers over 5'6 halle berry
sam
said on 23/Feb/06
jimbo, Sharon Stone's about 5'7", so I hear.
jimbo
said on 22/Feb/06
she is taller than sharon stone who is 5'9 .
Anonymous
said on 16/Feb/06
she can look 5-11 in heels.
gyllenhaalic823
said on 29/Jan/06
who said anything about 7 inch heels?? maggie wears 3-4 inchers
Johnless
said on 26/Jan/06
The majority of my friends are 6' and I'm 5'8".
Firstly, Glen in the above picture is slouchin, standing up he would be clearly taller.
Secondly, from the link published above by 823, thats not how I look standing with my friends and I'm 173cm, a little higher atleast so there must be some mistake here. It is quite obvious that jake is not 6' from his body as well as too many other pictues I've seen and as for high heels, none are 7 inches, even if, he wears shoes etc which put 1-2 inches of height on him.
The debate continues...
gyllenhaalic823
said on 18/Jan/06
1st, it's gyllenhaalIC823, lol, and 2nd, Maggie is taller than 5'7". You can tell by her build, and Jake is around 6'0". Sorry!
Anonymous
said on 17/Jan/06
yeah, gyllenhaal823, you're right. MAGGIE IS 5'7" and JAKE IS 5'10". Your on the money, you just can't see it.
ds
said on 19/Dec/05
I met her too. I'm 172, and she was about eye level with me or shorter when we PASSED each other. But you know how when you're walking by someone you can't really tell. she looks 5'8" though NOT 5'9".
gyllenhaalic823
said on 12/Dec/05
I'm sorry that I overreacted in my last message, just apologizing here.
Just trying to say that Maggie is tall, and Jake isn't just an inch taller, but rather three.
here is a link to a picture of them that shows the height difference:
link
(yes it is a long address sorry; it is actually a cute photo =)p )
oh and a note to "anonymous" I'm guessing she was talking to Peter Sarsgaard on the phone =)) (either that or to Jake, Naomi, or Steven Gyllenhaal)
gyllenhaalic823
said on 24/Nov/05
JAKE IS NOT 5'10" lol sorry I would know . . . he's 6'0" and Maggie just wears heels at the premiers so she is just an inch or so shorter than him.
Anonymous
said on 1/Nov/05
I passed Maggie Gyllenhaal just now; she was walking east on 42nd btwn 5th and 6th. She looked so much cuter in person than she does in pictures. I always thought she was super-tall, but she's about 5'7 or 8". She's very tan, was in a cute denim skirt and top. Very radiant. She was talking on her cell, had a huge smile, and as I passed her she laughed a little and said "I love you too." I wonder who the lucky guy i
Anonymous
said on 1/Nov/05
sighting: "Maggie Gyllenhaal, walking north on Hudson near the Wild Horse Saloon, Sunday 12:30am. Talking on her cell phone and wearing a brown sweater. Contrary to a previous posting, she is NOT the tallest girl alive (she is 5'8", max)
Anonymous
said on 17/Oct/05
Jake must be 5'10" then. That makes sense.
CelebHeights Editor
said on 23/Aug/05
From Gawker.com,
"[Saw] Maggie Gyllenhaal. Contrary to a previous posting, she is NOT the tallest girl alive (she is 5'8", max)"