Mark Christopher Lawrence's Height
5ft 8 ¾ (174.6 cm)
American actor best known for playing Big Mike on TV series Chuck. In this convention photo, Mark had near to 0.4 inch more sneaker than us.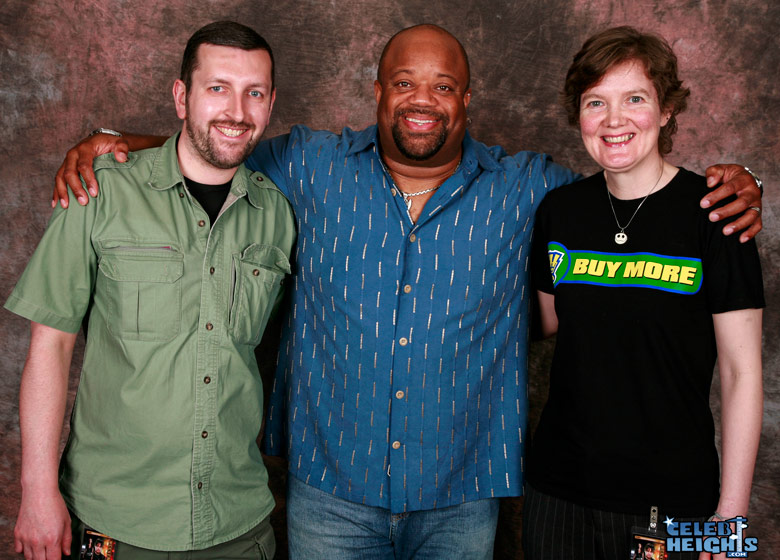 5ft 8 Rob, Mark, 5ft 8 Jenny @ Starfury's T3, 2011
You May Be Interested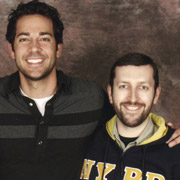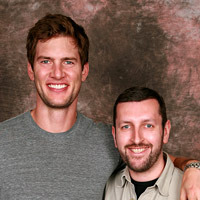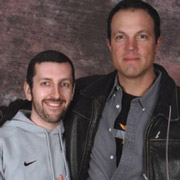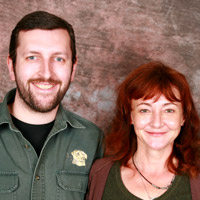 Add a Comment
27 comments
Average Guess (26 Votes)
5ft 8.47in (173.9cm)
Yang (5 footer 8, 173, Aries)
said on 4/Jun/20
Id give him 5ft 8 and half for this guy.
6'4 and a half leperchaun
said on 22/Apr/20
0.4 inch more footwear my guess would be 5'7 and a half''.
Miss Sandy Cowell
said on 16/Nov/19
I noticed Mark Christopher Lawrence turn up in 'Chucky 3' last night. I found it quite shocking when I first saw it, but yesterday, it was bordering on the funny side!
Mark looked a sturdy 5ft8.5, possibly a quarter inch more - so that's what he gets.
5ft8.75 this time.
Miss Sandy Cowell
said on 28/Jul/19
I found out only the other day where I had seen Mark Christopher Lawrence before!
He was working in the mental institution where Linda Hamilton was staying in 'Terminator 2' - the guy who made sure that she was tied to her bed properly, and finishes off by licking her face! URGHH! 😛😖
5ft8.5.
Canson
said on 17/Nov/18
@Christian: I could see more that I look at it that he may just be a strong 5'8. I'd say right at 5'8.5 which is borderline
Zampo
said on 17/Nov/18
@Christian:
Nailed it. Based on the photo, no more than 5'8.5. Somewhere between 5'8.25-5'8.5 is how he looks here.
Christian 6'5 3/8"
said on 16/Nov/18
@Canson
He doesn't even look 5'9 with the shoe advantage. He looks very similar in height to 5'8.25" (at the time) Jenny accounting for the 3/8" shoe advantage. The very most is 5'8.5", but 5'8 3/8" is ok for Mark.
Nik
said on 11/Nov/18
I can't see him being so tall when his sneaker advantage is taken into account, I love the word sneaker!

Editor Rob
I mean we never really use that word in Scotland, I'm sure you use word 'Trainers' like many Brits...but since this site's main body of visitors is from America, even I use it a lot more.

I still stick mostly to English spelling though.
Celebheights 6'1.5
said on 5/Jun/18
This listing suits him perfectly. He obviously wouldn't have a full inch on Rob without the footwear advantage.
Canson
said on 7/Apr/18
@Rampage: Thats a tough one! He looks "probably" at best an inch taller than Rob with the advantage. Without it he could look still taller than Rob but probably negligible difference. He's likely a weak 5'9". Then again with his weight he may lose more height than Rob does in a day
Rampage(-_-_-)Clover
said on 15/Dec/17
He looks a good 5ft9 but has a sizeable amount of heel over Rob...
MJKoP
said on 5/Sep/17
I'd say a rather weak 5'9" is the ULTIMATE height he could be. ;)
even
said on 21/Jul/17
almost exactly 5'8.5" , but upwards 250 pounds
World Citizen
said on 2/Jun/17
Looks no more than 5 ft 8.25
John
said on 29/Jan/16
Lawrence is the same exact height as Rob. Even when he has the 1cm shoe advantage, he only edges Rob by 1cm. And both have similar posture.
NBAer
said on 8/Jun/15
My guess is 176,even with footwear advantage i think he would measure 176 flat,so really a solid 5'9(ofcourse that's only my guess,you know better).
[Editor Rob: in person he would have looked near 5ft 9.5 range...I never saw that personally]
OneNamePlease
said on 17/May/15
5'8.5 ITS OK
CD
said on 20/Feb/15
Rob, looking at the photo again, is there a slight tilt in your favour? If you draw a straight line he looks 5ft 8.5 and therefore your height taking into account his footwear, but given the angle of the photo I can believe he looked 5ft 9 and thus 5ft 8.5-8.75 barefoot.
Click Here
Obviously skewing the image puts the angle in Jenny's favour instead but I think angle is an important thing to consider when judging height from a photo.
[Editor Rob: I know I have a lean here myself and mark a slight lean towards jenny (she stood beside him first). I think I adjusted the photo a half degree back to Jenny's side to what I think is how much I'm leaning, which matches up to how Jenny pretty much stands (see Jenny in the stephanie jacobsen photo which I think is quite level).
In many photos there'll be small half degrees here and there due to not using a tripod. Remember how I am standing and my head tilt helps me know if there is anything obvious more than a small amount.]
lelman
said on 1/Feb/14
Between just shy of 5'9" I'd say, very close in height to the both of you.
avi
said on 7/Jan/14
@Rob
5'8.5 plus you look to be slouching a tad. i really think theres about .5-.6 inch difference here. is he dropping more than you or something?
[Editor Rob: he can look 174 but I thought might just be 175]
LG69
said on 11/Sep/13
He looks 5'9" max.
Emil
said on 29/Aug/13
He's bald which leaves a shorter impression
James
said on 8/Feb/13
I guess rob this pic is an example of how people like mark and john candy can look shorter because of the weight they have too carry around.
Maximus Meridius
said on 16/Jan/13
Rob im not trying too funny he could do with losing a few pounds he is way too big for his size.
[Editor Rob: big mike turning to skinny mike...yeah, it'd be better for health, but I'm sure anybody with a lot of extra weight doesn't need to be told it.]
thorterr
said on 1/Dec/12
well im going to go for 5ft 7.5 if then that he has the sneaker advantage
[Editor Rob: 8.5 maybe is possible]
Candyman
said on 29/Sep/12
Nope nope, he's definitely 5'8.567". I can see a 5'8.721" maybe in the morning but certainly no more. Just stepping on toes here.
Mathew
said on 3/Aug/12
Looks 5'8.5" here but 5'9" is fine.