Matt Frewer's Height
6ft 1 ½ (186.7 cm)
Peak height was 6ft 2 ½ (189.2 cm)
American-Canadian actor, best known for starring in Max Headroom, Honey I shrunk the Kids and for playing Jim Taggart in Eureka. He says on scifi.com in regards to one of the roles in an HBO movie that
"I'm 6'3" But in that I was wearing lifts and platform shoes to get me up to 6'6"
.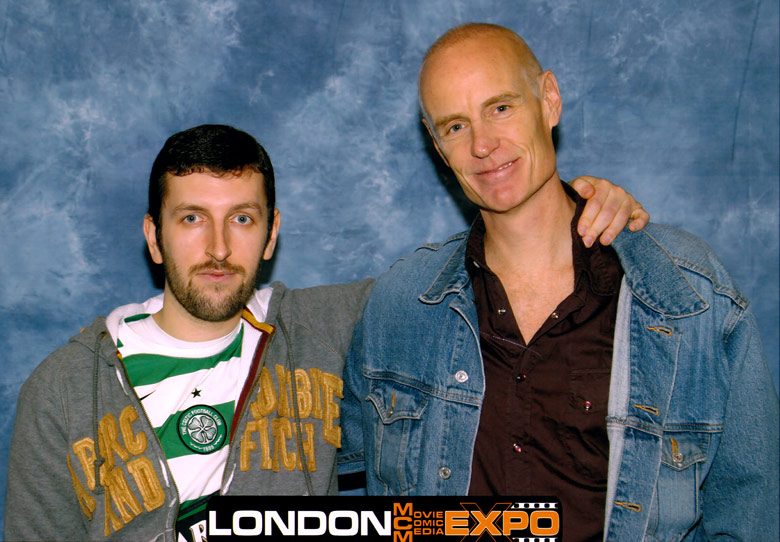 5ft 8 Rob and Matt @ MCM Expo (28th Oct 2006)
You May Be Interested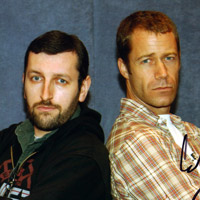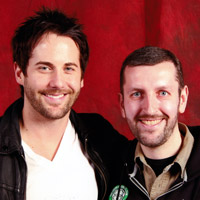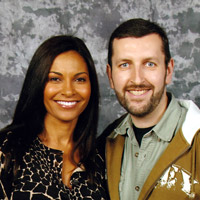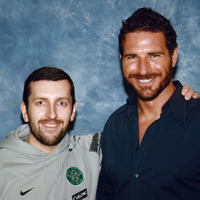 Add a Comment
43 comments
Average Guess (10 Votes)
Peak: 6ft 2.5in (189.2cm)
Current: 6ft 1.45in (186.6cm)
Rampage(-_-_-)Clover
said on 4/Apr/21
Rob, who looked taller in person, Dance or Frewer?
Prime, Charles was probably the more comfortable 6ft3...Frewer maybe just a little under it. I think 190cm peak is better than 189cm personally though. Both guys were likely a bit below their peak statures when you met them

Editor Rob
the last time I seen Matt, I felt he'd shrunk, as he seemed taller back when this photo was taken...

with Dance of 5-6 years ago, I'd not be surprised if he measured taller than Matt a fraction.

Rampage(-_-_-)Clover
said on 4/Nov/20
Rob, is 190cm peak a possibility?

Editor Rob
a chance of course
OriginalAnon
said on 7/Aug/20
Could buy 191cm for the guy during his prime. Looks 188cm in the photo.
Jkiller
said on 2/Jul/20
Peak 189cm exactly, and nowadays 187cm.
Nik
said on 28/May/20
It would have been interesting to see him at his tallest in the above photograph!
Chris Junior Hernandez 1990
said on 28/May/20
I trust Rob on Matt's current height lost a full inch.
Miss Sandy Cowell
said on 29/Mar/20
Jim Taggart indeed? That rings a bell! 🚓👮‍♂️
6ft2.5 peak and an inch less now.
World Citizen
said on 28/Dec/18
Good listing, no less than 187 cm.
Nik
said on 24/Jul/18
His listing does look convincing!
Sonnecker
said on 6/Jun/18
Being extremely skinny, he could appear taller in his works, like 6'4". He wasn't less than 190 cm in youth, Max Headroom times... Nowaday 188 cm, very probably, I find no evidence he's less.

Editor Rob
I definitely think he lost height, he was taller 10 years ago, then 5 years later seemed less imposing.
Rampage(-_-_-)Clover
said on 18/Mar/18
189-190cm peak though is more likely than both 188cm and 191cm
Rampage(-_-_-)Clover
said on 11/Dec/17
Fair enough but I think in his prime he wasn't far from 6ft3, definitely at least 189cm
Rampage(-_-_-)Clover
said on 5/Nov/17
Rob, really as low as 187cm?
I think 190cm peak, 188cm today

Editor Rob
last time I seen him 5 years ago, I think 6ft 2 would have been absolute most he looked.
berta
said on 29/Oct/17
i think this listing is better than the old. not really over 190 cm tall 189 seems fine. today i have no idea but i guess about 2 cm loss at his age is about right
Rampage(-_-_-)Clover
said on 3/Nov/16
186-187cm with the lean. I'm confident he'd still hit 188cm under the stadiometer.
6ft3 peak is genuine. A clear foot on Rick Moranis in HISTK
Rampage(-_-_-)Clover
said on 23/Apr/16
Might still be a strong 6ft2 today. Definitely 6ft3 peak. A full foot taller than Rick Moranis in HISTK
NBAer
said on 24/Mar/16
185 with the lean,probably 187 standing straight
berta
said on 22/Mar/16
this guy was 48 years when this photo was taken he had l ost max 1 cm at taht time so if he was 188 when the phota was taken then he was max 189 peak
Lorne???
said on 7/Apr/15
I'm not sure he was quite as tall as Dorm and Frakes(though it's been a while) but he's certainly looked over 6'2 in the 90's... I probably go 190cm peak.
Funny, I didn't know you had a picture with him!
joe 193cm night
said on 5/Mar/15
this guy looks like a taller 6'2 that Alberto del rio
MathsMad
said on 16/Dec/14
Matt Frewer is 2 inches shorter than the 6ft 4 Actor in Battle of the Bulbs so can't be 6ft 3

Editor Rob
he's got a 6ft 2 listing as I think he had shrank a few years ago.
Rampage(-_-_-)Clover
said on 5/Dec/14
Rob, do you really think he's shed 1in at 56?

Editor Rob
he really looked more 6ft 2 than 3 last time I seen him 3 years ago, I'm certain he looked over 6ft 2 8 years back!
the shredder
said on 6/Jul/14
Rob , just watched Honey I shurnk the kids , this guy was 6'2 even there He looks it barefoot with Kristine Sutherland who you met and is 5'7 .
Crash
said on 13/Feb/14
Lost an inch at 48? Really?
steven
said on 9/Jan/12
i think 6'1.5 is nearer
jake, 1.82 m- 1.83 m
said on 4/Jan/12
So he's lost a whole inch at just 54? That's very hard to believe.
LAN Jiao
said on 21/Nov/11
He is 6'2.
LOL
said on 31/Jan/09
6' 2" in the picture, maybe 6' 2.5"
Abhishek
said on 1/Mar/08
In Honey, I shrunk the kids, Thomas wilson was 16 and and looked an inch shorter than the 17 year old girl(both in sneakers) he was paired with,Amy O'Neill who was and still is 5'7". So Thomas is 5'6".
Amy's mom in the movie, Marcia Strassman is 5'10" and her dad in the film, Rick Moranis is 5'4".
Anonymous
said on 27/Aug/07
Is that photo from Creation convetion

Editor Rob
nah, these are all UK conventions I go to.
the only creation convention in the UK was a recent Star Trek one, which I heard hardly anybody turned up for.
creation is a money making machine, sure they get great guests for their cons, but what was it for nimoy/shatner in the same shot at one of their recent events? something insane like $140 or even more?. I mean, that's just plain taking the piss...and look at
The resulting shots for that $100+
, with those 2 sitting like dummies with the fans crouching behind. Pathetic shots for the price...
They probably pulled in 6-figures for that photosession. There's an endless stream of folk who pay for it...
lillo thomas
said on 23/Aug/07
in the pic above he can look 6-1 but not more than that.If he stand straight
he would be between 6-2 and 6-2.5.
venus
said on 20/Aug/07
He looks 6'3 to me, always thought he was taller though.
the shredder
said on 17/Aug/07
Only 49 ? .. He looks 94 !
Dave
said on 17/Aug/07
what im saying is, even with his bad stance. slumped shoulders and tilted head he looks 6'1-2.... if he stood straight, 6'3 EASY
Anthony
said on 17/Aug/07
I honestly see a solid 6'3.
Dave
said on 16/Aug/07
lilo.... are you trying to say this man looks 6' flat in this pic?!>... sorry to be rude but thats BS. He looks 6'1 and above MINIMUM in this pic. id say almost 6'2
RICHARD
said on 16/Aug/07
Yeah I agree now that he dosen't look like a solid 6'3 but instead he looks 6'1 or 6'2. He is only 49 so I don't think he shrunk any
lillo thomas
said on 14/Aug/07
i think that he is 6-2 max now. with the slouch he is looking 6-0 at best with rob in the pic

Editor Rob
nah, never 6ft flat in that pic, in his loose stance he's near 6ft 1.5...add back the posture.
RICHARD
said on 9/Aug/07
I say Thomas Wilson Brown was 5'11. He didn't look 6' or anywhere near 6'3 Matt
the shredder
said on 9/Aug/07
Rob , how tall would you say Thomas Wilson Brown is ? He played his son on Honey I Shrunk Kids ! ... Theres a few parts in the film where they look nearly a foot apart in height !

Editor Rob
can't remember sorry, not seen that film since it came out!
RICHARD
said on 8/Aug/07
Solid 6'3. I agree with the Shredder that he's aged alot since Honey I Shrunk Kids !
the shredder
said on 8/Aug/07
yea I say 6 ft 3 easy ! DAMM HES AGED alot from Honey I Shrunk Kids !
kobby boy
said on 19/Sep/06
he do looks 6ft3 in 90s.. in dawn of the dead seen like lost an inches.. i think his a solid 6ft2.5(189)..