Niall Matter's Height
5ft 11 ½ (181.6 cm)
Canadian Actor known for playing Zane Donovan on SyFy series Eureka and Evan Cross in Primeval: New World. In this photo I had about 0.3 inch more sneaker than Niall.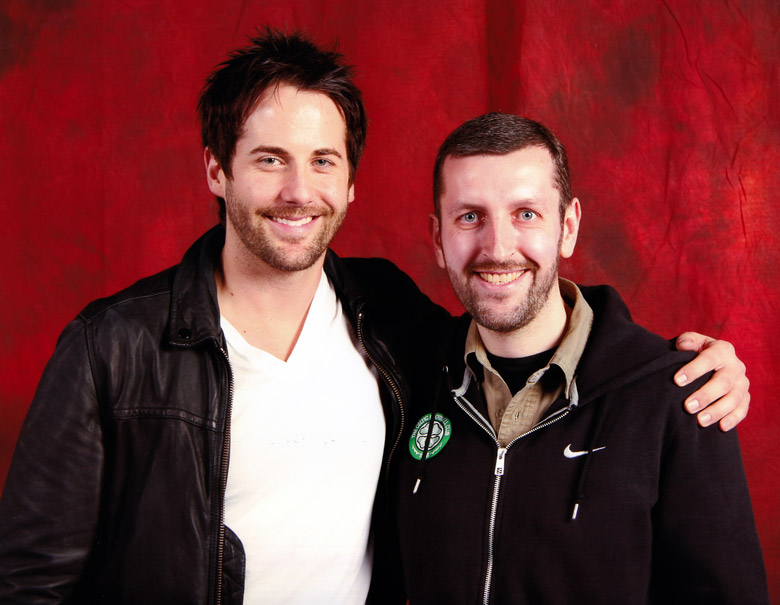 I was 161 pounds. I'm six feet tall, I was like a 161-pound skinny, lanky dude. Then I decided, just in my personal life, 'I'm going to bulk up,' so I did it. I bulked up to about 190 pounds and the show was like, "Okay, we've got to incorporate this now."
-- SciFiStream.com
You May Be Interested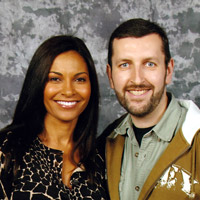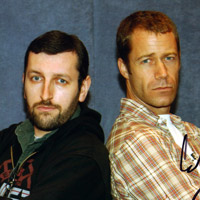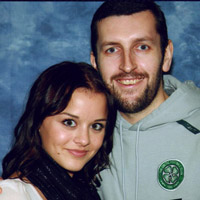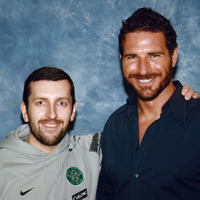 Add a Comment
21 comments
Average Guess (16 Votes)
5ft 11.63in (181.9cm)
Canson
said on 29/Apr/20
@Christian: I'd say 5'11" unless there's something with the camera that I'm not aware of
Christian 6'5 3/8"
said on 26/Apr/20
@growtallerguru
Even if Rob's 5'8.5" (which he isn't), it still wouldn't make Niall 6'0". There's only around a 2.5" difference between the two, and he had a around 1/4" less footwear, so more like 2.75". I don't see him being much over 5'11" TBH. People here are deceived by his long hair.
Nik
said on 5/Jun/19
5'11.5" is fine!
growtallerguru
said on 19/Apr/19
If Rob had the footwear advantage in that photo, then Niall is definitely six feet tall. There is a staggering height difference between them in the above photo. I am also taking into account the undeniable fact that Rob is 5'8.5". If one disagrees just go to his youtube page where he measures himself barefoot many times and posts videos of the processes.

Editor Rob
I'm not 5ft 8.5 in this moment, although because of a bit more footwear you could certainly think of me as 5ft 8.5 in comparison.
Bobby 178cm
said on 3/Mar/19
With the footwear advantage, he still looks a solid 5'11 next to Rob. Easily 3 inches there, but take the advantage and It might be over 5'11.25, like 5'11 3/8s.
Miguel Calado
said on 27/Jan/19
seems fine
Zampo
said on 18/Oct/18
Looking at the photo again (and basing my estimate solely on this). Somewhere in the 181-181.5 cm range. Could be nearer 5'11.25 than 5'11.5.
Zampo
said on 4/Sep/18
@MAD SAM,
I think whilst it's fine for a 5'11.5 person to round to six foot, whether they would look it or be called out on it, is another story. From my observations, I think once one hits 5'11.7 range at a low, the vast majority (if not all) will struggle to differentiate that person from 6'0.
On Niall, 5'11.5 is fair. I see him over 5'11.25.
MAD SAM
said on 11/Aug/18
Rob can a person of this height claim himself as a 6 footer ?

Editor Rob
I think many would round to 6ft if over 5ft 11 in 11.5 range.
Nik
said on 6/Jun/18
Nearer the 5'11" flat mark is apt for Niall Matter!
Bobby
said on 1/Feb/18
Strong 5'11 guy.
Oliver
said on 6/Jan/18
Rob,since you have footwear advantage,doesn't he look taller with you than Matthew Lewis? I suppose Matthew is just 5ft 11.
Editor Rob: there's a chance Niall might be the taller of the 2...
World Citizen
said on 29/May/17
Looks a flat 5 ft 11.
TJE
said on 12/Jul/16
This guy looks as if Charlie Day went through second puberty lol
NBAer
said on 24/Mar/16
181cm or 5'11.25(considering Rob's slight footwear advantage)
Crash
said on 21/Sep/14
No, it really isn't, it's SLIM but not skinny. Big difference, you can easily be a fit and healthy, toned guy at that weight and height. David Beckham is similar height and weight, look at him.
And there's not a chance in hell that 160 at 5'9" is skinny unless you have a high amount of muscle mass.
I'd just say that your perception of healthy is distorted, which to be honest isn't surprising given that most are overweight these days in the west. Doesn't make it right though.
Clay
said on 4/Sep/14
Emil says on 14/Jul/13
161 lbs isnt skinny for his height
Yeah it is...
Im 5'9'' and felt skinny at 160.
Rampage(-_-_-)Clover
said on 31/Jul/13
A slight resemblance to fellow 182cm Joe Flanigan.
Rob, who looked taller, this guy or Joe?
[Editor Rob: they are probably very similar barefoot]
Emil
said on 19/Jul/13
MD says on 16/Jul/13
Emil,
Given what the average weight and height is in Canada, it is on the low end average, these days, and I say that as someone of nearly the same height, and even less weight.
It might be at the lower end but it isnt skinny. He looks like a lean and fit guy to me
Emil
said on 14/Jul/13
161 lbs isnt skinny for his height
SAK
said on 8/Jan/13
Looks a shade a under 6ft. So 182cm seems right for him.