Argentinian professional footballer, who has played for Sampdoria, PSG and Inter Milan, who listed him as:
"Altezza: 181 [cm]"
.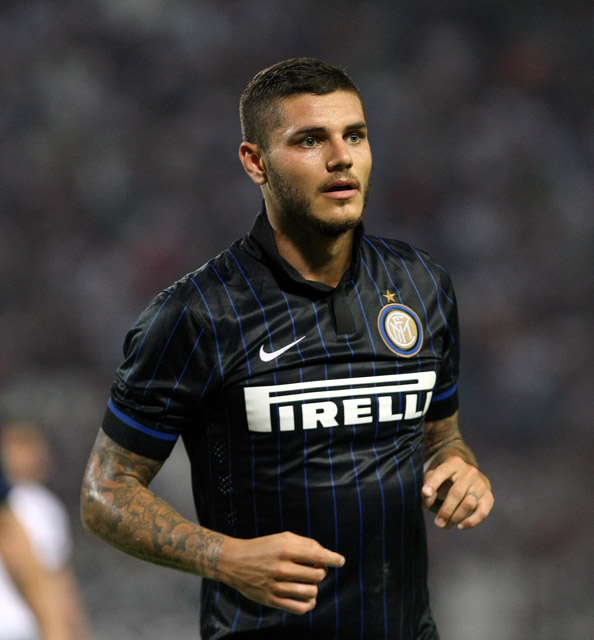 Photo by vverve/BigStock.com
recapa
said on 3/Oct/21
easily his listed 181.
ALEXIZ/180cm
said on 21/Sep/21
180 cm
madig
said on 7/Feb/21
He seems just 1 or 2 cm taller than dybala in this picture
Click Here
There is any chance he is 178 cm Rob?

Editor Rob
maybe Dybala is gaining a little more height when mid-stride on one foot
Slim 6'1"
said on 2/Oct/20
179.5-180cm
Edin cosm
said on 25/Feb/20
He looks 2-2,5cm most tall than Dimaria
Edin cosm
said on 25/Feb/20
He have 1.82cm
pov
said on 14/Sep/19
Looks a solid 181cm, and he's listed as 181 aswell
Andrea
said on 2/Nov/18
maaa, actually, if you look at the other photos from that event, Bocelli seems to be in quite flat shoes, while Icardi is in 1+ inch trainers, so there's probably at least half an inch footwear advantage in Icardi's favour there:
Click Here
That being said, I'm not sure Bocelli is as low as 6'-6'1... While it is possible he has lost some height, I think he's still got be at least 6'1. As for his son, it would certainly be interesting to see what he claims as I agree that he looks a good amount taller than him...
Zampo
said on 1/Nov/18
@Rob:
What do you reckon his head size would measure, 9 inches exact maybe?

Editor Rob
9 inches at most I'd estimate.
Nik
said on 1/Nov/18
He is typically listed as being 181 cm online!
maaa
said on 31/Oct/18
@Andrea
Bocelli lost some height... Today he is in the 6 ft - 6ft 1 zone....He is no more over 6 ft 1...
His son claimed both 6 ft 4 and 5 and he absolutely towers over him by at least 10 cm....
Don't let Icardi small peahead fools you...
Davey
said on 31/Oct/18
I've seen him many times, i'm from Milan. He's like 6 cms shorter than me (188 cm). Good 5'11.5 guy. And a funny thing, he's more way taller than Castillejo in person, listed at 182 cm!
CZV
said on 31/Oct/18
Rob could he be 179.3 cm?

Editor Rob
He seems like he is taller than that, with good proportions too.
Andrea
said on 30/Oct/18
Just out of curiosity, what made you choose 5'11 flat over 181, Rob?
Although I haven't seen that much of him at all, from the few things I've seen I thought he could easily look near his 181 listings and more 5'11-6' range than say 5'11 flat.
With Bocelli here he can look nearer 6' than 5'11 actually (though I'm not sure about their footwear):
Click Here

Editor Rob
I think overall an honest 5ft 11, I believe there is a chance he could have measured near 181.
Littlelee168cm
said on 30/Oct/18
Dave Farrell must be 5ft 6 at best then and not the listed 5ft10 if mauros 5ft 11 and Chester is 5ft 9.5 would ypu agree rob?

Editor Rob
I think you could safely rule out 5ft 10 for Dave.
Sandy Cowell
said on 30/Oct/18
I've probably seen Mauro playing football - but only if he's played for the Argentinian team. Otherwise, definitely not, so this young fellow gets the 5ft11 Rob's given him!