Melvyn Hayes Height
5ft 3 (160 cm)
British Actor from tv series It Ain't Half Hot Hum and Cliff Richard film Summer Holiday.
I'm just 5ft 3 1/2in - although I've lied on my passport and said 5ft 4in.
- 2005, The Mirror newspaper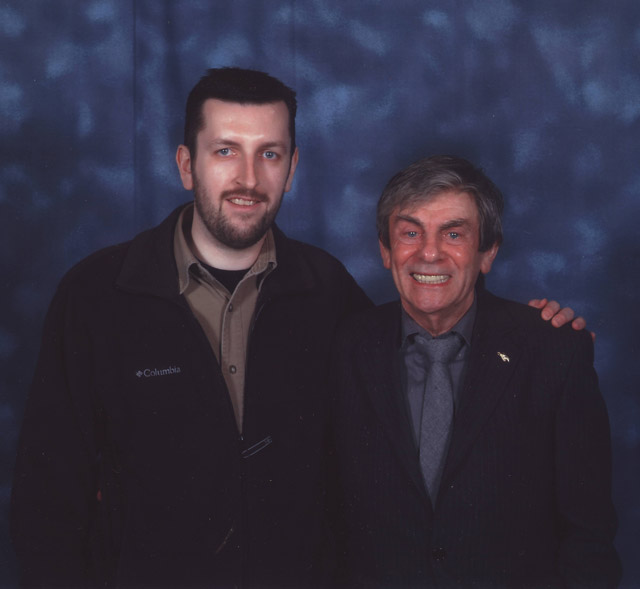 5ft 8 Rob and Melvyn
Add a Comment
13 comments
Average Guess (13 Votes)
5ft 3.08in (160.2cm)
Shaun McCreary
said on 27/Oct/19
Rob why do you look like your parents forced you to take a photo with your siblings. You don't seem overly excited :P

Editor Rob
Probably started smiling but by the time he eventually managed to click the trigger I am losing patience...you should see all the prints from this day, they are 'challenging'. The guy had exposure problems all day.
Miss Sandy Cowell
said on 8/Sep/19
Ooh, I say! Is this picture new Roblette?
5ft3.

Editor Rob
It's been there forever...one of the old ones that really was a bit under-exposed 🙀 Poor photographer didn't seem to get his lighting right.
Yang (5 footer 8, 172-173)
said on 22/Aug/19
At least, He did admit that he wasn't 5ft 4 at all and lied about his height on passport long ago. Yes, true lister at least.... 5ft 3 here it is!!!
Paul Wood
said on 14/Mar/19
He was always listed as 5ft 3in in his younger days. He's very unusual in that he doesn't appear to have lost much height (or at most a tiny amount) as he's got older ( he's now 84). On average men lose just over an inch in height by age 70 and two inches by 80. For women, the figures are two inches by 70 and three inches by 80. Apparently we start to lose a centimetre in height every decade after the age of 40. A work colleague was complaining the other day that he used to be 5ft 9in and he's now 5ft 8in. He's only 60, but I was tactful and didn't say that he seems to be losing height at a faster rate than average!
Sandy Cowell
said on 22/Dec/18
I saw him last weekend playing an elf with Dudley Moore in 'Santa Claus - The Movie'. There was very little difference between the two; one minute, Dudley looked like he had the edge, and the next, it was Melvyn! 🎅
5ft3.
World Citizen
said on 29/May/17
Looks exactly as listed here and no less.
Sandy Cowell
said on 26/Apr/17
Apart from 'It Ain't Half Hot Mum', and before it was probably even thought of, Melvyn starred in a programme called 'The Double Deckers'!
It was on children's TV and about a bunch of kids who hung out on a disused bus. Melvyn was their grown-up and very likeable friend! He fitted in quite well, height-wise, with the older ones! I liked 10-year-old Tiger, who was never seen without her cuddly toy tiger, and she was tiny for 10! She was known as the 'tiny 10 year old!' Next to her, Melvyn looked tall! (I also was 10 with an assortment of stuffed animals, which I would proudly take with me on holidays, car journeys and even to school!)
He also looked small in 'It Ain't Half Hot Mum', until you saw him standing next to Don Estelle, of course, who was only 4ft10!
After this pleasant bit of reminiscing, I'm going to give Melvyn 5ft3. He could have been that half-inch taller back in the early days, but he stands pretty upright in the above picture and doesn't look more than 5 inches smaller than Rob, so it's doubtful he's lost more! 📺 🙌👲👶👧🐆🐯
Tommo
said on 15/Apr/14
That's probably near enough, maybe a little less.
Middle-sized Cat
said on 26/Mar/08
Now you can see why Iggy Pop's roadcrew called him (Iggy) Gloria back in the '70s! The resemblance is uncanny.
sf
said on 13/Jun/07
Yea, I see a 6-inch difference there, too. I think you'd see it if you two were back to back.
Alex
said on 12/Jun/07
He actually looks 5'2 there. I see half a foot difference.
[Editor Rob: yeah, I guess it could be a little over 5, I might have my head slightly down here.]
Editor Rob
said on 13/Feb/07
"I'm just 5ft 3 1/2in - although I've lied on my passport and said 5ft 4in", 2005.
baz
said on 20/Jan/07
think i saw melvyn on the train waterloo to clapham junction on friday 19-01-07 still looking good.