American actor, best remembered for playing Commander Jeffrey Sinclair on TV series Babylon 5. In a
1973
news article he was described as
"6-foot-2, 220-pound"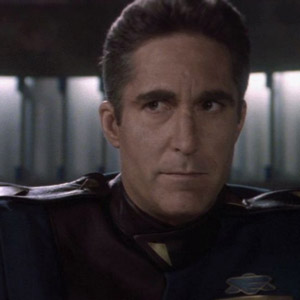 Screenshot from Babylon 5, © Babylonian Productions Inc
Sh0ckeh
said on 22/Mar/23
Decent 6'1, maybe 6'1.25 in babylon 5 next to Jerry Doyle who I believe would measure 6'2.25 during the babylon 5 days.
Rampage(-_-_-)Clover
said on 10/Oct/21
220lbs looks a bit hefty though...unless it was all muscle and just well hidden. You do have guys that are heavier than they look
Rampage(-_-_-)Clover
said on 10/Aug/21
Both Jerry and Bruce have claimed 6ft3...that's a stretch but definitely a case for them being a little over 6ft2. Michael could look barely shorter, can give a 6ft1½ impression.
Boxleitner & Doyle: 6ft3 out of bed/6ft2-2¼ evening
O'Hare: 6ft2 out of bed/ 6ft1-1¼ evening
Rampage(-_-_-)Clover
said on 3/Aug/21
Rob, is 6ft1¼ debatable?
Click Here
taller than Jerry Doyle here
Click Here
little shorter here
Jerry was arguably a strong 6ft2 so I reckon there was a chance of it. Really sad and tragic that both of these guys are now gone

Editor Rob
the show had a fair few of the cast pass away far too soon...last time I watched S1 I always saw Jerry about an inch taller, but I suppose 6ft 1 and change was possible for Michael as might be for both Doyle/Boxleitner (strong 6ft 2 guys)

remarkable he managed to complete Season 1 whilst suffering Psychosis...
Rampage(-_-_-)Clover
said on 24/Apr/21
Actually he looks like he could pass for Christian Bale's dad
Rampage(-_-_-)Clover
said on 29/Apr/20
186cm is arguable if Jerry Doyle was 189cm
Pollux
said on 26/Jan/20
He was playing football at Harvard and was 6'2" in their archives. He was only slightly shorter than Jerry Doyle and seemed to be about the same as Bruce Boxleitner. Not sure whether true or not but read somewhere that after his abrupt departure, the makers of B5 did not have $$$ to make a new uniform for Bruce from scratch and he got Michael's for his first episodes. JMS wrote in his lurkers guide that O'Hare and Doyle were the tallest after the initial casting and they were both "well over" 6ft. Stephen Furst called him as "the big guy" in one of his interviews, as did some convention attendants as well.
Jkiller
said on 25/Jan/20
He was a strong 6'1.
Rampage(-_-_-)Clover
said on 2/Oct/18
A real shame...thought he was great on Babylon 5
A strong 6ft1 maybe
Rampage(-_-_-)Clover
said on 13/Feb/18
The spits of Jeremy Paxman, same height aswell
RIP

Editor Rob
He looked a good 6ft 1 back in the 90's, and sadly suffered mental illness, the reason he left Babylon 5.

glenn
said on 16/Jan/08
the 2 worst priest songs ever.maybe he is a young priest fan? or he has not much of a music collection.
glenn
said on 16/Jan/08
johnny lee middleton is about 5-10 id say.
glenn
said on 16/Jan/08
tall guys like that wouldnt surprise me that he would give a lower end too.like that james cromwell who said to me he was nearly 6-7,but i think has claimed 6-6.he does look 6-5ish now.pete steele claims 6-7,6-8.but he can look 6-5,6-6.im sure in reality he is close to 6-7 too.its a great story about savatage,and im glad it happened,but its not like i auditioned or anything.or up for consideration.just a passing comment.thats pretty wild.
Metalmaniac
said on 16/Jan/08
A friend of mine, mr. Uuttu, is a big fan of Priest`s Turbo era. His favourite songs are You