Neil Ruddock's Height
6ft 2 (188 cm)
'Razor' Ruddock is a former English footballer, who primarily played for Liverpool, Tottenham, Southampton and West Ham United. During his career he was regularly described
6ft 2
and weighing 180 pounds, although in 2018 he claimed
"I'm six foot four"
. In this photo I had near 0.4 inch more sneaker than him.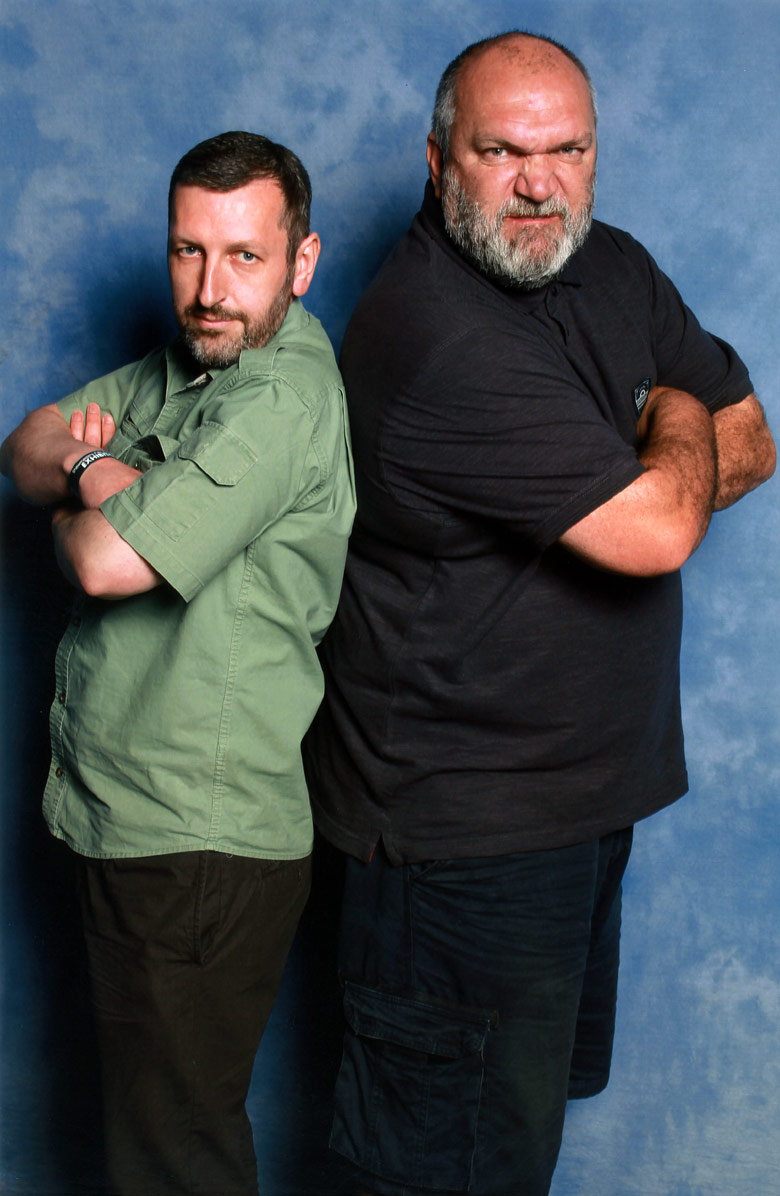 5ft 8 Rob and Neil
Add a Comment
43 comments
Average Guess (17 Votes)
6ft 2.21in (188.5cm)
Big T
said on 24/May/20
Regarding his weight during his playing days, I read that he was under instructions to stay under 98kg (215lbs) because he was notorious for gaining weight. The 180lbs must have been from early in his playing days!
Ferdinand
said on 23/May/20
I reckon he still knocks on the door of 6'2", at least in the morning. As far as his weight goes, in the Harry's Heroes charity football thing on ITV he was confirmed to be (at least) 350lbs...
OriginalAnon
said on 26/Mar/20
Still looks 188cm. Definitely no lower than 187cm. 6'4'' what a laugh. He's nowhere near that.
Rampage(-_-_-)Clover
said on 17/Nov/19
He's put on enormous weight actually. Maybe he is pushing 270lbs. But despite this I think he could still be around 6ft2 and a bit over it peak. Could pass for a 6ft3 guy in the 90's
Ferdinand
said on 8/Jul/19
Looks 6ft1.5 but does seem to have a very low eye-level indeed. Claimed on his twitter to be "25.6 stone"
Jordan87
said on 6/Jun/19
6'4" I a Joke. However, this guy easily run me over.
berta
said on 29/Apr/19
i think he could have been ( maybe still is?) a strong 6 foot 2. 188-189 20 years ago.
Colberto
said on 7/Apr/19
Looks around 6'2"
like in that pic a 187 range but 188 with the disadvantage
Cameron Scott Goodchild
said on 29/Mar/19
He seems 6'3.5 when pictured with listed 6'3 David Seaman.
Nik Ashton
said on 24/Mar/19
I am not convinced that he is more than 6'1"!

Editor Rob
I think Neil is over that in person, but his 6ft 4 claim seems a helluva lot!
Nik
said on 21/Mar/19
It's very interesting that he claimed to be 6'4"!
FMExTREME
said on 20/Mar/19
He use to live near me 12 years ago and I see him about in the Welcome pub, town, super market etc... even back then he probably only had about an inch on me and I'm 184cm in the afternoon maybe a bit below 188cm Id say 187cm in his early 40s and maybe 6'1 flat now.
On weight he was weight recently on Harry Redknapp's show and was weighed at 152kgs which is over 330lb
Michael Knight
said on 23/Feb/19
Had a nigbt out with him once he told me himself he was 6.4in but i would give him 6.3in i think he was well over 6.2in. Imo big bloke.
Peter 180cm
said on 28/Jan/19
Looks 184cm with less footwear,so at the very most he could be a weak 6'2 although he clearly doesn't look it here.187cm MAX.
mwood
said on 26/Jan/19
Can confirm my lovely M&S brogues had a heel ever so slightly under 1 inch... Ruddocks looked incredibly similar.
Regardless, he is absolutely massive, his hands are like dinner plates!
mwood
said on 25/Jan/19
I met Neil Razor Ruddock last year at the football blogging awards, I would have put him at about 6ft 2 ½
Click Here
At most I'm about 6ft 3 ½
In the picture we we're both wearing brogues with about a 2 inch heel.
Thoughts?

Editor Rob
I've never seen a 2-inch heel on a brogue, but one thing is Ruddock claiming 6ft 4 is hard to believe.
Kyuss101
said on 10/Sep/18
Always looks 2" taller than Vinny Jones. Imo Jones is lying
Rampage(-_-_-)Clover
said on 26/Jun/18
250lbs maybe, 280lbs is extreme
Arch Stanton
said on 15/Jun/18
More like 280 than 180 now!
Arch Stanton
said on 15/Jun/18
If they ever remake the Good Bad and The Ugly, Razor should play the prison warden in it! He'd make a great character actor in a western! If Razor is 6 ft 2 Rylan possibly could be 6 '4.5, I think that was the last Big brother I saw probably five years back
Nik
said on 13/Jun/18
@ Sandy Cowell - Swinging on the rail, eh? I think I have done it myself! Breaking the rail as well would have really left me fearing the consequences!!
Sandy Cowell
said on 13/Jun/18
@ Nik - ...but I swung on them once too often!
Nik
said on 13/Jun/18
@ Sandy Cowell - I have been guilty of messing the curtains up too! Neil Ruddock can make many a person hide behind the curtains!
I think he is probably 6'1.5" - 6'2" nowadays!
blazer
said on 12/Jun/18
Can't picture him at 180 pounds.. possibly kilos. Still looks 6'2 though.
Sandy Cowell
said on 12/Jun/18
@ Nik - The one time I did hide behind the curtains, I was just short of four years old - and I pulled them down myself! I got a real hiding 'for my own good', which just added to the trauma, and I never did it again!
Lmeister
said on 12/Jun/18
A strong 188cm in his heyday. I bet he was more than 82kg even in his youth. Would have guessed 88kg and later on close to 100kg. Nowadays at least 125kg.
Rampage(-_-_-)Clover
said on 12/Jun/18
I think he'd still measure close to 6ft2
Andrea
said on 11/Jun/18
Even taking into account his footwear disadvantage, he looks closer to 6'1 than 6'2 here. And obviously (and noticeably) heavier than 180 pounds.
Jordan87
said on 11/Jun/18
He is easily 265 lbs now.
Nik
said on 11/Jun/18
@ Sandy Cowell
Hiding behind the curtains is OK as long as Neil doesn't spot the buldge in the curtains, if he does spot you behind the curtains then he would rip them off the rails! He would snarl at you, but for me it would be a knuckle sandwich! Ha ha!
Nik
said on 11/Jun/18
@ Sandy Cowell - Absolutely! I would also rather bump into Rob down a dark alley than Neil Ruddock, particularly if I have made him cross! I'm quite happy to take him on about it as long as he only knows I am called Nik and live on the planet 🌎! I wouldnt dare do it to his face!
😂😂😂!
jessman
said on 10/Jun/18
In the latter stages of his career he was described as 6'3. Never thought of him as any more than 6'2 peak. Weight-wise, he was also one of the heavier footballers and 200 lbs during his playing days seems closer to the mark. Looks close enough to 6'2 in pic with Rob.
Sandy Cowell
said on 10/Jun/18
@ Nik - Well, I'd rather bump into Rob down a dark alley, and as for Neil being under 6ft2, would you take him on about it? I'd rather hide behind the curtains, 4-year-old style! 😨
Christian-6'5 3/8"
said on 9/Jun/18
He clearly gained a lot of weight since retiring.
Nik
said on 9/Jun/18
@ Sandy Cowell - Hi!
Doesn't he just? However 12st12 must have been his weight when he was a player! Now the big question is whether he is still 6'2" or not, from the above picture I am not convinced about the full 6'2" for his nowadays height but I will reserve judgment at the moment!
I like his snarl!
Dream(5'9.5")
said on 9/Jun/18
180 ibs?! He looks heavier than that, but looks can be deceiving!
Adam Scherr
said on 9/Jun/18
do you tell the , that you will measure before taking the photograph?

Editor Rob
Well I see Neil with folk in front and asked him to do a pose, that's all.
Rampage(-_-_-)Clover
said on 9/Jun/18
Rob, maybe a strong 6ft2 peak?
He's unrecognizable from 20 years ago

Editor Rob
Wouldn't rule that chance of 6ft 2 and change out.
Sandy Cowell
said on 9/Jun/18
@ Rob - I know your weight and you are hardly overweight by any stretch of the imagination! Neil, on the other hand, is a very big guy in every single way! I gathered that that weight applied to his early career, but seeing it written down like this is just going to make us all aware of what a big boy he's become - but smashing with it, of course! 😉

Editor Rob
Yeah I don't know what he might weigh these days, but it's certainly a few more stones than his peak playing days.
Sandy Cowell
said on 8/Jun/18
Neil looks more than 12st12 in the above picture - much more!
He can have 6ft2!

Editor Rob
To be fair, he probably was that weight early in his career about 30 years ago aged 20.

I'm 12 stone and 1.5 pounds, or 169.5 pounds in this photo.

Rampage(-_-_-)Clover
said on 8/Jun/18
He looked heavier when he was playing like 200lbs. He did look tall though so 6ft2 sounds about right

Editor Rob
Ruddock still looked over 6ft 1 that day, he's now age 50, whether he has lost height of note (beyond 1/4 inch) I'm not sure...but I mean I'd have guessed him as being close to 6ft 1.5, but with less footwear would say near 6ft 2 was possible.
You can see with
Matt Le Tissier
he was a decent 6ft 2 guy.
Rampage(-_-_-)Clover
said on 8/Jun/18
180lbs?!
More like 250lbs
Micky
said on 8/Jun/18
He's clearly more than 180 lbs these days.