Neil deGrasse Tyson's Height
6ft 1 (185.4 cm)
Peak height was 6ft 2 (188 cm)
American astrophysicist and science communicator. He once said
"My reach is 10 inches longer than my 6-foot-2 height. I require special shirts to fit my sleeve length."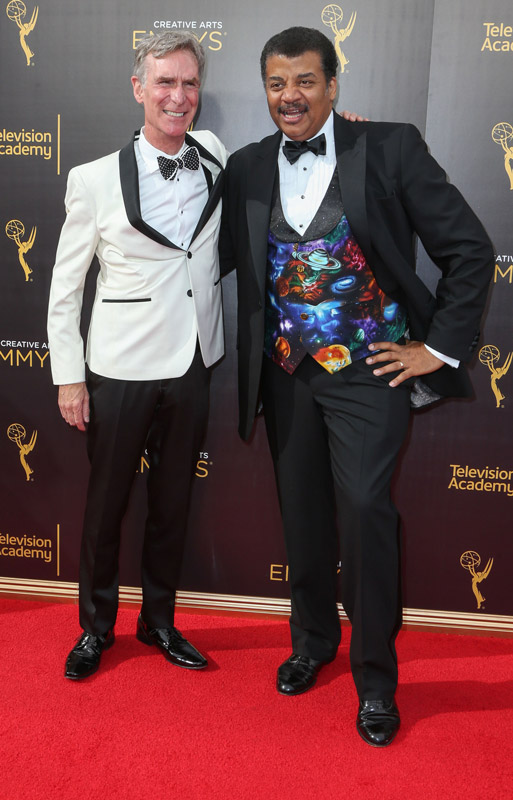 Neil with Bill Nye
Photos by PR Photos
Add a Comment
31 comments
Average Guess (23 Votes)
Peak: 6ft 1.79in (187.4cm)
Current: 6ft 0.73in (184.7cm)
Clifd
said on 19/May/19
Alabamfr - Bill Nye is not a scientist.
Clifd
said on 19/May/19
Bill Nye is a caustic, petulant d-bag. He doesn't even hold a PhD. He's a mechanical engineer. "Bill Nye Saves the World". Bill Nye's supervillian name? "Narcissus".
alabamafr
said on 12/Nov/18
Rob, this site needs more scientists. Richard Dawkins would be a good person to add.
Animus
said on 1/Oct/18
If he was truly 6'2" as a younger man, I'd say a 6'8-6'9 wingspan is extremely believable. He definitely looks similar to long-limbed elite NBA point guards in terms of length:
Click Here
Here is another picture of him from his wrestling days:
Click Here
He was clearly quite a physical specimen. Also, colloquially, an 80-81in wingspan is quite close to 7'0, so his comment is entirely understandable.
Sandy Cowell
said on 7/Apr/18
Imagine coming out with a name like that when you've just been pulled over on the motorway and they've found a big bag of marijuana in your CD compartment? 👮🚗😮
Neil DeGrasse Tyson can have 6ft1.75 peak, and 6ft0.75 for today's height!
berta
said on 4/Apr/18
dont really think he was 188 peak. there si zero chanse he and ryan reynolds was same height :P
Rampage(-_-_-)Clover
said on 24/Dec/17
30 years ago he may well have been 6ft2
so
said on 30/Nov/17
His reach is not 7ft.... That would be extremely noticeable...
Rampage(-_-_-)Clover
said on 30/Jul/17
Peak: 187-188cm
Today: 185-186cm
Mathew Robinson
said on 29/Jul/17
Next to Karlie Kloss (in heels, yes) I'd say Bill Nye (in 2017 at least) checks in at around 5'11". Maybe he's a solid 5'11" like 181 cm but there's absolutely no way he's anything like in the 184 - 185 cm range you'll read online. In his younger years it's possible he could have been 182 - 183 cm, as he's currently 61.
Click Here
Click Here
Click Here
jesse
said on 27/Jul/17
i knew someone who met him, and was taller than he expected, i feel like he has only lost 1/2 inch
James
said on 26/Jul/17
He has succeeded more as a science communicator than as a scientist per se. He has succeeded as a science communicator like Stephen Hawking, but he is not so recognized for his contributions to science like Einstein, Planck or Bohr. Looks 1.86 to me.
Powerhouse
said on 25/Jul/17
I'm 5'7.5 with a 73.5 inch wingspan (6'1.5). Broad shoulders and long fingers help on top of having longer than average arms.
Animus
said on 25/Jul/17
If your wingspan is more than 3% longer than your height, then you would probably be classified as long-limbed. My wingspan is 6'2½" at six-foot, and I would say I'm borderline long-limbed. I think if your wingspan is 4-5% longer than your height, your length becomes apparent.
Matthew Robinson
said on 24/Jul/17
Agreed on the wingspan probably being a bit exaggerated. Assuming his peak height really was 6'2", even 6'9" would be an absolutely monstrous wingspan. My wing span is about 2 inches longer than my dinner time height (6'2 5/8") and I think people would describe me as fairly long limbed.
MJKoP
said on 23/Jul/17
@AAAA "stretching the truth"
Good one! :)
Powerhouse
said on 23/Jul/17
Lied about his wing span, 6'4 MMA fighter Jon Jones a 7 foot wingspan and thats super rare and noticeable on his already tall frame. Neil wasn't ever 6'2 either. I'd say he is a strong 6'0 now.
Animus
said on 23/Jul/17
He definitely has extremely long arms. Look at this picture:
Click Here
However, it's almost certainly shorter than 7 feet. As a reference point Michael Jordan, who is about 6'5", has a wingspan that's roughly 7 feet. Most of the elite NBA point guards who are anywhere from 6'1" to 6'3" have wingspans around 6'6" to 6'9", so my guess is that the wingspan of Neil deGrasse Tyson's falls within that zone (as he clearly has extremely long arms).
By the way, I would say it's pretty clear he is a broad-shouldered mesomorph:
Click Here
Rampage(-_-_-)Clover
said on 23/Jul/17
He could still be a decent 185cm today when measured. I don't doubt 188cm peak
Christian-6'5 3/8
said on 23/Jul/17
He's definitely exaggerating his wingspan. And he doesn't have particularly broad shoulders either. You don't have to meet him to see that his wingspan isn't anywhere near 7'0". More like 6'6" at the most.
AAAA
said on 22/Jul/17
I'm 6'2 straight outta bed and 6'1 at night. I have a wingspan of 6'7 so 79 inches. The tips of my fingers DO touch the tops of my knees standing up straight. Unless he has shoulders to fit in a size 48-50 suit there is no way on earth he has a 7'0 wingspan at 6'2. That is Sonny Liston territory. Not to mention my arms look longer on me proportionally than his do in this photo. Obviously you'd have to meet him, but I think he is significantly stretching the truth
MJKoP
said on 22/Jul/17
Out of curiosity, Rob, is this the first celeb you've added that already had a "peak height"?
Editor Rob: I'm sure there have been others over the years.
BSW
said on 22/Jul/17
Wait, So he has a 7'0" wingspan at 6'2". Is he telling the truth or joking?
Not to mention the fact that at his shortest he will probably shrink to 5'11" by very old age.
5'11" with a 7'0" wingspan, lol, he'll be touching his knees standing straight up. Poor guy and his long arms, probably always getting in the way.
Editor Rob: yeah, his armspan will remain the same, well roughly, bone loss can still occur, but it's different than spinal discs.
berta
said on 22/Jul/17
i believe he was 187 and is down to 184-85 today
Mark(5'9.5
said on 22/Jul/17
Rob, out of curiosity, how tall does Bill Nye look? One thing is for sure, he doesn't give a short impression by any means.
Also, Listing for Tyson is fine!
Slothee
said on 21/Jul/17
Rob, any guess to how tall Bill Nye is? He seems barely 6' today.. Doesn't really look 6'1" as he's commonly listed
Editor Rob: under six foot, but if he has shrunk in height, maybe was 6ft.
Hans Meiser
said on 21/Jul/17
Love this guy. Bill Nye looks close to 6'.
Slothee
said on 21/Jul/17
Doesn't look much over 6' today. He was on the Big Bang theory once and looked about an inch shorter than Jim parsons.
Jacob
said on 21/Jul/17
I always thought he looked way over 6 foot perfect listing rob
Rampage(-_-_-)Clover
said on 21/Jul/17
Nice one, Rob!
Looks more 6ft1 range today but 20 or so years ago may well have been 6ft2
Editor Rob: Neil looks a guy who seems like he might fall between 6ft - 6ft 1 but I would say probably could stretch up taller to 6ft 1 if asked to.
Matthew Robinson
said on 21/Jul/17
Hmmm, he doesn't have as much height over Bill Nye there as Jim Parsons does here
Click Here