Nick Cassavetes Height
6ft 6 (198.1 cm)
American actor and director best known for directing films such as The Notebook, Unhook the Stars, She's So Lovely, John Q, Alpha Dog and My Sister's Keeper. As an actor he has appeared in Face/Off, The Wraith, Life, Class of 1999 II: The Substitute and The Astronaut's Wife. His mother - Gene Rowlands - once said:
"At six foot six and a half, Nick was always going to be a basketball player"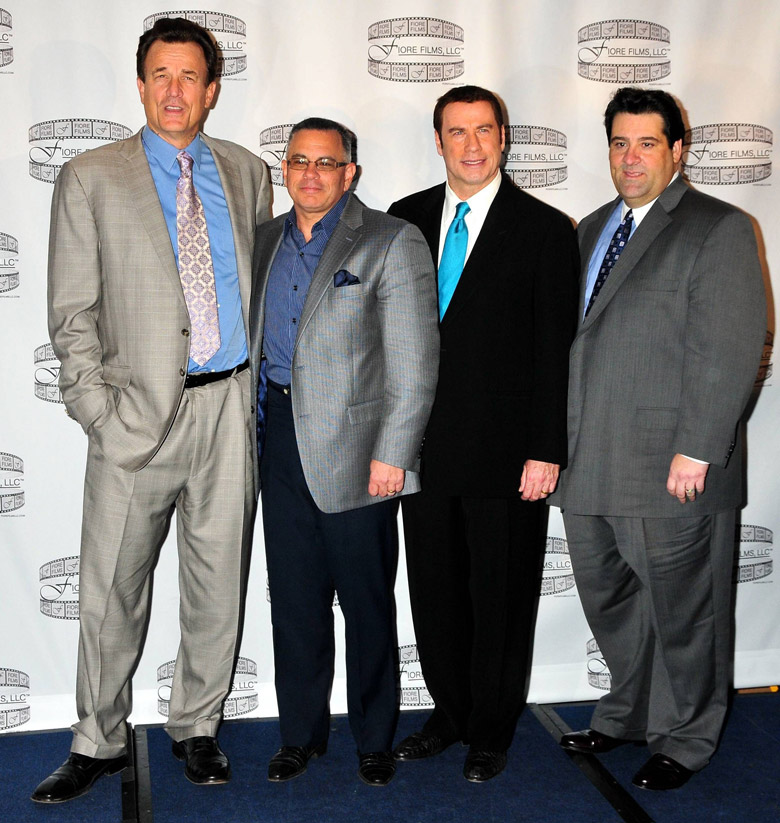 Photos by PR Photos
Add a Comment
68 comments
Average Guess (12 Votes)
6ft 5.83in (197.7cm)
Rampage(-_-_-)Clover
said on 16/Aug/20
Rob, is there any validity to that 6ft6½?
I'm thinking earlier in the day he may well have got close to that

Editor Rob
barefoot I doubt he was that tall. He did have aspirations to be a basketballer, but snapped his Achilles tendon, which put paid to that.

Here's an interesting tidbit too...

"They used to all be tall: Eastwood, Gary Cooper. Now it's Dudley Moores. I went in to read for 'Beverly Hills Cop' when it was still going to be made with Sylvester Stallone, and I was told that 'Mr. Stallone is very self-conscious about his height."

Canson
said on 19/Jul/20
@Rampage: he never gave me a 199.5-200 impression. I could see 6'6 Maybe, but not higher
Rampage(-_-_-)Clover
said on 15/Jul/20
Guys he's 199.5-200cm...not a chance he's 196cm
Canson
said on 27/Apr/20
@Christian: to be quite honest, if I only base it off some of the pictures, Nick can actually appear just a solid 6'5 guy or slightly above. That's proportionately how he looks in a few pics as he looks at most as tall as my buddy who is 6'5.25" afternoon. Even above in the pic he just benefits from having long limbs. People simply don't appreciate how tall 6'5" actually is. That says it when you are around 6'5"-6'5.5" yourself and get guessed at 6'6" or 6'7" as regularly As you do. People who are my size claiming 6'5 and guys who are 6'3 range claiming it throw everyone's balance and perception off. That's why at 6'4.25 I just claim 6'4"
Tall Sam
said on 26/Apr/20
Yeah I've long thought this guy was over listed. He really looks a somewhat strong 6'5" range. There's several pictures of him with with six foot range or slightly under guys like Denzel, Travolta, Justin Timberlake, Scott Bakula, etc. Based on those I think someone like Rory McCann would be hard to distinguish or may even edge him out and someone like peak James Cromwell would look nearly an inch taller.
Christian 6'5 3/8"
said on 25/Apr/20
@Canson
Nick has weird stances when he walks, based on the pics. I wonder if it has anything to do with his tallness, or that he has major health issues.
Canson
said on 24/Apr/20
@Christian: I think he is too. Probably around your height or maybe slightly taller at the full 6'5.5" afternoon as a best case
Canson
said on 23/Apr/20
Click Here
@Bobby3342 and Joe: I tend to agree he doesn't look a legit 6'6". More a strong 6'5 range or maybe 6'5 1/2 guy. That may be where he gets his 6'6.5 from. Even in Face Off I could see what Joe says maybe
Christian 6'5 3/8"
said on 23/Apr/20
More than likely overlisted.
bobbyh3342
said on 21/Apr/20
6 5 .25 barefeet in shoes 6'6.5
joe###
said on 23/Nov/18
watching the movie again Nick was wearing boots with pretty big so my guess is randy quaid 6´4.75 and nick 6´5.5
joe###
said on 18/Nov/18
looks 6´6 with randy quaid
Canson
said on 16/Jun/17
He is not 6'6 barefoot
Canson
said on 16/Jun/17
6'6.5 in sneakers
6'5-6'5.5 barefoot
World Citizen
said on 29/May/17
Hey Rob who is the woman beside him?
Editor Rob: wife Heather Wahlquist I think
Wow
said on 7/May/17
It's the pituitary gland guys...just giving all kinds of hormones including the growth hormone...it can always be unpredictable...this guys is way off the charts though cause he seems totally health and just TALL...but a full foot taller than his dad you never know...
Checking his maternal uncles and maternal grandparents can clear things up... I've seen many occasions where the mom is short and all her brothers and dad are very tall...meaning she isn't tall but is a tall-genes carrier..
Arch Stanton
said on 22/Apr/17
His sisters aren't tall either, average range. 6 ft 6 isn't just tall. Makes you wonder how he got to be that height. It's freakish given his parents's heights. The only sibling who looks quite a bit like John Cassavetes is Alexandra Cassavetes. The other daughter looks more like she could be related to Stephi Graf haha. None of them really look like Gena, Nick maybe a little bit.
Mike
said on 18/Apr/17
I met this guy in JFK airport a few years ago, really nice bloke and tokd him face off was one if my fav films' nice down to earth fella. Im 6'2 and he had 3 inches on me. Tall man with a decent attitude to go with it.
Sandy Cowell
said on 3/Apr/17
Wow! So this is the son of John Cassavettes, with a remarkable 11 inch height difference!
Now I can genuinely and honestly say with absolute certainty that this is the greatest father and son height difference I have come across EVER!
This big guy can have 6ft6 from me, with the promise that I will be mega surprised if I should come across anything as drastic as this again!
Duffer 5ft 11
said on 31/Mar/17
200cm peak, 197cm nowadays.
S.J.H
said on 21/Jan/17
I keep having the feeling that he was 2cm taller than 195cm tim robbins the more i see him. He must have get over estimate by rob. 6'5.5 a shout maybe..
Arch Stanton
said on 30/Oct/16
There's a chance on 6'5.5 and 6'6.5 his shoe height, but as Danimal says he can certianly look a decent 6'6.
Danimal (176-178cm)
said on 15/May/16
Watch the movie "The Wraith" (1986). Nick made Randy Quaid look SHORT in that movie. He was every bit 6'6.5" at that time.
Arch Stanton
said on 3/Jan/16
David said on 23/Jun/06
Nick is the spitting image of his father, John.
Disagree, there's not much resemblance at all. I see more likeness to his mother than John.
Sam
said on 12/May/15
Rob, could you take another look at Nick? 6'6.5" claim could be a shoed height, he looks no more than 6'5.25"-6'5.5" IMO. He just seems a solid 6'5" guy, around the same height compared to others as does Howard Stern. There's plenty of pics with him and six foot range guys and he looks 5 inches taller, not more.
Sam
said on 11/Nov/14
6'5" could be a conservative listing but I don't see him as over 6'5.5". I have a hard time buying he's actually taller than someone like Nonso Anozie.
Andrea
said on 5/Nov/14
Yeah, he never looks 6'6, he can look only 6'4.5 at times but maybe 6'5 range is a "safe" bet... His claim seems another "g-claim"! Rob, what about a downgrade to 6'5 flat?
Arch Stanton
said on 9/Oct/14
He does look very similar proportionally Sam to Clive Mantle who is 6'5.5".
Arch Stanton
said on 9/Oct/14
With Travolta Sam yeah he could be a smidge under 6'6 and 197 I see between 5 and 6 inches. He definitely doesn't look as low as 6'5" flat though, anything from 6'5.5-6'6 is about right. Possible he got measured first thing at 6'6.5 for basketball, they usually get the athletes up at the crack of dawn don't they? I've seen a few videos of them doing the measuring.
Arch Stanton
said on 9/Oct/14
Rob can you add a photo and "best known for directing films such as The Notebook, Unhook the Stars, She's So Lovely, John Q, Alpha Dog and My Sister's Keeper and for appearing in films such as Face/Off, The Wraith, Life, Class of 1999 II: The Substitute and The Astronaut's Wife.
Realist
said on 21/May/14
Yeah its totally puzzling. His mother was not very tall but taller than most women in her generation as for his father pretty average at his time. I dont understand how a basketball player comes along all the way. If he was about 5'11-6'0 i could understand he got his mothers genes but this is freakish.
Sam
said on 3/Apr/14
John could seem bigger on camera because he was kind of an intense and imposing presence. He really wasn't that tall, Husbands is a good one for comparison. He's clearly shorter than Ben Gazzara and taller than Peter Falk. I think he could seem 5'8" but 5'7" is probably closer to the truth.
Sam
said on 1/Apr/14
Rob, any chance you could add John Cassavetes?
[Editor Rob: can't remember much of how he has looked as films he was in I've seen long ago.]
Sam
said on 17/Mar/14
Next to Scott Bakula, John Travolta, Nicolas Cage, and Justin Timberlake, he looks no more than 5 inches taller IMO than these six foot range guys. I'd guess he'd be a similar amount taller than Ryan Gosling and Denzel Washington but I can't find any shots of them despite their collaborations. I think he's closer to a strong 6'5". Is it possible that the 6'6.5" was in boots?
Arch Stanton
said on 14/Dec/13
Mm actually looking at his posture it looks like he got his knees bent and shrinking down probably 6 inches.
Arch Stanton
said on 14/Dec/13
Rob how tall is the guy next to him here??
Click Here
Arch Stanton
said on 14/Dec/13
Gena's not particularly tall, but if you look at her face and proportions you can tell she probably came from a tall family. I wouldn't be surprised if a lot of the men in her family were well over 6'. Either way it's extraordinary for a 5 ft 7 father to have a 6'6" son, especially as the mother isn't very tall!
Arch Stanton
said on 10/Sep/13
Yes, it's possible that Cassevetes was the runt of the litter and sort of like Kiefer and Donald Sutherland and could have had a tall brother or father and the gene is in there somewhere. There was a kid when I went to Sardinia once who had a similar height father and his mother said he was 6'6" and looked it easily, in fact by the end of the holiday he looked nearer 6'7" to me, he was still growing I think! His father was 5'7 ish but he clearly got his height from his mother's side, she was about 6'0.
Arch Stanton
said on 29/Aug/13
Rob how does a 5 ft 7 man a 5 ft 6 woman produce a 6 ft 6 son? It's pretty crazy.
[Editor Rob: maybe there's a tall uncle/relative in there somewhere? Or when gene mixing, the mix and mutation helped?]
Sam
said on 29/Jul/13
Don't have a clip but next Scott Bakula to Quantum Leap, there's pretty no way he's 6'6" unless Scott Bakula is a strong 6'1" (which isn't the case). This guy is 6'5" IMO. Also, it would interesting to see his dad, 5'7"ish John Cassavetes added.
Sam
said on 9/Jan/12
6'6.5" may have been his height in generous basketball shoes, he's never seemed to be more than a strong 6'5" guy to me...I suspect he and I would be eye to eye.
ANDREA[ITA]
said on 8/Jan/12
So rob, you still think he's a legit 6'6? :O
He's lucky to be 6'5, but he looks more like 6'4! Maybe if standing straight, he reaches almost 6'5 but no more!
[Editor Rob: it's possible he's lost some height. ]
ANDREA[ITA]
said on 7/Jan/12
Rob, here is Nick with John Travolta, from 2011 (so Travolta is no more than 182):
Click Here
He looks more like 6'4
Here he is with Emile Hirsh, 166 cms and Olivia Wilde:
Click Here
He again looks 6'4-6'5 range!
Here he is with Ben Foster:
Click Here
He again looks 6'4!
Here i admit he can look 6'5 with Sam Shepard:
Click Here
But 6'6 or anything close to it sounds too much for him!
What do you think? I think Tim Robbins could be taller than him!
avi
said on 8/Dec/11
Rob, he is lucky to hit 6'5 never ever more than 6'5.25
Rampage(-_-_-)Clover
said on 24/Nov/11
I believe 6ft6-1/2(199cm)
ANDREA[ITA]
said on 27/Oct/11
He doesnt look more than 12 cms taller than John Travolta, Rob (in recent pics)!
Today Travolta is 180-182! What about to downgrade him to 6'5?
LAN Jiao
said on 26/Oct/11
My uncle was 6'3 yet my cousin was 5'8.. cassavetes is a noticeable big guy than many leading actors.. he might be 6'5 but not much chance 6'6
Shaun
said on 13/Sep/11
Doesn't look it, more like 6'4".
Hansen
said on 22/Aug/11
stop bringing up celebrities height mr.rampage.. lol. Nick Cassavetes was 6ft6 if he insisted his claim although by fact he look more like 6ft5range alot.etc
Rampage(-_-_-)Clover
said on 19/Jul/11
I think he's 198/199cm or a little over 6ft6.
Had 5-6in over Bradley Cooper in The Hangover Part 2
matt
said on 13/Jul/11
theman: he coulda took after his great great grandfather who was 6'2 for all we know. I am 6'3 barefoot and my dad is 5'9, mom is 5'4. so it is possible.
Sully
said on 10/Jun/11
Never use what they say on Entourage for height gauging.
On the episode where Vince had a "stalker" they found a potential suspect's license and it said his height was 5'11. Fast forward to the confrontation and Kevin Dillon's char had like 4-5 inches on him.
Also, pictures that dont show the entire body are bad gauges for height as well.
Sam
said on 1/Jun/11
I don't think he's really this tall, probably closer to 6'5" when compared to 6-foot-even guys. He doesn't completely tower over Justin Timberlake here:
Click Here
Or John Travolta here:
Click Here
And in an episode of Quantum Leap, he looked to be a max of 4 inches taller than Scott Bakula.
Mike
said on 19/Apr/11
Did not look 7 inches taller than vince in Entourage
Rampage(-_-_-)Clover
said on 14/Apr/11
Is 6"6.5 possible Rob?
[Editor Rob: I don't think that tall, I once read an interview which mentioned he was almost 6ft 6, I wondered if that came from him or not.]
Larry
said on 25/Mar/11
In entourage they mention him at 6 4...
theman
said on 28/Oct/10
How is it possible that his father was 5'7 and he is 6'6?
Anyway, he is a great director, I loved Alpha Dog.
Big King
said on 7/Dec/08
There are hardly websites where Nick's height is written as 6'6". Most websites have him at 6'5 1/2" and I think that you should turn his height a half inch down, rob.
Ray
said on 24/Mar/07
Danimal: 6'5-6'6" yes, definitely for Cassavetes but not 6'8". He was definitely taller than Randy Quaid who is tall himself; Looks like he had roughly 2" on Quaid. BTW, The Wraith is one of my all time favorites.
Danimal
said on 28/Dec/06
Anyone ever see the movie "The Wraith" from 1986, with him, Sherilynn Fenn (Twin Peaks), Charlie Sheen and 6'4" Randy Quaid? Nick towered over Randy Quaid in ALL scenes with Randy. I always knew Randy was tall since he played Chevy Chases brother in law in Vacation, but Nick made him look short. When Nick was young he was minimum 6'6", but he honestly looks like he is closer to 6'8".
Link
said on 27/Dec/06
parents mean nothing for height
Im 6ft and my dads 6'3" my uncles 6'7" and the shortest male in my family is my other uncle at 5'9"
thats right, 3 brothers, one at 6'7" one at 6'3" and the other at 5'9", all from the same 6'4" dad.
The rest of the males range from 6'2"-6'9"
Ive got a friend who is a solid 6'5.5" and his dad is 5'9" and his mum is 5'1"
Ive got a fiance who has a 6'4" brother when his dad was 5'6" and the mum is 5'3", and they actually have no tall people in the family apart from him.
Short parents can make uber tall kids, tall parents uber short kids, its potluck really.
David
said on 23/Jun/06
Nick is the spitting image of his father, John. Yes, both John and Gena are short, but sometimes genes are not the only factor in one's height. My friend's father was over 6 feet and neither he or his 3 siblings come even close to that.
Stiffelio
said on 24/Feb/06
Is Nick John Cassavetes's son? Never would have told. John was 5ft 8in max. And Gena Rowlands isn't tall either. Oh, well ......maybe he was adopted.
dmeyer
said on 24/Feb/06
he is the tallest actor
dmeyer
said on 21/Feb/06
he looked big near cage in face off
sam
said on 21/Feb/06
He does seem to be a tall guy, but I don't know about 6'6". I would have guessed him to be about 6'4" in an episode of Quantom Leap next to Scott Bakula, as the height difference was about 4 inches. Also, an actor in one his movies (I think Emile Hirsch, who may be too short to know the difference) described Cassavetes as being "like 6'4"."
Anonymous
said on 20/Feb/06
Yes, he was. Check out his role in the movie The Wraith, next to co-star Randy Quaid. Nick was a good 2-3" taller than him.
[Editor Rob: his height no doubt lost him many a film role...]
mask
said on 18/Feb/06
Imdb has him at 6'4" I don't know but to me is more likely this height than 6'6 1/2".I don't know even where does he inherit this tall gene because his father John was 5'7" maybe Gena Rowlands is 6 feet tall!
[Editor Rob: maybe the 6ft 6 was possible...looks a big fellow near Travolta and recently beside sam shephard]