Oprah Winfrey's Height
5ft 6 (167.6 cm)
American TV presenter and actress.
I'm 5 foot 6. When I was Miss Tennessee, I weighed 135 [pounds]. You can see my bones at 135. But when I moved to Chicago, I started really putting on the pounds. I think I wanted that weight as a defense, so if the show failed, I could blame it on that. Same thing with men. As long as I'm heavy, I've got a great excuse. But I tell you, this is the biggest, biggest problem in my life. Not being able to have the self-discipline to beat this. It truly makes me real depressed.
-- 1986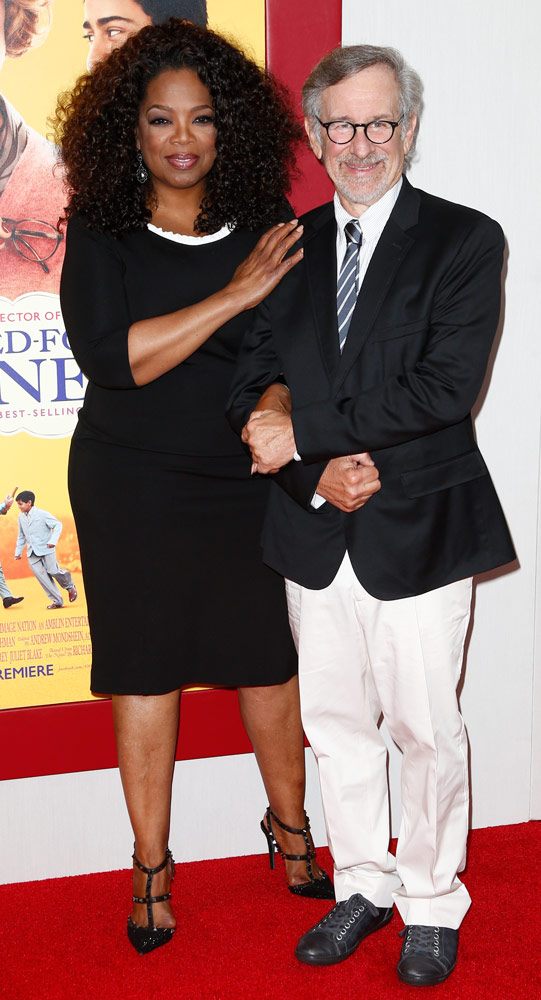 Photos by PR Photos
You May Be Interested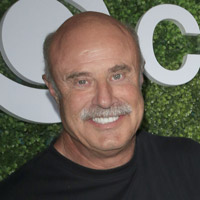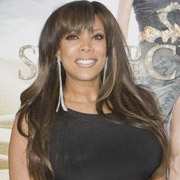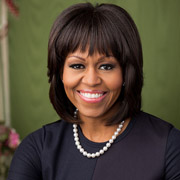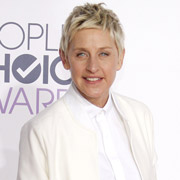 Add a Comment
101 comments
Average Guess (18 Votes)
5ft 6.07in (167.8cm)
Nik
said on 14/Dec/19
@ Sandy Cowell - That doesn't always follow though!
Canson
said on 26/Jun/19
@Rob: Rob, how tall would you guess Stedman to be? I've seen him listed as high as 6'7" on the net then of course 6'6 like Stacy said below which is more believable. I've looked at some pictures of him in his prime and today and I would've probably guessed either that mark or perhaps 6'5-6'6 range. But he's older today so maybe he's lost height since then. But I want to hear your opinion.

Editor Rob
He claimed 6ft 6, so he's no taller than that really.
Miss Sandy Cowell
said on 19/Jun/19
Whyever shouldn't she be Nik? She's five six!
Robby Harris
said on 19/Jun/19
Oprah's footwear that day(not the clearest photo) looked to be roughly around 5cm:
Click Here
Robby Harris
said on 19/Jun/19
Oprah(wearing 2" heels) with 5'7.5" Steven Spielberg in 1997:
Click Here
Click Here
Click Here
Click Here
Click Here
5'6" is a decent estimate. 167-168 is what she usually looked, but I think she's more 165-166 now at 65.
E Dizzle
said on 15/Jun/19
I don't think she is 5'6'' because (as everyone knows) she's the tallest woman and that's pretty low for the tallest woman.
khaled taban
said on 27/May/19
5'6" as listed!
Michael 5'10", 178 cm
said on 16/Dec/18
Yeah, Oprah is more like 5'6" than 5'7", she didn't look that tall to me. Oprah Winfrey is 5'6" like Ellen DeGeneres.
TwistAndShout
said on 19/Nov/18
Rob, can you add Eckhart Tolle to this site? He looks a little bit taller than Oprah. Could he have a peak height of 5'7?
Junior Hernandez 1990
said on 19/Oct/18
I thought she look 5'5-5'5 1/2 with Chris Bosh, D Wade and Lebron a few years back, she had heels on.
M58
said on 17/Jan/18
@Rob: Do you consider 169 cm a possibility?

Editor Rob
I think her 5ft 6 claim is fair...though i'm sure at times she has seemed a bit taller.
Harris
said on 1/Dec/17
Spielberg can still look his listed height nowadays actually, so might have not lost anything 5 years ago, and I wouldn't think Oprah had shrunk by then yet either, and still pulls off a decent 169 cm in the video I posted below.
Harris
said on 1/Dec/17
Spielberg can still look his listed height nowadays actually, so might have not lost anything 5 years ago, so I wouldn't think Oprah had shrunk by then yet either, and still pulls off a decent 169 cm in the video I posted below.
Harris
said on 1/Dec/17
Looked slightly shorter by perhaps an inch (in flat footwear) than Steven Spielberg in 2012, who's listed here at 5'7.5", though I think he might have possibly been a little more 170-171 cm by this time:
Click Here
and looked taller than him in stilettos, in 2014:
Click Here
Click Here
Didn't she claim 5'6.5" Rob? or was that an estimate quoted by someone else?
Joshua
said on 22/Aug/17
She looks 5'7
Jimmyjack
said on 19/Aug/17
Wheres Dr. Oz?
even
said on 5/Jul/17
shes one of few people who mentions her height correctly and honestly she really is 5 foot 6 .
RisingForce
said on 24/Jun/17
Solid 5'6" peak, but I'm sure she's now no more than 5'5" range, though I haven't compared her much.
Peyman
said on 3/Jan/17
Hi Rob
How tall do you think Dr oz is?
Editor Rob: Peyman, doesn't really look over six foot.
Phil
said on 28/Dec/16
women below 5 foot 7 are insecure about their height. she is 5 foot 5 and a half.
Andrew M
said on 15/Jun/16
As she was once a beauty queen, isn't very likely that her height became a matter of public record, and should be available somewhere?
charlie
said on 25/Mar/16
Oprah wears large high heel shoes. I think she is 5 foot 2 inches. with the heels she looks 5 foot 6. Now she and Doctor Oz stood almost same height interviewing The blue man. Dr Oz may of looked 1 inch taller. tells me he might be 5' 7" I really feel Oprah is 5' 2"(Flat feet) The heels make her look 5 foot 6 inches. My question is why is Dr Oz listed as 6' 1"? They were both the same height.I couldn't find Dr Oz on Celebheights. I am curious to know his true height.
weirdo
said on 20/Aug/15
Looked 5"6 with 5"9 Michael Jackson....
177cmGuy
said on 21/Feb/15
5'6 peak height. Today about 5'5 could be possible. I remember Tom Cruise being slighty taller than her when she was in heels and he was in normal footwear back 10 years ago.
Nicky
said on 7/Mar/14
She looks shorter than 5'7'' to me. Look at this picture with Lupita Nyong'o's mother and brother:
Click Here
I understand she's probably wearing trainers while Lupita's mum might be wearing heels but Mrs Nyong'o doesn't strike me as taller than 5'7'' either, look at this picture with her daughter, she only seems to be like a couple of inches taller:
Click Here
Frosty
said on 1/Mar/14
Met her last year on her speaking tour and had my picture taken with her... I am 5'9", Oprah is a solid 5'6" but no taller.
Camilo
said on 21/Nov/13
Belief I walked by her twice in Chicago(cf. State Street & Lake Front near Fullerton). She can't be more than 5'3" in height. She appears tall on television but she's short in stature.
Dom
said on 15/Jan/13
@Quinn she looks about 1,5 inch taller than Rihanna throughout the whole video.
LG69
said on 12/Sep/12
@Annell, Oprah is NOT 5'8"...let alone 5'10"! She is 5'6" solid.
Quinn
said on 12/Aug/12
Oprah still shorter than Rihanna(5'8") even Oprah wearing 4inch heels and Rihanna wearing flats. 5'4"-5'5" for Oprah
Click Here
(1:12)
Danimal
said on 7/Aug/12
Age13 says on 7/Aug/12
Right, so, I've met Oprah, my mum is 5'8" I think, and Oprah was nowhere near her height, I reckon she is about 5'6"-5'7"....hope this helps at all!
That's exactly the height she use to claim for herself: 5'6.5". Today at 60 she is probably less than 5'6" though.
Grace
said on 7/Aug/12
Right, so, I've met Oprah, my mum is 5'8" I think, and Oprah was nowhere near her height, I reckon she is about 5'6"-5'7"....hope this helps at all!
Age13
said on 7/Aug/12
Right, so, I've met Oprah, my mum is 5'8" I think, and Oprah was nowhere near her height, I reckon she is about 5'6"-5'7"....hope this helps at all!
Valerie
said on 4/Dec/11
oprah is in my opinion 5'7 barefoot, and taller in heels ofcourse =)! She's not under 5'6 1/2 barefoot!!
Annell
said on 15/Oct/11
Oprah is 5'8"-5'10" - Did you see her next to Taylor Swift? Both were wearing heels.
K. Reed
said on 13/Sep/11
I was actually on the Oprah Winfrey show back in the late 1990's. I actually was standing next to her at one point in the show. I am 5'6 inches and she was at least 3 inches shorter than I was (she did not have on shoes at the time and I wore flats).
edie
said on 31/Aug/11
i thought she was much taller i guess it's the heels that she wears
Jack
said on 13/Jun/11
Oprah listed her height as 5'6.5" when she competed as miss black nahville but she seems way taller. She's almost as tall as her best friend gaily king who is well over six feet in heels.
runt
said on 5/Jun/11
Looking tall with Julia Roberts in recent shows
Click Here
Stacy
said on 25/May/11
If you look at photos of Stedman Graham (who is 6'6"), and Oprah, I would say that you might gather that Oprah is around 5'8" to 5'10." I've read that Oprah is taller than people guess that she might be.
karen
said on 20/May/11
Gayle said last night on Bravo's Watch what Happens Live that she is 5'10" and Oprah is only an inch or two shorter than her. She's got to be 5'8". A guy I worked with years ago was a guest on Oprah's show and said he was surprised at how tall she was.
J.J.
said on 20/May/11
Gayle King is 5'8" but they said she claims 5'10"
lisagoodeyes
said on 27/Mar/11
It's become the norm for celebrities, even the very tall, such as Tyra Banks, Uma Thurman and Charlize Theron to wear very high heels. The taller they are the slimmer they look, and this helps with photographs and videos which are not quite true reflections of the body, because everyone looks heavier.
As far as Oprah, she has been lying about her height since the age of 18 when she filled out the application form for the Tennessee pageant as her height being 5 foot six inches and her measurements as 36-24-36. Many photos over the years show she is closer to 5 foot four probably even less now with age. She always wears LOUBOUTIN shows on the show with their red soles, the heels are between 5 and 6 inches and sometimes there is a platform as well, she walks with difficulty in them, hard to balance yourself when you are very heavy. But these will make you look much slimmer with the added height of a wig or hair piece.
Kate
said on 15/Dec/10
asians don't bind their feet anymore. you can't find anyone that does that except old women in chinese countrysides...mon: trust me taller ppl look large always, even when theyre skinny and short ppl have smaller frames so they'd look slimmer, but oprah is just a large boned person and its more than laziness if she has a professional chef and trainers and still cant loose the weight, maybe shes just stressed or its genetics. she's a good height and 5'5-6 is right since she doesnt look particularly tall or short. and no height doesnt determine height because i hav a friend who is a size 9 and shes 5'3
Danimal
said on 4/Nov/10
She used to claim a height of 5'6.5"... She's almost 60 years old. Could be a flat 5'5" today (due to age and all that weight she carried around for all those years)..
lookagain
said on 4/Nov/10
Oprah has been lying about her height (and weight and measurements) since she participated in the Miss Black Nashville beauty pageant in 1971. That is the document everyone refers to ever since, but there is no proof that information is accurate. The pageant has restrictions about size, they want the ladies to be close in height on the stage, you wont see a 5 foot tall or a 6 foot tall. If you look at many older pictures, there is one with Quincy Jone who is 5 foot 6 inches, and she is shorter than him in heels. Compare her pal Gayle King who is supposed to be 5 foot seven, Oprah is at least 3 inches shorter. I think Oprah Winfrey is between 5 foot 3 and 4 inches. Those shoes are 6 inches high, she can't walk in them but likes to greet her TV guests in them.
Anonymous
said on 4/Jul/09
5 ft 5.5 to 6 in max.
Nothing more. She has never been a tall woman, even with that huge hair which at least adds two inches to her height btw. Add the 5 inch heel shoes she loves, and you have a 5 11-6 ft woman on your TV.
To me she doesn't even look 5 11 on TV, since she is still shorter than most of her guests...
zuny
said on 2/Apr/09
Oprah is 5.5 today she had Star Jones on her show, Star stated she was 5.5 Oprah and her were the same height.
lou
said on 15/Mar/09
Oprah is taller, around 5'6.5" to 5'7'. I've been to her show and she is exactly the same height as my 5'7" sister.
Anonymous
said on 5/Mar/09
Leonardo DiCaprio is 5'11 or maybes taller so i dont know how you worked that one out lola :S
Lola
said on 1/Mar/09
It's interesting and I agree with those who stated that she is 5'5. and i agree becoz on her show when she was standing next to Leonardo DiCaprio they were alsmost the same height (having said that, she was wearing some high heel shoes, not too high tho). And Leaonardo is only 5'9.
Joanne
said on 16/Feb/09
Oprah was standing beside 5'9 Gwyneth Paltrow once and she was way shorter. Plus Oprah was wearing very high heels. Wasn't sure about Gwyneth tho. So 5'6 is ideal enough.
Nancy
said on 6/Jan/09
I really don't believe this..a site where people discuss, and even ARGUE about celebs heights!! What next? I asked Answers.com about Oprah's height to try and figure out, at 40 lbs over her 'svelte' size how "bad" I look with my extra weight (about the same, for when I become famous and people argue on this site about MY weight!)..even with this relatively benign inquiry on my part, I felt guilty for comparing myself to someone else, and am actually 'sneaking' my little weight search thing at 5 a.m. so my significant other doesn't think I am totally insane..let's all go get a life people and leave others heighty matters, and their weight issues where they should be - with them, and I suppose their personal trainers. Sigh.
CMR
said on 5/Jan/09
Very interesting...one new article described her as "svelte" when she weighed 160. I'm 5'5", and STARTED my diet when I weighed 165!! I now weigh 138, and still wouldn't say I'm "svelte"!
VKV
said on 22/Dec/08
I've struggled with my weight as well. Lost over 80 lbs. but have put back about 40 since I started a master's program last July. I'm probably about the same height as Oprah, and looking at her photos, even her "airbrushed" ones, I can tell you that she weighs more than 200 lbs. While I admire her public "confession" it's disappointing that she's not really up-front about everything. It certainly isn't easy being so much in the public eye, but if you're going to make the pretense of "helping" all of us who struggle with weight issues, at least be honest with us.
Adrienne
said on 9/Dec/08
Mom met her at the Academy Awards-mom is 5'8''. They were both wearing heels and they were exactly the same height-exactly.
Sooooooo I think Oprah needs to be upgraded----just my opinion!
helena miranda
said on 9/Dec/08
I always thought,regardless of Oprahs's 200lb that she was a small woman,from filmsI seen adn also her programs,and later I have noticed that she has put on weight... In any case I found and extraordinary interesting woman with lots of guts, bsids beein so successfull. She has a yo-yo dieting problem as I do! but I am in fact 5.8 around 1,73 and I never reached 200Lbs the max I was,was 86 Kilos due to antidepressants, separation, and change of age!!!still I managed to loose in 2005 17kgs...Iv put some on still I intend to loose it eventually...but its hard work...I respct that Lady too much to say that she is really obese.. and Yes I believe she cant be more than mas 1.65 if so !
k/news
said on 9/Dec/08
that bmi would make her about 5'6".
Louise
said on 9/Dec/08
She's 5 ft., 6-1/2 in. At that height, and 200 pounds, they list do list her correct BMI at 31.8. Here's a calculator...
Click Here
karla
said on 9/Dec/08
5'6.5" BMI is not calculated as simply as "divide weight by BMI to get height". Using a BMI online calculator you can see that at 5'6" and 200 lbs BMI would be 32.3 and at 5'7" and 200 lbs BMI would be 31.3. Halfway in between is 5'6.5" and BMI of 31.8 at 200 lbs
Donna-Michele
said on 9/Dec/08
Hey Folks, at 54 years old, maybe she has lost some height since the 1990's?? My weight has wobbled too, and when I am 160, I am not large or small, that is in between for me. Over 200 is my really feeling bad about me number too.
BTW, mom and I are the same height, my athetic or flat shoe is an 8.5 or 9 and hers is a ten. Shoesize has to do with frame NOT height, also I wear a 9 or 9 1/2 in heels. Everyone wears a larger size in a heel.
nosygirl
said on 9/Dec/08
I think Oprha's height is less than 5 ft 6 in. An article today (Dec. 9/08) says that she weighs 200 lb and her BMI is 31.8. If my math is right (divide weight by BMI to get height), she's 5 ft 3 in.
anonymous
said on 10/Nov/08
She's five foot 6 max. No taller. I like ellen better.
Simone Peque
said on 14/Oct/08
If she's only 1,68 I really doubt Julia Roberts is 1,78 as we see in many sources. Today, 14th October 2008, she and Sandra Bullock were in the Oprah Show and the three of them seemed exactly the SAME height (and I paid lots of attention and figured out all of them had high heels of similar height). So someone there is lying about the height.
Brad
said on 30/Aug/08
Still 5' 6" as of 2 days ago when I saw her again.
Josh
said on 24/Jul/08
Yeah but some people DO HAVE BIGGER FEET than others...even though the person is shorter.
Jane
said on 12/Jul/08
She's 5'7" not 5'6". She towers over most of her guests.
captodometer
said on 25/Jun/08
I don't think there's any direct correlation between shoe size and height. I'm 5'4.5 and wear a size 9.5. A relative who is an inch shorter wears size 10.5. And her sister is 5'2 and wears size 6.5. So Oprah wearing a size 10 at her stated height doesn't sound the least bit strange to me.
Sophie
said on 30/Apr/08
How's that possible? Her shoes (sold at "Oprah's Closet" in the Oprah store in Chicago), are size 10! I'm 5'6 and I wear 6.5 shoes! No way! She must be taller. MUCH taller.
B.
said on 27/Apr/08
To be exact she is 5'6.5
trust me on this
I heard it come straight out of Oprah's mouth
Emm
said on 16/Jan/08
She wears VERY high heels nowadays on her shows. Atleast 4 inches or more. I am watching the show at the moment nd her heels look like they ave a inch heel on them. I don't know how she can walk in thse at her age. My mom can't wear stylish heels that high and she's even younger than her!
Paula
said on 8/Sep/07
I can't give an exact height, however my cousin Kim was a guest on Oprah's shows a few years ago, Kim isn't a short girl herself I would say 5'7 and she even said Oprah was taller than she was... So Oprah is at least 5'7 and probably more
Sheryll
said on 4/Sep/07
Is this with or without heels one?? And, how much does she weigh as of Aug of 2007??
Deborah
said on 23/Aug/07
I never watch the Oprah show but I happened to tune in today. It's a rerun so I don't know exactly when it originally aired. (I know it's a rerun from ext. shots ) She looks huge. I'm not small. I'm 5'8" and 160lbs. Does TV add that much to the human frame? I see tabloid newpaper shots of Oprah and she doesn't look this plumped out. How much does she weigh as of Aug.2007?
Anonymous
said on 29/Jul/07
Does Oprah appear taller because she wears shoes with high heels and Hillary Clinton does not.
Juke
said on 14/Jul/07
Oprah's a lot taller than 5'6". She towers over Hillary Clinton who has been listed as 5'7".
Juke
said on 14/Jul/07
Oprah's at least 5'7". I saw Hillary Clinton on her show and Oprah just towered over her like a mother towers over her daughter. And she's taller than Tom Cruise. Yes she wear heals but so does he.
Deb
said on 14/Mar/07
Next to 5f4.5 Mary J Blige she was an inch and a half shorter. I think she is under 5f4
Click Here
Brad
said on 5/Mar/07
240 pounds!? Somebody get her trainer an award.
Anonymous
said on 22/Feb/07
I always believed the 5'6.5" claim for Oprah but she had a woman on her show who was 4'11" and Oprah didn't look more than 6" taller if that and they both had on heels with no platform. That would put her at 5'5" at the most. It was from all camera angles the same. I'll give Oprah 5'6, maybe rounding up.
Editor Rob
said on 18/Jan/07
Dug around a bit and found fairly early quote when she was starting the Oprah show, this was from 1986, in the Miami Herald:
"I'm five foot six.....You can see my bones at 135 (pounds)"
A Girl
said on 14/Dec/06
I have to agree with Jane! At 5'7" and 155 I wear a size 11 and when I see myself on video even in bad lighting I don't feel like I look
as 'big' as Oprah. Of course, she has probably damaged her skin with her up-and-down weight and it being so dramatic each time, but something does seem a little off.
Leung
said on 7/Dec/06
Brad, in the early 90's Oprah got up to around 240, now that's a lot of loose muscle!
Brad
said on 7/Dec/06
Goal weight of 154? I hate to think what she peaked at.
Denesha
said on 6/Dec/06
omg the ony reason i wanted yo find this out is becaue my aunt said that Oprah Winfrey was 5'10 an now i win she bet me 20 dollars omg i am so lucky
Jane
said on 31/Oct/06
I am 5' 7". When Oprah said she reached her goal weight of 154. I could not believe it. that is what I weigh. But she seems bigger than me. I wear a size 12. I do not believe she is 5' 6" or 5' 7". but I know they say that the camera puts on 10 pounds to your looks.
Damian
said on 5/Oct/06
Oprah said when she was fitting for jeans iam 5 ft 6 no hold on iam 5 ft 6.5 ...so 5 ft 6.5 is about right she said it her self
[Editor Rob: she tried squeezing an extra inch possibly]
cateline
said on 18/Aug/06
i recently watched the oprah show and uma thurman was on and shes like 5'11.5 (182 cm)uma was wearing flats and even though Oprah was wearing heels i could tell that Oprah was taller than she says. i say that shes around 5'7"
Brad
said on 6/Aug/06
5' 6" when I met her. Carries a lot of weight. She must use cameras & lighting on her show to thin her out. I think her chair is very wide to make her body look smaller.
bill
said on 1/Aug/06
She's 5'7, because when Tom Cruise is on her show, they're the exact same height
[Editor Rob: and she didn't have heels?]
Anonymous
said on 30/Jul/06
Bluewin...no way Oprah is 5'2''. I saw her on her show Oprah once (yeah duh) and she was talking to 5'2'' Lisa Marie Presley and she told Lisa, "you're a little itty bitty- I never imagined you this small"...so obviously Oprah is significantly taller than Lisa. So I'm guessing AT LEAST 5'6''. 5'6.5'' seems to be on the dot.
Anonymous
said on 21/Jun/06
Check her out next to Bon Jovi in 3-4" heels. She is just his height. I think she is 5'5" max.
Bluewin
said on 5/Jun/06
Also,in the last show with queen rania of jordan,she looked shorter than her,both were in heels,and Rania is something like 5'4 or 5'5.
Bluewin
said on 5/Jun/06
I don't think she's 5'7,this is overestimated,in the show with Tom cruise she was wearing 3inch heels,and she was even 1/2-1 inch shorter than him (I don't think Tom was wearing lifts into his shoes this time because he was still 2 1/2 inch shorter than katie),and Oprah was shorter than Katie Homles 5'9 who was in flats,but she didn't reached her with her 3inch heels.
Also in an other show with Spielberg,she also was wearing heels,but was 11/2 inch shorter,Spielberg is 5'7.
So mostely,I think she's 5'2 or 5'3.
S
said on 20/Jan/06
I always heard she was 5'7" but when Tom Cruise was on the show once she was wearing 3" boots and she looked around 2 inches taller than him.
Pat
said on 27/Oct/05
John O'Hurley & his dance partner, Charlotte Jorgenson, were guests on Oprah's show about two weeks ago. 5'6" Charlotte wore what appeared to be 3-inch heels. Oprah's heels seemed to be very high -- at least four inches. Oprah appeared to be one inch taller than Charlotte & five inches shorter than O'Hurley. O'Hurley is 6'2" and wore one-inch heels, which brought him to 6'3". I would estimate Oprah's height at 5'6".
~Nate~
said on 27/Sep/05
Here is a pic of 5'6 Beyonce standing next to Oprah and it appears Oprah is taller. Also when Destiny's Child was on the show Oprah was taller then all of them except Kelly because she had on like 6 inch heel platforms! here is the pic of Oprah and Beyonce http://www.urbanmecca.com/artman/uploads/51555218_8.jpg
CelebHeights Editor
said on 25/Aug/05
In a gossip newsgroup somebody said on her show she once said her height as '5ft 6.5'. Couple of people said:
"I met her in a grocery store some years ago when she was visiting Steadman here in North Carolina ... I'd say that she's somewhere around 5' 5" or 5' 6"."
"She's about 5'5. I've met and spoken to her up close and personal. I'm 5'5 1/2"
Mr. Awesome
said on 28/Jun/05
Here's another celeb with a house at the Jersey Shore ( one of like 100 of her houses I presume) In fact, a year or 2 ago she planted a wall of large trees in front of her house to help keep out stalkers ( or height measurers for that matter).
Anyway...I saw her at a restaurant in the area and she was not nearly as tall as I expected; certainly no 5'7''...she was a definite 5'5.5''...and that .5 is being generous. I was taller than her, and I'm not even a full 5'8''...and she had on much higher shoes than me.
linda
said on 30/May/05
shiit....I thougt oprah was 5´2 or somtig like that. When shee was standig next to tom crius(5`7) she was just like him . And shee probebly had heels
Viper452
said on 24/May/05
Check out Tiger next to Oprah. Tiger is deffinitly no taller then 6 foot. http://www.allstarz.org/tigerwoods/026.jpg