Pete Wentz's Height
5ft 6 (167.6 cm)
American musician from the band Fall Out Boy.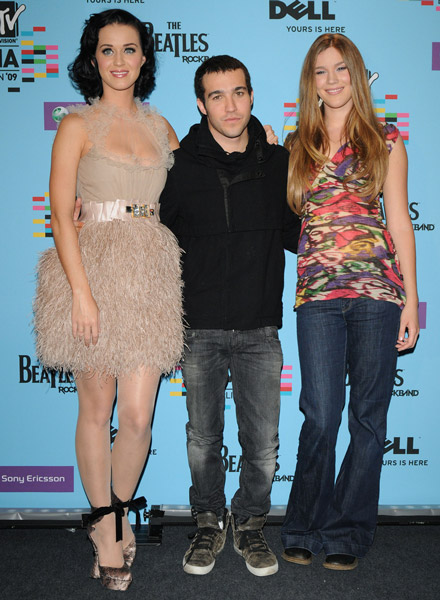 Katy Perry
, Pete and
Joss Stone
Photo by PR Photos
Add a Comment
107 comments
Average Guess (16 Votes)
5ft 5.84in (167.2cm)
bchi19
said on 8/Jun/19
I'm from the Chicago area music scene. I'm about 5'6 to 5'6.5, I met these guys very briefly in 2003 and can say all of them were shorter like me. Wentz was right around my height, maybe a tad shorter.
This listing is pretty accurate.
jriggs
said on 13/Feb/19
5'5.75
167cm
Can't see him at a full 5'6
Tomwash3r3
said on 31/Jul/18
Click Here
If Pete is 5 ft 6, then where would you put Ryan Ross (the guy next to him in the photo)?

Editor Rob
Although the link didn't work, I think Ross can 3 inches taller.
Nik
said on 6/Jun/18
Katy Perry seems to have the most convincing listing, even though she is nearer the camera!
lee168cm
said on 29/Jan/18
Jeff I would hardly call being 3 inches taller than him towering him. He looks five six. If he was shorter then joss stone would be under five ten which is unlikely
Jeff
said on 16/Jan/18
I actually saw Pete in person, walked right next to him and ashley simpson about 10 years ago in Laguna Beach.
He is tiny. 5'5 MAX. I'm 5'8 with shoes and I was towering over him. He was wearing vans slip on. Nothing against the guy, but there is absolutely no way he is 5'6. I'm very happy for him and his success.
almost 5'7 guy
said on 6/Dec/17
@BriBri
His wife is 5'10. It's a good thing she doesn't have an immature mentality regarding male height (like you and the majority of females). I'm barely 5'7 and all my gfs have been in the 5'7 -5'11 range deal. Big deal.
Lee168cm
said on 2/Aug/17
Would Katy perry be about 5'11 in the above photo rob?
Editor Rob: I'm sure she'd measure very close to that mark.
Lee168cm
said on 23/Jun/17
You should add that he claimed 5'7 and a half in a below video
$rich_biatch$
said on 11/Jun/17
to be fair, these ladies are giants (with heels on)
RandomPerson234
said on 17/Nov/16
He's 5'6, exactly.
He's a 5'6 37 year old, with two kids.
Bronx Mowgli Wentz (7, 8 on the 20th of November 2016)
And
Saint Lazslo Wentz (2, 3 on the 21st of August.)
He is currently dating Meagan Camper, who is Saints biological mother.
Although you were wondering how tall Pete Lewis Kingston Wentz IIIs height I decided to add in a few more details.
His favorite colours are apparently Red And Black, his favorite food is macaroni and cheese(he says it all the time.)
I am a dedicated fan of Fall Out Boy, trust me when I say Pete Wentz is 5'6.
:)
eew
said on 19/Oct/16
hes making 5'6ers look short! so mad
eoe
said on 17/Oct/16
rob I think there's enough evidence to put him below 5'6... wouldn't you agree?
Editor Rob: not as sure on it.
Shredder
said on 4/Sep/16
He clearly isn't anywhere near that , but he isn't the 5'5 people are claiming.
mjkzero
said on 23/Feb/16
claims 5`7 or `5`7 and a half at the 10 second mark here
Click Here
TJE
said on 20/Feb/16
He could be 5'5.5
MD
said on 13/Feb/16
@Rob
With 5'9" Austin Mahone with similar footwear:
Click Here
Is this really only three inches? With this and the picture of Ludacris, maybe it's time to list him at a more accurate height?
MD
said on 26/Jan/16
With 5'8" Ludacris:
Click Here
Someone
said on 23/Jan/16
Being short makes you better
Dan
said on 25/Oct/15
I'm more incline to say around 5'5"-5'5.5", judging from pictures I've seen of him with other musicians/celebs. Albeit I can't see the footwear in most of those pictures, I highly doubt he's always wearing the smaller footwear.
Bishop
said on 16/Mar/15
Not the full 5'6"
@Tyler
This is the Pete Wentz page. Go comment on the Katy Perry page if you want to make a claim that you met her. And she is not any taller than what she's listed as.
Tyler
said on 2/Feb/15
I met Katy Perry in a cab line on Las Vegas and the first thing I noticed was her height. I'm a 5-5 man and she was wearing some huge heels, 6 inch range, and she was about a foot taller than me. My friend who was with me is 5-10, and she guessed Katy was about the same or similar evern taller. This is way more than her listed 5-8.
Roses
said on 11/Oct/14
I have seen him in real life before and 5'6" would be the very upper end of his height. He was with Ashlee Simpson at the time and she was at most 5'3" and he was a little taller than her but not much.
Joe
said on 26/Jul/14
Looks about 2 inches shorter than his Chicago fella Kanye West who is listed at 5'8".
lee
said on 19/Jul/14
he doesn't look 4 inches shorter than joss stone here. maybe he is about 5'7"
mjd
said on 7/Apr/14
BriBri. You sound dumb. How tall someone is is irrelevant. You can't even justify to yourself, or to others, why it should matter. I'm sorry that it bothers you so much, but really, there's nothing much there.
I hope the future has more tall girl - shorter guy relationships so this ridiculous, stereotyped idea that men should be taller than women, as if we need to remind ourselves of ancient primate behaviors that developed by evolutionary processes that made "the larger male" the more attractive one (because they would provide safety). Likewise, the female with the best hip to waist ratio appeared more attractive to males. These tendencies of thought "I'm attracted to guys taller than me" or "girls with attractive hip-to waist ratios" is something which simply lacks social relevance in our day and age. We have become too enlightened to ourselves - we know ourselves too well, to let this be a determinative factor in who we choose as a partner.
Is human to be unconsciously attracted to tall men or women with nice hip/waist ratios? Yes. Is it ok to demean and degrade and mock and make fun, or ostracize or treat as strange people who don't meet that standard? Mind you, "tall" only exists as a concept because"short" exists. If 6'4 became normal height, 6'0 would be the new 5'6.
Pete's a good looking guy. 3.5 inches shorter than average american male height. Big frickin deal. His head rises three quarter lengths less than the average guy. It's almost hilarious, when you think about it, that we let things as stupid and ridiculous as this disturb our social harmony.
BriBri
said on 6/Mar/14
Today, I found out my idol, who is old enough to be my father, is my height. I'm and eleven year old girl .-.
Earlier I was telling my father Patrick and Pete are about my height and he started yelling out "You like short people!" all day long. :/
Samuel
said on 19/Dec/13
165-166 cm? 5'5".
Emily
said on 29/Nov/13
He looks around 5'2, 5'8 in shoes. no more than that
MD
said on 27/Nov/13
He's simply not a full 5'6". Here he is with Ray J, who is nothing over 5'7", himself, and who is leaning, to boot:
Click Here
With a listed 5'7.5" (I hold he's a flat 5'7", though) Big Sean, though, admittedly, Sean's getting an advantage here by pushing down:
Click Here
Still, that's more than an inch/inch-and-a-half.
I think you could easily argue he's 5'5", but I'd even be content with a 5'5.5" listing. 5'6", however, is just completely out of the question. He's honestly not that much taller than Patrick Stump.
Keith
said on 26/Nov/13
No-no, he is 169 cm. I'm 168, so he's still taller than me D:
Jackie
said on 25/Nov/13
I believe he's slightly above 5'5
Click Here
Bella
said on 16/Sep/13
I went to the Toronto fall out boy show last night and got to high five him, he's basically my height, if not shorter and im 5'4.5 or 5'5 (I've grown since last time I've checked so idk)
Mandy
said on 13/Sep/13
@Rob, I think he is 5'5.5
PhoenisRizez
said on 19/Jul/13
He looks to be about 5'1. He looks very short
Anonymous
said on 8/Mar/13
Rob,
Here he is with 5'7.5" Big Sean:
Click Here
Click Here
You'll probably need to shave off at least half-an-inch, here. I think the band is shorter than advertised.
no way he is 5'6''
said on 5/Mar/13
saw him yesterday in Sherman Oaks. 5'1 - 5'3, tops.
leonari
said on 17/Jul/11
Think this is off.... Looks a weak 5'6".
5'8
said on 28/Jan/11
He's 5'5, he looked like a kid next to 6'4 Michael Phelps, who had at least 11" on him, maybe even a foot.
Lmeister
said on 18/Jun/09
Actually he we have to remember that he is probably wearing shoes. Based on photos that I've seen I'd say he is rather close to 5ft5 not much taller, but not shorter.
leonari
said on 16/Jun/09
An inch too high Rob
Tory
said on 11/May/09
this is him at angels and kings bar. he did a mugshot.
Click Here
Joe
said on 18/Mar/09
"Davidoff says on 3/Oct/08
He doesnt look tall on tv...He doesnt even look like a man..."
Because people get to choose their height...
leisha
said on 15/Mar/09
He is a solid 5'5. In a recent interview he said he likes to keep his weight at 135, but with stress from the pregnancy he gained 10 lbs (****) and he topped out at 148- which gives him fat face. If you look at an ideal weight calculator all these weights fall into that range without putting him into the fat zone. And someone who is obsessed with there appearance as much as pete wentz would never go into the fat zone.
Kael
said on 21/Feb/09
I met this guy Im 5'8(WITHOUT SHOES) but i notice that he was wearing Nike Air Forces those shoes will add a solid 2 inches on everyone that wears them so he is 5'4 or 5'3.5
Brent
said on 4/Jan/09
5'6 is correct, 5'5.5 at night
king kong bundy
said on 2/Jan/09
glenn looks atleast 2 inches taller, and hes admitted 5-8 to be his morning height. realisticaally, as glenn has him by ATLEAST two inches, and is not even quite 5-8 in these pics, id give wentz 5-5.5 max. more likely a flat 5-5.
6 footpyschopath Hugh ...
said on 1/Dec/08
glenn is 5'8 okay...5'6 sounds resonable...for a short man like wentz...wow he did not eat right as a child....
leonari
said on 12/Nov/08
Leung: indeed:A flat 168 cm would be more accurate. No doubt in my mind.
Leung
said on 11/Nov/08
Hey leonari, nothing to do with your dislike of him because this guy is short!
5
leonari
said on 11/Nov/08
This guy looks short everywhere. Maybe only to me cause I don't like him.
me
said on 10/Nov/08
theres no way in hell this guy 5"6.5, he looked i few inchs smaller than 5"8 chris daughtry and atlest 2 inchs smaller than 5"7 katy perry, on some mtv's weird show i saw last night.
dudewer
said on 22/Oct/08
hes pretty short, i saw him up close in california and im 5"11" he was at least 6 to seven inches shorter than me
Antron
said on 8/Oct/08
Im thinking more like 5'5" for this guy. Doesnt look much taller than Pat Stump who is about 5'4"
Davidoff
said on 3/Oct/08
He doesnt look tall on tv...He doesnt even look like a man...
denis
said on 25/Sep/08
wow, i thoght he was like 5'10 he looks very tall in tv
Anonymous
said on 22/Sep/08
Here he is with Michael Phelps. If Phelps is really 6'4", and more than a head taller (and Phelps has a long head/face), and given that Phelps was in gym shoes, here, and Pete was in heeled dress shoes, I can't see Pete being anything over 5'6", here, and most likely shorter.
Click Here
With John Legend given 5'9", here:
Click Here
The 6'3.5" The Game:
Click Here
With P Diddy, who I have no real idea how tall he is, but given 5'10.5", here:
Click Here
Click Here
Big T
said on 22/Sep/08
One of the most overlisted ppl here. Also more than an inch shorter than Jonah Hill. Probably 5'4 1/2".
leonari
said on 5/Sep/08
another height that is inflated. 169 is off. 167 looks more like the truth
Zana
said on 4/Sep/08
In the VMA commercials on MTV he looks TINY next to a 6'1 Russell Brand. I say 5'4. He may wear his jeans very low, which makes the legs look shorter, but there is no way he is 5'6.5.
Big T
said on 5/Aug/08
There's a problem here- FNMTV proved that there is a minimum of 4 inches difference between Pete and Rihanna, who is listed 5'8" here. Hmmmm. Rihanna looked 7 inches taller than Pete in heels and that's being conservative- it could've easily been mistaken for a full head difference.
Sure, her heels were high, but they weren't platform heels. Non-platform heels can't possibly give a woman more than 3 inches advantage over a man who has some form of footwear on, as Pete obviously did. Read the heel height article on this very site to understand why....unless the heels have a platform, the most they can do is approximate standing on tip-toes. Try it, and you'll see you don't gain as much height as you think.
My guess is that Wentz might be 5'4 1/2", I'm prepared to give Rihanna 5'8 1/2".
Izabela
said on 2/Aug/08
He is definitely shorter than 5'6. I am 5'8 and when he was standing next to me he was shorter than my sister who is 5'5. He is very nice though.
XxHELENAxX
said on 22/Jul/08
ACG, Gee way is 5'9 and Pete Wentz is 5'7. this site always gets celebs heights wrong.
Avg height
said on 30/Jun/08
I think pete wentz maybe a solid 5'6, he looked like a dumpling beside rihanna on FN M.T.V, Rihanna did have huge heels on but was a tad shorter than Adam levine, who's about 6'0.
Leon
said on 11/Jun/08
Pete Wentz looks 5'7" in this picture, assuming he's wearing sneakers. Judging by what he's wearing, I'd guess he was wearing sneakers and not dress shoes.
robbie
said on 11/May/08
he looks about 1.5 - 2 inches shorter than glenn..
so yea he is about 5'6
derek d
said on 5/May/08
Click Here
well heres patrick stump's personal myspace page.... he lists himself at 164 cm. I don't see why he would lie at this point and if he was then it would be something ridiculous like 169 cm on it, he looks 164 cm to me too.
Scott
said on 10/Apr/08
Here's a good pic that should shed some light on his height...
Click Here
Lmeister
said on 7/Mar/08
This guys is rather small maybe 5ft5.5. Wanna be EMOrocker = )
glenn
said on 4/Mar/08
im not even sure who he is.i know the name of course.
ACG
said on 3/Mar/08
If Pete Wentz is really only 5'6 flat maximum, then Gerard Way's height should be changed, too. If anything, Pete is taller than Gerard, I think.
Hey Glenn, ever ran into Gee?
glenn
said on 19/Feb/08
im leaning in.
kelsey
said on 18/Feb/08
glenn, if you're 5'8" then Pete's gotta be at least 5'7" or maybe even 5'7.5"
he doesnt look that much shorter than you
...o_0
said on 15/Feb/08
William Beckett is like 6'3" ...somewhere around there. it was above 6' i think
Ashley
said on 3/Feb/08
Glenn is not that much taller than peter....
glenn
said on 4/Jan/08
rob you might have to change this to 5-5.i see him weekly.5-6 to be safe.ashlee simson seems taller than hin sometimes in her heels.
glenn
said on 4/Jan/08
i only estimate by standing near them.me staight and me studying their posture to see what they would be like straighter if they were slouched.
_hannah_
said on 3/Jan/08
hey glen just wondered if u measure celebs an ur own height standing up straight or normal,by this i mean when i stand up im 170/171cm but when i stand up straight im 173cm which is 5'8 just curious cud u let me knw thanx x
lauren
said on 8/Dec/07
my mom says pete is my twin.
she walked in my room, look at a poster i had of him and stared at it for like 5 minutes.
mom: you know, you look just like that pete wentz guy. i swear, you could be related
me: *blank stare*
mom: just wanted to drop in!
hearts
said on 24/Nov/07
humm... beckett from the academy is... looks tall but any pics of his band are taken from below... I'll say 6ft 1
Clinton
said on 20/Nov/07
If anyone knows how tall is William Beckett...
5'7at14kris
said on 17/Nov/07
heehee he looks 5'6 to me. he looks a wee bit shorter than one of my friends and she's 5'6 so maybe 5'5 and a lil bit. but somewhere in that range, i think.
Bad Radio
said on 12/Sep/07
i've met this guy he looked really tiny i'd say 5'5 possibly 5'6..but that would be stretching it.
bri
said on 8/Sep/07
hahaha
omg reminds me of a conversation i had with mum
mum: you know that boy from the band with the monkies that everyone likes?
me: pete wentz?
mum: yes, you look like his twin sister, you just have to dye your hair black, no wonder you like him every time you look in the mirror you see him
me: SHUTUP what the hell haha no i dont ... dont ever say that again
mum: well its the truth haha
me: please leave haha
its kind of true ... we are even the exact same height ... freaky
good thing i'm blonde
glenn
said on 27/Aug/07
hopefully we will soon.i had the whole group in front of me a couple of times.no luck.
Anonymous
said on 27/Aug/07
glenn you should add patrick stump to the website (lead singer of FOB) i bet patrick is around 5'4-5'5
Dori
said on 24/Aug/07
He looks sorta like his poppy!!!! But sexyer!!!! and plus i have 1 million pics of him!!! and i have been a fan of his since the beginin and will stay by his side til the END!!!! i love him soooo much!!! we are so much alike!!!!! and did you here about all the stuff he has done and is apart of????? like Clandestine Industries(his clothin line), Angels & Kings(his bar), and "The Boy With The Thorn in His Side" and "Rainy Day Kids"(his 2 books/ so far)and that he is the lyrist and bassist 4 Fall Out Boy!!!! so do i need 2 go any further than wat i have given you, cuz i will be more than happy 2 tell you more!!! and most people think he iz sooooo short, but actually they are juz 2 TALL!!! he iz 5'6.5" and proud!!!
Chicago Winter
said on 24/Aug/07
ToTo kung, the video is about their past year of whirlwinds. If you don't understand it, its probably because your not a huge fan. A lot of the things in that video are things from their old music and videos and were meant for the die hards. When he wakes up and its in black and white and Andy says, "Dreams again?" that's because Pete has had a nightmare since he was a kid that haunts him in his sleep. He has it to this day and it keeps him up at night. He wrote a book about it titled "The Boy With The Thorn In His Side" which was a song from The Smiths on their "the Queen Is Dead" record. Also, a lot of things in the video are inside jokes that the band has with the fans. Things only a true Fall Out Boy fan would understand. And a lot of people in the video are personal friends such as Dirty and Korean Tom Cruise. If you listen to their old music such as "Switchblades and Infidelities" or "Growing Up" you'll find out a lot of stuff
glenn
said on 8/Aug/07
i keep bumping into him.i have 3 photos actually.
Anonymous
said on 7/Aug/07
where were you and how did you meet mr. wentz?? im jealous!
drew
said on 28/Jul/07
thats not necesarilly true ademus, if you know how to handle a women
(handle being a general term for talk, walk, dress, etc around women),
then even an ugly dude can get with a beautiful girl. women are less
visual than men. but such 'game' isn't common among men.
also, being famous will get you a lot of attention from women,
so will being tall. i read somewhere that height is the most important
thing to women. BUT, its nothing a shorter guy can't make up for
if he knows how.
ANYWAYS, nice to know that pete wentz is my height,
i was starting to think i was short.
drew
said on 28/Jul/07
thats not necesarilly true ademus, if you know how to handle a women
(handle being a general term for talk, walk, dress, etc around women),
then even an ugly dude can get with a beautiful girl. women are less
visual than men. but such 'game' isn't common among men.
ANYWAYS, nice to know that pete wentz is my height,
i was starting to think i was short.
jane
said on 26/Jul/07
yea fall out boy are not that tall the tallest in the band is 5ft 9in butim not sure who. Jon Doe= i think he is hot and its not cause he is in a band its as he looks after him self and he is so cute by the way glenn has he got bebo as there are many fakes around and my sis has one as a mate if he has wats his username
Ademus
said on 18/Jul/07
Jon Doe, you're completely wrong. Height isn't that big of a factor. No matter how tall you are, girls will not date you if you're ugly.
Jon Doe
said on 17/Jun/07
The only reason girls think he's hot is because he's famous and he's in a band, alot of girls probably wouldn't date him if he wasn't coz girls care alot about height.But then again in my school all the guys who are around 5'5 to 5'6 have no trouble getting girls but guys any shorter than that are pretty well screwed, maybe I should start wearing lifts.
Drew
said on 31/May/07
Just saw him on TRL. Next to 6'2" Damian I assumed he was 5'7". 169cm is definitely possible but not much less than that.
MD
said on 3/May/07
Not the best pic, but here he is with 5'8.5" Rev Run:
Click Here
Bad angle, but why is it that Rev Run towers much more than 2" over Pete, here?
random
said on 3/May/07
wow hes short!! 5-6! and alot of girls like him....I didn't think he was that short!! didn't know girls think guys that short were hott...
Anonymous
said on 10/Apr/07
next to ashlee, he doesn't seem much taller, if not the same height or a half inch shorter. 5'6"-5'6.5" is about right.
glenn
said on 1/Apr/07
5-6ish is good.
Kevin
said on 31/Mar/07
Pete always wears flats, 0.5cm, i believe he is 170cm at morning
MD
said on 31/Mar/07
Glenn, what did you judge him to be? In both photos, you look to be bent a little bit like you often do with shorter people, you said.
ToTo kung
said on 30/Mar/07
Me too , I love 'This Ain't Scene , It's An Arm Race' but can anyone tell me what music video about , I don't understand when Pete fall from the building (dead), then in the coffin he arise and the color turn in to black + white. Very CONFUSED ?
Kevin
said on 29/Mar/07
i love fallout boy, great music
anonymousxx
said on 29/Mar/07
so thats why theyre all emo
MD
said on 20/Mar/07
With Patrick Stump:
Click Here
Click Here
It really does depend on how tall Patrick is.
Kevin
said on 19/Mar/07
he's at least 3 inches taller than 5'3-5'4 patrick strump, so 5'6.5 make sense to me